7.22.13
Peaches & Herb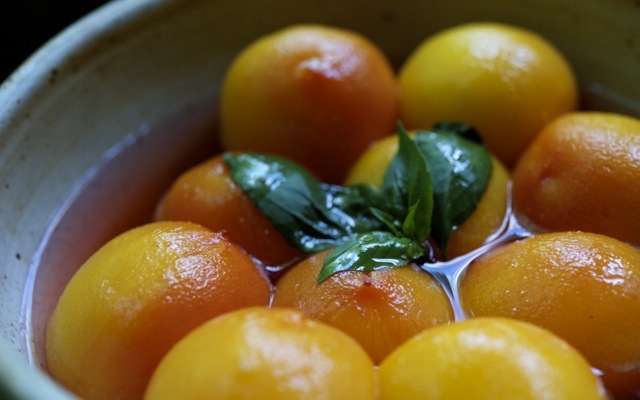 Inspired by
this
lovely post and remembering my own successful
version
from years past, I decided that a dozen
small, fragrant yellow peaches
gently poached in white wine with Thai basil would be the perfect finish to a meal of
this
grilled chicken. Nothing could be simpler. Or more coolly satisfying on a sweltering summer night. Or more
seductive
, slipping down your throat with a little sweet syrup. Drop in a few fresh raspberries and top with a dollop of whipped cream, though this comes dangerously close to gilding the lily.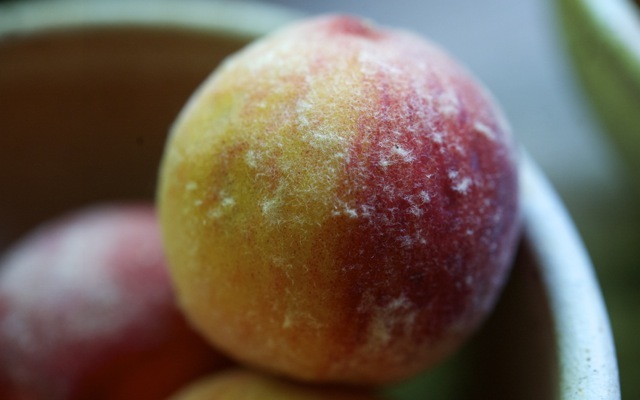 Start here, with perfectly ripe peaches that are
neither mushy nor too firm
. Rinse under cold water and rub away that adorable fuzz.
P
eaches are either clingstones or freestones,
depending on whether or not the flesh sticks to the stone. The white ones tend to be quite sweet with little acidity,
while yellow peaches typically have a bright tang coupled with sweetness. Any variety works with this recipe, though you may want to adjust the sweetness of the syrup accordingly.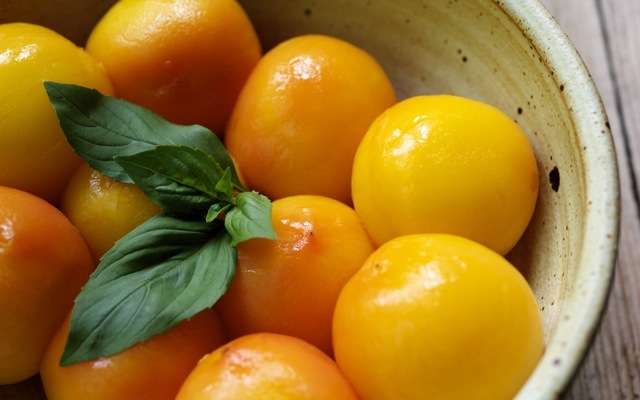 Poach the peaches just until tender in a combination of wine and water with a few spices, and then slip the skins off. The sight of them, glistening and clustered together in a bowl, is nothing short of exciting. Add some honey and sugar to the liquid along with a handful of Thai basil (plucked fresh from your garden, or someone else's) and reduce to a make a syrup. This will cover the peaches in a luxurious satin cloak, which is all they need to enter the realm of the sublime.
Peaches Poached in Wine with Thai Basil
serves 6
— 12

small, perfectly ripe yellow peaches

— 1 bottle

pinot grigio, or other dry white wine

— 3

star anise

— 3

green cardamom pods, lightly crushed

— large handful

Thai basil

— 1/2 cup

organic cane sugar

— 1/3 cup

honey

— 6 sprigs

Thai basil, for garnish
Rinse peaches and rub off any fuzz.


Pour wine into a heavy, flat-bottomed pot large enough to accommodate the peaches in a single layer. Place peaches in, stem side up. Add as much water as needed to almost cover peaches. Add star anise, cardamom and half the Thai basil.


Bring to a simmer over medium heat, then cover and cook until peaches are just tender, about 6 minutes. When done, a sharp knife will slip easily into a peach.


Turn off heat and, using a slotted spoon, remove peaches to a shallow bowl. Set aside to cool.


Meanwhile, stir sugar, honey and second half of Thai basil into wine mixture and bring to a slow boil over medium-high heat. Cook until reduced by two-thirds into a glossy syrup, about 15 minutes. Strain out herbs and spices and set aside to cool.


Once syrup is cool, pour over peaches. Fruit and syrup can be refrigerated and served cold, or held at room temperature and served that way.


To serve, place two peaches in each of 6 bowls and spoon syrup over. If you like, add a few fresh raspberries and/or a dollop of lightly whipped cream.



Download Recipe