7.16.12
The Ultimate Tonic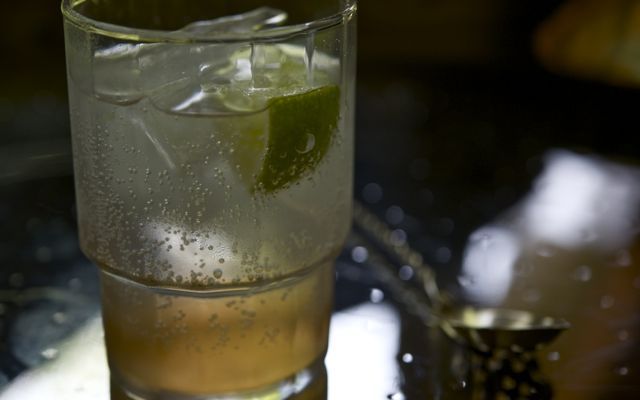 I lived in Madrid in my twenties, and it was there that I took up the habit of drinking Schweppes tonic water over ice as an afternoon refreshment. I think I considered it a sophisticated alternative to the Fanta Naranja that I enjoyed there as a child, plus the European version is more citrusy with a nice bitter edge. Now that I am more careful about what I put into my body, I prefer to create my own refreshing eilxirs without high fructose corn syrup or other strange additives. So I've been meaning to make my own tonic syrup, ever since I saw a recipe in T magazine last fall. And now that I've begun to do my own carbonation (stay tuned for the details), I figured it was time.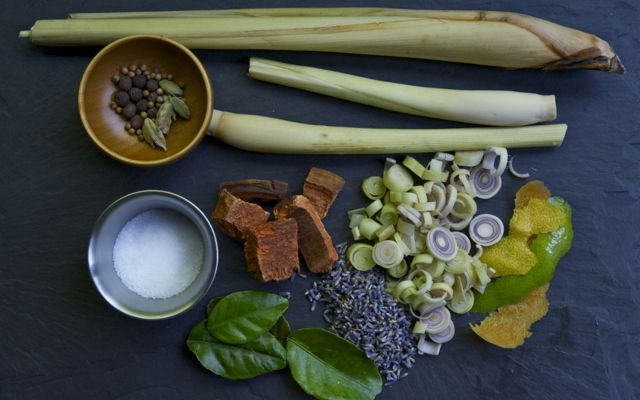 We're living through an exciting time when the bar is, quite literally, being raised. The "real food" movement has spilled over into mixology, and every respectable cocktail lounge is now using fresh fruit juices and homemade syrups. Everything is artisanal and hand-wrought, and it risks becoming a bit of a cliché, though how can you really mock something that simply tastes that much better? I confess to having leapt wholeheartedly onto this particular bandwagon, and so should you. This tonic syrup is a revelation: complex, sweet, bitter and citrusy with herbal notes. As you can see, above, it contains lemongrass, wild lime leaves, dried lavender, citrus zest, some spices and a little citric acid for that mouth-puckering tartness, as well as the essential reddish cinchona bark.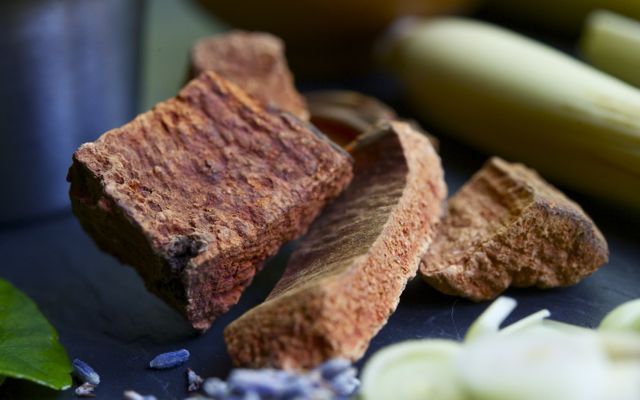 Cinchona is the bark of a shrub originally found in Peru and now cultivated in other tropical climes. Quinine, the harshly bitter anti-malarial, is extracted from it. This was added to water in the 18th century and widely consumed throughout the British colonies as a medicine made more palatable by the addition of gin, lime and sugar. You can just hear them now:
Have another, old man—doctor's orders!
Cinchona bark (also kina or quina) is rather pricey, but you can find it at
Kalustyan's
or
Dandelion Botanical
, either whole or powdered. If whole, you will need to grind it finely. It imparts its reddish brown color to the final tonic syrup, so don't be expecting that clear commercial look.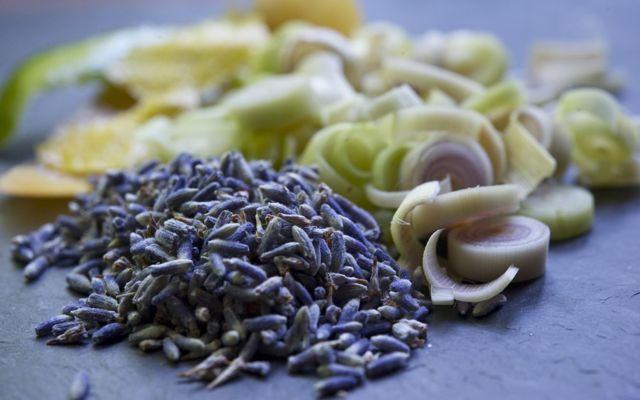 The tonic syrup also has some wonderfully delicious floral and herbal notes from the addition of dried lavender, cardamom and allspice berries. Some of these flavors dovetail with the gin you may be mixing with it, and you can feel free to ad lib. I tossed in some whole coriander which complements citrus beautifully. The final syrup is terrific with flat or sparkling water, with or without booze. A squeeze of lime, a balmy breeze and someone reading Kipling in the background are all you need for the most civilized summer afternoon ever.
Tonic Syrup
lightly adapted from Toby Cecchini in T magazine; makes about 6 cups
— 4 cups

water

— 1/4 cup

powdered cinchona bark

— 1/4 cup

citric acid

— 3

limes, strips of zest only

— 3

lemons, strips of zest only

— 1

grapefruit, strips of zest only

— 1 cup

chopped lemongrass from about 3-4 trimmed stalks

— 9

whole allspice berries

— 6

whole cardamom pods

— 2 teaspoons

whole coriander

— 1 tablespoon

dried lavender

— 4

wild lime leaves (aka kaffir lime)

— 1/4 teaspoon

coarse sea salt

— 3-4 cups

rich simple syrup (by volume, two parts sugar to one of boiling water, stirred to dissolve)
In a covered saucepan, bring all ingredients except the simple syrup to a boil and reduce heat immediately; simmer on low for a half hour, then remove from heat and allow to cool fully.

Transfer to a carafe or jar and chill for two days.

Strain through a superfine chinois or cheesecloth, or by using a plunger press coffee maker. Return to the carafe and refrigerate for a day or two, allowing sediment to accumulate on bottom. When the layer of sediment seems stable, gently decant the clearer liquid on top without disturbing the sediment "mud." You should have about 3 cups at this point; add to this liquid an equal measure of simple syrup, mixing well. Funnel into a clean bottle and refrigerate.

Download Recipe