7.17.12
Pop Up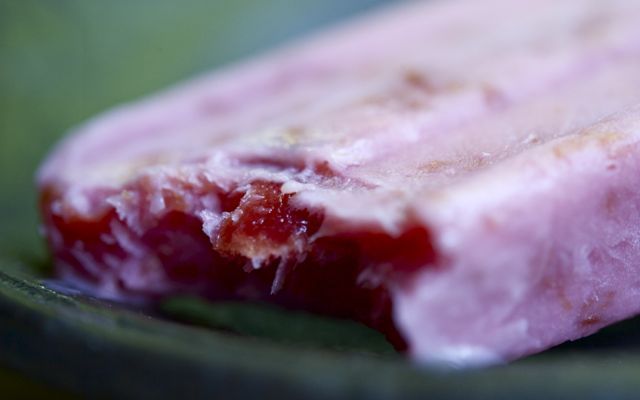 Sour cherries were a blip on the radar this year. Cold nights and then an unseasonal blast of crippling heat made for a small, early yield. And yet I scrounged up enough to make 6 precious jars of preserves and a batch of popsicles. In case you thought to buy up extras and throw them in your freezer, this is a great simple recipe for showcasing their unique tart flavor. It also works with regular cherries—just reduce the amount of honey—or any fruit really. Try it with chopped apricots or plums, with blackberries or raspberries, even with figs. It's hard to go wrong when you're mixing together fruit, honey and yogurt into a frozen confection. Put it on a stick and the child-like delight is instant.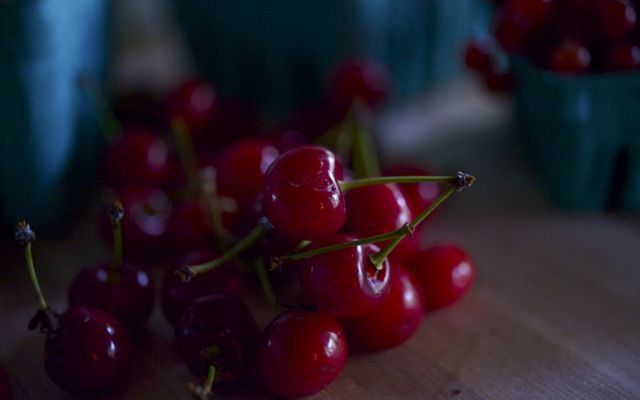 I use honey as a sweetener in these popsicles for a variety of reasons: it's healthier; it has a lovely complementary flavor; it gives a smoother, richer texture. Ditto the sheep's milk yogurt. I like
this brand
, and I generally buy two pints, combine them in a piece of doubled cheesecloth and hang them over the sink to drain. I wind up with yogurt as thick and smooth as Greek-style but with much better nutrition and a subtle tartness. (If you catch the liquid that drains out, you'll have whey, which is excellent for making lacto-fermented
pickles
.)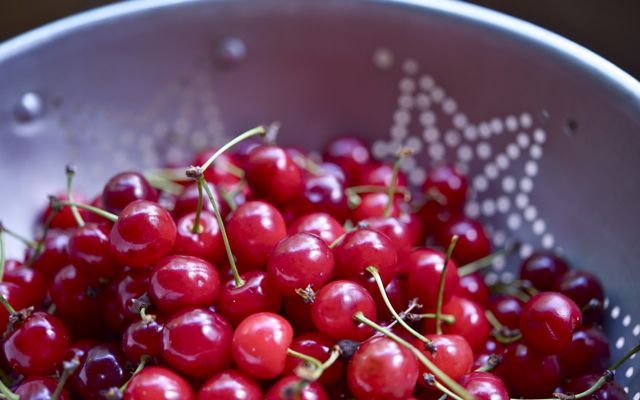 One they're frozen solid, I like to take the popsicles out of the molds (just run the bottom under hot water until they loosen and slip out easily) and wrap them quickly in
these
little wax paper bags. This makes for much easier storage and takes up less room in your freezer. It also makes the popsicles more readily accessible, so there's no futzing about when you want to eat one. And isn't that what it's all about?
Sour Cherry Popsicles
makes about 14 popsicles
— 2 pints

sheep's milk yogurt (you can substitute 1 pint of Greek-style cow's milk yogurt)

— 6 cups

sour cherries, stemmed, pitted, washed & drained

— 1 cup

honey

— 2 tablespoons

lemon juice

— 1/4 teaspoon

almond extract

— 1/2 teaspoon

vanilla extract

— generous pinch

sea salt
A day, or at least 4 hours, before you want to make these popsicles, place the 2 pints of sheep's milk yogurt in a large muslin towel or doubled piece of cheesecloth, tie up with a piece of string and hang over a bowl to drain. (The liquid released is whey and is great for making pickles or sauerkraut.) After about 4 hours it should have released enough liquid to thicken the consistency considerably and reduce the quantity by about half.

Combine cherries and honey in a pot and gently simmer until fruit collapses and releases its juice, about 15 minutes. Work cherries with a potato masher to break them down into a chunky consistency. Cool slightly and stir in lemon juice. Refrigerate mixture until cold.

In a large bowl, stir together drained yogurt, extracts, salt and cold cherry mixture.

Fill popsicle molds and tap to release air bubbles. Place molds in freezer for about 20 minutes before adding sticks. Cover and freeze until firm; overnight is ideal.



Download Recipe