1.4.12
Crunch Factor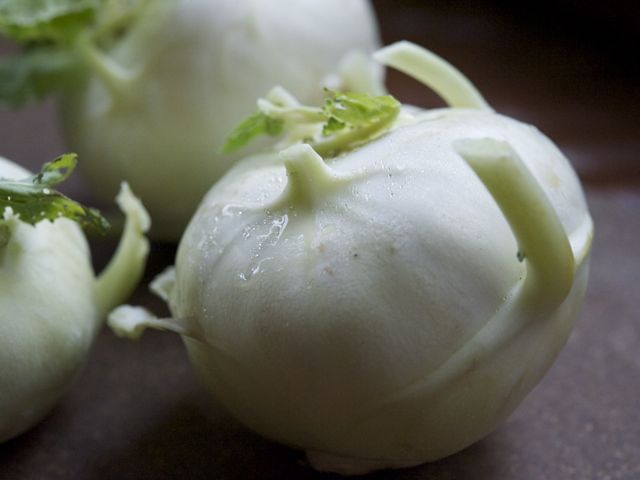 A while back, I believe I mentioned a desire to explore some lesser-known ingredients with you. I've been keeping a running list—including pickled tapioca, sorghum molasses and dried Persian limes—so do let me know if there's anything you're curious about. This is kohlrabi—from the German "kohl," meaning cabbage and "rabi," meaning turnip. It's a brassica, like cauliflower, kale and collards, and has all the same nutritional benefits: low in carbs and calories, high in fiber and antioxidants. It also comes in a deep purple color. Slightly sweet and fresh, with the faintest peppery bite, kohlrabi can be eaten raw or cooked. If raw, it needs to be peeled, but after cooking the tougher outer skin softens up plenty. With all the cozy soups and hearty braises we're eating at this wintry time of year, it's nice to have some cool, crunchy salads as a counterpoint, (here's one with
celery root
, and another with
radicchio and grapefruit
), so I used my kohlrabi in a crisp, sprightly slaw.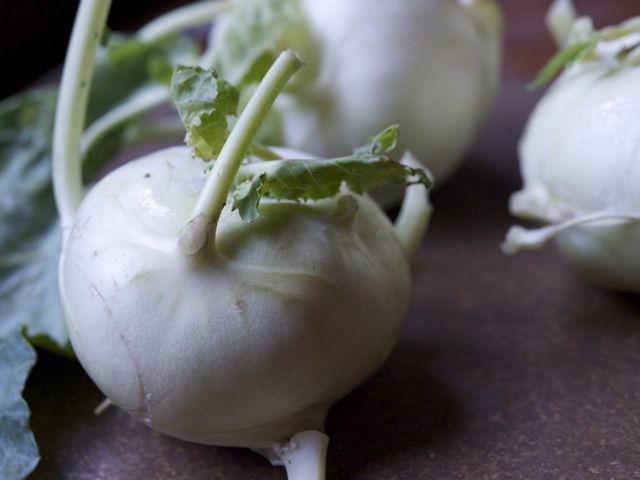 Look for kohrabi bulbs no larger than 3" in diameter with healthy green leaves which can also be eaten. The tenderest, smallest bulbs won't even need to be peeled, and can be snacked on out of hand like an apple. Try grating kohlrabi raw for salads and slaws, slice thinly and sprinkle with salts and herbs, or cut into sticks to use with dips. You can steam it, either whole for about 30 minutes, or thinly sliced for 5-10, or dredge in flour and briefly fry. It goes well with lemon, butter and herbs or curry. Add it sliced or cubed to soups, stews or stir-fries. Kohlrabi will last for a few weeks in plastic in the fridge; store the leaves and bulbs separately.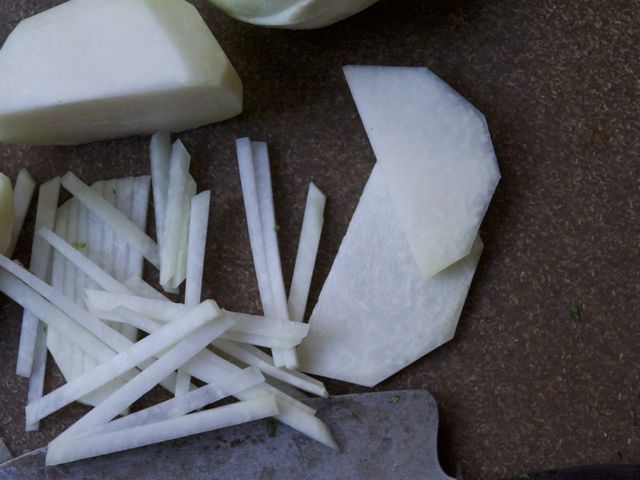 I can't tell you what a difference my
new knife
makes with any slicing and chopping tasks. (It makes me so curious about
this one
!) With any slaw, texture is quite important. It's nice to have all the ingredients roughly the same shape/thickness. If you don't have the time/patience to julienne like this, you can always use a hand grater or food processor.
The Pink Lady apple is among my favorites. It's a blush apple with a firm texture and a balanced sweet-tart flavor that offsets the mild, slightly radish-y kohlrabi.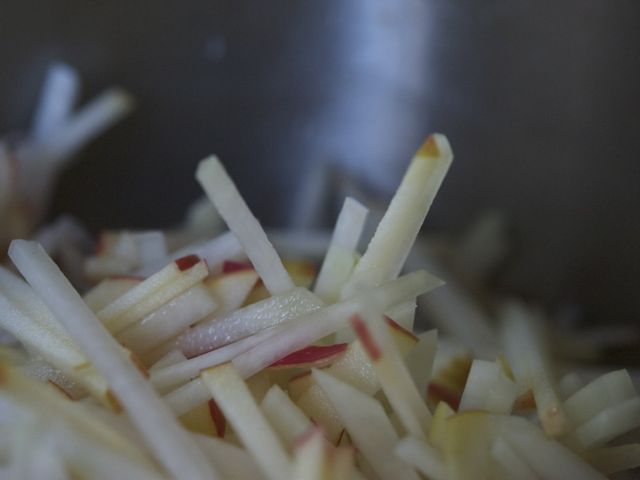 Leave the skin on, so the slaw is not quite so albino.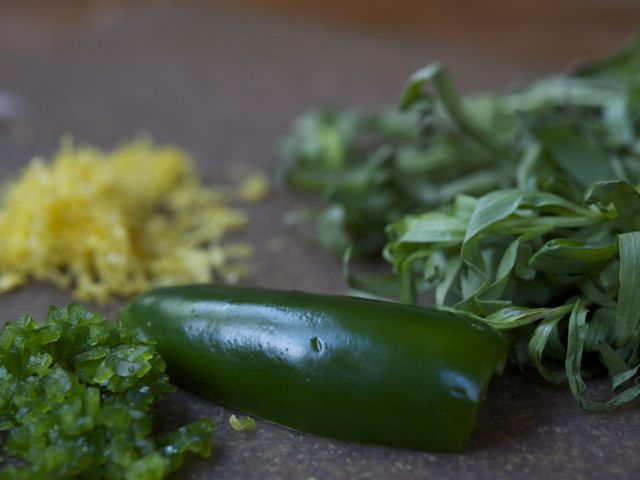 To spice things up, I used what I had on hand: jalapeño, lemon zest and tarragon. I was inspired to build on the slight licorice flavor of the tarragon with the addition of some fennel seeds.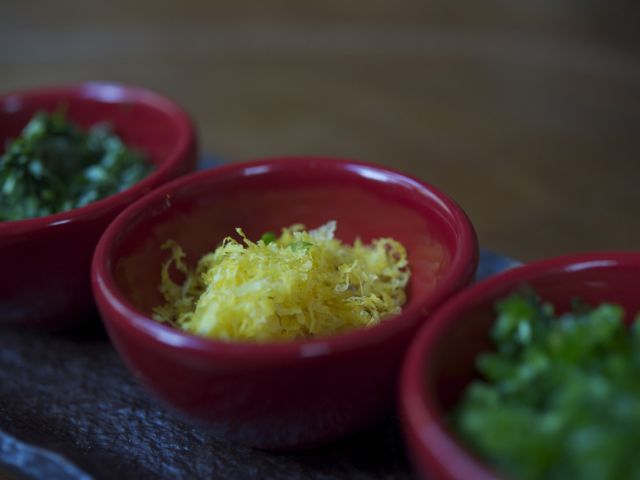 There is something very satisfying about setting out all your ingredients—your mise en place—as you prepare to assemble a dish. It eliminates all that frantic scrambling about when you haven't properly read the recipe.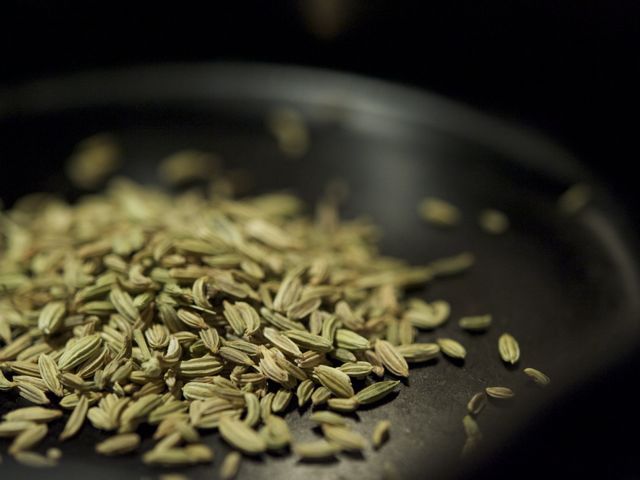 Toasting the fennel seeds in a dry skillet brings out their oils and creates a richer, more complex flavor and smell. They brown very quickly, and will taste bitter when burnt, so cook over low heat and watch them carefully.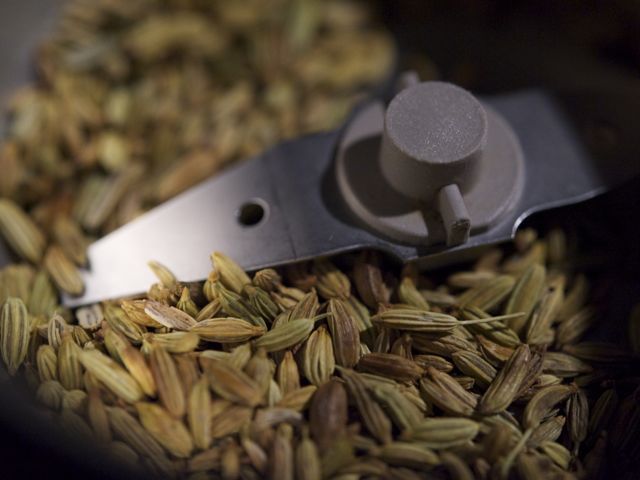 I have a dedicated spice grinder for this, but you can also use a hand mill or a mortar and pestle, especially if you don't need a very fine powder.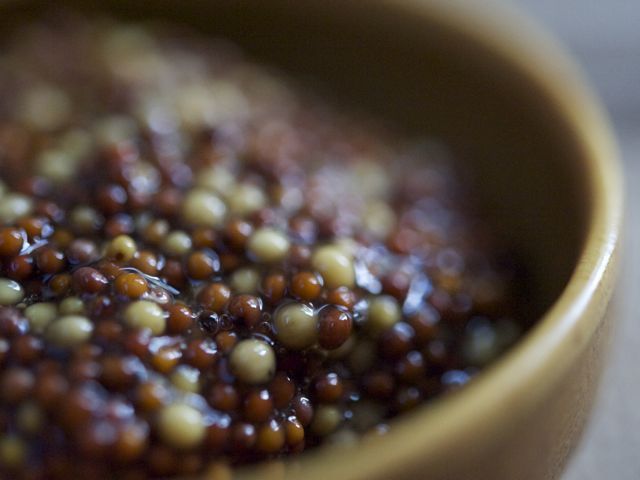 I felt like a good strong mustard would complement the Germanic roots of the kohlrabi, and I'm always looking for ways to use my
Kozlik's
. This Canadian company makes so many delectable mustards, it's tempting to collect them all. The one above is their Triple Crunch, made with three kinds of seeds and Canadian Club whiskey. It's almost like a spicy, vegetarian caviar.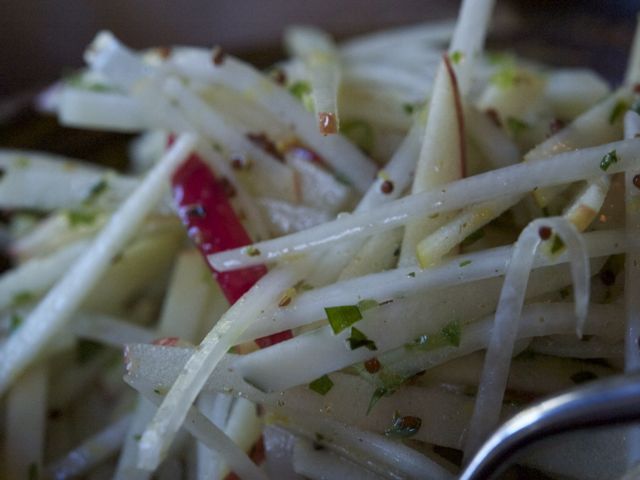 As you work, be sure to drop your slices of kohlrabi and apple into the waiting lemon juice, to prevent browning. Once you toss everything together, the flecks of red apple skin, yellow zest and green tarragon and jalapeño make a very pretty combination for the eye as well as the palate. This slaw couldn't be healthier, more refreshing or more delicious.
Kohlrabi & Apple Slaw
serves 4
— 3 tablespoons

fresh lemon juice

— 2 (about 1 pound total)

kohlrabi, cold from fridge

— 2

Pink Lady apples, cold from fridge

— 1 tablespoon

lemon zest

— 1 tablespoon

minced tarragon leaves

— 1 tablespoon

minced jalapeño

— 1 heaping teaspoon

toasted ground fennel seeds

— 1 tablespoon

coarse-grain mustard, like Kozlik's Triple Crunch

— 2 tablespoons

walnut oil

—

sea salt, to taste
Place lemon juice in a large bowl.


Peel kohlrabi and cut off any gnarled ends. Cut in half, then into 1/4"-thick slices. Julienne into long, thin ribbons. Toss in lemon juice.


Wash apples. Quarter and core (leave peel intact). Cut into 1/4"-thick slices, then into thin ribbons. Toss with kohlrabi.


Add remaining ingredients and toss well, tasting before seasoning with salt.


If not serving right away, cover tightly with saran and chill.



Download Recipe