1.5.12
Totally Nuts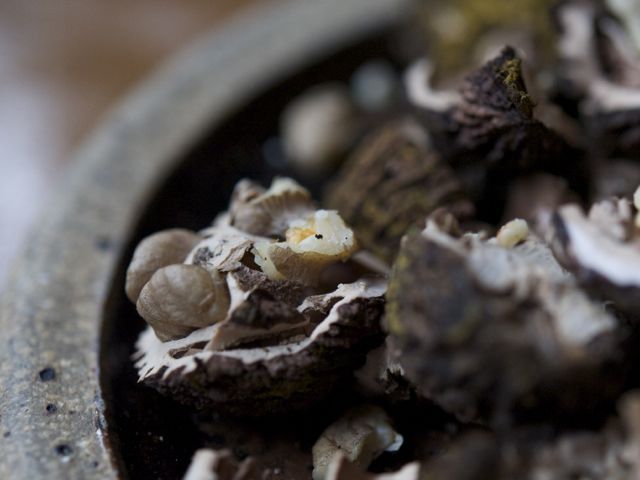 I am officially obsessed with black walnuts. It may be some sort of genetic thing. As far back as I can remember, my mother was always craving black walnut ice cream. It used to make an occasional appearance at our local ice cream parlor in Santa Cruz, but since that heyday it seems to have completely fallen off their still impressive
roster of flavors
. Were she still alive, I could now proudly present my mom with a bowl of the stuff, made by me from walnuts gathered on a friend's land. This particular wild-crafted version may have been a one-time thing, though.
Why?
you ask. Well, that would be because of the incredibly labor-intensive ordeal it is to process black walnuts. After we'd endured it, we discovered that these nuts can actually be purchased at
nutsonline
for a mere $13 a pound. Shelled. By hand. (They
must
have some illegal Guatemalan children doing the work.) Anyway, G doesn't agree, but I think it was worth the effort. Full disclosure: He did most of it. But the ice cream was incredible. Divine. The best yet. Made with a recipe from
Jeni's Splendid Ice Creams
, of course.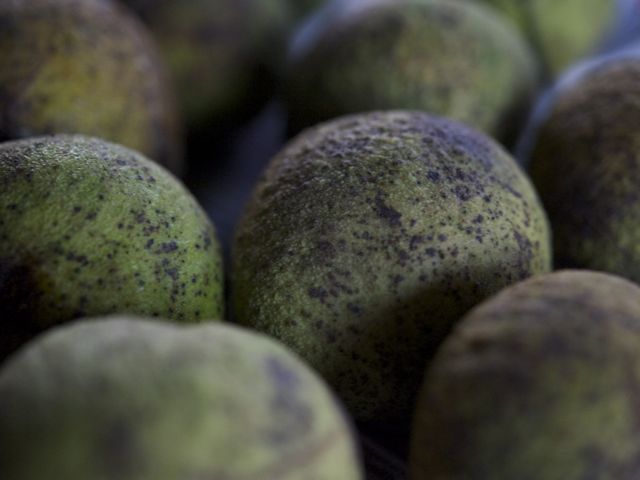 The Eastern black walnut, julans nigra, is a species of flowering tree in the walnut family that's native to eastern North America. It's a forest tree, also cultivated for its high quality wood. The extraction of the kernel from the fruit of the black walnut is legendarily difficult. It has a thick, hard husk that it easiest removed when green and pliable.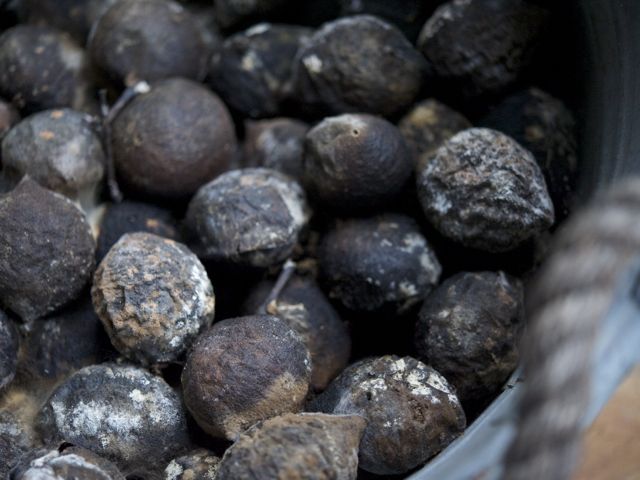 If you don't remove them when green, they turn black and can begin to mold. Apparently this affects the flavor of the nut as well, giving it even more cheesy, fermented notes. I'm not sure if this is true, since we did two batches—one green and one black— and I didn't separate them. Either way, they were all delicious.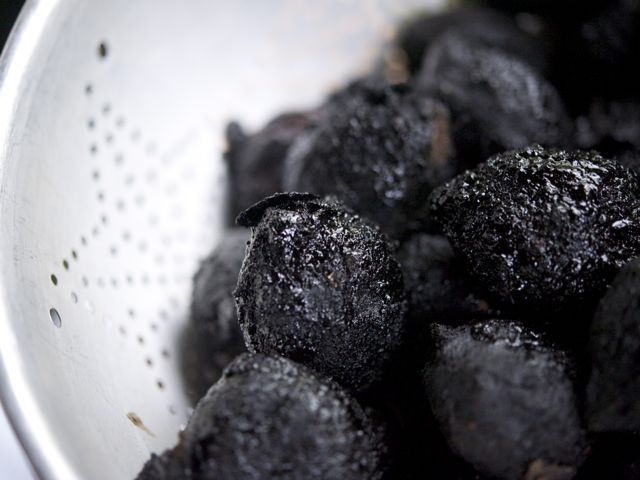 G said it was horrible to remove the husks once they had gone all black and soft. There was a gooey reside that stuck to the ridged shells despite much brushing with wire bristles.
Industrial-strength gloves are essential any time you're dealing with black walnuts to contend with their deeply staining pigments and tannins. They exude a brownish-black dye that was used by early American settlers to dye hair. This natural dye is still used for handicrafts and as a wood stain and dark ink. (Scroll down
here
to see artist Michael Capotosto's mural painted with black walnut oil on my friend Scott's wall.)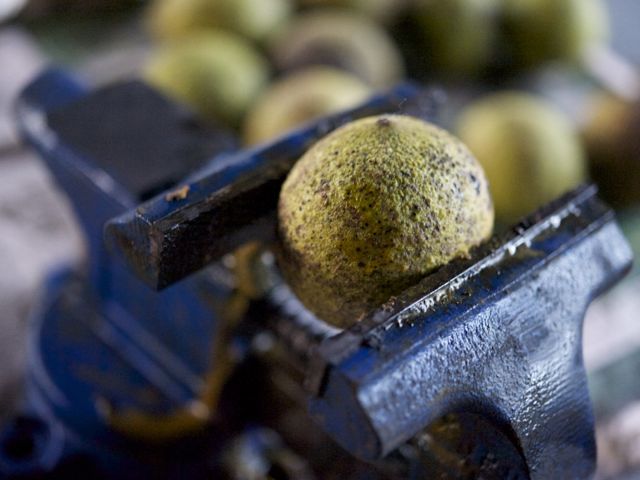 G got a special table vise to remove the husks. This is the first step of the process, after you've collected the walnuts from the ground, where they fall from the tree when they're ripe.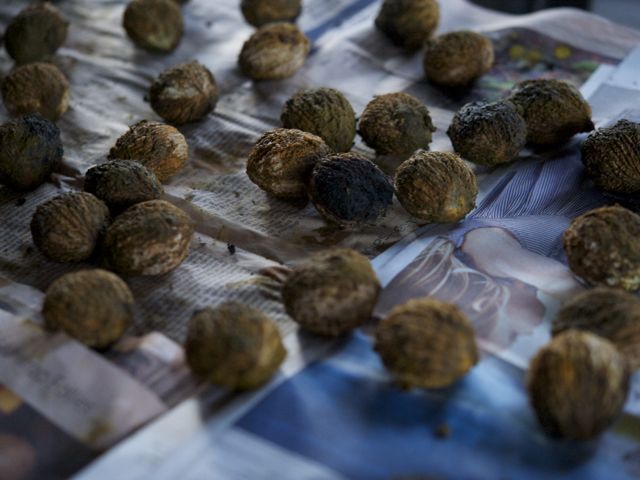 The thick hard shell is tightly bound to the husk by very deep ridges. Once removed, the nuts must be left to dry in their shells for several weeks. You can crack one open periodically to monitor the progress.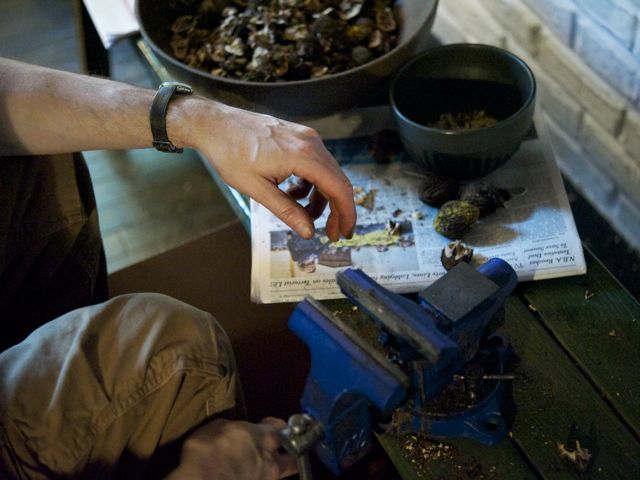 When the nuts were dry, G brought them inside, attached the vise to a bench in front of the fireplace, and proceeded to crack all the shells. (The mess it made almost gave me an anxiety attack.) Then the two of us sat there for many, many hours and picked the nut meats out. This is where a large family would be quite useful; a passel of kids, say, or even a few spinster aunts with idle time on their hands.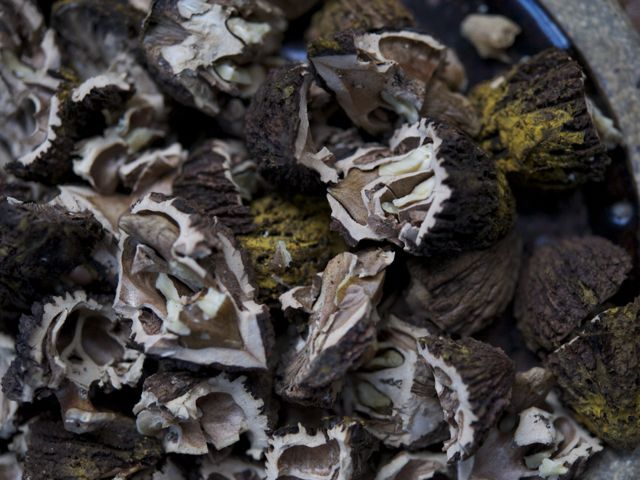 Black walnut shells are not only much, much harder than English (Persian) walnuts, they are also much more furled and complicated inside. We used slender nut picks and all sorts of tools plucked from my arsenal of manicure supplies. This is the type of work from which you can go blind. I have to admit, I find this sort of thing rather fun.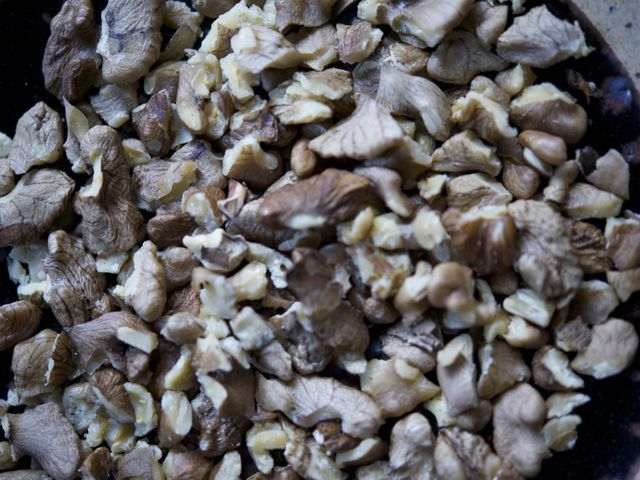 Once out, the nuts came to a paltry 4 or 5 cups. But their flavor goes such a long way. I know I've already waxed poetic about them, but you have to try black walnuts to appreciate how unique they are. Rich, complex, musky, winey, sweet, umami. Jeni describes them as having "notes of honey, celery leaves, vanilla and wine with a lush, fragrant finish."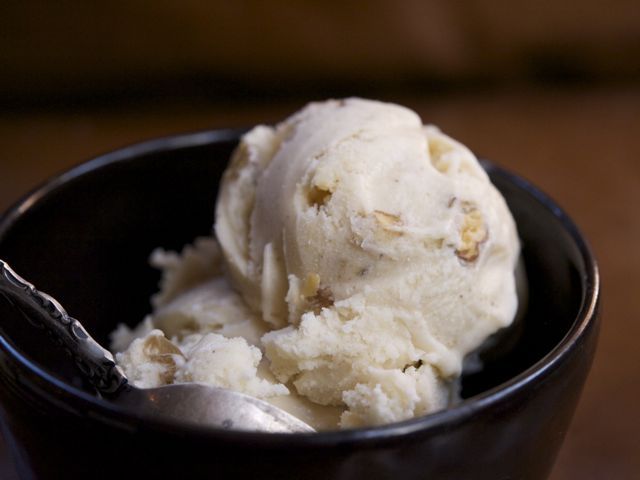 And combined with cream? Nirvana. On Christmas Eve, we ate black walnut ice cream with a pear upside-down cake. A few days later, G and I polished off the rest draped in bittersweet chocolate sauce. That was perfection. But the cake was pretty good, too. I probably won't make it again because it's a little too "white" for me, but you might like to try it.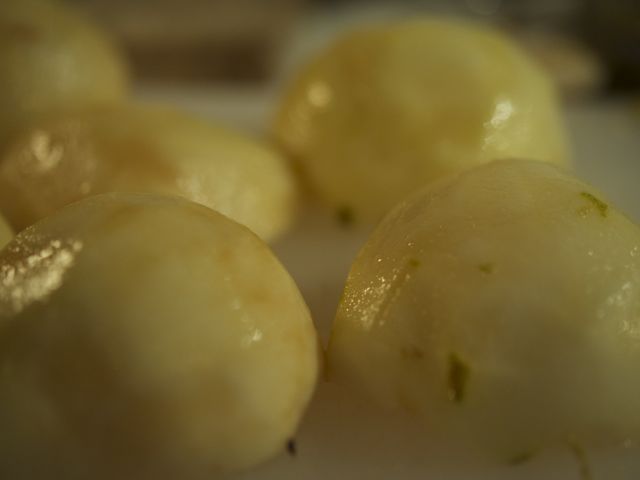 I used
this recipe
from Karen DeMasco, pastry chef at Locanda Verde (and, formerly, Craft) who has a way with all things sweet and baked.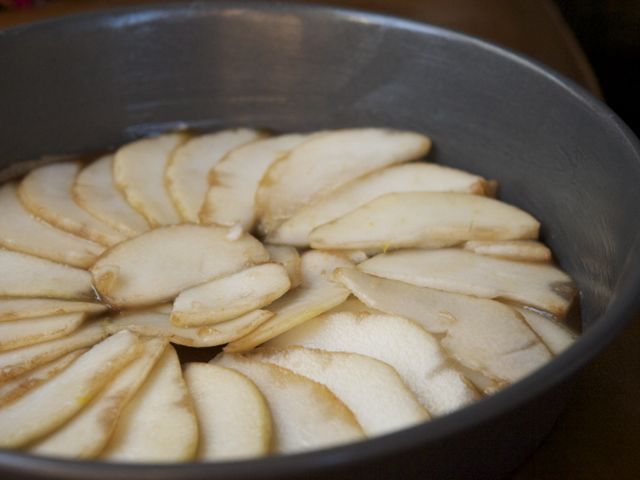 You make some caramel (or, like me, use some coconut caramel from a jar you have on hand), artfully arrange some juicy slices of pear on top and pour a cornmeal-enriched cake batter over that.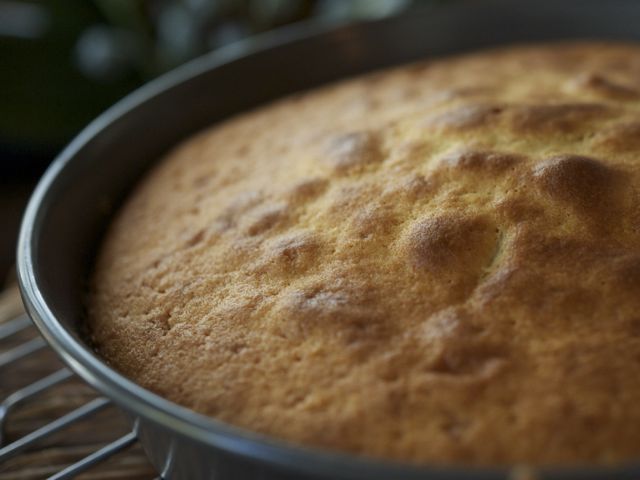 It's incredibly simple. The cake is pleasantly dense and not too sweet, the caramel seeps into the top layer and the pears give it a glamorous look.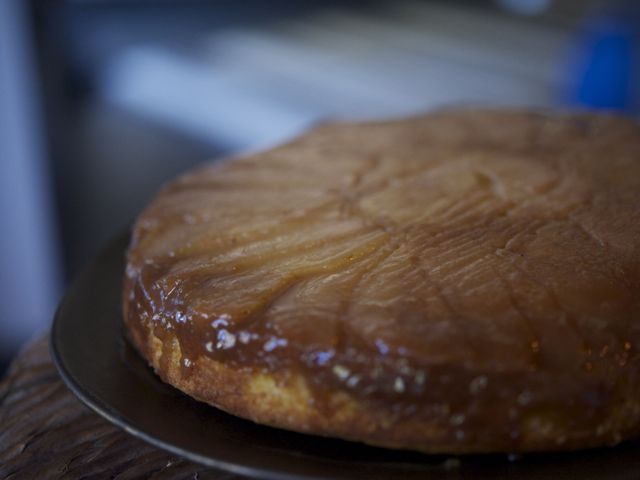 For us, though, the cake was really an under-appreciated foil for that ice cream. Black walnuts are just that powerful. I like to think my mother stirred in her grave.I believe this is the first time I've posted one of Jeni's recipes for you. She has a very particular way of making ice cream that uses no eggs, but almost always incorporates a little cream cheese and a couple of tablespoons of corn syrup. These make a huge difference in the texture. You will be truly amazed at how smooth and creamy your ice cream turns out.
Jeni's Black Walnut Divinity Ice Cream
from Jeni's Splendid Ice Creams at Home
makes about 1 quart
— 1 1/4 cups

organic heavy cream

— 1/4 teaspoon

fine sea salt

— 1.5 ounces (3 tablespoons)

cream cheese, softened

— 1 tablespoon + 1 teaspoon

cornstarch

— 2 cups

organic whole milk

— 1 cups

black walnuts

— 2/3 cup

sugar

— 2 tablespoons

light corn syrup
PREP: Preheat oven to 350º. Spread walnuts out in one layer on a baking sheet. Toast in oven until just starting to brown, about 10 minutes. Remove from oven.


Grind ½ cup of the warm walnuts in the food processor until they become a smooth paste. Reserve the remaining walnuts. Mix about 2 tablespoons of the milk with the cornstarch in a small bowl to make a smooth slurry.


Whisk cream cheese, black walnut paste and salt in a medium bowl until smooth.


Fill a large bowl with ice and water.


COOK: Combine the remaining milk, the cream, sugar and corn syrup in a 4-quart saucepan, bring to a rolling boil over medium-high heat and boil for 4 minutes. Remove from heat and gradually whisk in the cornstarch slurry.


Bring mixture back to a boil over medium-high heat and cook, stirring with a heatproof spatula, until slightly thickened, about 1 minute. Remove from heat.


CHILL: Gradually whisk hot milk mixture into cream cheese mixture until smooth.


Pour the mixture into a 1-gallon Ziploc freezer bag and submerge bag in an ice bath. Let stand, adding more ice as necessary, until cold, about 30 minutes.


FREEZE: Pour ice cream base into frozen canister and spin until thick and creamy.


Pack ice cream into a storage container, folding in the remaining black walnuts as you go. Press a sheet of parchment directly against the surface and seal with airtight lid. Freeze in coldest part of your freezer until firm, at least 4 hours.



Download Recipe
Bittersweet Chocolate Sauce
makes about 1 cup
— 2 teaspoons

pure vanilla extract

— 8 ounces

best quality bittersweet chocolate, like Askinosie or Scharffen Berger

— 1 cup

organic heavy cream

— generous pinch

fine sea salt
Coarsely chop the chocolate.


In a medium saucepan, heat the cream just until small bubbles appear around the edge. Remove from the heat, add the chopped chocolate and let stand for 1 minute. Add the vanilla and salt, and whisk until smooth. Best served warm.


Keep refrigerated in a glass jar. To reheat, remove lid and place jar in a small saucepan with water coming up about halfway. Heat over medium flame until sauce liquifies.



Download Recipe