10.25.11
Green Thumb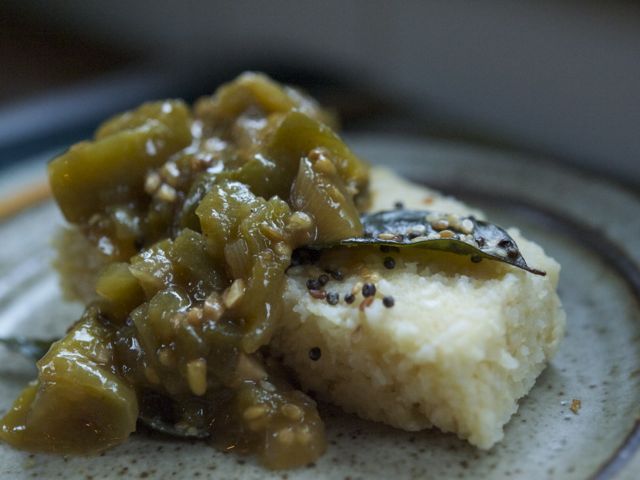 I heard a rumor we are expecting snow showers next week—can you imagine?! An impending hard frost inspired G to bring in a huge batch of green tomatoes from the garden, the last ones clinging to the now-scraggly vines. Initially, I was a tad exasperated. But then I remembered to be grateful. Not to go all Pollyanna on you, but it's an interesting challenge to turn everything into a positive. The old lemons into lemonade philosophy. Not that a bumper crop of green tomatoes really has anything to do with that. And once they were turned into a tart-sweet, highly spiced chutney—thanks to inspiration from Winnie's
Healthy Green Kitchen
—I looked at those lovely jars stacked up and felt nothing if not happy. Like all the other animals at this time of year, I'm loading up the larder with stores for the winter.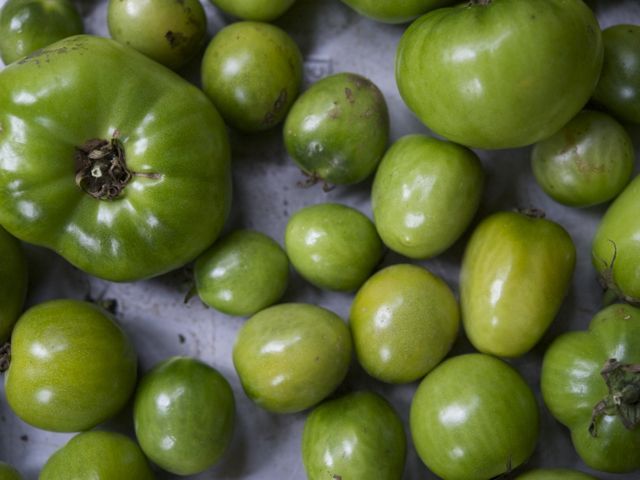 I could imagine this recipe might work with tomatillos as well, but I think they would fall apart quicker and give you a gloppier consistency. Although they are totally different things, green tomatoes do have a similarly bright and acidic flavor.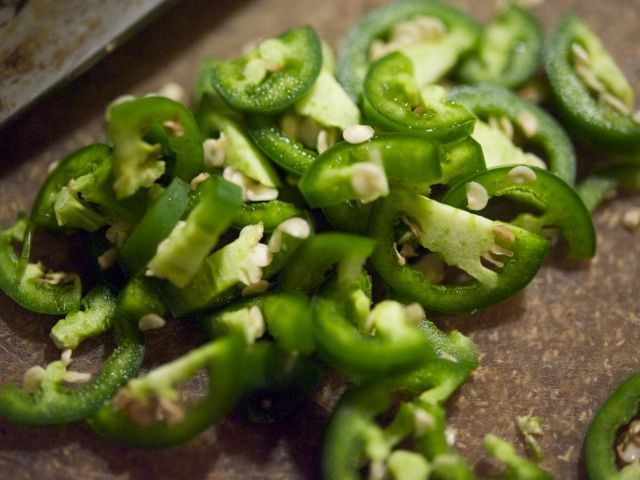 I'm sure you already know this, but to moderate the heat in chiles, you simply remove the inner white "spine" and attached seeds. This is where much of the capsaicin resides.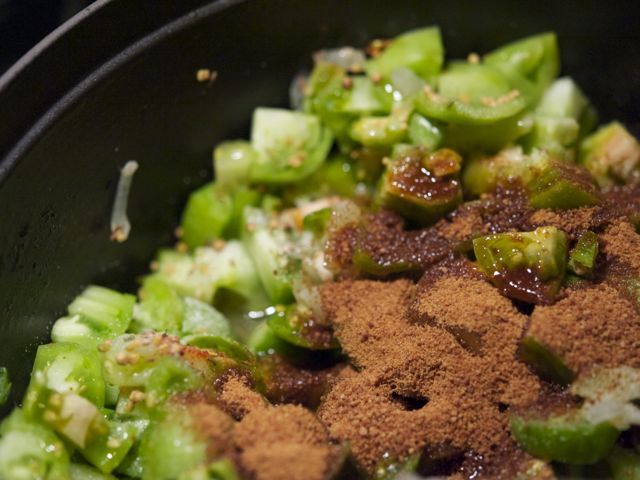 G made some new friends when he was on his (leg-breaking) shoot in Indonesia, and they sent us some of their wonderful products.
Big Tree Farms
, on the lush slopes of Bali's second highest volcanic peak, are creators of artisan foods. I'm going to do a whole post on them soon, but wanted to introduce you here to their amazing palm sugars. For this chutney I used one infused with peppery ginger.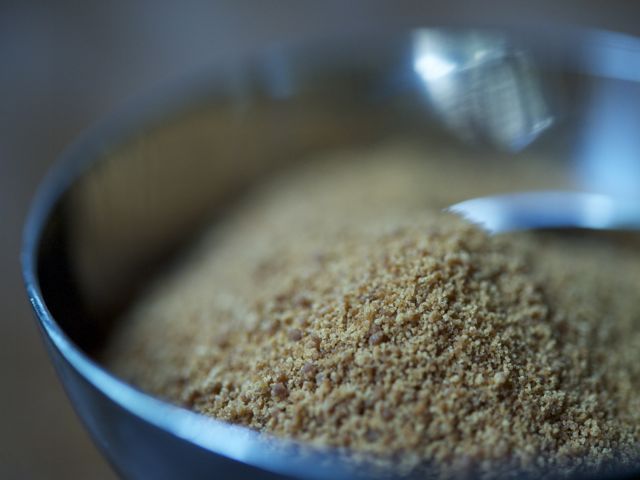 Most palm sugar comes in unwieldy clumps or "loaves," but Big Tree has found a way to grind theirs, applying a dry heat to create a soft, crumbly texture that is very easy to use.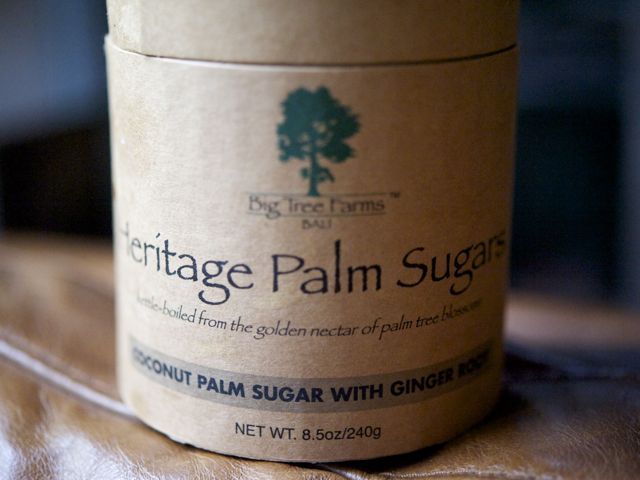 Decidedly Indian in flavor—thanks to ginger, garlic, chiles, fenugreek, mustard seeds, coriander, cumin and cayenne—this lovely, jammy chutney hits all the notes: hot, sour, salty and sweet. I ate mine with some of that mild dhokla from the other day, but I can imagine it perfectly accenting a curry, a piece of grilled salmon, a lamb burger or a cheese sandwich.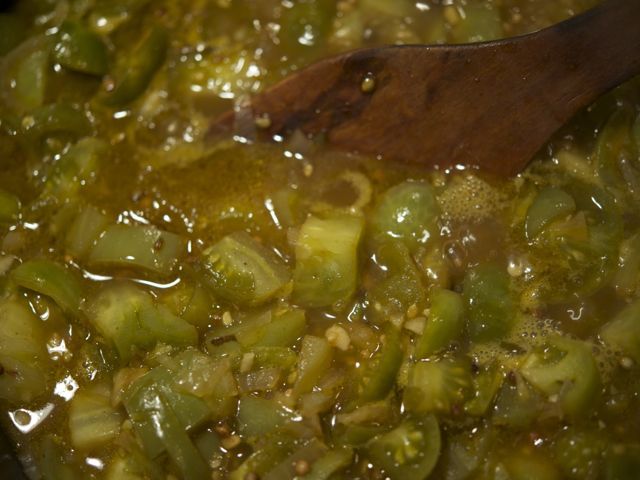 You just dump everything into a big pot and walk away for a couple of hours, coming back occasionally to give it a stir. In the end, you've reduced a big pile of unripe (unwanted?) tomatoes into a luscious condiment that will turn others green with envy.
Green Tomato Chutney
adapted from Healthy Green Kitchen
who adapted it from Tom Colicchio's "Think Like A Chef"
makes just over 4 cups

— 1 cup

organic apple cider vinegar

—

sea salt, to taste

— 4 tablespoons

light muscovado sugar, grated palm sugar or ginger-infused palm, or more to taste sugar

— 5 tablespoons

fresh lemon juice

— 1/2 teaspoon

cayenne, or more to taste

— 1/3 cup

crystallized ginger, chopped

— 1 teaspoon each

ground cardamom, mustard seeds, whole coriander, cumin seeds and fenugreek

— 3 pounds

green tomatoes, cored and chopped

— 1

large yellow onion, peeled and chopped

— 4

serrano peppers, seeded (or not) and minced

— 2

garlic cloves, minced

— 2 tablespoons

peanut oil
Heat oil in a large, heavy pan over medium-high heat, then add all ingredients, stirring well to combine.


Bring to a boil, then reduce the heat to a simmer and cook for a couple of hours, until thick and jammy. Allow to cool slightly and taste for seasoning, adding more salt or cayenne or sugar, as needed.


Spoon into sterilized jars and process in a hot water bath for 10 minutes.


If you're making a smaller amount and don't want to process it, you can store it in a glass jar in the fridge. It will keep for a couple of months.



Download Recipe