10.24.11
Red Chile 2.0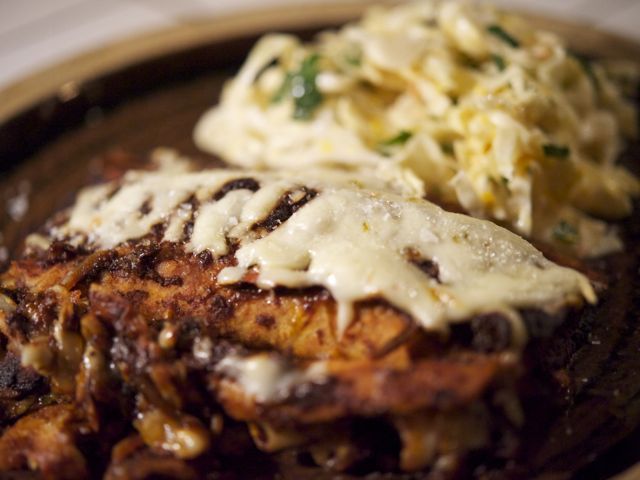 I opened the fridge and saw a jar of red chile puree, left over from our chile-fest the other weekend, and thought, instantly: enchiladas. Italians have their red sauce, their seminal tomato "gravy" that gets right to the heart of who they are as a people, a culture, and New Mexicans have their own version, a thick, smoky and deeply complex puree of toasted chiles that is their lifeblood. My mother poured hers from a can—routine at that time, but seems like sacrilege now. It was my grandmother who taught me to lightly toast the leathery, dried chiles in a hot skillet, then soak them before pureeing them in the blender. I've got my own methods now, but the whole process still connects me to the women who came before, the ones who made pink beans and sopaipillas and tamales with their own hands. This is the food of my people, and it tastes of courage, the earth and love.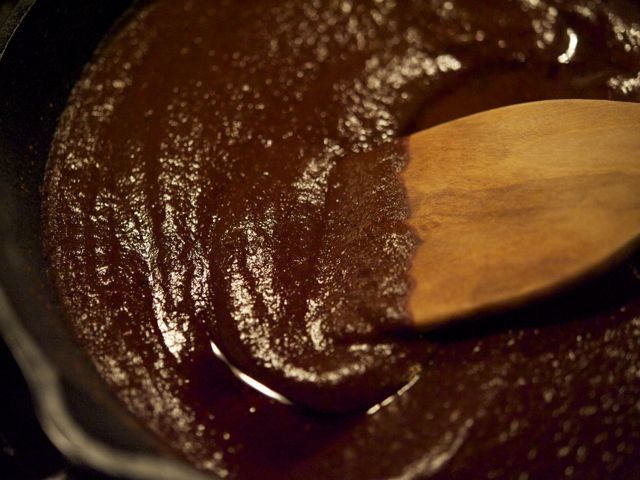 To learn how to make a chile sauce, or puree, check out
this post
. Yes, you can use canned enchilada sauce, and Montezuma won't curse you. But making your own really is worth it; for starters, because you can create your own mix of chiles and there are so many to choose from: Anaheim, ancho, pasilla, guajillo, chipotle... They range from fiery to sweet, from smoky to fruity. Learn about them and their distinctive properties
here
. "Enchilada" is actually the past participle
enchilar
,  which literally means to to add chile to something, so it really is all about the peppers.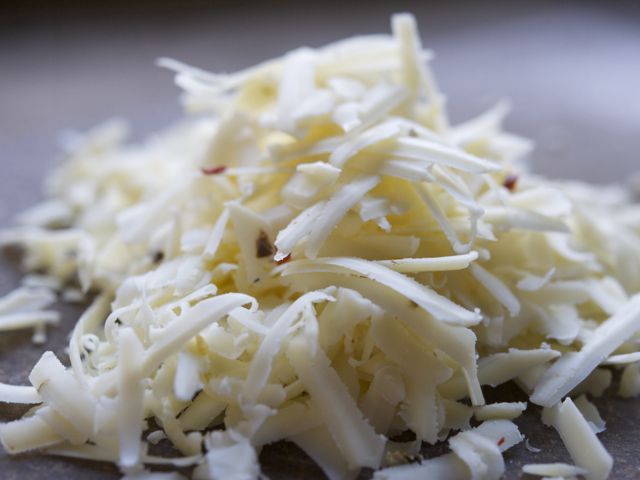 Enchiladas are kind of like Mexican crepes; you can roll pretty much anything you like inside them. Cubed cooked squash, shredded chicken or beef, barbecued pork or goat or, like these, just cheese. Goat cheese is lovely, as is cheddar, but I'm using jalapeño jack, a mild, creamy cheese spiked with red and green spicy peppers.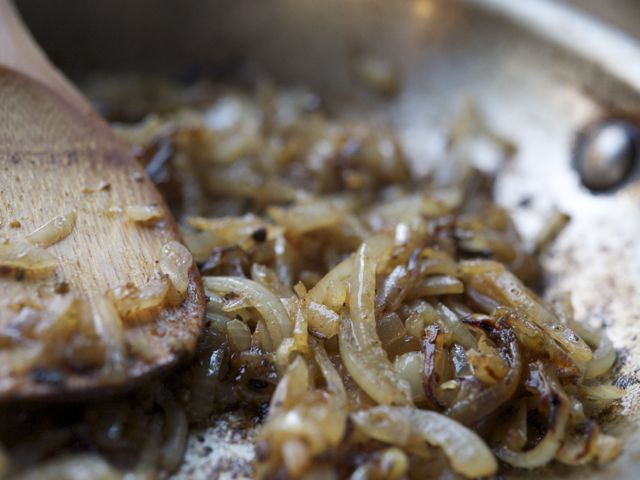 Cheese and white onion is a classic New Mexico filling for enchiladas, especially the stacked kind (versus the rolled ones I'm making here). Usually, chopped white onion is tossed in raw, but I've never been a fan of the half-crunchy (slightly slimy), partially cooked onion. Instead, I caramelize mine with some cumin, coriander and Mexican oregano. I like the way the sweet, spicy flavors complement the cheese.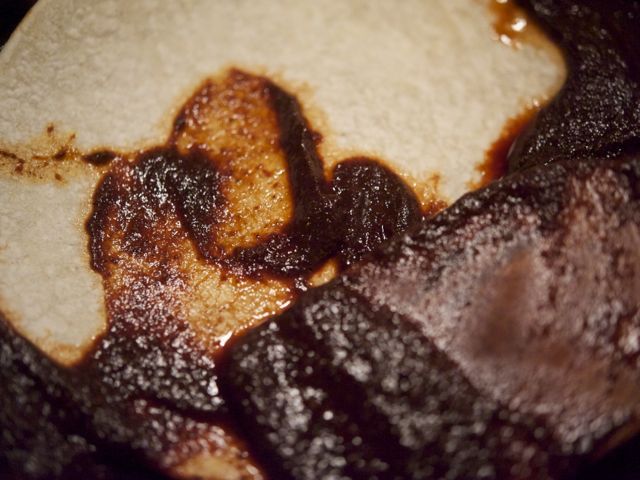 You thin the chile puree a bit, so it's got some movement to it, and heat it in a skillet. Then you submerge your tortillas in it. Traditional enchiladas call for you to fry the tortillas in oil first, then in sauce, but many deem this step unnecessary. (And it sure is messy!) All you're really trying to do is infuse the tortilla with a bit of flavor and make it malleable enough to roll easily. Don't leave the tortilla too long in the warm sauce—a matter of seconds will do—or it will fall apart, especially if it's fresh.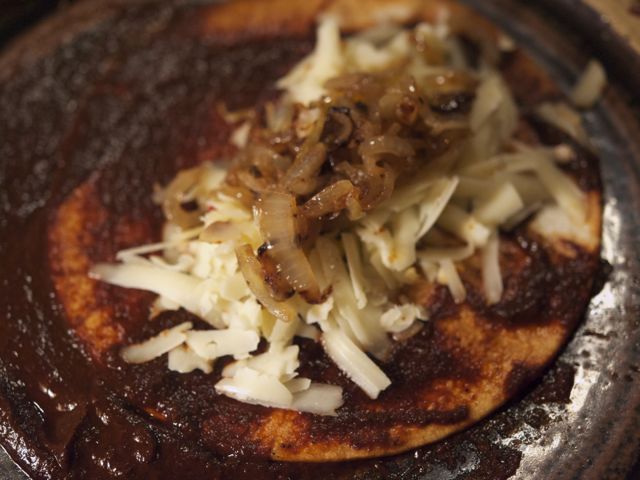 Pile some cheese and a bit of the onions on your tortilla, and roll it up like sushi. A little fresh cilantro would be nice here, too. As a child I forbade my mother to add either onions or cilantro to my enchiladas. Silly child.
Fit your enchiladas snugly together in a casserole, douse with sauce, sprinkle a little cheese on top, and into the oven they go. This recipe can easily be doubled and tripled (or more) to feed a larger crowd. Leftovers are also delicious the next day. Although beans and rice are classic sides, I find all that a bit heavy—maybe just one or the other. Or whip up a quick slaw. This time I used green cabbage, sliced fine, and tossed it with lemon, lime and grapefruit zest and juice. I love the cool, crisp contrast between this and the rich, spicy enchiladas. ¡Buen provecho!
Cheese-&-Onion Enchiladas
serves 2
— 1/2 teaspoon

sea salt

— 1/2 teaspoon

ground coriander

— 1/2 teaspoon

ground cumin

— 1 teaspoon

dried Mexican oregano

— 1

large yellow onion, thinly sliced

— 2-3 cups

red chile sauce

— 4

corn tortillas

— 1 cup plus 2 tablespoons

grated jalapeño jack cheese
Preheat oven to 350º.


Heat a couple of generous glugs of grapeseed oil in a small skillet and add the oregano, cumin and coriander; stir. After a couple of minutes, add the onions and sauté over medium-low, stirring frequently, until lightly caramelized, about 15 minutes. Set aside.


In a medium skillet, preferably cast-iron, heat the red chile sauce, thinning it with a little water if it's very thick. When it's warm, ladle a couple of spoonfuls into a small ovenproof dish or casserole, spreading it on the bottom.


Lay a corn tortilla in the sauce, and use a pair of tongs to gently submerge it. Remove quickly and let excess sauce drip off before placing it flat on a plate. Place 1/4 of the cheese and 1/4 of the onions on the tortilla and roll it up. Set, seam side down, in the prepared casserole.


Repeat with remaining tortillas, fitting them snugly together in the dish. Spoon some additional sauce over the top.


Sprinkle last 2 tablespoons of cheese on top and cover loosely with foil. Bake for 20 minutes, then remove foil and bake for another 10. You can broil the cheese at the last minute, but be sure to watch it like a hawk! Remove from oven and use a spatula to serve.



Download Recipe