7.6.11
'Wichcraft: Ultimate Sammys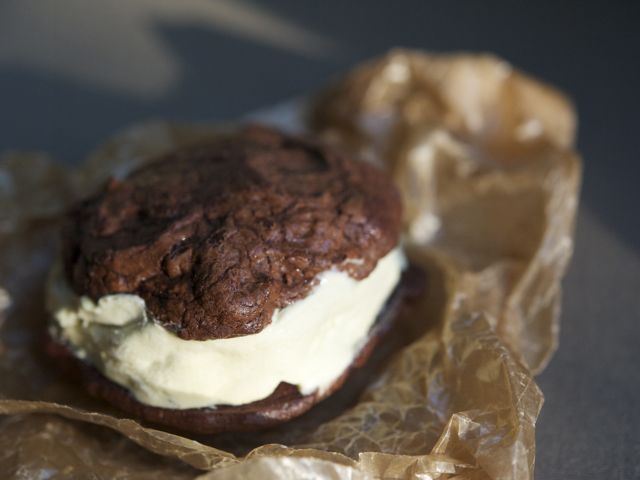 These are the best ice cream sandwiches. Yes. I know we all have a certain fondness for those semi-industrial rectangular ones we enjoyed as children—with that thin, cakey cookie that sticks to your fingertips, right? But these trump those. These are so big and fat they turn Chipwiches to shame and bring grown men to their knees. These are rustic, hand-hewn beauties. It's about the cookie, sure: melted bittersweet chocolate, best-quality cocoa and semisweet chips make for a lot of rich, fudgy goodness. But what you put between that dark embrace can send you soaring to the heavens. Might I suggest homemade mint ice cream? Or perhaps a creamy vanilla speckled with real seeds and offset with a slather of sweet, sticky
cajeta
(goat's milk caramel)? We served both on the 4th and I heard no complaints, only soft moans of ecstasy. If you have a big mint patch out back in some shady spot, all the better. I use our spearmint with its subtly cooling, herbaceous flavor, but you can experiment to see what you like. And no, it doesn't taste like toothpaste. By the way, forget the food coloring. The very pale green you'll get is so much more beautiful than that lurid artificial hue.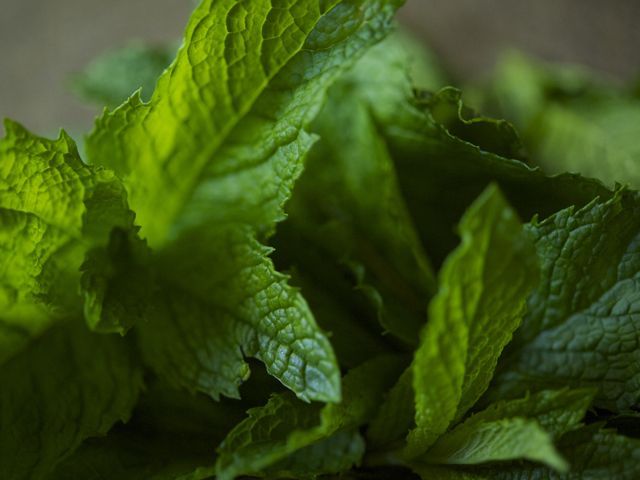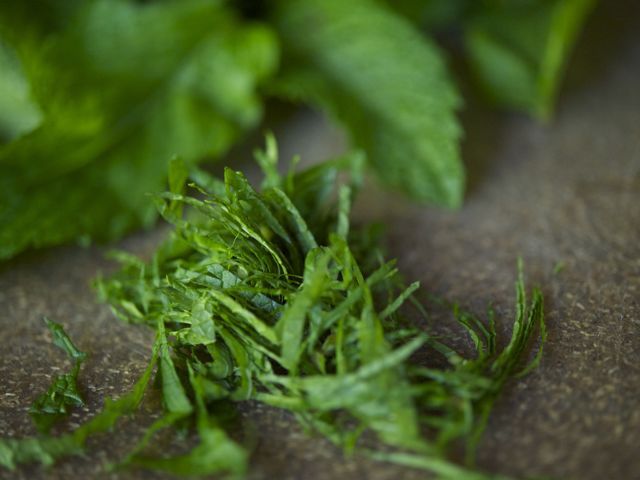 I've lightly adapted a recipe of Isaac Mizrahi's that was featured on Epicurious a few years ago. The man knows fashion but he's no stranger to ice cream, either. This is a smooth, dreamy custard infused with mint flavor. Isaac stirs chocolate chips into his, but since I serve mine on
these decadent chocolate cookies
I deem that a chip too far. (Please note that this recipe makes ENORMOUS cookies. You should be able to get 18 or 20 cookies per batch, not 16.) Make them up to 3 or 4 days in advance and freeze them as per the instructions. You don't want a floppy cookie when you're making sammys or you'll be in trouble.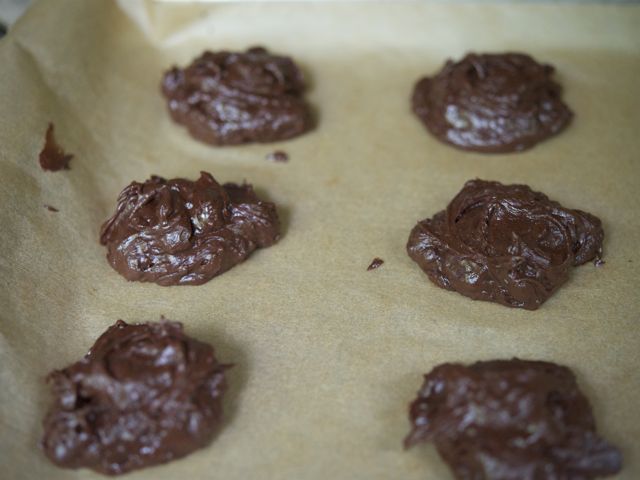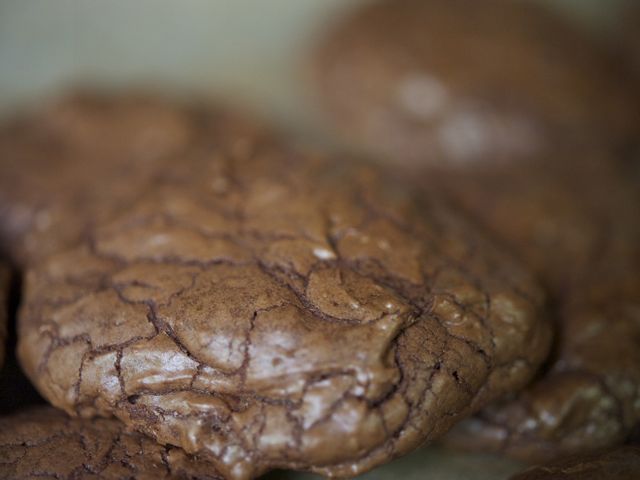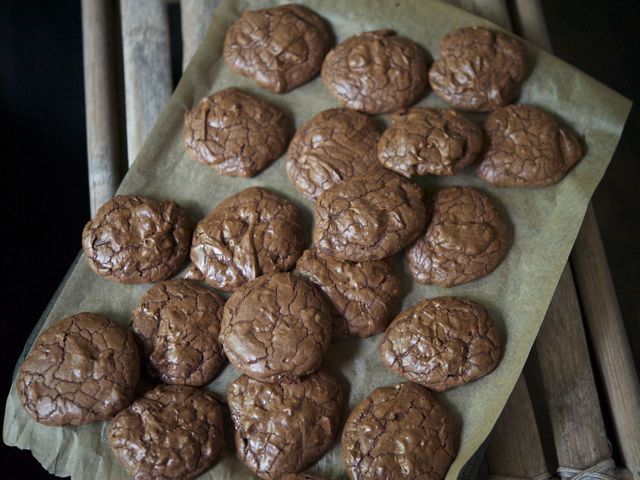 I made 6 batches of these, and turned them into 53 ice cream sandwiches. I baked the cookies one day, made the ice cream another, and assembled them on another still. You want the ice cream to be quite firm when you scoop it out and onto the cookies. Too soft and it will start to glob all over. I pop each one into its own little
wax paper baggie
for easy storage and eating. Get organized and give yourself plenty of time. Life is much more pleasant that way. Besides, stress is aging and will dull your complexion.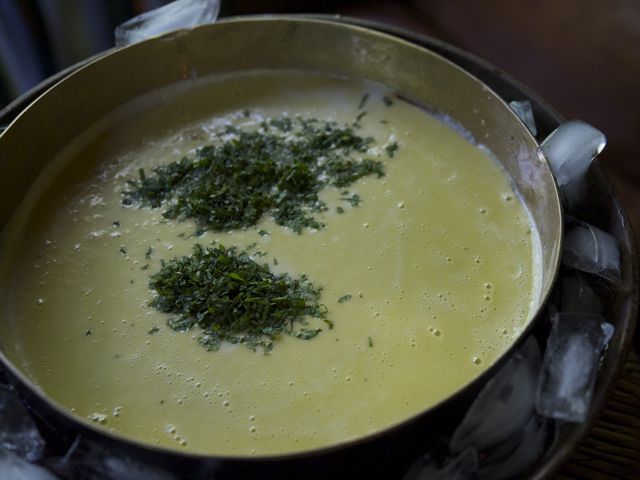 With 60 pounds of pork in the fridge, I was really challenged to find the space I needed for all the party prep. Solution? Coolers filled with ice out in the screened-in porch. And an ice bath to chill the custard before going into the ice cream maker. Where there's a will, there's a way. And ice cream sandwiches can be very motivating. Make you some.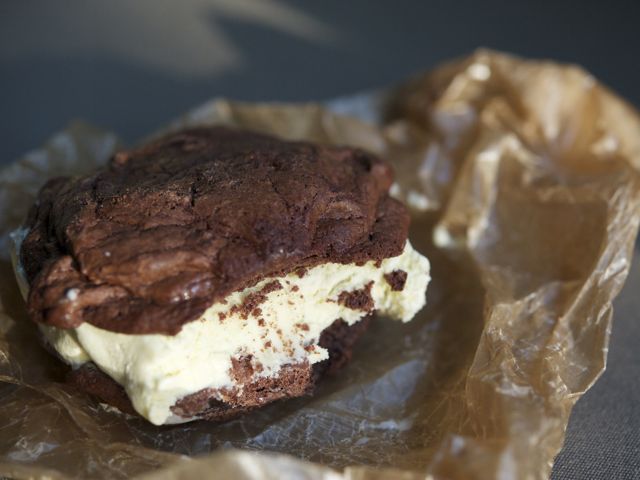 Mint Ice Cream
makes 1 generous pint
— 2 1/2 cups

organic heavy cream

— 1 cup

organic or raw whole milk

— 2 cups

fresh mint leaves

— 1 1/4 cups

organic cane sugar

— 5

large humanely raised egg yolks

— pinch

fine-grain sea salt
Heat cream, milk, mint and sugar over medium heat. Bring to simmer. Remove from heat and cover. Steep at least 15-20 minutes; taste to make sure flavor has infused to your liking.


Whisk yolks and salt in medium bowl. Ladle about 1/2 cup hot milk mixture into egg yolk mixture, whisking constantly to prevent eggs from cooking. Slowly stir the egg mixture back into the hot milk, whisking constantly. Return to pot and cook over low heat until the mixture lightly coats a spoon, about 5 to 6 minutes. (A finger drawn across spoon should leave clear path). Do not let custard boil or it will curdle! Strain into a clean bowl and cool over water bath, stirring occasionally to prevent a skin from forming.


Process in ice cream maker, adding chiffonade of mint during last minute of churning, if desired. Transfer to airtight container and freeze until firm, at least 3 hours or overnight.



Download Recipe