7.7.11
Secret Sauce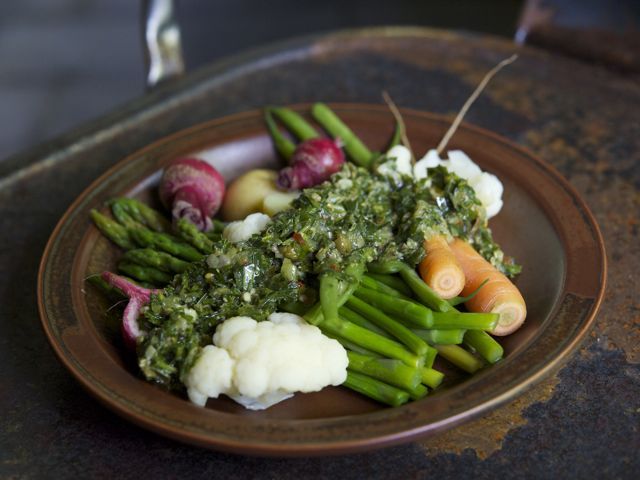 Salsa verde has more than one guise. In Italy it is a cold rustic sauce vaguely resembling a pesto of sorts but very light, fresh and tangy. Generally it features parsley, capers, onion, garlic, anchovies, vinegar, olive oil and lemon, but may also contain a bit of crumbled white bread, pickles, mustard and other green herbs. It's an opportunity for you to experiment a bit and make it as you like. This is most definitely not the salsa verde you would find in a Mexican restaurant. That one contains tomatillos and chiles and is a whole other conversation; or
post
, as the case may be. Nor is it quite the same as Argentina's famed
chimichurri
, which is missing the umami wallop of anchovy. Incidentally, if you still think you don't like anchovies and you leave them out of this sauce, you will be depriving yourself of a great taste sensation. I understand how you might be turned off by the little oily fillets with their hairy-looking bones and fishy aroma, but once they become part of something else—a Caesar dressing, say, or this sauce—they lose their identity and simply impart a rich depth of flavor that is like nothing else. Not to mention they're really good for you. So, salsa verde: the perfect summer sauce to slather on everything grilled, from fish and shrimp to chicken and steak. My other favorite way to eat it? As a dip for garden-fresh raw or lightly blanched vegetables.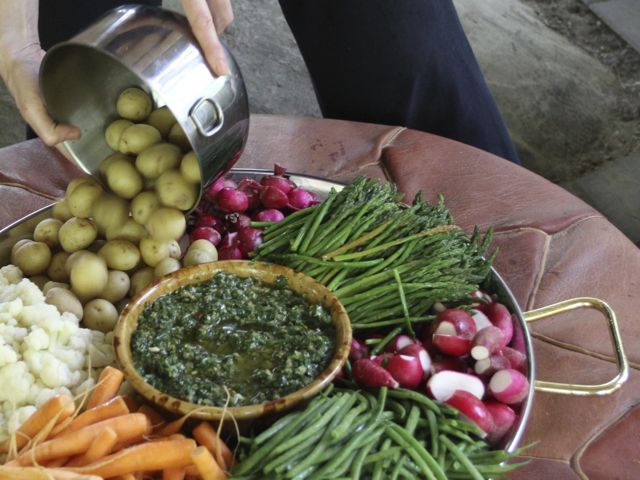 This year, salsa verde replaced my usual blue cheese dip at our annual July 4th bash. It just seemed like a better choice with all that pork and ice cream to follow. But I also saw a few people spooning it onto a cracker atop a hunk of
Kunik
, Nettle Meadow's addictively buttery (but not insipid) cheese.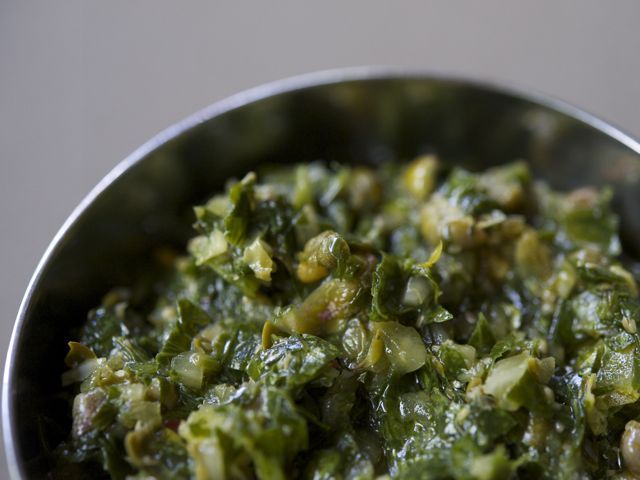 A few tips:Be sure to pick the leaves off your parsley and other herbs and discard the stems. This is an annoying task but it must be done.Taste as you go along. You can always add more capers or garlic or chile; if you've already gone too far, add more parsley and lemon juice to ratchet it back.It's best the first day it's made, but I found it does keep. Mine has kept well in a glass jar in the fridge, topped with a glug of olive oil.
Salsa Verde
makes about 2 cups
— 2 cups

parsley leaves only, packed

— 2 tablespoons

tarragon leaves

— 1 tablespoon

fresh mint leaves

— 2-3 tablespoons

chopped sweet onion or shallots

— 1 tablespoon

capers, drained (rinsed if salted)

— 4

large anchovy filets

— 1/2-1 teaspoon

red chile flakes

— 1 tablespoon

red wine vinegar

— 1/2 teaspoon

Dijon mustard

— 1/4-1/2 cup

olive oil

—

sea salt, to taste

—

freshly ground black pepper, to taste

— 1 tablespoon

fresh lemon juice, or to taste
Finely chop first 7 ingredients (through red pepper flakes), either by hand or in a food processor. If using the latter, pulse repeatedly to retain control and don't over-process. Ingredients should retain a bit more individual character than in a pesto. Transfer to a bowl.


In a separate bowl, whisk together vinegar, mustard and olive oil. Add to parsley mixture and blend thoroughly. Taste and add salt and pepper as needed. Stir in a bit of lemon juice to brighten flavor and help retain color.


Serve as a dip for raw or lightly blanched vegetables, or as a sauce for fish, chicken or steak. I even like it with grilled sausages and barbecue.



Download Recipe