7.5.11
Smoking Hot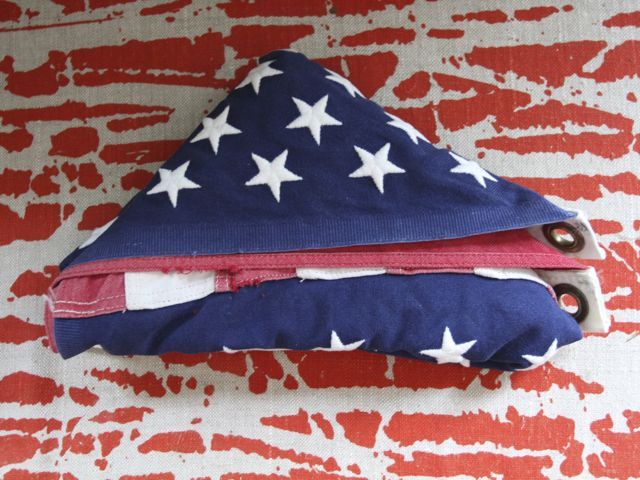 July 4th may be my favorite holiday. It has nothing to do with religion and everything to do with freedom. It's a chance to celebrate the founding of this country which, though seriously flawed and in grand decline, is still the place I choose to call home above all others. This year, we also raised a glass to gay marriage in New York! What a day. It dawned clear and warm after days of torrential rains and lightning storms. G had to stand outside in the downpour for hours the day before to smoke the first half of the 60 pounds of pork we served to the hoard of hungry revelers. It was nothing short of heroic. Gin cocktails were sucked down, pickles were scarfed, ice cream sandwiches demolished. Groups congregated in the screened-in porch, on the lawn and front patio, and even in the house. Dogs frolicked and begged. Screams of laughter rang out, joints were passed and kids got purple popsicle juice everywhere. In short, a great party.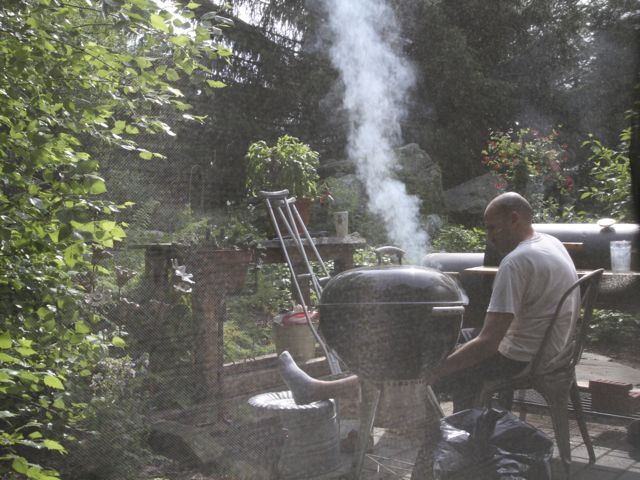 With his broken leg propped up on a bucket, my husband spent the better part of two days smoking four 15-pound hunks of pork from
Dickson's
, New York City's finest butcher, as well as four kosher chickens (we have one guest who is kosher but everyone loves those smoked birds). He used a regular old Weber grill and a larger smoker that comes out once a year, hardwood charcoal and hickory chips. The latter produce the legendary blue smoke.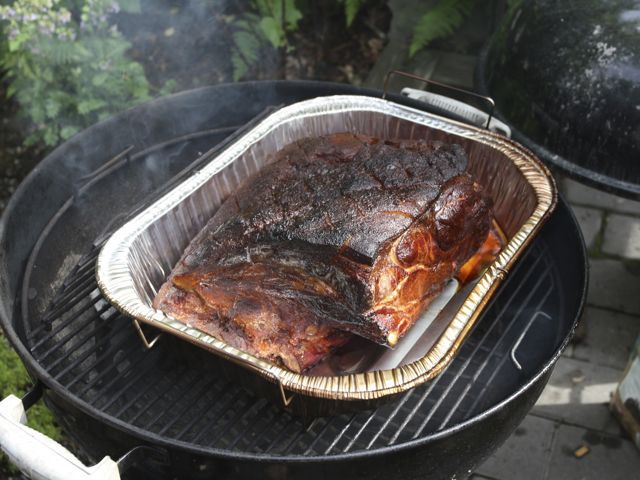 Cook's Illustrated has a
great book
to get you started smoking and cooking extraordinary things on your grill. Make this the summer you finally conquer your fear of fire. Get your ash in gear! Tip: an
instant read thermometer
is your friend.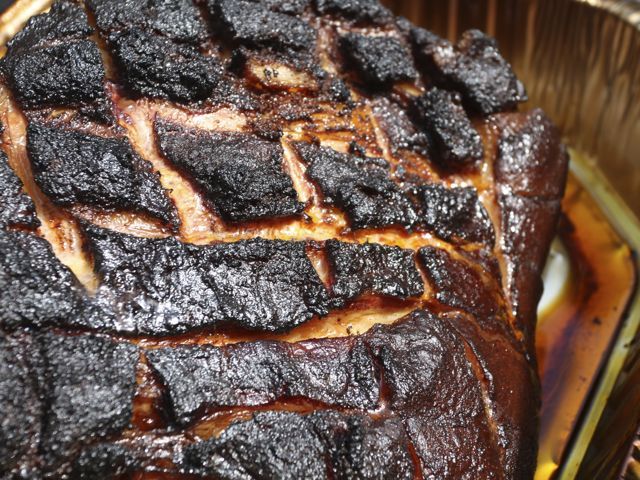 The pork is rubbed down with a
mix
of spices, sugar and salt and left to cure for a few days before being slow-smoked for three hours. It spends two more in a 325º oven, one more resting in a paper bag, and then...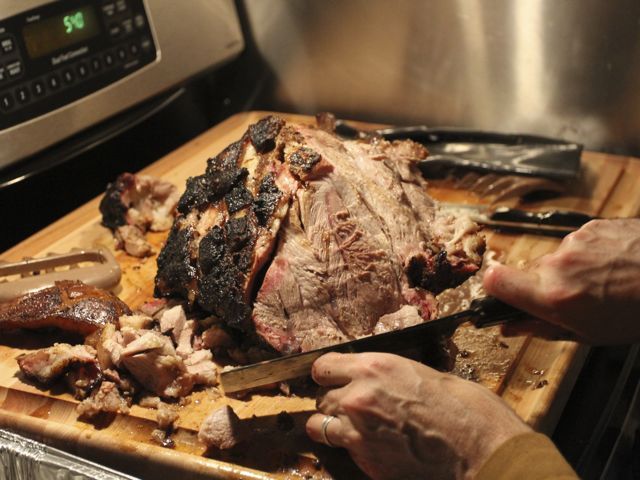 ...the pork is actually chopped with a couple of big cleavers rather than literally being "pulled."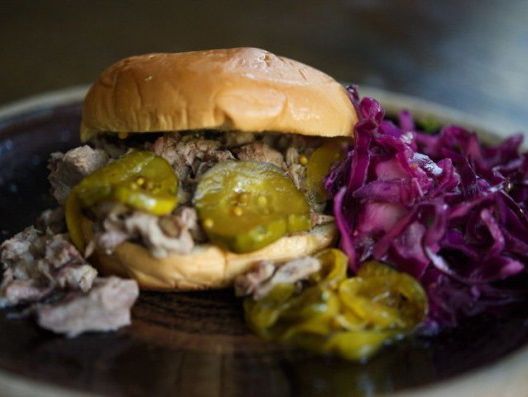 Our pals from Charlotte, Stephanie and Philip, have schooled us in the ways of Eastern North Carolina barbecue. Dill pickles are traditional, as is green cabbage tossed with a mayonnaise-based dressing, but bread-&-butter pickles and a spicy purple slaw have been embraced as well.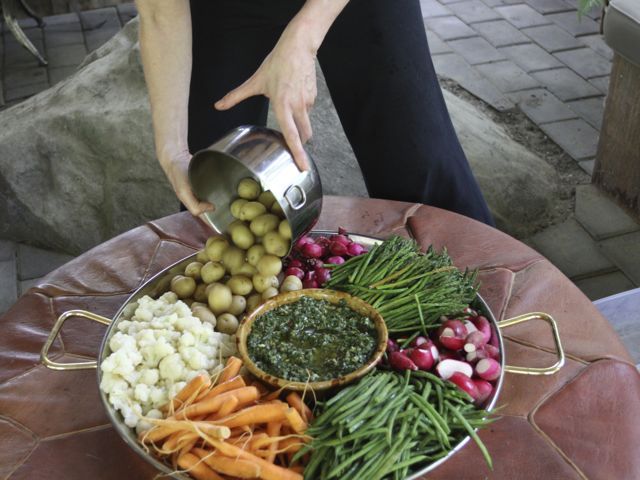 In the past I've served blue cheese dip with celery sticks as an hors d'oeuvre, but this year I wanted to offer something a bit lighter as a counterpoint to the richness of the meat. (That doesn't mean I didn't also have two big
Kunik cheeses
—a beautiful combination of goat's milk and cow's cream from a small farm in the Southern Adirondacks.) I blanched cauliflower florets, mini asparagus, new Yukon gold potatoes and haricot verts, and served small carrots, tiny red turnips and spicy red radishes raw. Later this week I'll post the recipe for the marvelously fresh and savory 
salsa verde
that was the accompanying dip.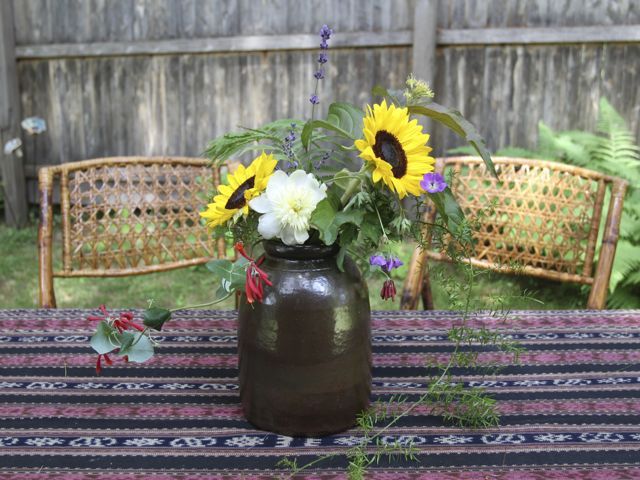 G and I were lucky to have a couple of houseguests who pitched in with party prep. In addition to taking these great photos,
Peter Buchanan-Smith
chopped everything for our spicy purple cabbage-&-jícama slaw and generally made himself indispensable.
Scott Newkirk
made the house beautiful, hanging his vintage 48-state flag, arranging flowers and creating artful seating arrangements as only he can. I'm indebted to my charming and talented friends.
The bar was stocked with two gallons of
our favorite gin cocktail
; unsweetened iced tea next to a pitcher of lemon-balm-&-mint-infused simple syrup; 
Vermont sweetwater
; rum and tonic; local riesling; and lots of beer.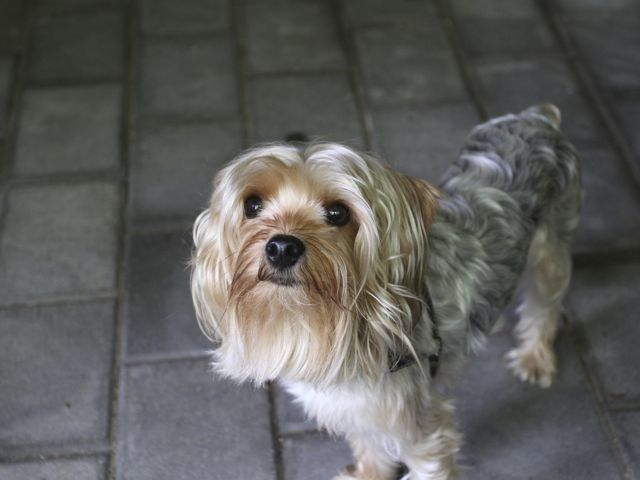 Other dog visitors included, Zara, Freddy, Edie, Annie, Grace and Bea. Titi spent the bulk of the day under our bed. Later she was rewarded for her stoicism with choice bits of smoked chicken.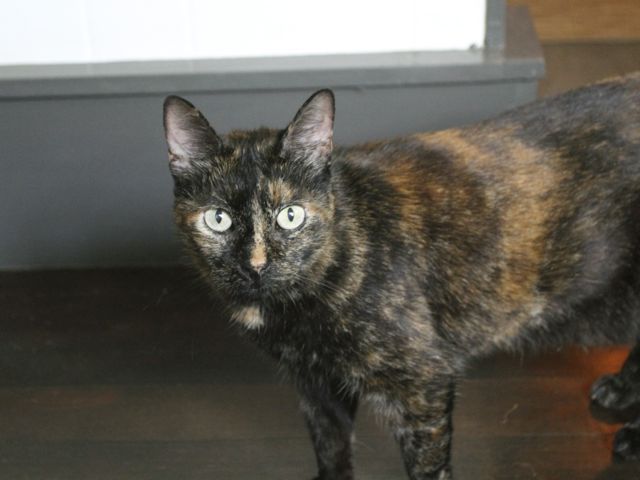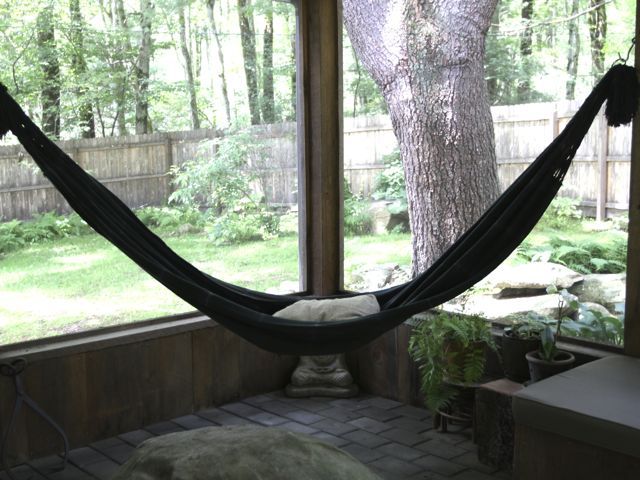 Other highlights included two kinds of ice cream sandwiches (homegrown mint and vanilla with a layer of
cajeta
) and two kinds of popsicles (plum-ginger and blueberry-raspberry-mint). Stay tuned for the recipes so you can make your own. And how was your 4th?