1.20.10
This Little Piggy
After a long day of work meetings and running around the city (and, yes, a mani/pedi with the Chanel "Black Satin" nail polish I have been hoarding for 2 years), I returned to the
Ace
and decided to have a late lunch/early dinner at
The Breslin
to see if I could experience what the fuss is all about. A you may recall, I tried their burger and excellent thrice-cooked fries from room service. And I also had some airy pumpkin pancakes with melted chile butter at brunch the next day that I really can't complain about. But much has been written about the alleged nose-to-tail eating at this joint, so I wanted to root around in the menu a bit more. As it turns out, I snarfled down quite a panoply of delights, so if you're thinking of making the trek to 29th and Broadway, press on, gentle reader.
Though I was tempted by the much-lauded "baked 3-cheese sandwich with house-smoked ham," I was ultimately swayed by the macho posturings of the Terrine Board.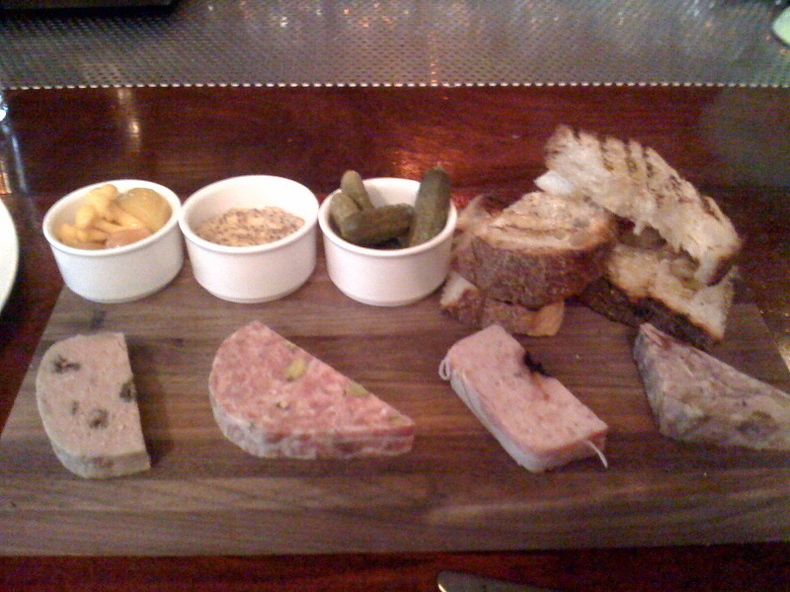 I opted for the small board (thank Christ) and what arrived was, in fact, a reasonable portion of each of 4 terrines: guinea hen with morels (luscious); rustic pork (slightly sour and studded with pistachios); rabbit and prune (more prunes, please); and head cheese (more about this in a sec). They were accompanied by some toasted bread glossed with olive oil (could it have been pane Pugliese from Sullivan Street Bakery?), and little pots of cornichons, grainy mustard, and piccalilli—a rather arcane relish made with cauliflower and pearl onions with which I happen to be acquainted thanks to the pickling skills of my sister-in-law Lisa (she of the horsey appetite and skinny little bod). It was all bloody good. If I were to quibble? The terrines were a bit cold. I mean I understand they can't just be sitting out on the counter getting to just the right temperature for when I come in and order them...or can they? That, and the head cheese was a little gluey/slimy. Confession: this was the first time I have ever eaten head cheese, that I can remember. I am not afraid of it, just haven't come across it much (although it is on the menu at Ssam Bar). Is this how it's meant to be? Dunno. Did it taste good? It did. Will I try David Chang's version? Yep. Next time I'm there. I need to do a taste comparison and then I will let you know if The Breslin's head cheese erred on the side of slime.Now, remember everything I told you just the other day about creating balance in your life? Well, I also ordered a salad which I knew contained nice young Tuscan kale and also came with some fresh herbs (I LOVE chervil!) and an unexpected anchovy dressing that was really good (and full of omega-3s). This was the perfect counterpoint to the terrines. And it also paved the way for dessert! YES. I had heard all about the donuts, and they're only available at lunch, so I figured this was my chance.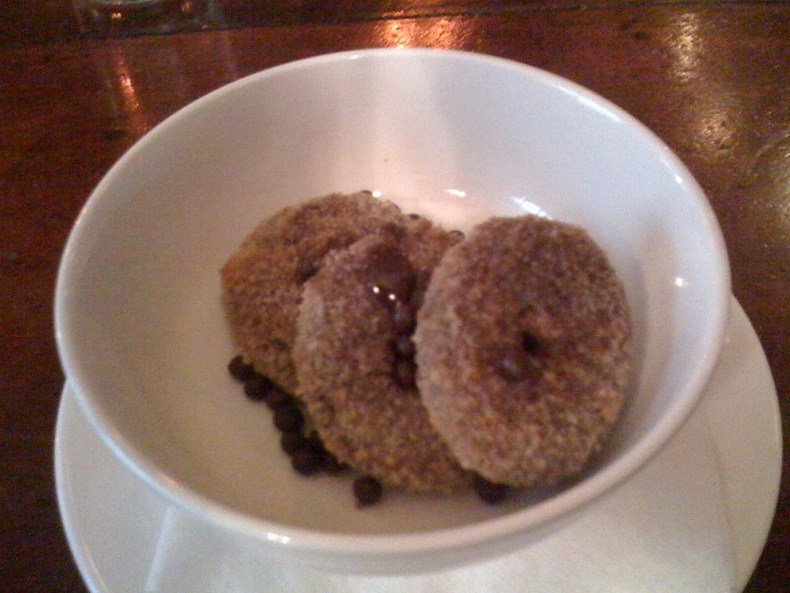 Someone had told me they were filled with nutella, but mine were not. (A good thing, really, as I am not that crazy about hazelnut. I'll eat it, but I prefer my chocolate without.) Despite how large they look in this (fuzzy) photo, they were only about 2" big and they were hot and filled with dark, molten chocolate that dripped onto my fingers and down my chin. (Fortunately the English dude sitting down the bar from me had already finished his terrine board and left without dessert.) To my credit, I only ate two of the four on offer and pushed the rest away like a spoiled princess. (Those little brown things that look like deer poop? They were some teeny chocolate-covered crispies that are 100% superfluous.) Was I sated? Yessir. Do I need another lunch like that any time soon? Nope. But I'll be up in the air tomorrow and I don't like plane food.