12.22.09
The House Cocktail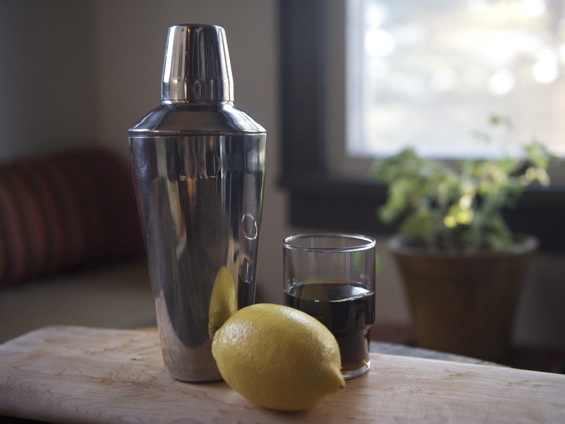 I got into bourbon about 10 years ago, when a friend introduced me to Booker's. I had been a Scotch drinker up until then, and am still partial to a nice Glenlivet or occasionally something peatier. But I do have a bit of a sweet tooth, and love the vanilla flavors in a good bourbon. Made from corn mash and aged in charred oak barrels, bourbon has a smooth, smoky roundness, like liquid amber. I drink it on the rocks, with a couple of brandied sour cherries, or in my favorite cocktail that I make with the addition of just two simple ingredients. It's an ideal balance between sweet and tart, with a lingering warmth from the booze. I suppose it bears some faint resemblance to an old-fashioned, but don't quote me. I'll be shaking one up this evening, and sipping it as I gaze, tranfixed, into the fire.
The Eldred
serves 1
— 2 ounces

bourbon (try Booker's or Tuthilltown's Baby Bourbon)

— 1 generous ounce

maple syrup (grade A or B)

— 1 generous ounce

fresh lemon juice
Combine ingredients in a cocktail shaker with plenty of ice. Shake vigorously.


Serve in a rocks glass.



Download Recipe