12.23.09
Crowning Touch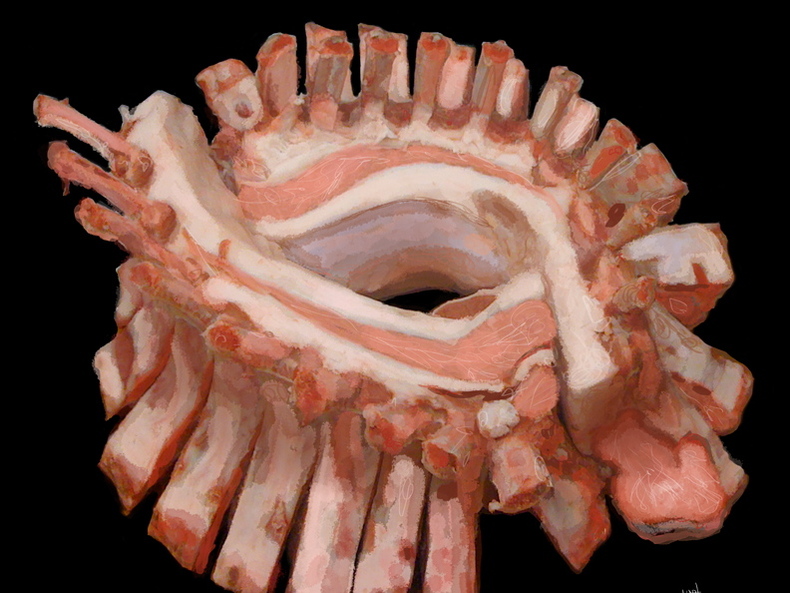 For the first time in 5 years, G and I will be home for the holidays. After being in Iceland, Morocco, India and Vietnam in December, I'm really looking forward to relaxing in our own little cottage in the snow. (Though I'm still dreaming of Egypt. Next year, Inshallah.) The question, then: what to cook for Christmas? My mother was Episcopalian and my father was a Jew and, when they married, they both stepped gingerly away from their religious practices. My dad had a beautiful singing voice and on occasion acted as cantor of the local temple on the high holidays, and we often attended Passover seder at friends' homes. In our own, we celebrated Easter and Christmas, sometimes going to church but always with big feasts and wonderful music—Bach, Handel's Messiah, traditional carols—to which my mother lent her own beautiful singing voice. Tamales were a Christmas Eve tradition, stuffed with pork or chicken and purchased from a local restaurant, though we had all been taught by my mother's mother how to make our own. And always at Christmas, See's candies—nuts and chews, please. What I wouldn't give for a butterscotch square right this very minute. Or a piece of my grandmother's fudge with walnuts.
My mother became gradually paralyzed from a tumor on her spine and, by the time my father died of cancer in 1989, I had begun to take over the holiday cooking. She loved a fancy roast for Christmas (ham was for Easter) and often requested beef with Yorkshire pudding. One year, from her chair in the livingroom, she directed me in making a crown roast of pork, much like the one gorgeously illustrated above by Janice Richter. (Full disclosure: Jan was once my boss when she was creative director at Saks Fifth Avenue. Now free of there, she is making these wonderful illustrations. By now, this one should be hanging on the wall of Dickson's Farmstand, the excellent butcher shop in the Chelsea Market where you can undoubtedly order the real thing, sourced locally and flawlessly presented.) ANYWAY, this year, since it's just G and me on Christmas Eve, I've decided to make duck. We picked up a lovely fresh one at Dickson's, and I'm going to make Amanda Hesser's mother-in-law's recipe which comes out falling off the bone with a crispy skin. My own slight variation includes adding fresh ginger, black peppercorns and star anise for a little boost of flavor. You have to start cooking it a day ahead so you can chill the sauce and skim the fat, and that means today. How did it get to be December 23rd already??
Ginger Duck
from Amanda Hesser, adapted from BaBa
Serves 4, without leftovers

— 1

duck (thawed in the refrigerator), giblets removed

— 1

onion, peeled and cut in half, or 3 shallots

— 2 stalks

celery, cut into 3-inch-long pieces

— 2 teaspoons

ground ginger

— 8 coins

fresh ginger

— 1 tablespoon

black peppercorns

— 3

star anise

— 1/2 cup

sugar

— 1/2 cup

soy sauce

— 1 teaspoon

salt

— 1/2 cup

sherry
The day before you want to serve, stuff the duck with the onion and celery. Place the duck, breast side up, in a large soup pot with enough water to half cover it. Add the ground and fresh ginger, peppercorns and star anise, and bring to a boil. Cover and reduce the heat so that it simmers gently for an hour.

After one hour, turn the duck over. Add the sugar, soy sauce and salt. Continue simmering for another hour. Turn duck once again and simmer until tender and almost falling apart, about another hour. Turn off the heat and, when cool enough, remove duck from pot and place in a roasting pan. Cover and refrigerate until the next day.

Pour the broth into a container and chill overnight. A layer of fat will form on top. Scrape off and discard. With what remains, I make brown rice as a side dish with the duck. It can also be used in soups or frozen for months.

Before serving, bring duck to room temperature in roasting pan. Preheat oven to 350 degrees. Add the sherry and 1 cup of the defatted duck broth to the roasting pan and place in the oven. Roast uncovered for 30 to 45 minutes, basting occasionally with the juices from the pan. If the skin has retracted from the breast meat, you might want to tent a little foil over that. I boosted the heat up to 425 degrees for the last 10 minutes. The duck is done when it is heated through and the skin is crisp and chestnut brown.

Transfer the duck to a serving platter and eat with brown rice and a watercress salad dressed with olive oil and sherry vinegar.



Download Recipe