2.3.15
Sunshine Tonic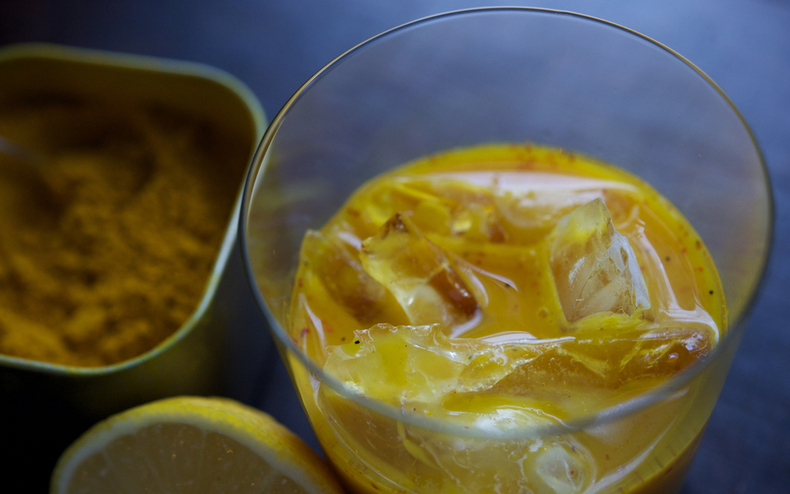 Aches and pains. Who would we be without them? Young, I suppose. But they remind us that our bodies are working organisms made up of tissue and bone and blood. And that we are constantly reacting to all kinds of external stimuli—from intense workouts and deep massages to freezing temperatures and air pollution. Do you know about free radicals? (No, they're not hippie GMO protestors.) These volatile molecules are everywhere and cause oxidation at the cellular level. This is largely responsible for inflammation in the body, which manifests as many unpleasant things, like arthritis, irritable bowel, and swellings and irritations of all kinds. Antioxidants are our allies in the fight against free radicals, which is why it's so important, among other practices, to eat lots of fresh, colorful fruits and vegetables. By this time, you've probably heard that turmeric—that bright yellow but otherwise mysterious Indian spice—is good for inflammation. Maybe you've even bought a bottle of curcumin tablets at the health food store. Yes? No? Either way, there's good information for you here.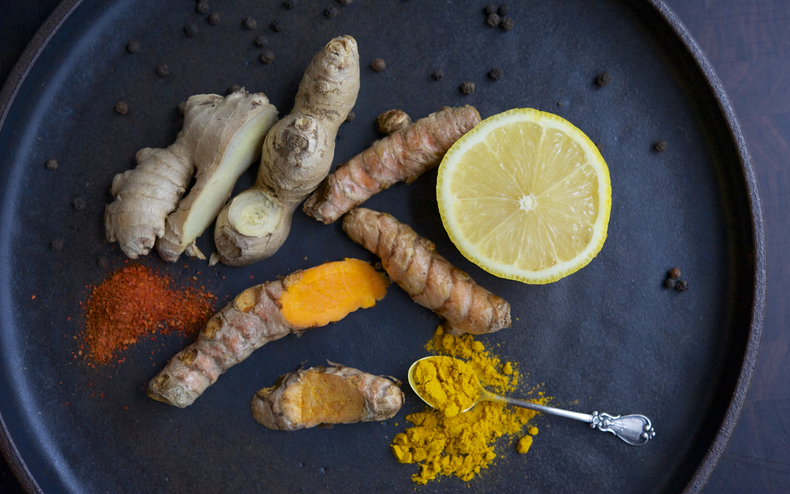 Curcumin, the active compound in turmeric, is still being studied, and its effectiveness is debated, but it has long been used to protect the heart, stave off diabetes and fight inflammation, especially that associated with swollen or painful joints. A member of the ginger family, and a similar-looking rhizome, turmeric is often found in its fresh form in Indian markets.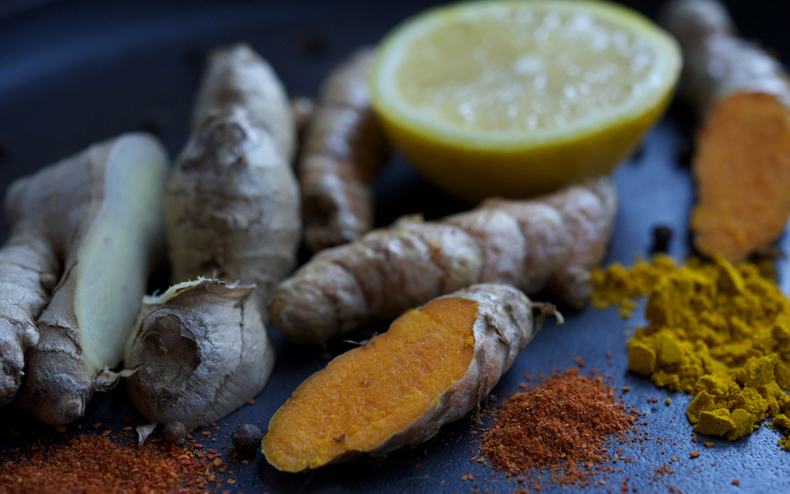 One key thing to know about turmeric is that it is not immediately bio-available; in other words, the body does not readily break it down. It is fat-soluble and also susceptible to piperine, a compound in black pepper. So popping a bunch of capsules is not really going to help you, unless you happen to also be eating something fatty or peppery at the time.
This is why golden milk has become popular. It involves dissolving a paste of turmeric and coconut oil into a small cup of milk. You can also try sprinkling turmeric on avocado, stirring it into olive oil before tossing with vegetables, or eating it in a curry rich with ghee. Or, in the case of the tonic featured here, drinking it in a combination that includes black pepper.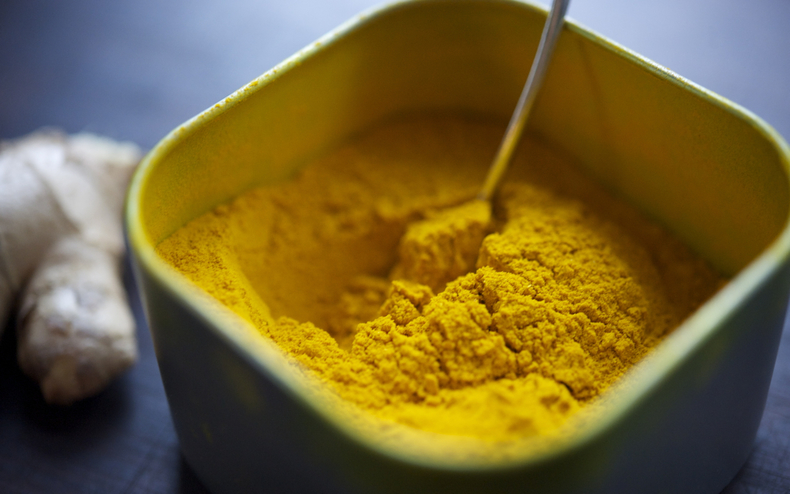 If you can't find fresh turmeric, you can substitute dried. The fresh root is somewhat sweeter and more pungent, but both versions have a slightly bitter or tannic flavor that is not unpleasant. As a general rule, 1" fresh turmeric = 1 tablespoon freshly grated turmeric = 1 teaspoon ground turmeric.
If you are able to find fresh turmeric but don't have a juicer, here's a little trick for extracting juice from both turmeric and ginger roots. Finely grate them, ideally on a microplane. (Unless their skins are super gnarly, you can just leave them on, but rinse first.) Then gather up the grated bits—either in a small piece of cheesecloth, in a fine tea strainer, or just with your fingers—and give them a serious squeeze. This does a surprisingly good job of extracting the juice.
A WORD OF CAUTION: Turmeric makes a wonderful dye! In other words, anything that comes in contact with it—your juicer, your sponge, your fingers—will turn vivid yellow. It comes off your skin relatively quickly, but your appliances maybe not. I consulted this great book for a solution and, believe it or not, she recommends using effervescent denture cleaner to remove this kind of stain. Guess what? It works!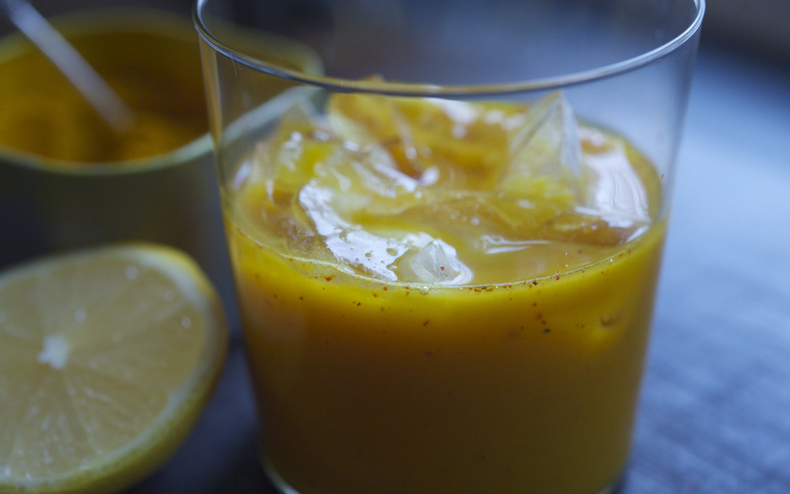 In addition to turmeric, this healing and refreshing drink contains fresh ginger and lemon juices and maple syrup (I prefer grade B, which is darker and richer in minerals). It's spiked with freshly ground black pepper and a hint of spicy cayenne. Don't be shy about fiddling with the balance so it suits your palate.
It goes down like a charm. I can drink a whole bottle of the stuff, but even a small shot in the morning will rev your engine. This brilliant tonic will keep you on the sunny side.
Turmeric Tonic
makes about 7 ounces
— 2 ounces

fresh organic turmeric

— 2 ounces

fresh organic ginger

— 4 tablespoons

fresh lemon juice

— 2 tablespoons

maple syrup, preferably grade B

— 3 grinds

black pepper

— 1 large pinch

ground cayenne
Rinse fresh turmeric, pat dry and roughly chop. Run through your juicer and set juice aside. Do the same with the ginger.


In a small pitcher or shaker, combine 2 tablespoons of the turmeric juice (or substitute 2 teaspoons ground turmeric) and 3 tablespoons of the ginger juice with the lemon juice, maple syrup and 2 tablespoons of filtered water. Stir vigorously to combine, then add black pepper and cayenne, and stir again.


Drink straight or over ice. Keeps in an airtight container in the refrigerator for 2 days.



Download Recipe