1.27.15
Squash Your Cravings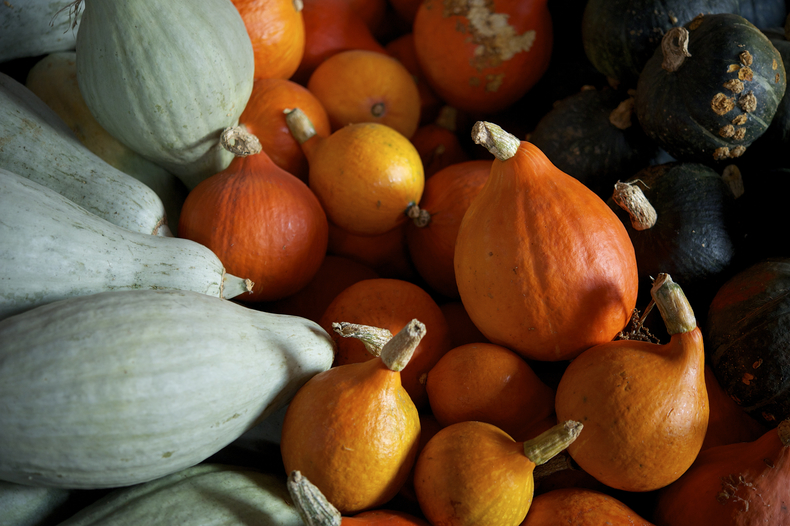 I turned 52 last week. It seems like only yesterday I was confronting the milestone that is turning 50. As much as I believe that age is just a number—as opposed to something that defines us, inside or out—it can feel a bit alarming when the clichés become increasingly relevant. When I texted a friend recently to ask him how his photo shoot was going and he wrote back complaining about "the concrete floors," I had to chuckle. Until being out snowshoeing for hours in the freezing cold resulted in my knee suffering from what I think might be a little bursitis. Tell me that word doesn't conjure up your grandmother. How do I weather the changes? With a sense of humor, a healthy dose of denial and a stockpile of resilience. Which is not to say I don't occasionally stare aghast at the loosening skin on my neck. But I think Nora Ephron covered all that more than adequately and so I'd rather talk to you about another thing I stockpile: winter squash.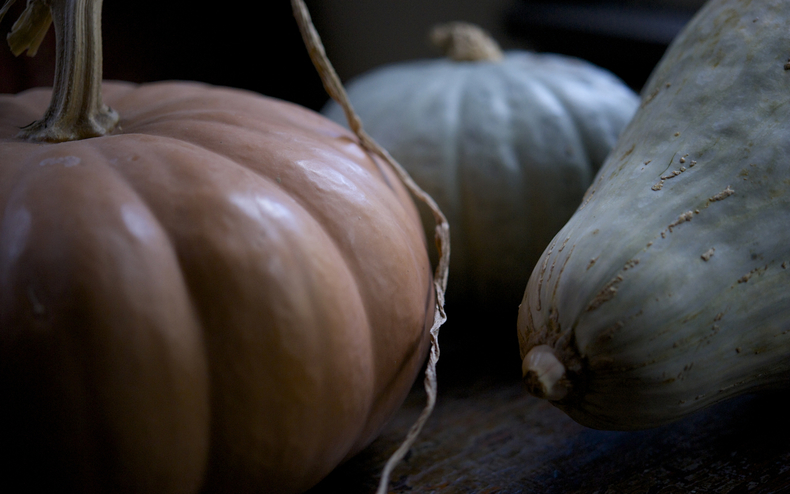 The stout curves and painterly colors of winter squash are a sight for sore eyes right about now, especially these international heirlooms grown by a local farm. They even double as a gorgeous and ever-dwindling still-life in my kitchen. You can store them for several months right on your counter, with nothing more than a thick layer of newspaper to keep them happy.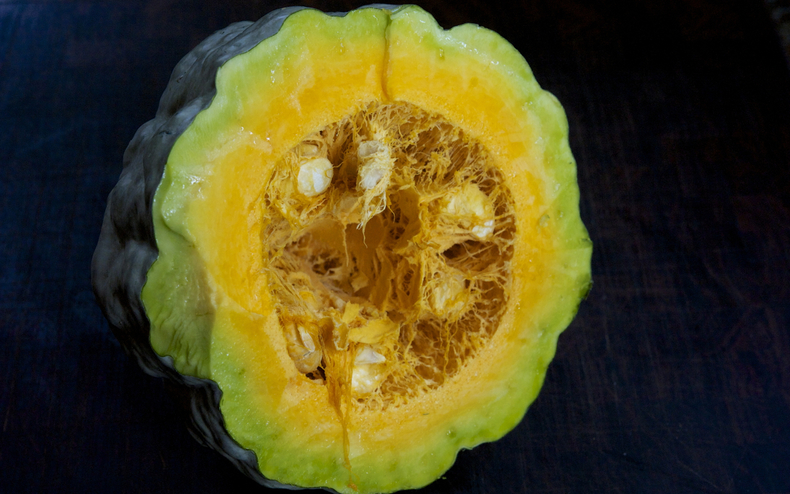 Winter squash and pumpkins are domesticated species of the genus Cucurbita in the gourd family, and the difference between them is more semantic than botanical. Culinarily, they are essentially interchangeable. Above is a cross-section of a Sibley, a Native American cultivar with bumpy grey-green skin and rich, dry flesh.
Inside their thick, sturdy shells, squash harbor an additional treat: the seeds! They contain lots of protein and make a delectable snack, so think twice before discarding them. If you boil the seeds for 10 minutes or so in a pot of lightly salted water, it helps soften the tough ones and loosen the stringy pulp that clings to them all.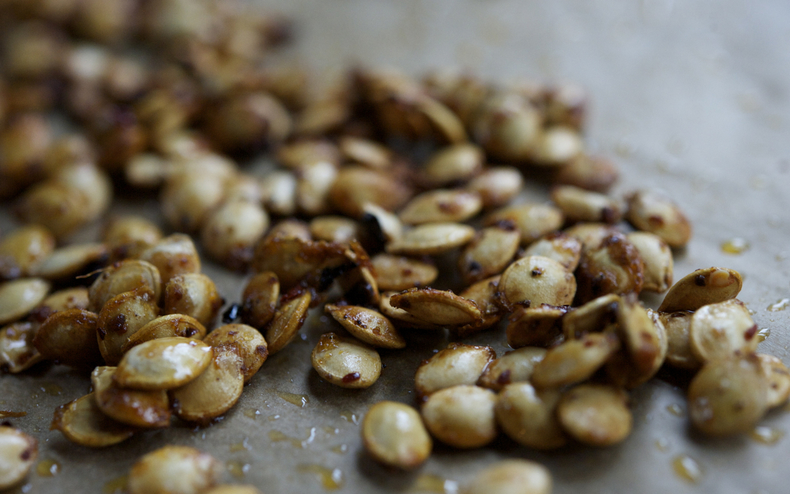 Pat them dry, toss them with a little olive oil and roast them in a 425º oven until they're browned and crisp. They're delicious spiced every which way. I like them with garlic powder and cumin or fennel pollen and lemon zest.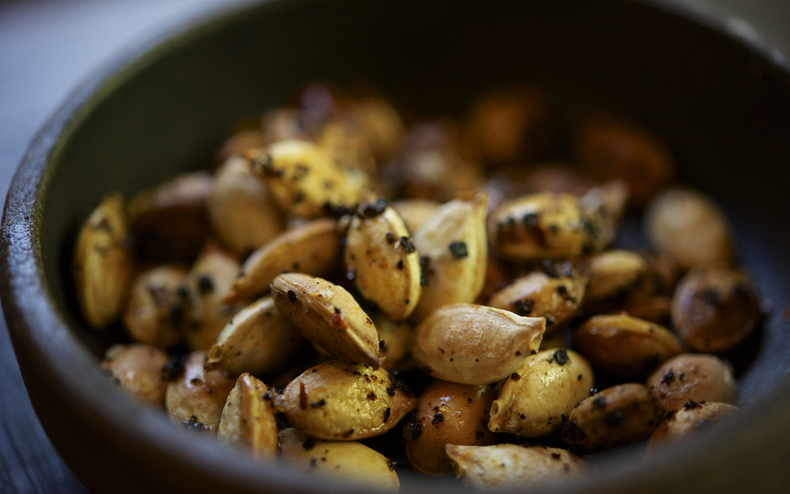 Tossed with urfa biber chile and flaky sea salt, they add a lovely crunch to soups and salads.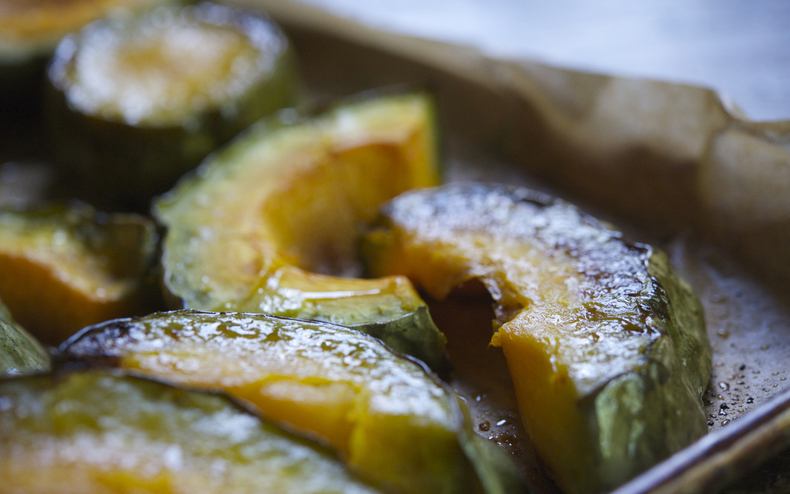 My preferred way to cook a large winter squash or pumpkin is to roast it, either whole or in thick slices. It's wonderful with nothing more than a generous drizzle of spiced butter or an herbaceous salsa verde.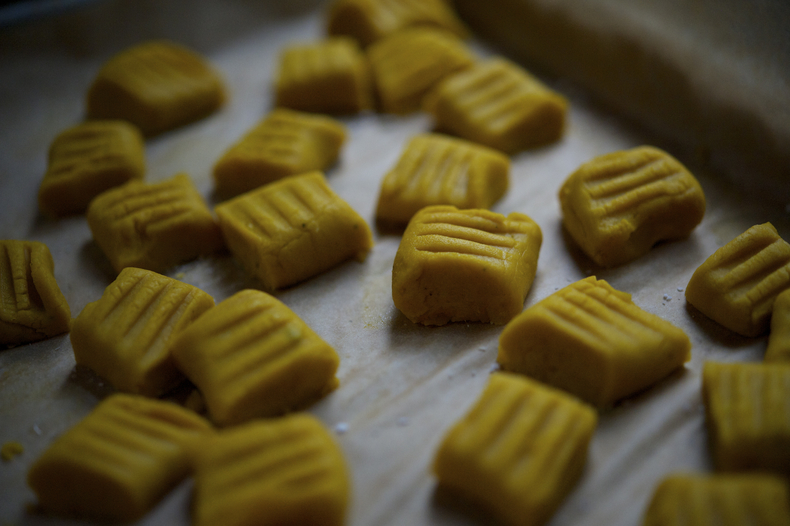 You can mash tender roasted or steamed squash and this puree is a handy thing to have on hand, stored in the fridge or freezer. Thinned with water, stock or cream, enlivened with curry spices and garnished with chopped cilantro, it becomes a wintry soup. Stirred into risotto with slivers of Calabrian chile and a flurry of Parmesan, it is the ultimate comfort food. And combined with flour and eggs, it makes tender gnocchi, perfect with buttery mushrooms and a few crisp leaves of fried sage.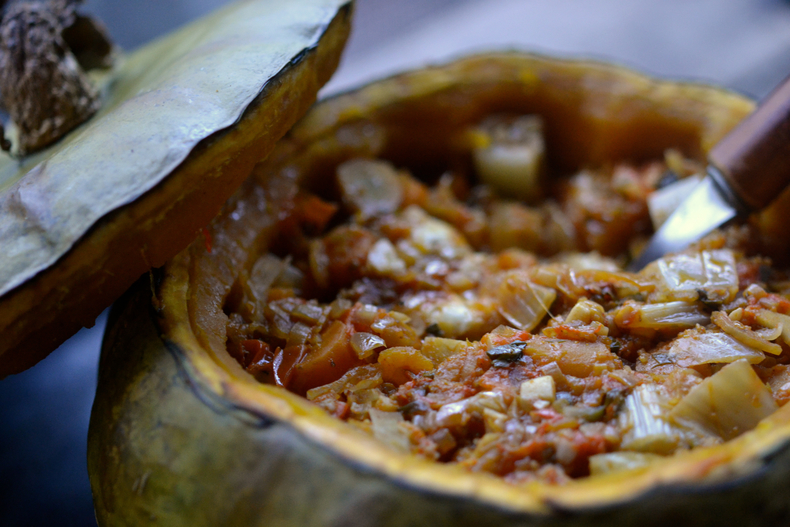 For a show-stopping presentation, try my surprisingly simple recipe for a whole stuffed and roasted winter squash or pumpkin. It roasts to a bubbling and fragrant stew in your oven.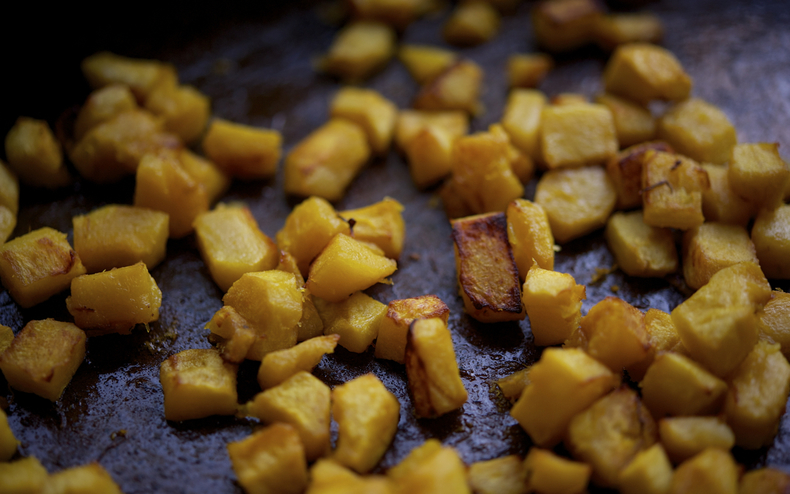 For quicker cooking, peel and cube the flesh. This also offers up greater surface area for irresistible caramelization. Toss squash with a little olive oil, maple syrup and spices before popping it in a hot oven for 30 minutes or so.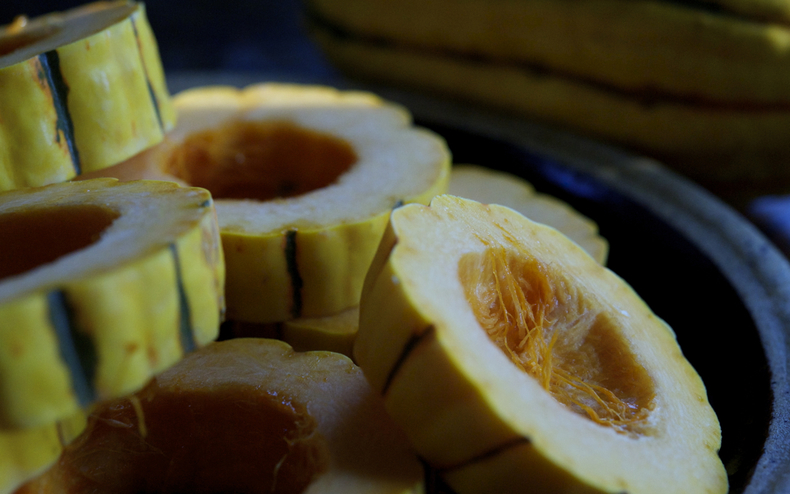 On my birthday, I enjoyed a romantic dinner with my husband at a little resaurant on Hudson Street in New York City. Piora is elegantly appointed, has excellent service and offers a small but thoughtfully conceived menu that feels modern without trying too hard. Plus, there is a lovely wine list and the Japanese bartender creates smashing cocktails poured over his own monolithic hand-carved ice cubes.
One of the perfectly calibrated dishes I enjoyed was an ode to winter squash, with several different kinds roasted into velvety submission along with a jammy tangle of shallots. The flavors were so more-ish (as April Bloomfield would say) that I kept thinking about them long after the meal was over.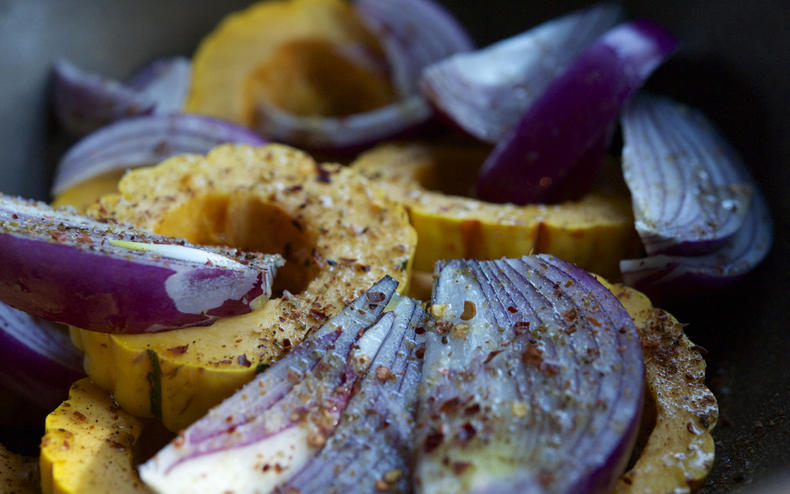 Back home, I eyed a delicata squash and a couple of red onions and fired up the oven. I know a lot more technique and ingredients went into Piora's dish, but mine turned out pretty delicious, too. One of the great things about delicata squash, by the way, is that its thin, tender skin is entirely edible.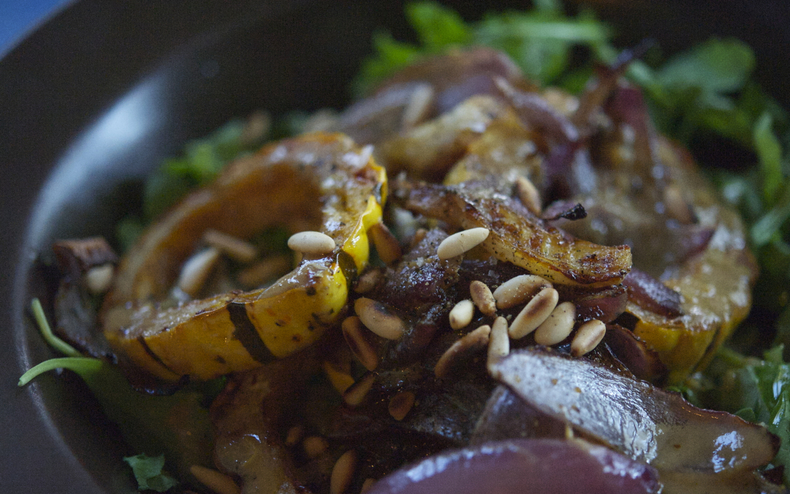 Because this salad was for my lunch, I didn't have time to boil and roast the seeds to add as a garnish, so I just toasted up some pine nuts. Pepitas would also have been a good choice, of course. Some peppery arugula and a lemony tahini dressing were a nice counterpoint to the nutty squash and sweet onions.
Now that I'm 52, I'm even more focused on wanting to nourish myself in powerfully good ways, from thinking kind thoughts to eating for health and pleasure. Won't you join me in treating yourself right?
Delicata Squash & Red Onion Salad
serves 2
— 1

medium delicata squash

— 1

large red onion

— 1/2 teaspoon

Aleppo pepper

— 4 tablespoons

olive oil

— 1/4 cup

tahini

— 3 tablespoons

fresh lemon juice

— 2 tablespoons

warm water

— 1/2 teaspoon

ground coriander

— 2 large handfuls

arugula

— 2 tablespoons

toasted pine nuts, or sub toasted squash seeds
Preheat oven to 400ºF. Line a baking sheet with parchment paper.


Slice squash in 1/2" rings, discarding stem ends. Use a knife or serrated spoon to scrape out seeds and pulp and set aside or compost. Peel onion and slice into 1/4"-thick half moons.


Combine squash rings and sliced onion in a large bowl and toss with the Aleppo pepper, a teaspoon of sea salt and 2 tablespoons of the olive oil until well coated. Spread in a single layer on the prepared baking sheet and roast in the oven until well caramelized, about 30 minutes, turning a few times.


Meanwhile, prepare the dressing. In a small bowl, whisk together the tahini, lemon juice, warm water and coriander until thoroughly combined. Then slowly whisk in the remaining 2 tablespoons olive oil to emulsify. Season to taste with sea salt.


When squash is done, remove from oven and cool to room temperature.


Right before serving, place arugula in a small bowl and toss with just enough dressing to lightly coat. Then divide it between two plates and top each one with half the roasted squash and onion. Sprinkle on toasted nuts or seeds and drizzle a little more dressing over everything.



Download Recipe