7.15.14
Let Them Eat Cake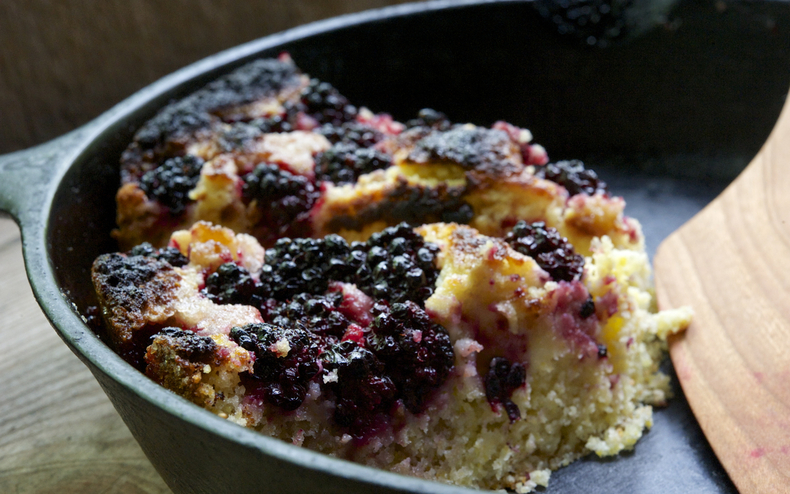 There's just something about a skillet cake. In general, I find baking a bit fussy—all those steps, all that precision—so when I can make a relatively impressive dessert without taking out the sifter or the Mixmaster, without whipping egg whites or weighing flour, I'm quite thrilled. It's sort of the sweet equivalent of a one-pot meal. If you haven't already tried this
apple version
, or this
plum one
, try this recipe for a rustic cornmeal cake studded with ripe blackberries. They are the dark and glorious jewels of summer, their glossy black beads bursting with a subtly floral elixir. I love to see lips and fingers stained with their scarlet juices, which also seep into the cake much like a trifle. It's no work at all to throw this together and the soft moans of pleasure it elicits will only add to your satisfaction.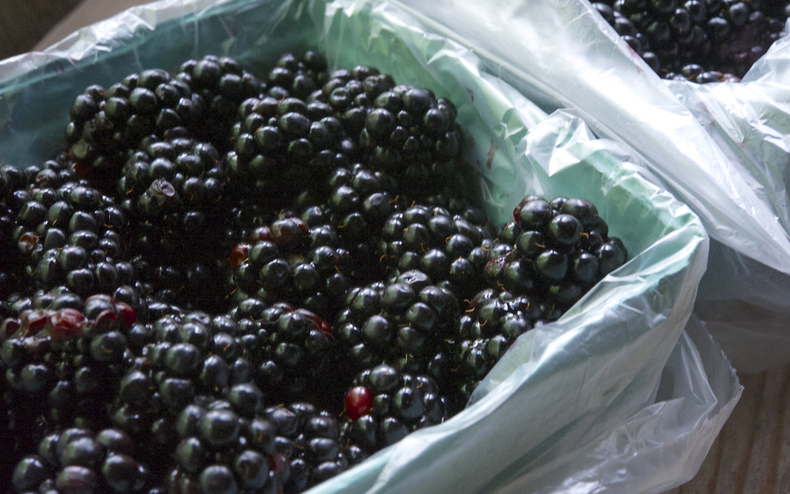 Of course the perfect blackberries are key. They should be very ripe, almost bursting, but not bruised. Freshly picked. Still warm from the sun. Smelling of sticky flowers and sugared breezes. Black kissed with purple. Sexy. Sublime.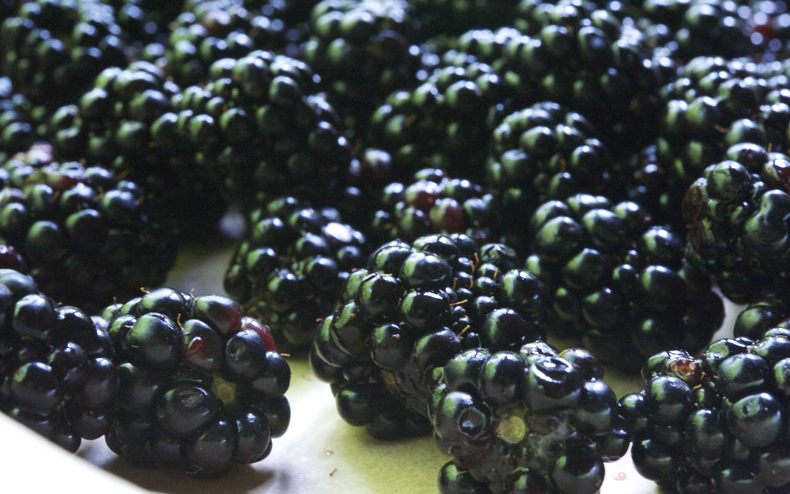 Their voluptuous form is miraculous. Each tiny globule is perfection, a discrete planet crammed with sweet juice. Yes, this is me waxing poetic about blackberries. Don't even get me started about boysenberries. (If you don't want cake, consider making this totally divine
sorbet
.)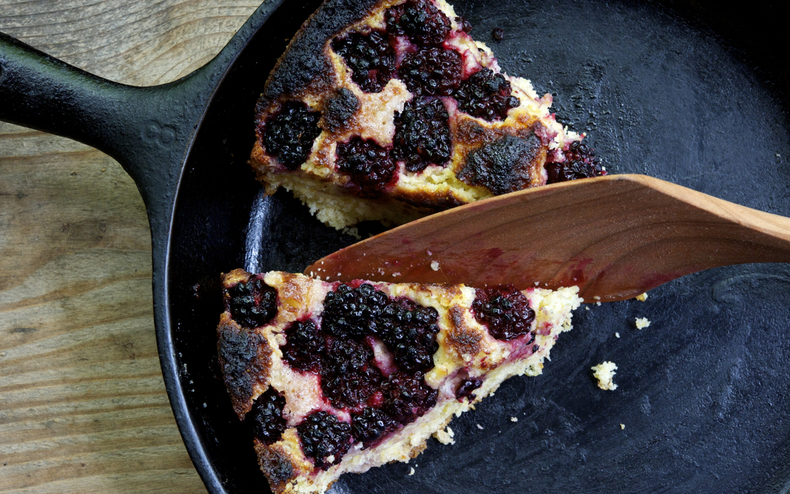 I baked this cake for friends who came over for brunch. The great thing about it is that you simply stir together a few dry ingredients in one bowl, a few wet ingredients in another, and then whisk the two together. Scrape that batter into a skillet, scatter the berries on top, finish with a sprinkling of sugar and bake for less than an hour. I wanted mine a bit browner on top so I turned the broiler on for the last few minutes. Distracted, I left it in a little too long, but no real harm was done. You can see a bit of blackened edge in this photo. (Love the cherry wood server? It's from
Jonathan's Spoons
and it would make a great gift for your weekend host.)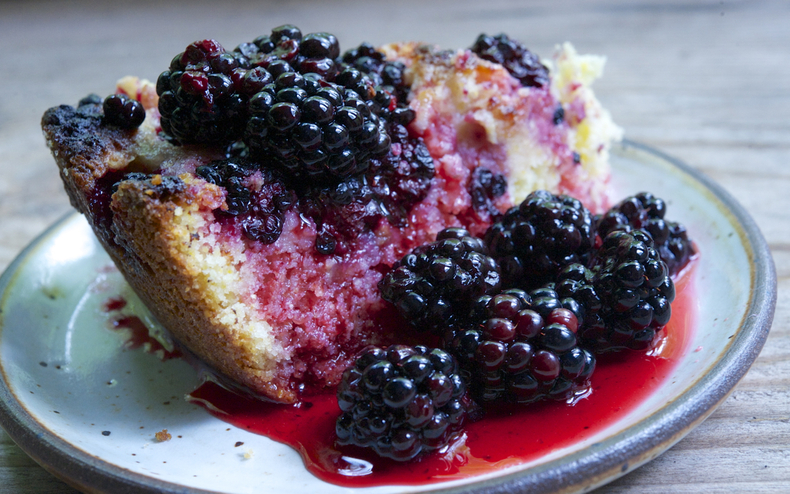 While the cake was baking, I squeezed lemon juice over a bowl of fresh blackberries and let them macerate. By the time I served dessert, the berries had released their juices and made a beautiful sauce. I spooned this over each slice and also poured some heavy cream on top. The cake absorbed most of the liquid without becoming overly sodden. The fresh blackberries played off the sweeter intensity of the roasted ones. The cream sealed the deal. The people they were pleased.
Blackberry Skillet Cake
serves 8
— 1 1/4 cups

all-purpose flour (gf is fine)

— 1/2 cup

yellow cornmeal

— 2 teaspoons

baking powder

— 1 teaspoon

sea salt

— 1 cup plus 2 tablespoons

sugar

— 1/2 cup

buttermilk

— 2 large

eggs

— 1 tablespoon

lemon zest

— 1 teaspoon

vanilla extract

— 7 tablespoons

unsalted butter, melted

— 1/4 cup

sugar for sprinkling

— 1 tablespoon

unsalted butter, for greasing skillet

— 18 ounces

blackberries, divided

— 2 tablespoons

fresh lemon juice

—

Chilled heavy cream, for serving
Preheat oven to 375º.


In a large bowl, whisk together flour, cornmeal, baking powder, salt and granulated sugar.


In another bowl, whisk together buttermilk, eggs, lemon zest, vanilla and melted butter. Whisk this into the flour mixture, blending well.


Place remaining tablespoon butter In a 10" cast-iron skillet and heat in the oven until butter melts, about 5 minutes. Remove from oven (with a potholder!) and swirl to coat bottom of pan.


Scrape batter into the skillet and evenly scatter 12 ounces of blackberries on top. Sprinkle with turbinado sugar.


Place a baking sheet on the lower rack to catch drips and the skillet on the rack above. Bake until top is evenly browned, about 50 minutes. Remove from oven and cool.


While cake is baking, toss remaining blackberries with lemon juice and set aside.


Serve cake warm or at room temperature with fresh blackberries and a generous pour of heavy cream over the top.



Download Recipe