6.30.14
June Hot Links & a Summer Giveaway!
Nature is orchestrating her botanical display with flawless timing, as usual. Just as the irises are fading, the peonies explode and by the time they're drooping, here come the elderflowers and milkweed blossoms! In the fields and hedgerows, wild berries are setting up and soon we will be vying for them with the birds, chipmunks and foxes. Our neighbor's enormous jasmine bushes that have (happily) grown up and over our dividing fence are in full bloom and their dazzling perfume fills every corner of our little cottage. The garden grows by leaps and bounds every night as we sleep. Carpenter ants seem to have broken ground on a demolition project inside the window frame behind our bed and their incessant gnawing is rather horrifying. (The exterminator is on his way.) It's officially summer! To celebrate, I'm sharing my latest list of obsessions and recommendations...and I've got a delicious giveaway for one lucky reader...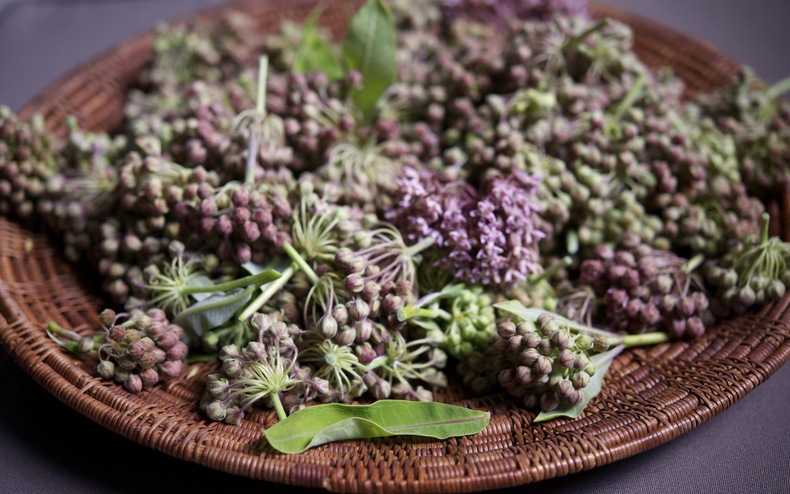 When you were a kid, did you ever chew wild rose petals or suck the nectar from honeysuckle? I love the idea of eating flowers and have become further emboldened after my success with
fried shallot blossoms
and last summer's rosehip jelly. I've just finished making my first batch of elderflower cordial and another of pickled milkweed buds—stay tuned for the results.
I think of this blog as a place that advocates making and doing over buying, but sometimes I come across resources that I think are special enough to recommend. If they seem frivolous or extravagant to you, please take them with a grain of salt and know that a walk in the park is free and, in most cases, more rewarding.
There is a super chic store in Mumbai called
Bungalow Eight
that carries sophisticated home furnishings and a beautiful selection of clothing. The owner, Maithili Ahluwalia, recently had a pop-up shop at
Figue
, and I fell in love with some of her drapey, lightweight pieces—the kind of loose caftany garments I live in all summer long. If you're in New York City, you'll have another chance to pick up some yourself during the month of July. Contact Rymn Massand for an appointment to shop the collection on Thompson Street:
rymn@rymnmassand.com
For those who like the sound of this, you can shop online for gorgeous caftans in a similar vein from
Two New York
.
When I'm not barefoot, I'm still living in these easy Bensimon sneakers—and I found another
online sale
for you!
I finally found a water bottle that I like and can feel good about! It's
glass with a silicon sleeve
—yes, it's a little heavier but it never gets stinky and I don't have to worry about it getting dented or absorbing off-gassing VOCs.
I don't wear much makeup but these days I want whatever I use to be free from toxins and as natural looking as possible. The answer is
RMS Beauty
, a chemical-free line from elite (but totally down to earth) makeup artist RoseMarie Swift. She even makes
Giselle
look better! My current favorites are the Living Luminizer and the Cream Eye Shadow in Seduce.
A couple of years ago I read an
article
about people who live a really long time, many of them in remote parts of Turkey and Greece. Lately I heard again about how their diet often includes wild-foraged "weedlike" greens and mountain herbs brewed for tea. So it was with great delight that I discovered
Daphnis and Chloe
, a wonderful little company based in Greece that now has an online shop selling herbs and teas packed with essential oils and the unique nutrients derived from the Mediterranean sun, soil and sea. I've ordered a number of things and will write more about them later. In the meantime, consider placing an order for their delicious and longevity-inducing
herbal infusions
!
Those of you crushed by the sudden demise of Hudson Chocolates, take heart!
JCoco
, a Seattle-based chocolatier, can help take the sting out of that. Though not quite as over-the-top as the
chocolate honeycomb
(R.I.P.), JCoco's confections are imaginative and flawlessly executed. If you ever had a thing for a Nestle's Crunch, don't miss their sensational
agave-quinoa-sesame
bar! It comes packaged in three pieces so you are not quite as prone to eat the entire thing in one sitting.
And a few recipes to make over the coming days and weeks:
Savory Tomato Sorbet
Mexican Street Corn Dip
Cocktail Corndogs
(Anson Mills + corn dogs = woof woof)
Quick Pickled Cucumbers
Gluten-free Pie Dough
(sour cherries, peaches, blackberries...)
Some excellent things to make with
chickpeas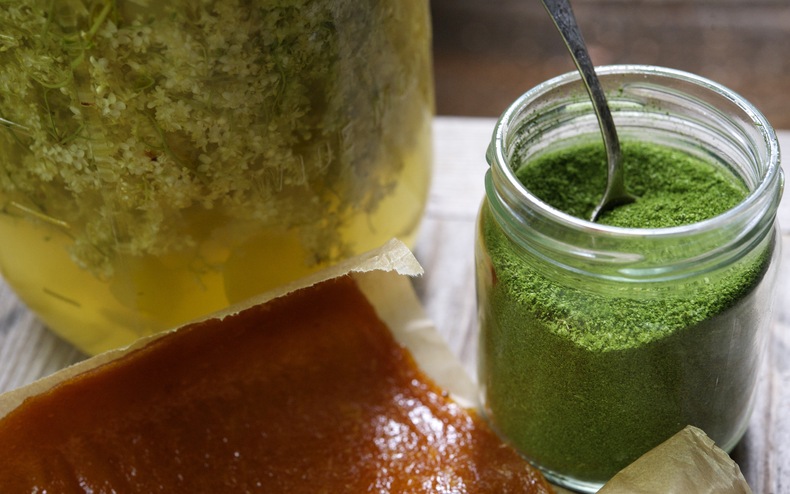 And now, for the giveaway: Just leave a comment below by midnight on Sunday 7/6 telling me what summer means to you and you'll be eligible for a handpicked selection of homemade treats from the Glutton for Life kitchen. I'll announce the randomly selected winner early next week. Possibilities include the fruit leather, elderflower cordial and lovage salt pictured above, though it will definitely be whatever is freshest and most exciting when the time comes to pack up the box!