6.24.14
Freshly Minted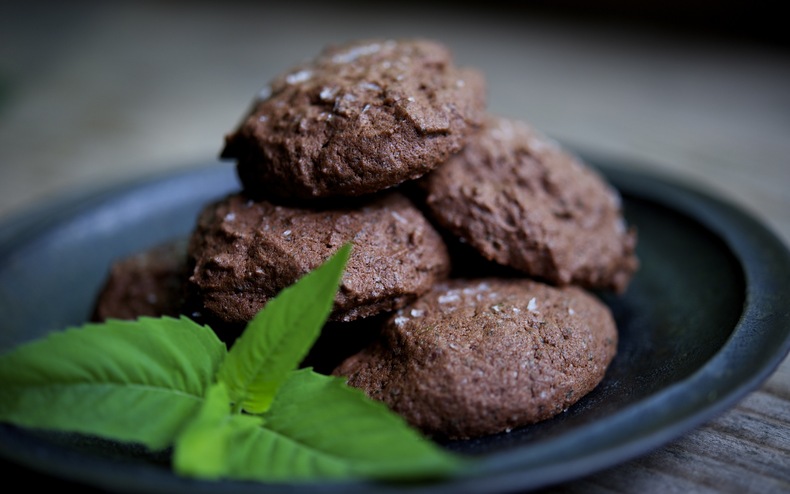 As soon as you can start eating out of your own garden, do. That connection between your hands and the earth—quite literally the fruits of your labor—is immensely satisfying. If all you can have is a couple of potted tomato plants on your fire escape, or a window box full or herbs, that is already plenty. I heard some chef talking recently about how one of the most important things he learned from Thomas Keller was to snip herbs from the garden right before adding them to a dish. They carry a special freshness and intensity of flavor. Right now I can step outside and have chervil, basil, chives, tarragon, rosemary, summer savory, cilantro, Vietnamese cilantro, parsley, dill, lovage, shiso, lemon balm, lemon verbena and several kinds of mint at my fingertips. That sounds like bragging, doesn't it? And what does any of it have to do with chocolate cookies?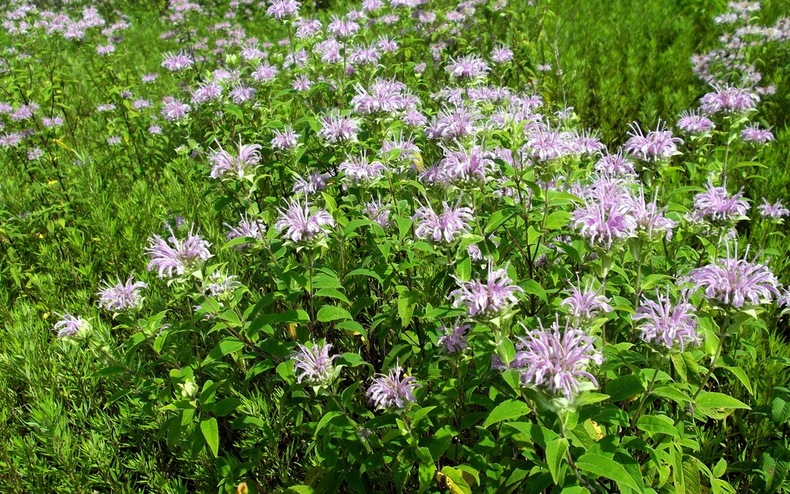 Those aren't just any chocolate cookies—but you knew that didn't you? The title of this post and that glowing green leaf gave me away. These happen to be infused with the complex herbal flavor of lavender bergamot (Monarda fistulosa), actually a kind of wild mint that has nothing to do with lavender or bergamot. I have it growing in my garden in a bed that also contains valerian (whose roots are sleep-enhancing), fragrant Spanish lavender (very relaxing), St. John's wort (a mood stabilizer) and borage (full of fatty acids). One of these days I am going to go full-on witch.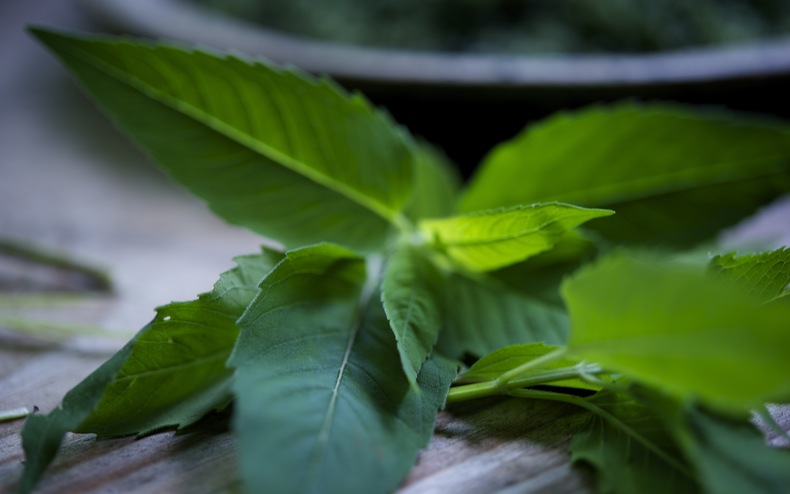 Wild bergamot, also known as bee balm, grows in abundance in North America and, as with all perennial mints, its rhizomes spread very quickly in your garden. Native Americans made tea with it to treat colds and ground it for a kind of hair pomade. Apparently it also helps dispel flatulence, so offer it after you serve beans.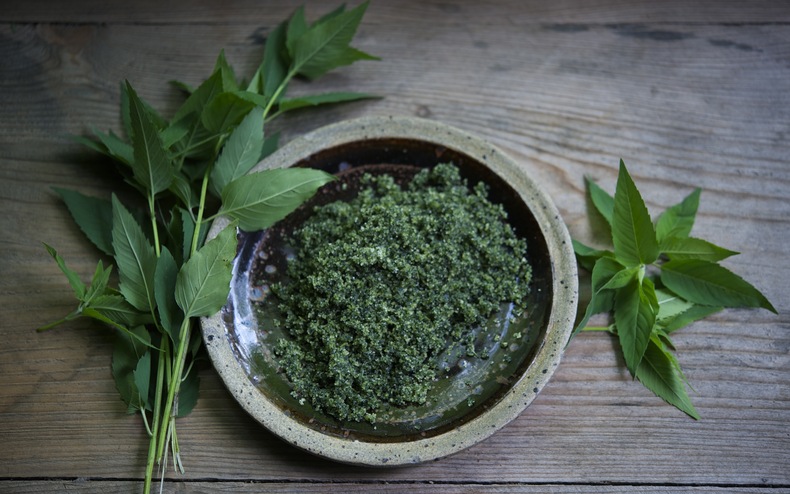 Even if you don't have access to wild bergamot, this recipe offers a good technique for incorporating any kind of herbal flavor into baked goods. You simply grind the fresh herb with granulated sugar, which forms a grainy paste full of the aromatic oil. Use only the most tender leaves and stalks as you don't want any stringy bits. The herb sugar is great in biscuits, quick breads, even pancakes.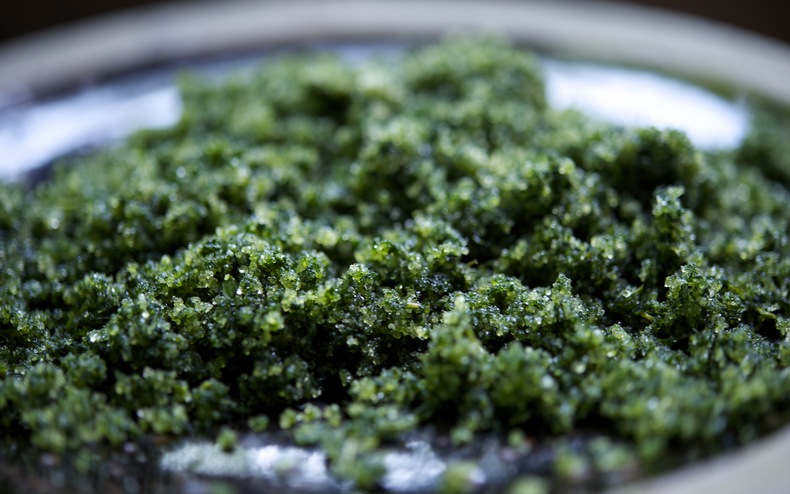 You can see how this positively glistens with flavor! Wild bergamot has hints of clove and menthol that play beautifully against deep, dark chocolate. I used powdered
raw cacao
for the first time and it was quite delicious. For a similar effect you could use any mint. (Right now I'm growing spearmint, mojito mint, black mint, orange mint and pineapple mint. Bragging again.) Chocolate is also wonderful with basil and it's a classic combination with lemon, so lemon balm or lemon verbena would be amazing, too.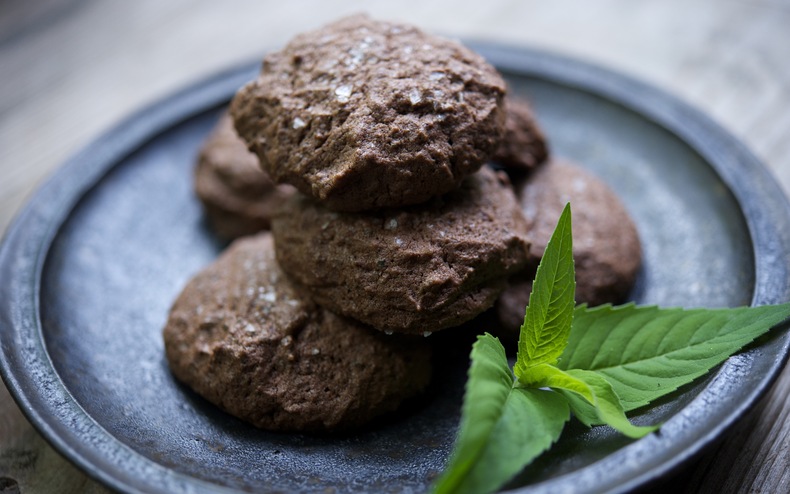 Because of all the butter (use the beautiful grass-fed stuff), these cookies are rich and very tender. I've lightly adapted them from a recipe developed by
Tama Matsuoka Wong
, a corporate lawyer turned full-time forager. They are divine with a cup of wild, fresh or straight-from-the-can mint tea. Bake some and you'll have bragging rights, too.
Chocolate & Wild Bergamot Cookies
makes about 2 dozen
lightly adapted from Tama Matsuoka Wong
— 1 1/2 cups

lavender bergamot tips (top leaves and tender stems only)

— 3/4 cup

granulated sugar

— 1 1/4 cup (10 ounces)

unsalted butter, at room temp

— 3/4 cup

light brown sugar

— 2

large eggs

— 1 3/4 cup

all-purpose flour (if using gluten-free, C4C is recommended)

— 1 1/4 cup

cocoa powder, sifted

— 2 teaspoons

baking soda

—

Maldon salt for finishing
Combine wild bergamot and granulated sugar in a food processor and grind into a fine texture; there should be no discernible pieces of wild bergamot left.


In the bowl of a stand mixer, cream butter with brown sugar and wild bergamot sugar. With the mixer still running, add eggs one at a time until fully incorporated.


In a separate bowl, whisk together the flour, cocoa powder and baking soda. With the mixer on low, add the dry ingredients to the butter-sugar mixture in 1/2 cup increments, until it's all fully incorporated. Wrap the dough in saran wrap and chill for 30 minutes. Meanwhile, preheat oven to 350º.


Scoop the dough using an ice cream scoop or large spoon and roll into 1 1/2" balls with your hands. Place the dough balls 1" apart on a parchment-lined baking sheet. Sprinkle each one with a little Maldon salt and press gently with your fingertips to embed it slightly. Bake 5 minutes. Rotate the tray and bake another 5 minutes.



Download Recipe