6.17.14
Outside In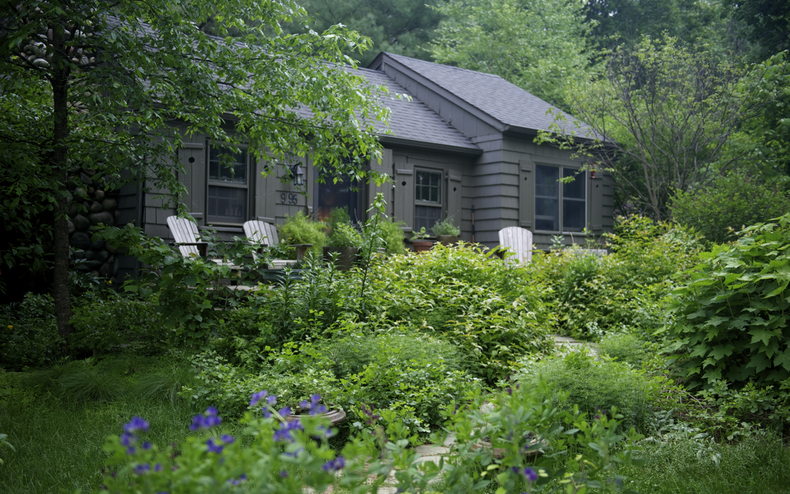 This is summer upstate: Tiny hummingbirds perched on the branch of the redbud tree, their scarlet throats glistening in the morning sun. Thick hops vines twining up the barn. Rising early to the impossibly loud birdsong and air so fresh it's like a cool hand on a fevered brow. Lazy dinners in the screened-in porch, as the sky darkens and the fireflies wink. The hot thrill of bear sightings. Ticks, ticks, everywhere. The sound of ice in the cocktail shaker announcing the end of the workday. Cold cherries. Shades of green so various the mind boggles. Whole fish on the grill. Canoe trips across the reservoir to the waterfall. Hands plunged into the damp earth. Foraging for wild berries. Memories of summers past—camp, swimming holes, fresh corn, cookouts, family picnics. Nostalgia, penetrating and bittersweet. Let me take you down...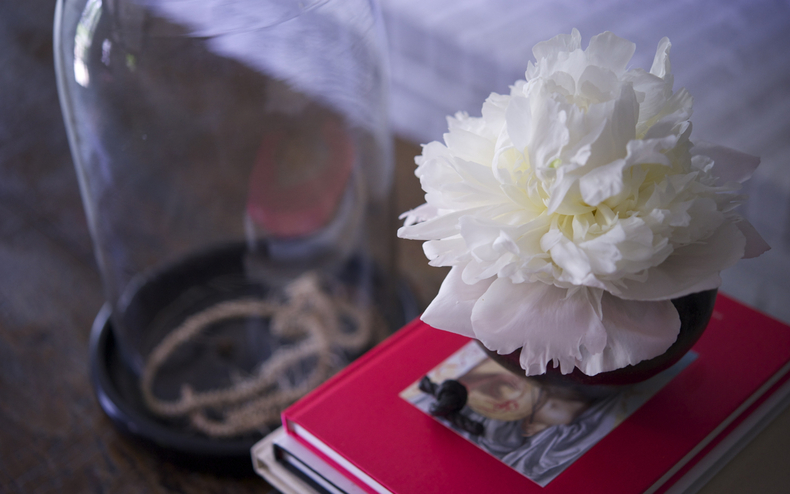 The peonies in bloom are the perfect expression of summer's lush benevolence. Beauty begins to emerge from the garden in fits and starts and then there is an outpouring like this that makes you sigh and relax into the steady splendor. I have peony plants that deliver one single enormously complicated flower and that's it. Then there are those that put forth an embarrassing wealth of fragrant pom poms. Some are layered and ruffled like a duke's collar, others are five wispy petals that are pure innocence. They are all over the house now—by the bed, in the bathroom, on my desk—and still there is a profusion in the garden. It's heavenly.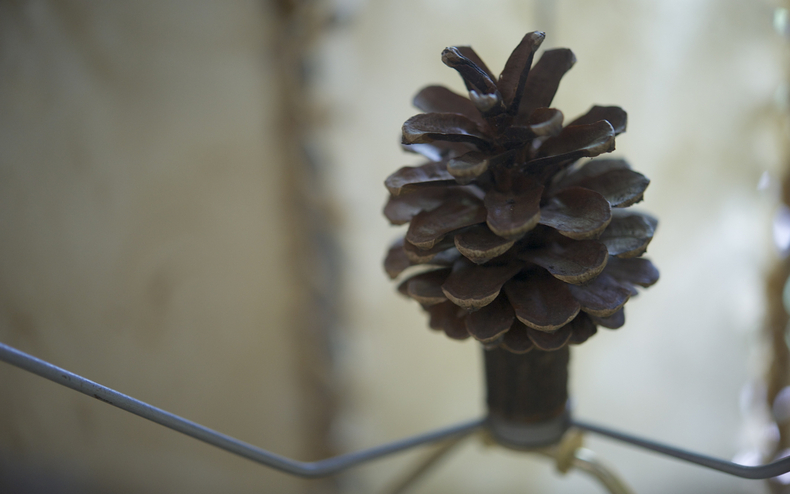 Do you bring nature into your home? As creatures of the earth, we all do better surrounded with some reminders of our natural surroundings. A fern or two, some feathers, shells collected on the beach, a vase of wildflowers. I love my new pinecone finials. I bought them from one of the vintage sales on
One King's Lane
, but I think they would be easy to make.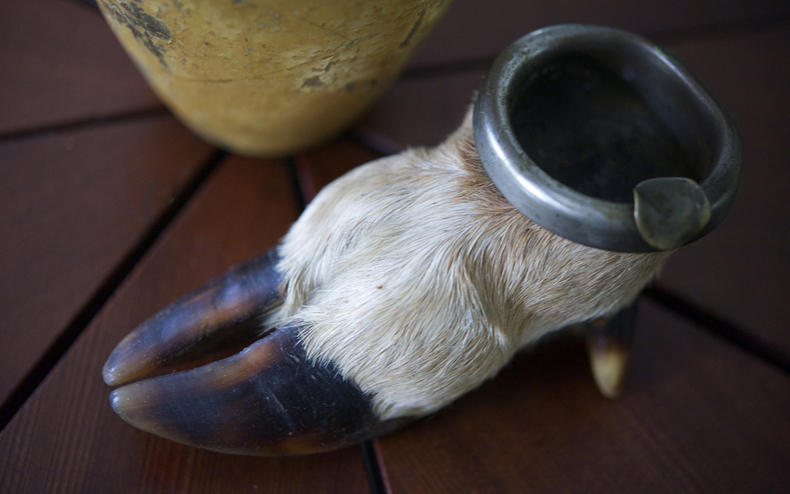 I couldn't resist this deer's hoof ashtray, found at
Bergogne et Filles
, my favorite antiques store in Narrowsburg. I know this will probably raise a few eyebrows but I really like some vintage taxidermy. I imagine this was made by a hunter, taking the whole nose-to-tail concept all the way.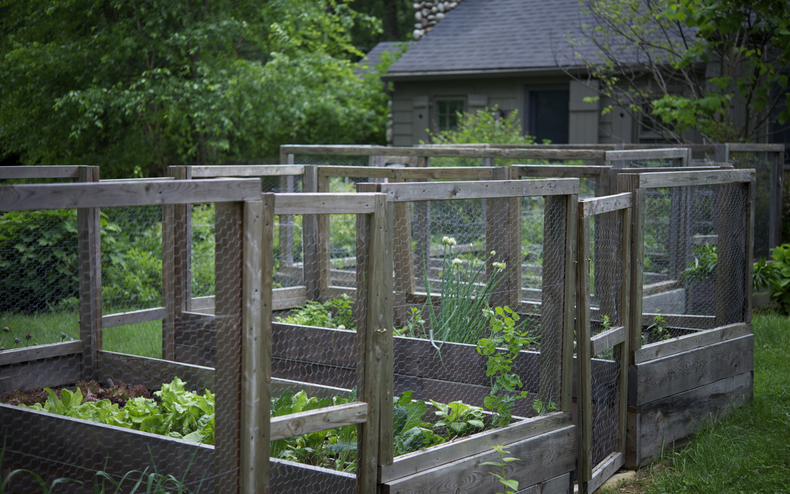 The new raised beds G installed in the front of the house last year are weathering nicely and we're glad to have the extra space. I have a dedicated herb garden in one and though there hasn't been enough sun lately to get the basil going strong, I've got tarragon, cilantro, rosemary, summer savory, parsely and tons of chervil.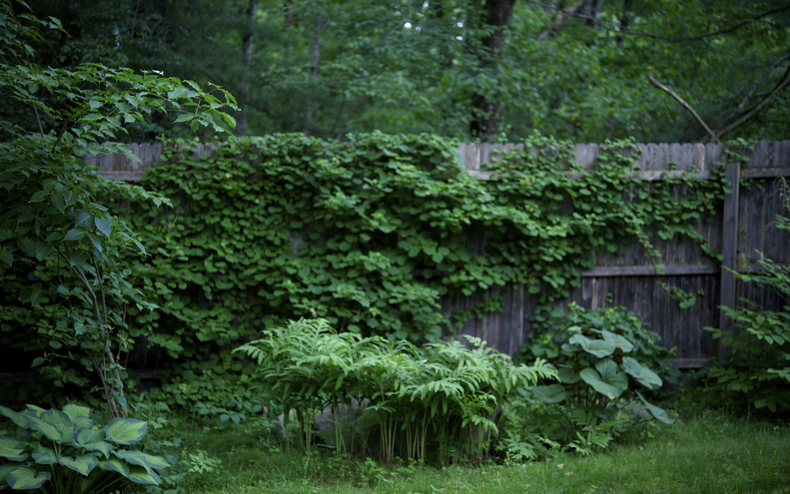 All the rain is a blessing on this little woodland garden we have in the back. The climbing hydrangea on the fence is finally, finally taking off after about 8 years! That stand of ferns in the front has grown from a couple of small sensitive ferns I transplanted from the wild. I'm also growing trilliums, jack-in-the-pulpits and Solomon's seal back there. Not sure if you can make out the tiny dogwood; it has never been happy in that spot and offers only a few random blooms if we're lucky. And yet it lives on.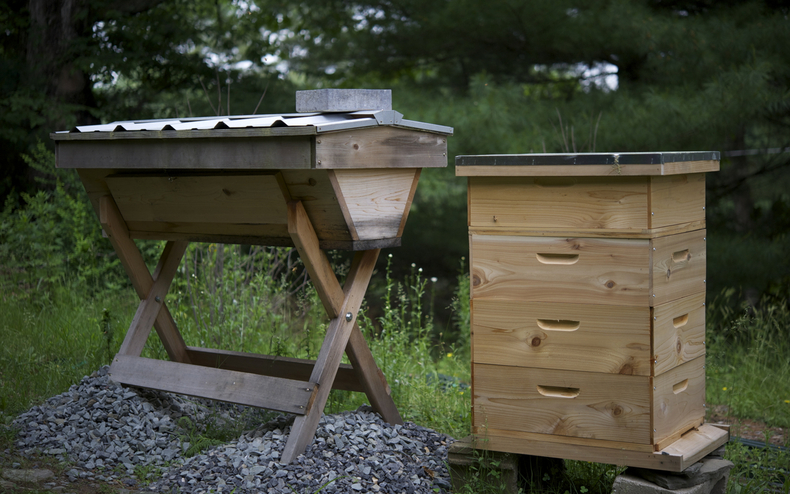 The bees are thriving!! In addition to our top bar hive, we got this new vertical one, and both sets of bees are incredibly busy ferrying in pollen, building comb and making honey. The hive on the left has an observation window and it's endlessly fascinating to see their goings on.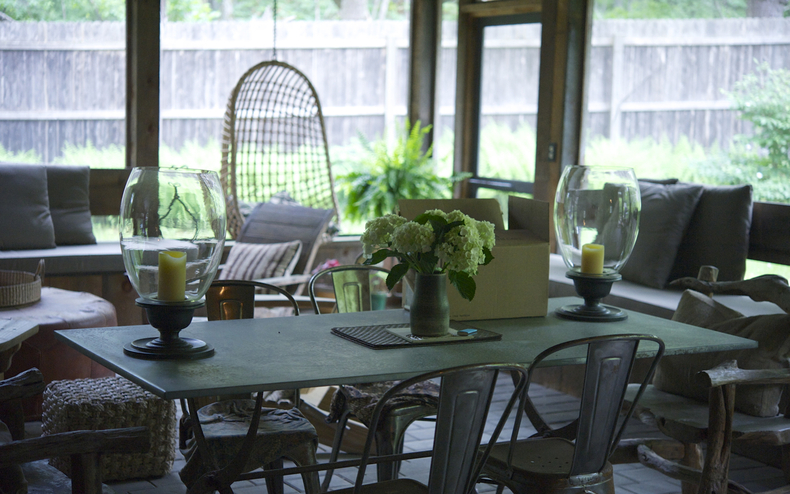 No respite is more welcome than one taken in our screened-in porch. Virtually all indoor activity takes place here once the weather warms up enough. As you can see, there is plenty of space for eating and lounging. I like to have plants and cut flowers in here, too, bridging the transition to the outdoors.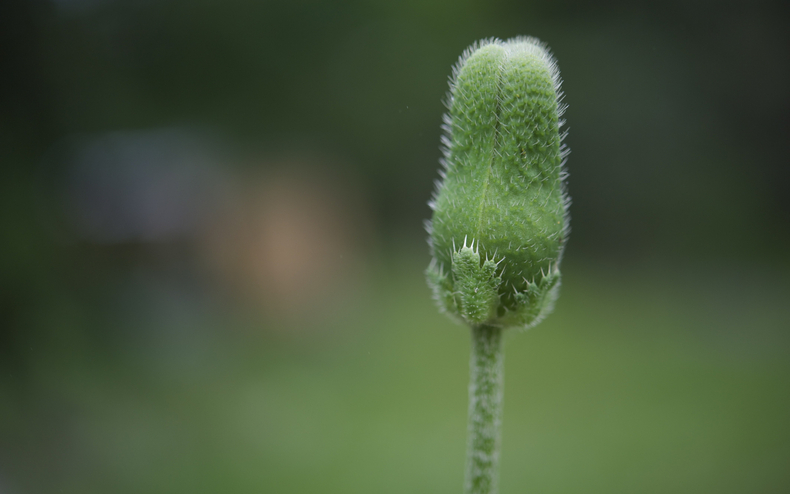 This striking poppy bud bloomed into the most gorgeous pink flower with a bold purple interior. (There's a photo of that on my Instagram - @laurasilverman)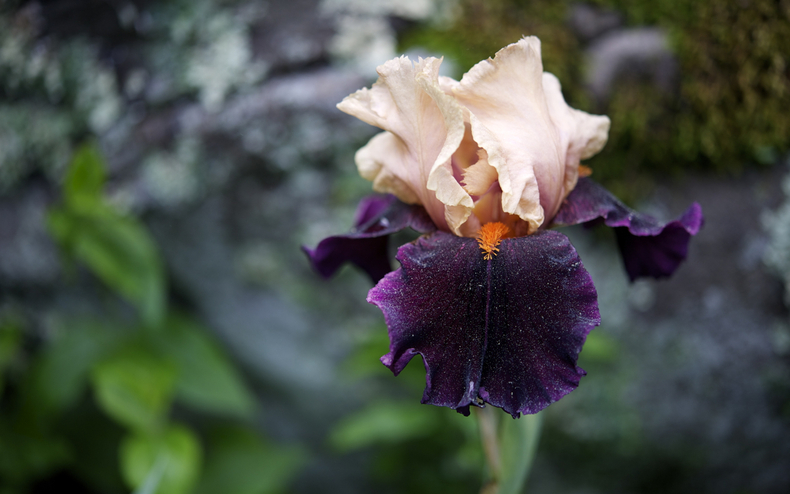 This is the last of my bearded irises. I planted them in memory of my mother, who loved them so, and they are a poignant reminder of her every spring. It's funny how flowers are imbued with so much meaning. I
n Victorian times, flowers had very specific associations that people used to communicate all their repressed feelings.
Irises are meant to symbolize faith, wisdom, courage and admiration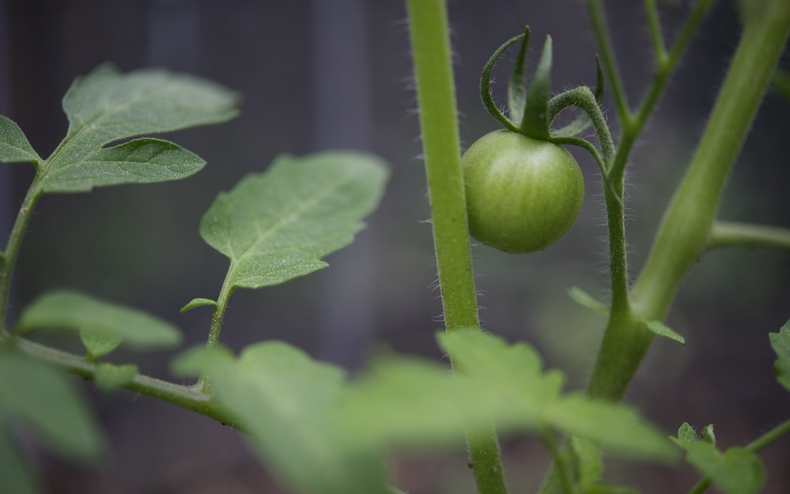 This is our first tomato. G planted about 10 different varities this year. We tend to go for the early, prolific producers but so much depends on the weather. Tomatoes need plenty of sun and heat to do well, as opposed to lettuces and peas, which like cool, misty weather.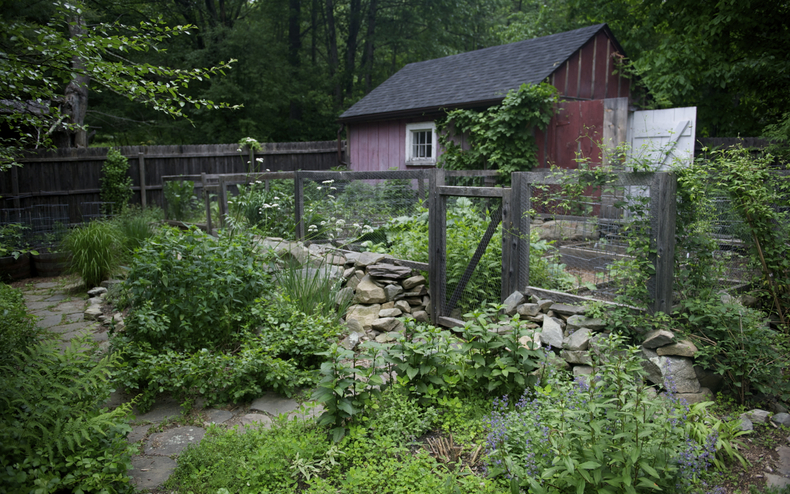 Things are starting to fill in nicely. We're eating lots of lettuce and escarole, flowers from the horseradish plants, shallot and chive blossoms, rhubarb and the first tender leaves of spinach. Some of the grasses and the butterfly bushes were really hampered by the late frost, and we may have lost one of our favorite hydrangeas, but most things are rallying.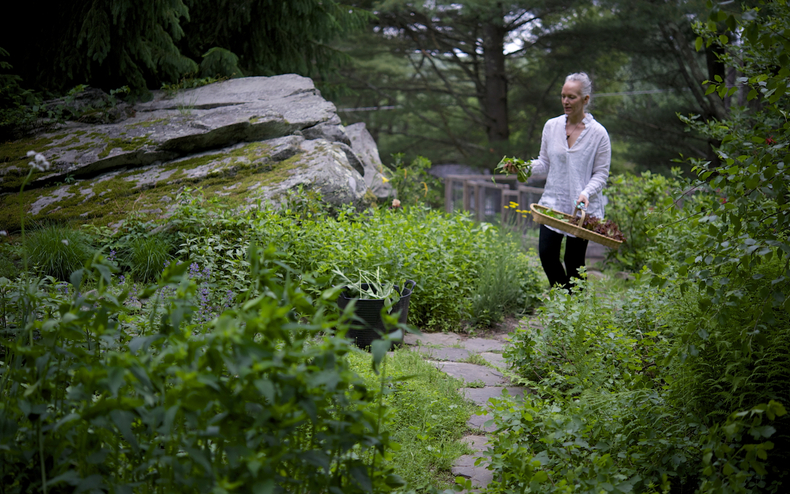 There is a great deal of satisfaction to be taken from eating out of one's own garden. We've been listening to the audible version of Barbara Kingsolver's
Animal, Vegetable, Miracle: A Year of Food Life
, read by the author herself, and finding it edifying and entertaining. One fact I recently learned from it is that organic vegetables, those that have not been sprayed with any insecticides, have to fight harder to resist predators and thus produce up to 60% more antioxidants—those wonderful molecules that fight free radicals and help reduce inflammation, the primary cause of aging at the cellular level. Homegrown vegetables = health, radiance, life.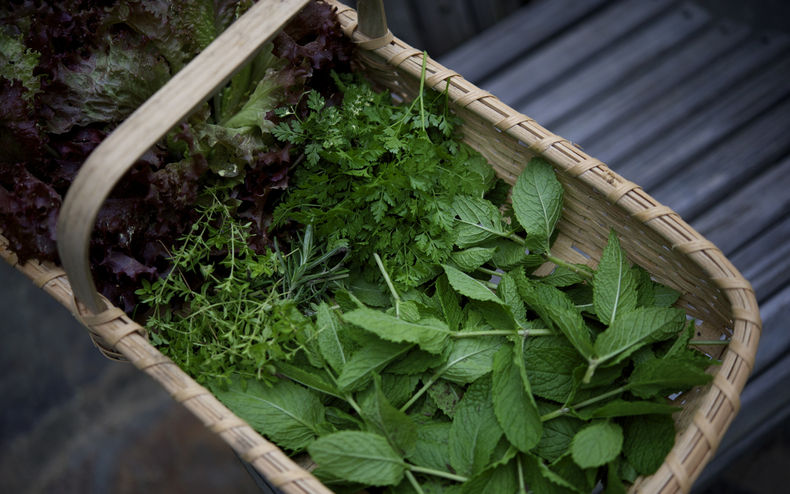 In case you were wondering what was in my basket in the photo above: lollo rosso lettuce, chervil, thyme, rosemary and mint. These all went into a recent dinner of slow-roasted lamb with garlic and herbs; salad with lovage pesto dressing; and black quinoa with loads of mint, chervil and chile.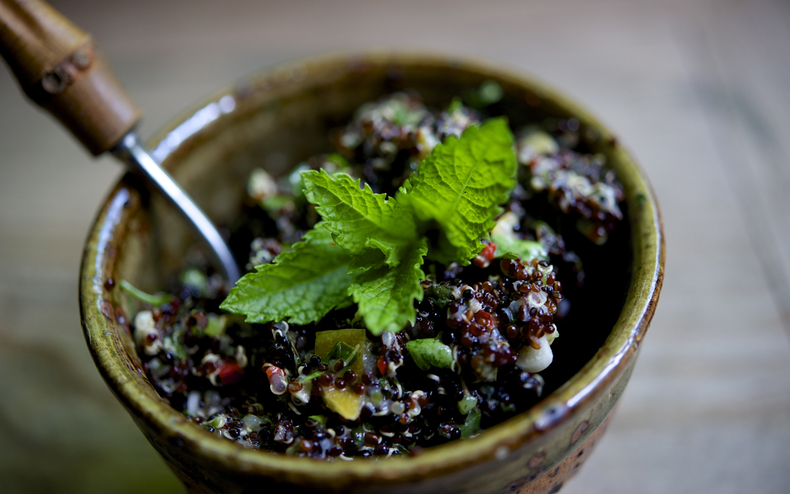 Quinoa is a near-perfect food, containing a complete protein (rare for a grain) plus tons of calcium and vitamins. Of course now we are duking it out with the indigenous peoples of Peru,
Ecuador
and Uruguay, trying to get them to divulge their secret strains and cultivation methods. Demand in this country is so high that apparently it's now hard to come by in South American markets. So consider making a similar salad with brown rice, barley or farro.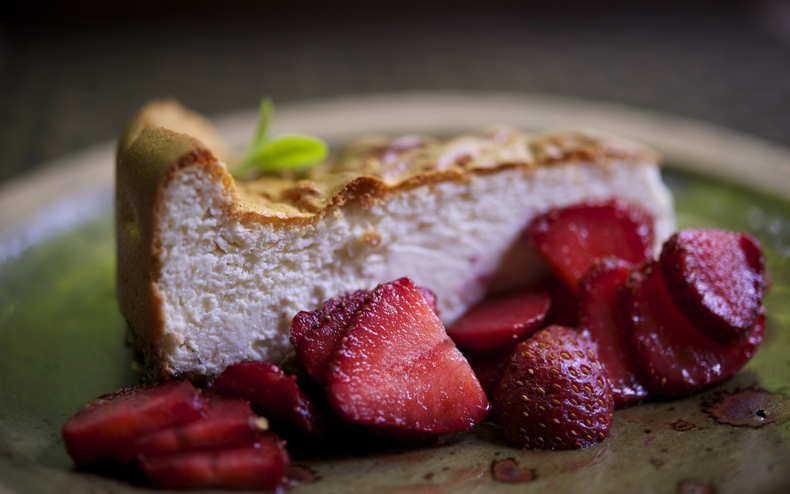 For dessert there was a light and fluffy ricotta cheesecake. I was going to take a picture of the whole thing for you but the cat found it while it was cooling on the counter and licked the top off half of it. No flies on her. What remained was delicious, perfumed with orange flower water and served with local strawberries macerated in a little wildflower honey and fennel pollen. Yet another voluptuous taste of summer.
Ricotta Cheesecake
adapted from Cook's Illustrated
serves 8-10
— 5 ounces

cookies, processed to uniformly fine crumbs, about 1 1/4 cups (biscotti work well, gf is fine)

— 4 tablespoons

unsalted butter, melted, plus 1 more tablespoon, melted, for greasing pan

— 2 pounds

best quality fresh ricotta, drained overnight (line a colander with cheesecloth and set over a bowl in the fridge)

— 4

large eggs, yolks & whites separated

— 3/4 cup

sugar

— 1 tablespoon

orange flower water

— 1 tablespoon

unbleached all-purpose flour (gf is fine)

— 1 tablespoon

grated orange zest

— 2 teaspoons

vanilla extract

— 1/8 teaspoon

fine sea salt
Adjust oven rack to lower-middle position and heat oven to 325º. In a small bowl, combine cookie crumbs and 4 tablespoons of melted butter and toss until evenly moistened. Brush bottom and sides of 9" springform pan with most of remaining tablespoon of melted butter, reserving small amount of excess for brushing sides of pan after crust cools. Empty crumbs into springform pan and press evenly into pan bottom (I find fingers work best). Bake until fragrant and beginning to brown around edges, about 13 minutes. Cool on wire rack to room temperature, about 30 minutes. (Do not turn off oven.) Brush sides of springform pan with remaining melted butter.


While crust cools, place drained ricotta in food processor and process until very smooth, about 1 minute. Add egg yolks, sugar, orange flower water, flour, zest, vanilla and salt and process until blended, about 1 more minute. Scrape mixture into large bowl.


In bowl of standing mixer, beat egg whites at high speed until they hold stiff peaks. Fold whites into ricotta mixture until fully incorporated and pour mixture evenly into cooled crust.


Bake cheesecake until top is lightly browned, about 1 1/4 hours. (Perimeter of cake should be firm, but center will jiggle slightly. It will solidify further as cake cools.) Transfer pan to wire rack and cool for 5 minutes. Run a flat knife between cake and side of pan. Cool until barely warm, 2 1/2 to 3 hours. Wrap pan tightly in plastic wrap and refrigerate until cheesecake is cold and set, at least 5 hours or up to 2 days.


To unmold cheesecake, remove sides of pan. Let cheesecake stand at room temperature for about 30 minutes, then cut into wedges and serve.



Download Recipe