11.19.13
Relish Every Day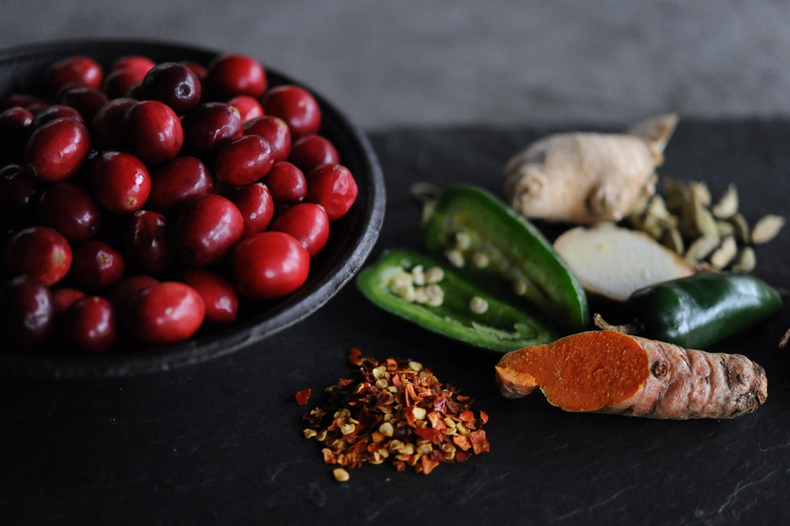 Feast your eyes. Eat my words. Relish every day.
I wrote these three phrases for a little promo I sent out for my blog some time back and they have stuck with me. I feel like they capture the spirit of it in a very succinct way.
Can I tell you something? I'm a little sick of Thanksgiving already. Isn't that sad? The internet can do that to you. Suddenly everyone is yammering on about one topic. Which reminds me: you've
got
to read Dave Eggers' new novel,
The Circle
. We're actually listening to it, as read by the inimitable chameleon
Dion Graham
.
But I digress. I promised you a cranberry recipe and I will not let you down. In fact, I actually had a good time coming up with something rather unconventional. Yeah, I'm a bit of a rebel. I guess you know that by now. Or not. Anyway, read on to discover cranberry relish with outsider attitude.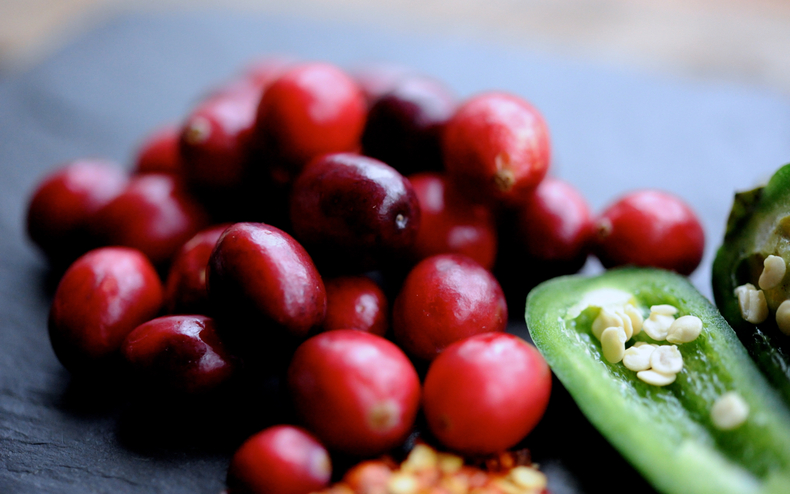 Fresh cranberries are more than likely available in your local stores now, and there's something about their elusiveness the rest of the year that makes me want to buy them up by the bagful. Frozen are also fine. I've tossed some in when making a pot roast, added them to bread stuffing or combined them with sweeter fruits in a compote, all to good effect, but I'm not sure what else to do with them. (Just back from a quick Google session. Apparently you can also put them in your pancake batter, make a fresh salsa for grilled shrimp and roast them with Brussels sprouts. Who knew?)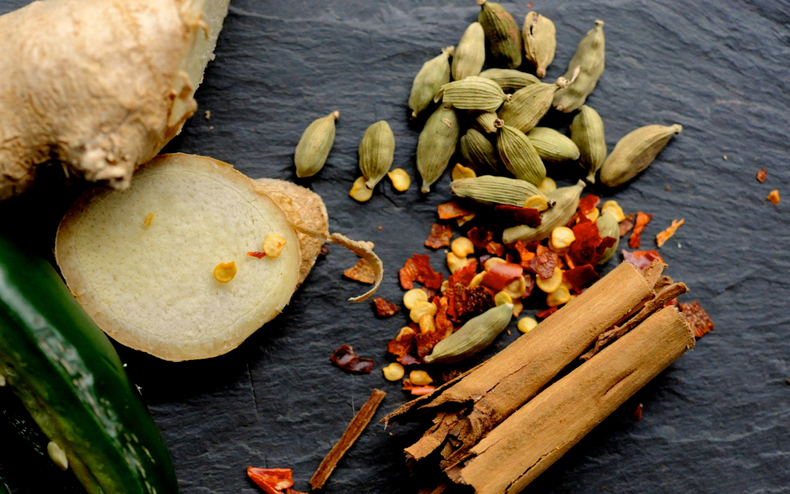 I prefer my cranberry relish (FYI, the definition of relish is: "a cooked, pickled or chopped vegetable or fruit item typically used as a condiment...like jams and chutneys...") less cloying than many and I thought of my
rhubarb chutney
(sorry, recipe has not been re-formatted) when approaching this challenge. It's nicely balanced between sweet and tart, with a bold presence of aromatics and spices that really makes it sing. Whole cardamom pods, lightly smashed and then fished out at the end, leave behind just the subtlest hint of their floral perfume. Ginger, cinnamon, red chile and jalapeño add layers of flavor and surprise.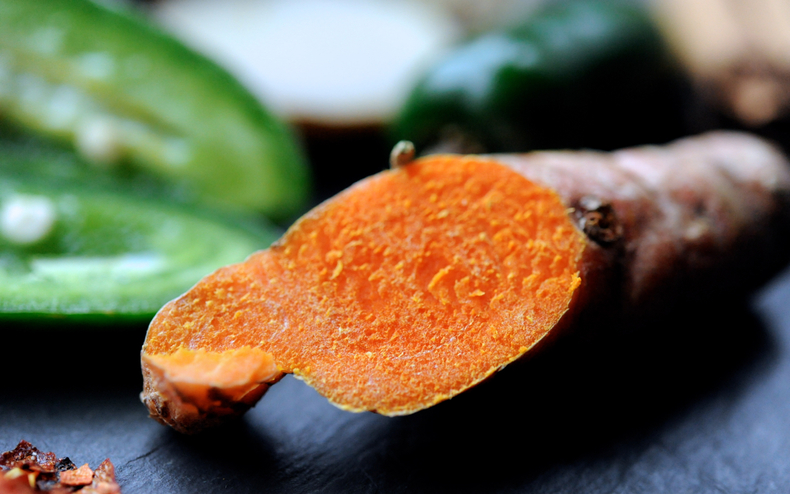 I happened to have some fresh turmeric on hand and I included a grated teaspoon of this for its earthy, slightly bitter tang. That spectacular color doesn't hurt either. Have no fresh? Use dried. (And consider making
this
.)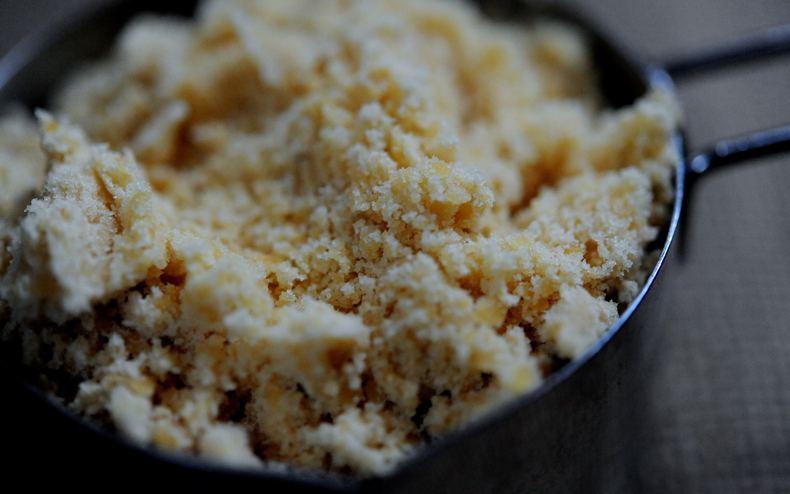 The unrefined Indian sugar known as jaggery is perfect here, though coconut sugar or a light muscovado would also work. Or plain old organic cane sugar. Each one adds its own particular notes.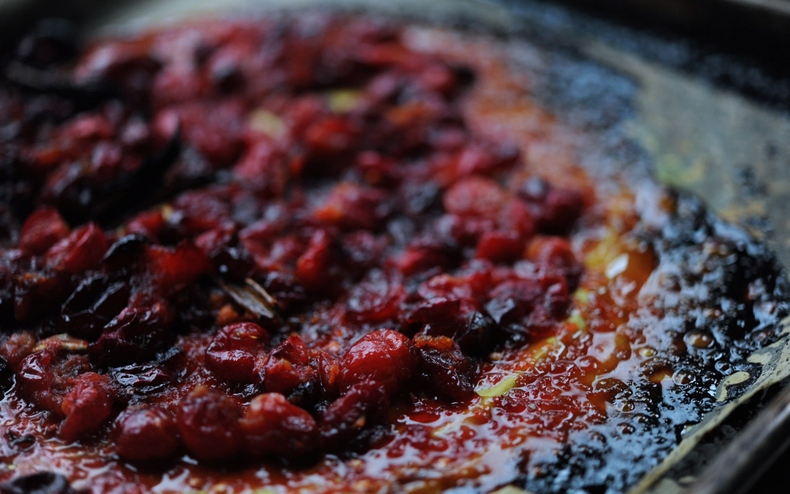 Toss it all with some olive oil and apple cider vinegar, spread this mixture on a parchment-covered pan and roast quickly in a very hot oven. The cranberries swell and pop, the juices caramelize and the whole mess takes on a sultry sweetness.

Let it cool. Let it mellow and meld for a few days. (Or at least an hour.) Stash any leftovers in the fridge for weeks...eat on sandwiches, with cheese, with curries, on papadums, etc.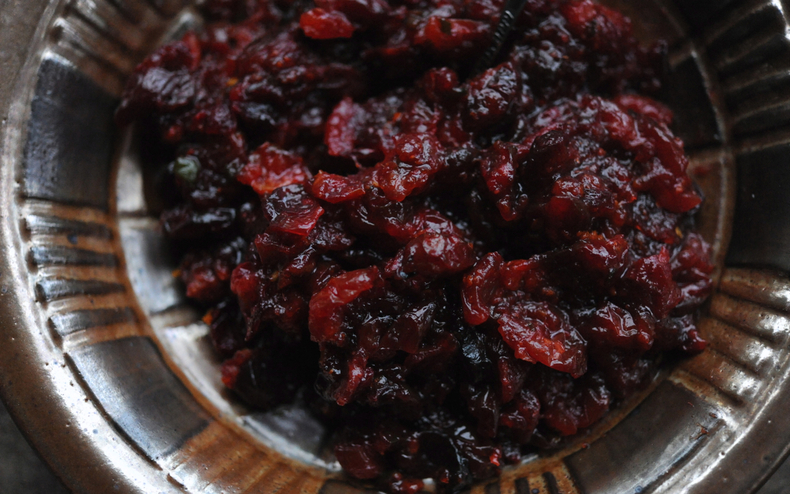 There is nothing traditional about this relish. It will bring a dash of the exotic to your Thanksgiving table. And god knows we all need a little of that. Maybe even a lot. You can always double the recipe.
Cranberry Relish
makes about 2 cups
— 16 ounces

fresh or frozen cranberries

— 1 cup

jaggery, or light brown sugar (not densely packed)

— 2 tablespoons

olive oil

— 2 tablespoons

apple cider vinegar

— 1/2 teaspoon

red pepper flakes

— 1/2 teaspoon

sea salt

— 6

cardamom pods

— 1"

cinnamon stick, broken in half

— 1

small jalapeño, seeded and minced

— 1 tablespoon

grated fresh ginger

— 1 teaspoon

grated fresh turmeric, or substitute dried ground

— 2 tablespoons

mild honey
Preheat oven to 450 degrees.


In a bowl, toss together all the ingredients except the honey. Transfer to a parchment–lined baking sheet. Roast until cranberries burst and juices begin to caramelize, 15-18 minutes. Remove from oven and pluck out cardamom pods and cinnamon.


Scrape mixture into a bowl and stir in the honey. Cool and allow to sit for at least an hour before serving. Will keep in the fridge for several weeks.



Download Recipe