11.22.13
Stuff & Nonsense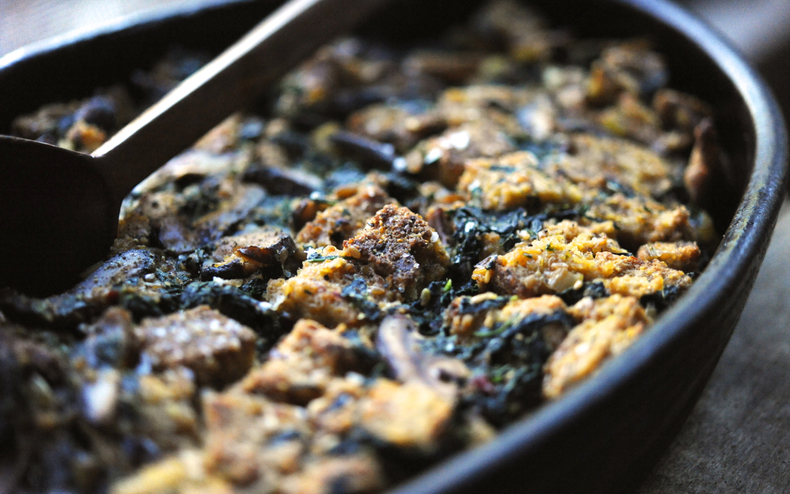 Stuffing. A topic as divisive as any discussion of religion or politics. You'll find it made with rice, with sourdough bread, with cornbread; studded with chestnuts, dried fruit and pecans; larded with sausage, oysters, gobs of butter. Some like it soft and steamed, emerging from the bird's cavity, while others insist on maximum crunch. It's a reflection of culture, tradition and personal preference, an opportunity for experimentation and self-expression. But, in the end, it's just stuffing. I make an alternate version with cornbread at our Thanksgiving so that my gluten-free husband can partake. In the past, I've added fresh cranberries, pecans and sausage for a sort of
down-home version
. This year, it's got the last kale from our garden and lots of chewy, flavorful mushrooms. Next year, who knows? Perhaps something with wild rice. And the beat goes on.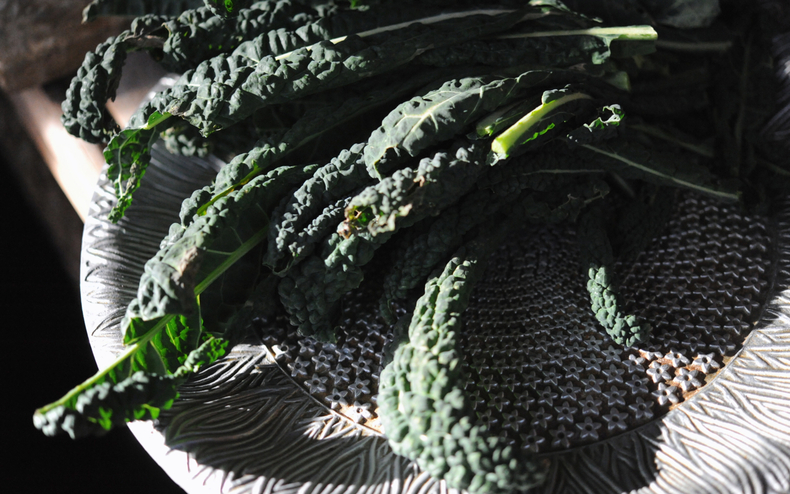 Even after many days of freezing temperatures, the last bumpy green leaves of Tuscan kale were perky and hoping to be pressed into service. I plucked them with fingers stiff from the cold and blessed them for their long service this year.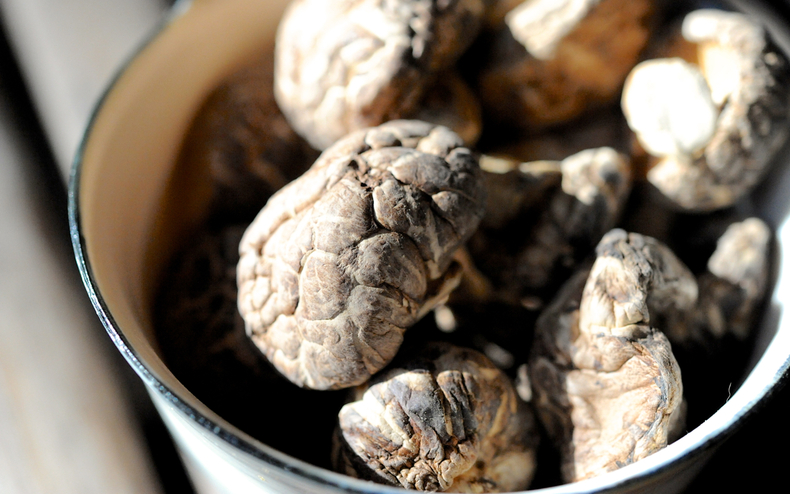 Because of their dense, meaty texture and deeply savory flavor, I decided to use dried shiitakes.
Remember
how I learned to shop for those with cracks on the surface (a sign of better quality)? Above, you'll see I found them last time I went to
Mitsuwa
. I'm not sure I noticed a huge difference between these and others I've enjoyed in the past, though they seemed more substantial somehow.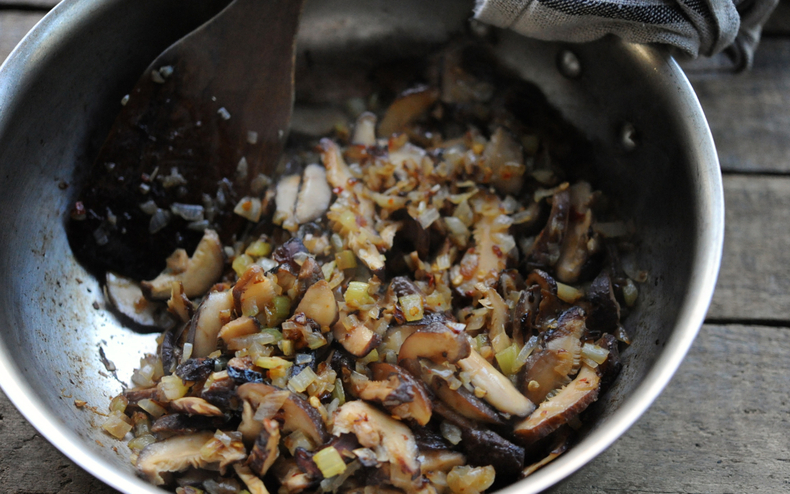 One thing you'll notice about many stuffing recipes is the amount of butter called for. Like two sticks. Because I decided to make a vegan version, I wound up substituting plenty of olive oil, vegetable stock and some of the soaking liquid from the dried shiitakes. If you're not in the habit of making your own vegetable stock, I highly recommend it. I just cut carrots, celery ribs, parsnips, leeks and a large onion, tossed in a big garlic clove and a bay leaf and simmered this gently for a couple of hours. The result was light and very flavorful, perfect as the base for any number of soups and sauces, and easily frozen.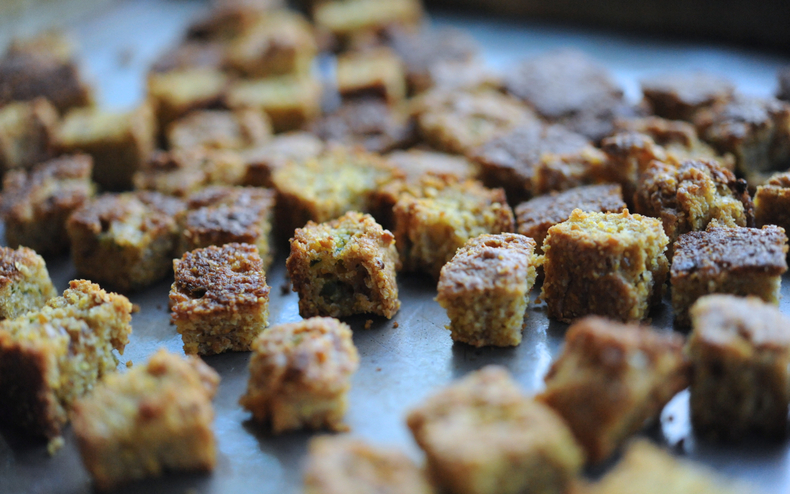 The nice thing about this particular stuffing is that it emerged from the oven an interesting combination of crunchy and soft. Key to achieving this, I think, is toasting the cornbread until it's quite dry and crusty. By the way, this
cornbread
is fantastic. Even if you're not planning to make the stuffing, you should try the cornbread, which is easily made both gluten-free and vegan without suffering one tiny bit. A trick I learned from this
culinary genius
is to heat the skillet with a few tablespoons of oil before adding the batter. This creates a thick, browned crust that you will not be able to stop eating.
Anyway, what with the excellent cornbread, the fresh kale, the chewy mushrooms and plenty of buttery olive oil, I have deemed this stuffing a worthy contender. I'd like to see it stuffed in our turkey this year, but that hallowed spot is reserved for my mother-in-law's classic bread stuffing with celery and sage. And that's that.
Cornbread Stuffing with Mushrooms & Kale (gluten-free, vegan)
serves 6-8
— 3 ounces

dried shiitakes

— 1 loaf

vegan cornbread (see recipe in archive), cut into 1/2" cubes

— 1/2 pound

Tuscan kale, ribs removed

— 2

celery ribs, diced

— 1

large onion, diced

— 1 teaspoon

crushed red pepper

— 1 1/2 teaspoons

sea salt

— 3 tablespoons

ground flax seed

— 1 cup

vegetable stock

— 1 teaspoon

ground toasted fennel seed

—

extra virgin olive oil
Place the dried shiitakes in a bowl and add warm water to cover; soak for 4 hours.


Preheat the oven to 350 degrees.


Spread the cornbread cubes on a large rimmed baking sheet and bake until golden brown and crisp, about 30 minutes. Remove from oven and cool.


Bring a large pot of salted water to the boil and add kale. Cook until bright green, about 1 minute. Transfer to a colander and drain. When cool, lightly squeeze the kale dry, then coarsely chop.


Remove mushrooms from bowl, reserving soaking liquid, and thinly slice.


In a large skillet, heat 3 tablespoons olive oil. Add the celery, onions, crushed red pepper and salt to the skillet and cook until soft. Add the mushrooms and cook over moderate heat until nicely caramelized, about 12-15 minutes.


Transfer the mixture to a large bowl. Add the kale and cornbread and gently toss to mix.


In a small saucepan, bring a generous half cup of water to the boil. Add ground flax, reduce heat and cook for 3 minutes. Add this to the cornbread mixture along with vegetable stock, 1 cup strained mushroom soaking liquid, 4 tablespoons olive oil and ground fennel. Mix well. Taste and add more salt as needed.


Grease a large baking dish with two tablespoons olive oil. Spread the stuffing in the dish and cover with foil. Bake in the upper third of the oven for 20 minutes. Uncover and bake for about 20-30 minutes longer, until hot throughout and crisp on top. Transfer the baking dish to a rack and let the stuffing rest for about 10 minutes before serving.


The stuffing can be refrigerated overnight, before the baking step. It can also be frozen, either before or after baking.



Download Recipe