11.15.13
Say Cheesecake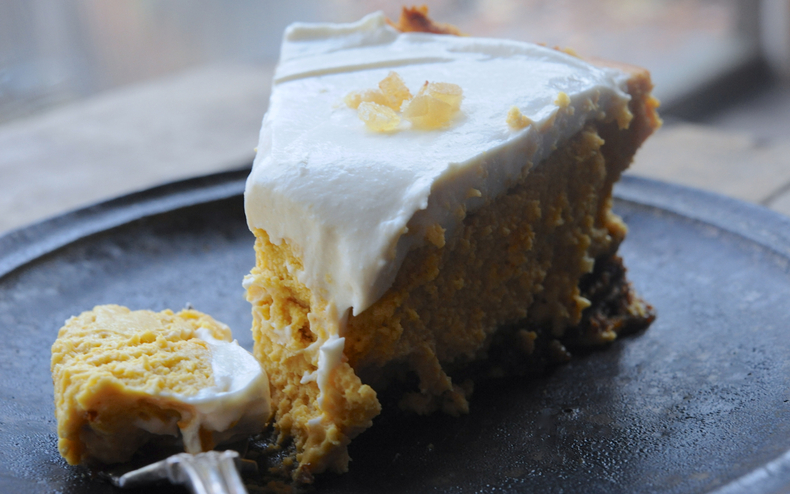 Dessert is polarizing. Love it as I do, I fully empathize with the naysayers. After a full meal, who really needs more? But some would say a meal is not truly complete without it. And, like it or not, desserts are cultural touchstones. What traditional festivity is properly concluded without some elaborate confection? A grand dessert is a flight of fantasy, a sensual voyage, an affair to remember. It's a fitting ending to the type of meal that includes multiple courses, fine wine, great conversation and lots of lingering. I hope your Thanksgiving is like that. But if not (if instead it's full of screaming children and sniping in-laws and overcooked turkey), there will always be an opportunity—after your tryptophan-induced nap—to submerge your sorrows in a slice of something sinful. Every once in a while there's got to be a little devil in Miss Jones.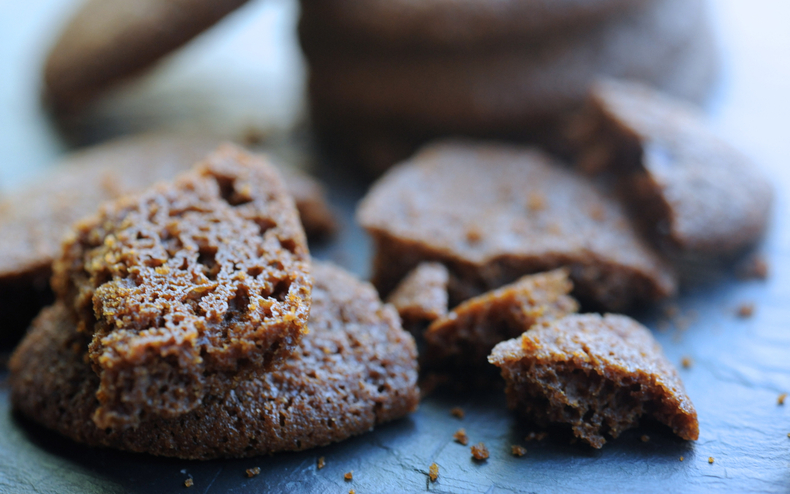 Today, in my latest Thanksgiving epistle, I offer you a decadent and delicious ginger-pumpkin cheesecake. It's based on a crust of gingersnaps and crystallized ginger and I'm thrilled to have found
gluten-free gingersnaps
that are appropriately gingery and crunchy. You pulse them in the food processor along with some sugar, stir in melted butter and then press this concoction into the bottom of a springform pan. This crust chills while you prepare the filling.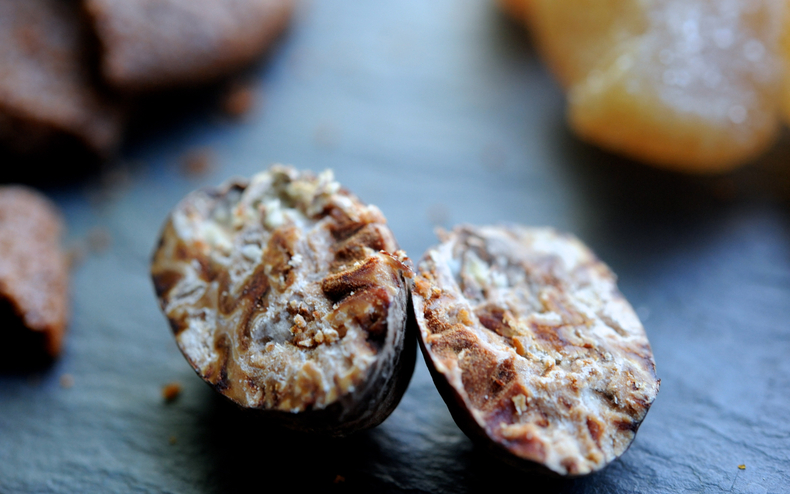 Along with three kinds of ginger, the cheesecake is scented with freshly grated nutmeg. There is no fragrance more divine. (If you love it as much as I do, try dousing yourself with
this
.) Never encountered the whole spice? Now is the time. Slice it in half and grate it on your microplane. Try it grated over a gin-&-tonic with lots of lime. Also wonderful in creamed spinach.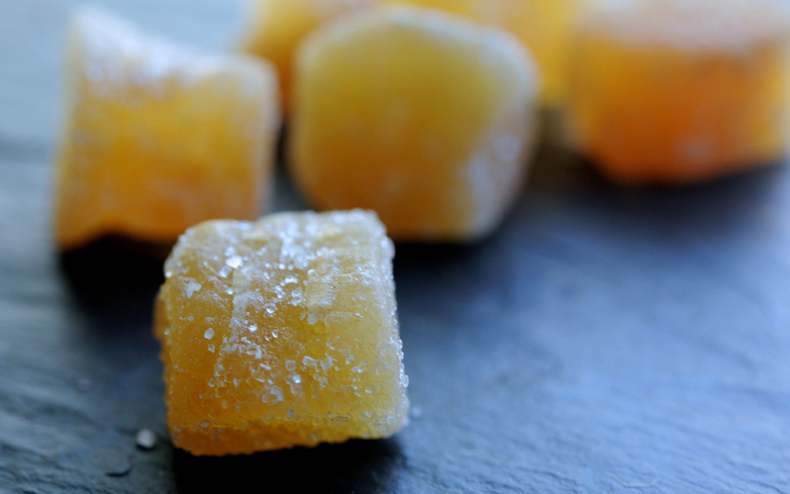 Besides the crystallized ginger in the crust, this recipe calls for ground ginger and fresh ginger, grated and juiced. You also have the option of stirring a couple more tablespoons of crystallized ginger into the filling at the very end. If you prefer a competely smooth cheesecake, just skip this step and stick to sprinkling tiny cubes of the stuff as a garnish.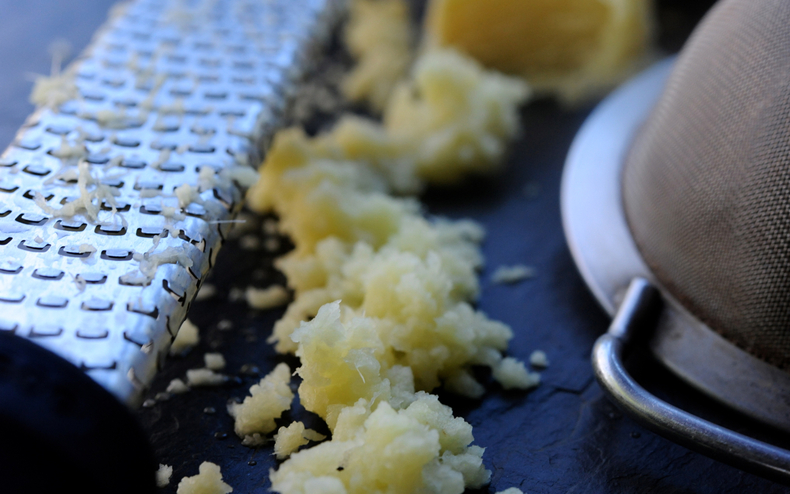 To make ginger juice, simply grate a hunk of the fresh root on your microplane, then press the pulp through a strainer, extracting a surprising amount of liquid. This juice and some additional grated fresh ginger gets stirred into a combination of eggs, pumpkin puree (canned is fine), honey and softened cream cheese. A few tablespoons of condensed milk contribute to the velvety texture.

Before pouring this mixture into the crust, I like to strain it to prevent any lumps from harshing your mellow.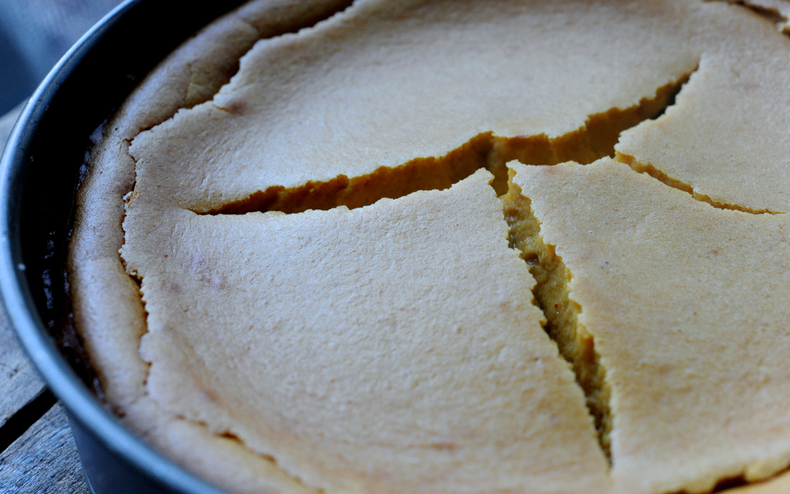 A few cracks started to form around the edges when this was baking, and after I removed it from the oven some veritable chasms emerged. I hadn't been planning on adding a topping, thinking that it was gilding the lily, but now I see why people do it. My maple syrup-sweetened sour cream topping fixes everything and totally disguises the fact that the San Andreas fault is running through your cheesecake.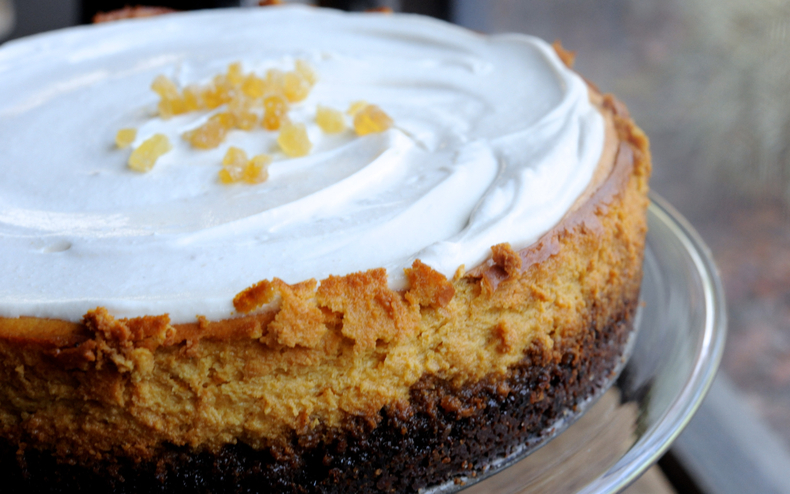 The unmolding was traumatic as the gingersnap crust is quite hard and sticky. I used a chef's knife and a metal spatula. Not great for ease of serving and perfect presentation but absolutely delicious. Plus, these craggy layers are really quite gorgeous, no?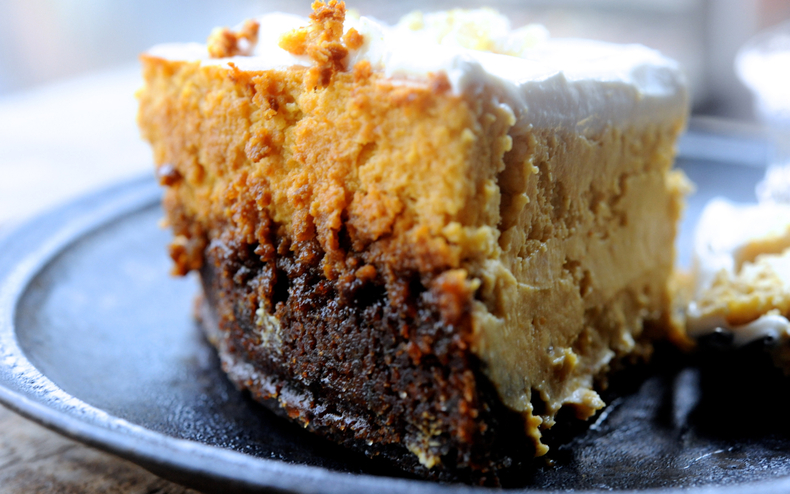 A slim slice is all you need, trust me on this. It's rich, creamy and dreamy with a surprisingly subtle kick of ginger, given all the various kinds it contains.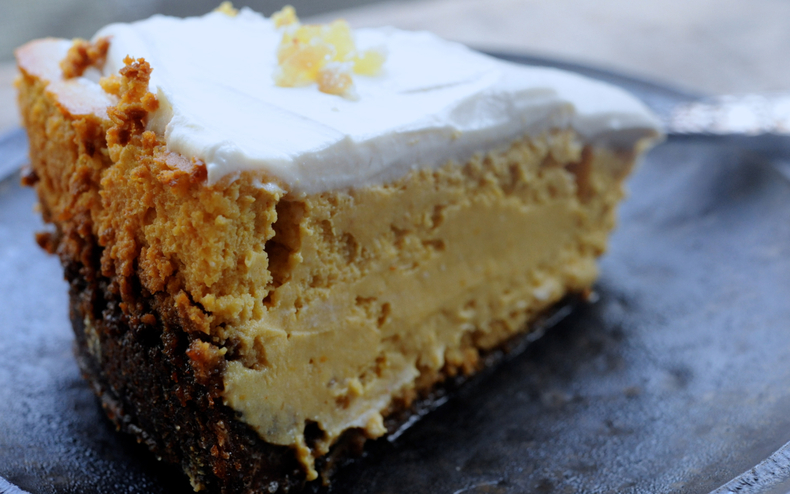 You can make this cheesecake a couple of days ahead and keep it in the fridge—just be careful of how you cover it, though you can always run an offset spatula dipped in hot water over the top to smooth out any glitches. Scatter on some minced crystallized ginger and carry your creation to the table with pride.
Other dessert options? Skip the crust and the cream cheese and go with my usual Thanksgiving choice, divine
pumpkin custard
with crème fraîche and candied pumpkin seeds. (Still my favorite.) Or try my dense and dark
gingerbread
with its tangy lemon glaze. Or this classic
tarte Tatin
. Or the most decadent and homey
apple pie
ever.
Starting to panic about the rest of your menu? Scan the archives for my past posts on Thanksgiving; they are full of options and links to interesting and trusted recipes. You can also refer to the
New York Times
'
Essential Thanksgiving
resource, where Julia Moskin and Melissa Clark have rounded up everything you need to make a fabulous meal. And stay tuned next week for my cornbread stuffing and cranberry jam recipes.
Still have doubts? Questions? I'm here for you. Reach out and I'll offer whatever support and suggestions I can. xo
Pumpkin-Ginger Cheesecake
serves 10-12
— Crust:

— 6 ounces

gingersnaps (gluten-free are fine)

— 1/4 cup

firmly packed light brown sugar

— 1/4 cup

organic cane sugar

— 4 tablespoons

unsalted butter, melted and cooled

— ~

— Filling:

— 15 ounces

dense pumpkin puree

— 3

large eggs

— 2 tablespoons

fresh ginger juice

— 1 tablespoon

grated fresh ginger

— 1/2 teaspoon

freshly grated nutmeg

— 1 1/2 teaspoons

ground ginger

— 1/2 teaspoon

sea salt

— 1/2 cup

firmly packed light brown sugar

— 24 ounces

cream cheese, softened

— 1/2 cup

honey

— 4 tablespoons

condensed milk

— 1 tablespoon

cornstarch

— 1 teaspoon

vanilla extract

— 2 tablespoons

minced crystallized ginger, optional, plus more for garnish

— ~

— Topping:

— 2 cups

sour cream

— 4 tablespoons

maple syrup

— 1 teaspoon

ground ginger

— 2 tablespoons

chopped crystallized ginger
In a food processor, pulse together gingersnaps, crystallized ginger and sugars. Stir in the melted butter. Press the mixture into the bottom and an inch or so up the side of a buttered 9-inch springform pan. Chill crust for 1 hour.


Preheat oven to 350 degrees.


In a medium bowl whisk together pumpkin, eggs, ginger juice, grated ginger, ground ginger, nutmeg, salt and brown sugar. In the bowl of an electric mixer, cream together cream cheese, and honey, then beat in condensed milk, cornstarch and vanilla. Add the pumpkin mixture and beat until smooth. Strain into another bowl through a fine mesh strainer and stir in minced crystallized ginger, if using.


Pour the filling into the crust and bake the cheesecake on the middle rack of the oven for about an hour, or until the center is just set, and let it cool in the pan on a rack for 5 minutes.


Stir together sour cream, maple syrup and ground ginger. Spread evenly over the top of the cheesecake and return to the oven for 5 minutes.


Remove from oven, cool completely and chill overnight, covered. Before serving, garnish with a scattering of minced crystallized ginger.



Download Recipe