9.10.13
Deep, Dark & Delicious (& a Chocolate Giveaway!)
Because summer is not over yet. Because ice cream is an essential luxury. Because nothing beats homemade. Because when you go to the heart of darkness, you need a reason to turn back. There is something about the
cold, slippery, creamy sweetness
of ice cream that triggers a very primal lust—one that must be satisfied every now and then.
I confess to having made frozen treats more than a few times this summer. I blame Jeni, the ice cream temptress whose book,
Jeni's Splendid Ice Creams At Home
, lays bare the art of
eggless ice cream
. I made her backyard mint (with mint from the garden) and goat cheese with roasted sour cherries for ice cream sandwiches at our July barbecue; her eye-opening black coffee; her inspired sweet corn with blackberries; and I added fresh white peach puree to her classic vanilla bean for a summer favorite. I could not resist tinkering with her Darkest Chocolate Ice Cream in the World. By adding my own spin to the decadent blend of cocoa powder, bittersweet chocolate and brewed coffee, I wound up with something I just have to share with you. It's sinful, in the best possible way.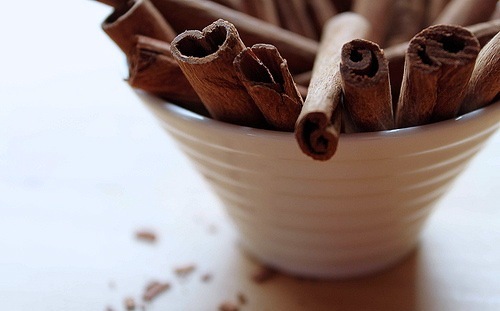 With a tip of the hat to my Mexican roots, I steeped a long curled stick of cinnamon in the ice cream base. Cinnamomum verum is actually a tropical evergreen native to Southeast Asia and is often labeled as Ceylon cinnamon. It curls into pale brown spirals that have a soft texture easy to grate or break up. It has a woodier aroma and a sweet, warm almost citrusy flavor that is less potent and spicy than cassia, the reddish-brown cinnamon we use more often. I like to buy my cinnamon in whole sticks and grind it in my spice grinder if I need the powder.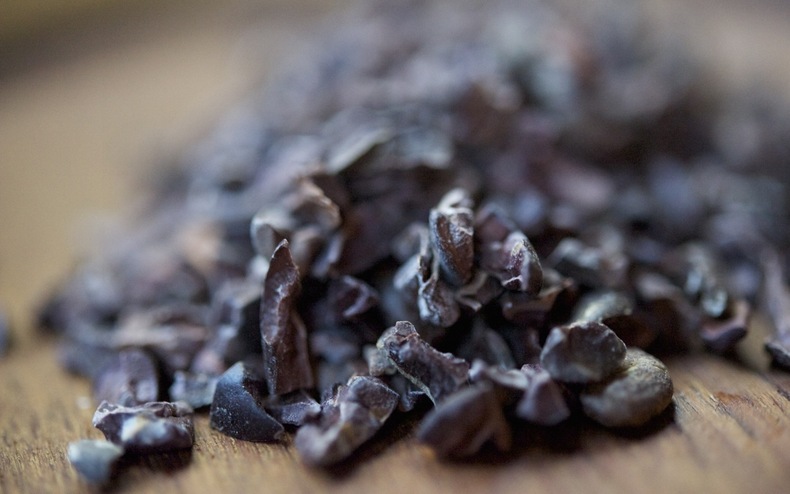 I also added some cacao nibs to enhance the
chocolate's dark earthiness
. These crisp nuggets add a pleasing crunch that is the perfect contrast to the ice cream's rich density. And, in another burst of inspiration, I stirred in a bit of cayenne. This imbues the final result with a subtle, slow burn at the back of the throat, an interesting effect given that you are eating something quite cold. To underscore the whole Mexican chocolate vibe, try garnishing your scoops with a few toasted almonds.
Part of the reason that Jeni's ice creams are so smooth is that she really minimizes all possibilities for the formation of ice crystals.
The milk and cream get boiled to remove water, and then cornstarch is added to absorb any additional water that might be lingering in the mixture. The addition of just a small quantity of corn or tapioca syrup and a few tablespoons of cream cheese ensure that satin texture.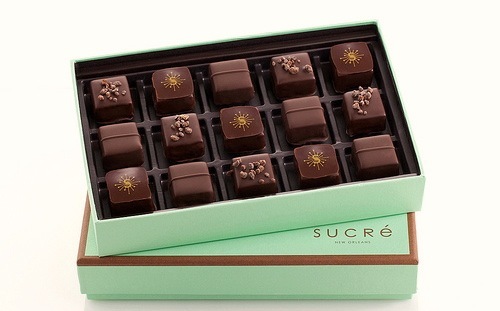 Want a more instant fix for your chocolate cravings? The delightful people at Sucré in New Orleans (you may have read about their gorgeous macarons
here
, or perhaps you've heard of their famous
king cake
) are offering this gorgeous Dark Chocolate Lovers Collection to one very lucky reader.
For your chance to win 15 pieces of divine dark deliciousness from
Sucré
, just leave a comment by midnight on Sunday telling me about your favorite way to eat chocolate. I'll choose someone at random and announce the winner next week. Until then, consider making the ice cream.
Dark Chocolate Ice Cream
from Jeni's Splendid Ice Creams at Home
make 1 generous quart
— 1/2 cup

unsweetened cocoa powder

— 1/2 cup

brewed coffee

— 1/2 cup

sugar

— 1 1/2 ounces

bittersweet chocolate (55%-70% cacao), finely chopped

— 2 cups

whole milk

— 4 teaspoons

cornstarch, or tapioca starch

— 3 tablespoons (1 1/2 ounces)

cream cheese, softened

— 1/8 teaspoon

fine sea salt

— 1 cup

heavy cream

— 1/2 cup

sugar

— 2 tablespoons

light corn syrup, or tapioca syrup

— 1 3-4"

cinnamon stick

— 1/4 teaspoon

ground cayenne

— 2 tablespoons

cacao nibs
Combine the cocoa, coffee and sugar in a small saucepan. Bring to a boil over medium heat, stirring to dissolve the sugar, and boil for 30 seconds. Remove from the heat, add the chocolate and let stand for 5 minutes. Stir the syrup until smooth and set aside.


Mix about 2 tablespoons of the milk with the cornstarch in a small bowl to make a slurry.


Whisk the cream cheese, warm chocolate syrup and salt together in a medium bowl until smooth.


Fill a large bowl with ice and cold water.


Combine the remaining milk, the cream, sugar, corn syrup, cinnamon stick and cayenne in a 4-quart saucepan and bring to a rolling boil over medium-high heat. Boil for 4 minutes. Remove from the heat and gradually whisk in the cornstarch slurry. Bring the mixture back to a boil over medium-high heat and cook, stirring with a heatproof spatula, until slightly thickened, about 1 minute. Remove from the heat.


Gradually whisk the hot milk mixture into the cream cheese mixture until very smooth. Pour the mixture into a 1-gallon Ziploc freezer bag and submerge the sealed bag in the ice bath. Let stand, adding more ice as needed, until cold, about 30 minutes.


Remove cinnamon stick before pouring the ice cream base into the frozen canister. Spin until thick and creamy. Just before the ice cream is done, tip in the cacao nibs so they will get stirred through.


Pack the ice cream into a storage container, press a sheet of parchment directly against the surface and seal with an airtight lid. Freeze in the coldest part of your freezer until firm, at least 4 hours.



Download Recipe