9.17.13
Herbal Essence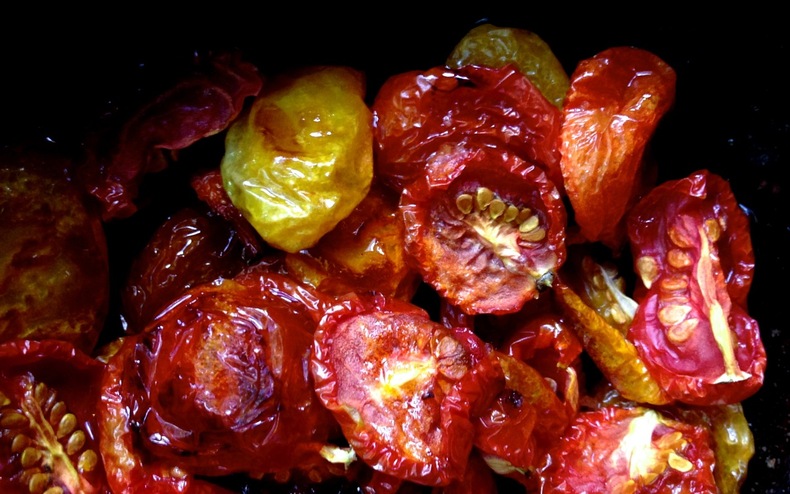 I'm almost to the point of never wanting to see another tomato. I can scarcely believe that I will ever pine for one again. (But talk to me in March.) We were supposed to get our first freeze last night, so the house is piled high with delicate herbs and tomatoes, both ripe and not, snatched before Jack Frost could claim them. I have made countless batches of sauce to freeze; I have dried cherry tomatoes to store in oil; I have dehdyrated and ground slices into a powder for seasoning salt and butter; there is a giant stash of spicy tomato fruit leather, and two dozen jars of
spicy tomato jam
aka nectar of the gods. There is such an over-abundance of food in the house at this moment, and it occurs to me I haven't really been sharing with you much about what I've been cooking. (I document some of it on Instagram; come visit @laurasilverman)
By the way, the Nikon was having some issues and had to be sent back to the manufacturer (now the
only
place allowed to do repairs!) so I apologize for the less-than-adequate iphone photos which will persist for god knows how long. I trust you will bear with me in my quest to defy perfectionism and simply soldier on...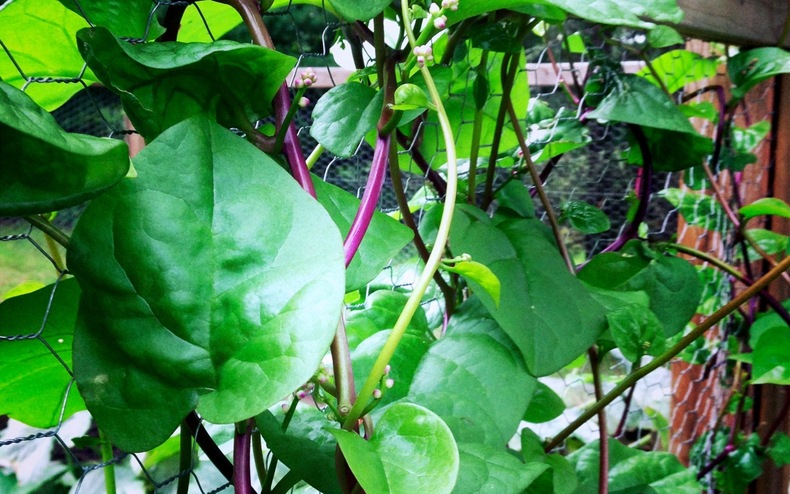 We've been enjoying lots of this Malabar spinach, a vibrant green vining variety that has wonderfully succulent leaves. I just wash masses of it in a colander and then toss it into a large pot in which I have heated a glug of olive oil, a smashed clove of garlic, some sea salt and a pinch of red chile flakes. Pop on the lid, turn the heat down, and let it wilt. Then uncover, crank up the heat, and let the excess water cook off. Works perfectly every time. Had this along with some rock shrimp fritters the other night. G smoked some spare ribs and we had it with those, too.
We love our local pork and it turns out to be from the same small farm that supplies Momofuku! They are much too modest to ever say but I've been watching
Mind of a Chef
(David Chang's food show) on Netflix and saw
Andy
featured on the pork-centric episode. I love Sullivan County!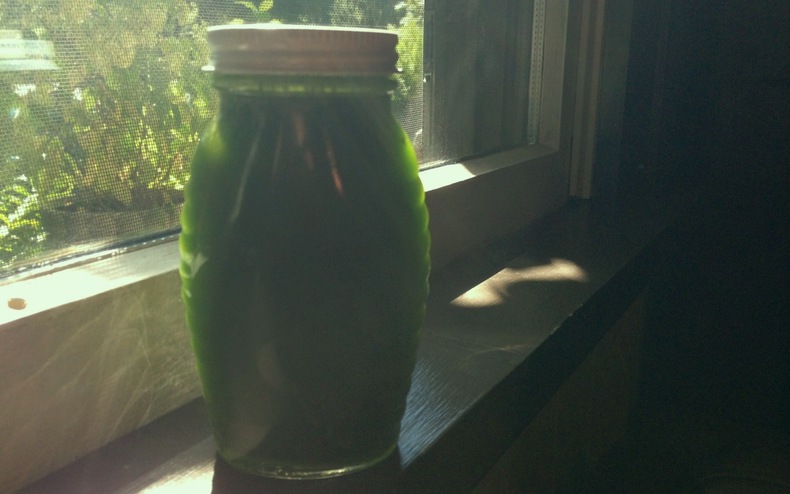 Before we get to this other beautiful green stuff, let me tell you about an exciting tomato vinaigrette. (When you have this many tomatoes, you will put one in almost anything.) Take a ripe tomato, scoop out the seeds (save them for planting next year!) and pop it in a blender, food processor or Vitamix. Add some olive oil, sherry vinegar and a little fish sauce (or anchovy paste, if that's what you have) and puree that all together. Try it with escarole, with sharp arugula, with thinly sliced fennel.
You know how in fancy restaurants they are always adorning the plate with fat drops and squiggles of gorgeous jewel-toned sauces and oils? It's good to have something like that in your culinary arsenal. That's why you are going to make this basil oil. All you do is whizz together fresh basil and top quality olive oil, then let it drip slowly through a cheesecloth (or coffe filter or even a fine mesh strainer). The result is a pure grass-green oil that extends the taste of summer just a little bit longer. We had macaroni and cheese last night, studded with oven-roasted cherry tomatoes that are little umami flavor bombs and drizzled with this basil oil. (I made the béchamel sauce with buttermilk and it was really, really good.) On the side was escarole tossed with the tomato vinaigrette. Dessert these days has been this divine
Concord grape sorbet
.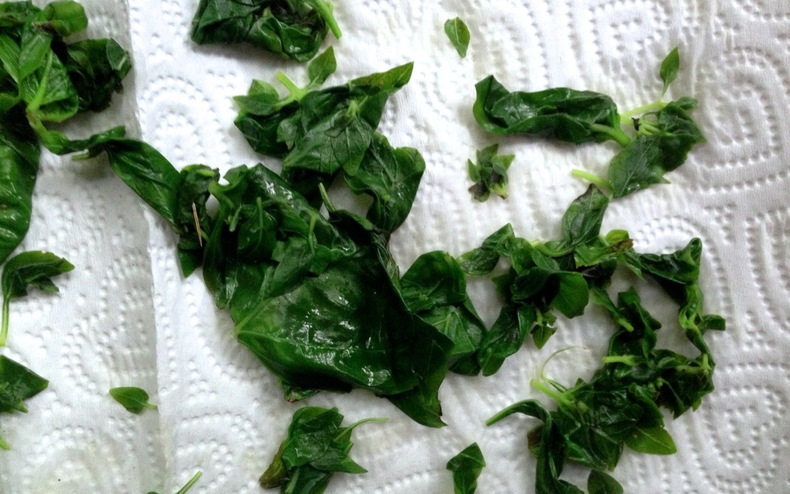 One key step is to blanch the basil first. You just boil some water and swish the herbs through for 10 seconds, then quickly run them under very cold water to preserve that glorious color. Wolfgang Puck recommends letting the blanched basil drain on paper towels for half an hour before making the oil, so I did that. He's such a pro, I trust him. I'm being serious.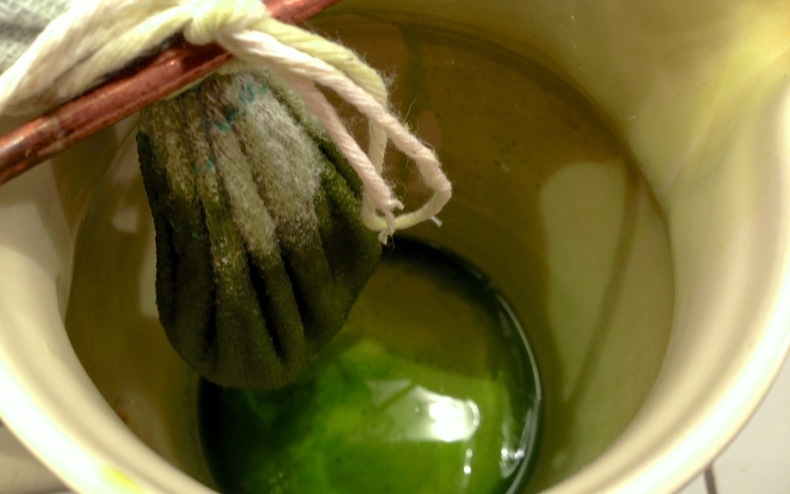 Here's an easy technique for straining something. It's quite similar to how you drain fresh cheese or jelly using a cheesecloth bag suspended over a bowl or pitcher. I placed a long chopstick over the opening of a large pitcher and tied the cheesecloth bag full of the basil oil right to it, then let it hang and drip for a few hours. If you are impatient and squeeze the bag, little particles of the basil will come through and cloud your oil. I know this because I am impatient and I did just that. Then, because I am also an anal perfectionist, I had to strain it again.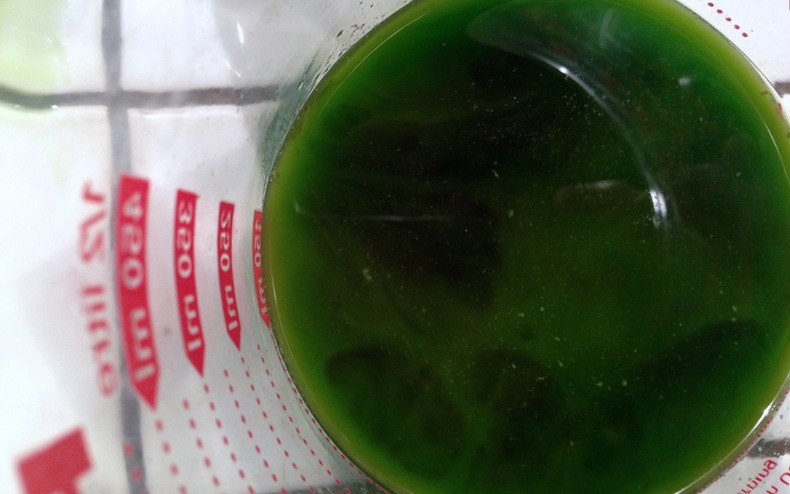 You can see some of those particles here, right? Never mind, the oil was perfection. It will keep in the fridge but not for as long as you want it to. Use it within 5 days or so—on poached eggs, on salads, on soups, on grilled bread, on cheese. Oh, you can use it up in 5 days, trust me.
And now, a few random updates:
I'm so excited to be giving a
workshop
at Best Made this Thursday. I would have told you about it but it sold out in about 6 hours. (I am not bragging!) I'll be talking about a bunch of stuff that you read about on this blog anyway.
I've also started a segment on our local radio station,
WJFF
! It's the
What's Cooking
segment on the Farm & Country show, every Saturday morning at 7:30. (Thankfully, I just email them my mp3s and don't have to appear in person!) I realize I would be overly optmistic to encourage you to tune in, but you can listen in the
archive
if ever you get a hankering.
I was recently featured on my friend Michael Mundy's beautiful site,
An Afternoon With
. It was a real honor to do this project with him and he took some wonderful photos of our home.
And last, but certainly not least, I want to thank everyone who made my mouth water with their chocolate fantasies and announce that the winner (selected with randomizer) of that fabulous box of Sucré confections is MERYL. Come on down, Meryl, and claim your prize! Email your address to gluttonforlife@gmail.com and I will tell the good people at Sucré to deliver the goods, toot sweet! xo
Basil Oil
makes a scant cup
— 2 packed cups

fresh basil leaves

— 1 cup

best quality olive oil

— pinch

sea salt
Bring a small pot of water to the boil over high heat. Meanwhile, fill a bowl with a couple of handfuls of ice and cold water to cover, then set aside. Line a plate or tray with a double thickness of paper towels and set aside.


When water is boiling, drop in basil, leave for 10 seconds, and then quickly scoop it out with a slotted spoon or spider. Immediately put it in the bowl of ice water to stop the cooking.


Remove basil from the ice bath and squeeze gently to get out some excess water, then lay it flat in a single layer on the paper towel-line plate. Allow to drain for 30 minutes.


After 30 minutes, combine basil, olive oil and salt in a blender or food processor and puree until very, very smooth.


Place a large piece of cheesecloth in a bowl or pitcher and pour in the basil oil. Gather up and tie the ends with a piece of string and suspend over bowl or pitcher so oil can drip through. Allow to drain for 3-4 hours. Do not squeeze or oil will become cloudy. Pour into a clean glass jar and keep refrigerated. Use within 5 days.



Download Recipe
Tomato Vinaigrette
makes about 1 cup
— 1 medium

ripe tomato

— 1 small

garlic clove

— 1/4 cup

olive oil, plus more as needed

— 2 tablespoons

sherry vinegar

— 1 teaspoon

fish sauce

— 1/2 teaspoon

spicy pimentón, optional

—

sea salt, to taste
Cut tomato in half and remove seeds. Place pulp with skin in a blender or food processor along with garlic, olive oil, sherry vinegar, fish sauce and pimentón, if using. Blend until smooth, then taste for seasoning, adding salt, if needed, and more olive oil if desired. Store in a clean glass jar in the fridge. Will keep for several days.



Download Recipe