7.17.13
July Hot Links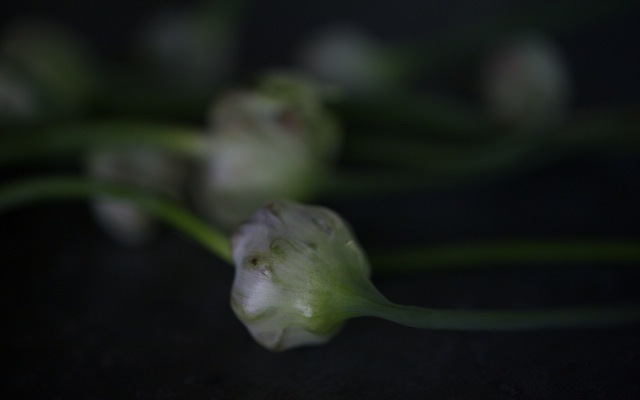 Last year, we took some wild garlic plants from a friend's land and planted them in our garden. They emerged, thrived and grew tall this season, producing those elegant, winding scapes that are the flower stalks of hardneck garlic plants. Instead of actually producing flowers, they eventually form small bulblets that can be planted to grow more garlic—or eaten as is, or used to infuse vinegar. That's what I did today, tossing a generous handful into a jar of organic white vinegar. I'll let it cool its heels in the pantry for a few weeks, then strain out and discard the garlic and use the vinegar for salad dressing. No vampires in this house.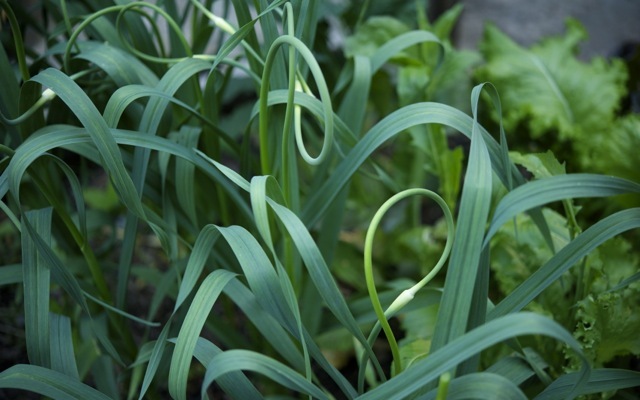 You can do this with herbs, as I mentioned earlier this week, or chive blossoms as I did earlier this spring, or things like
pink peppercorns, hot chiles, citrus zest
. Flavored vinegars provide added dimension not only to salad dressings but to pan sauces, steamed vegetables, even cocktails. It's easy, it's painless, it's rewarding. What's not to like?
As I prepare for my
annual blog hiatus
(all of August is a blog-free zone for me), I wanted to be sure to pass along the links I've been saving for you this month. Hope you enjoy them, and that you also remember to check the
recipe archive for summer inspiration
from years past.
I'm considering a trip to Oaxaca, Mexico, and have been looking at interesting travel sites, including
this one
for the
very
adventurous.
My friend Jocelyn, a yoga teacher and holistic nutritionist, has a wonderful newsletter and I'm featured in the
latest issue
!
In case you missed it, here's a pretty friendly recipe for making
pizza on the grill
.
Using your freezer to preserve summer's herbs, fruits and vegetables,
here
Poignant and inspiring piece on the joys of aging by the amazing
Oliver Sacks


And a somewhat different POV from
women in their 50s
Not your run-of-the-mill
cocktail ingredients
, these are handcrafted, organic and beautifully nuanced.
Looking to add a little spice to your life? Look no further than
this
...
I think I may already have shared this, but it's such a helpful primer on seasoning and using your
cast iron cookware
.
Planning to make
this
soon, probably using some of my new kimchi.
Amusing memory of the legendary
MFK Fisher
from the old and beloved Gourmet magazine
An excellent
summer read
(especially if you like post-apocalyptic adventures)
I stumbled across
this magazine
recently and found it covers some topics of interest
Watching Season 3 of
this
and still enjoying it; love Charlotte Rampling in
this
; and Liev Schrieber in this, but a bit on the fence about the show overall; excited for the return of
this
; and the final season of
this
!
Enjoy the rest of your week! I'll be back on Friday with a cocktail for the weekend. xo