7.15.13
My Little Herb Stalk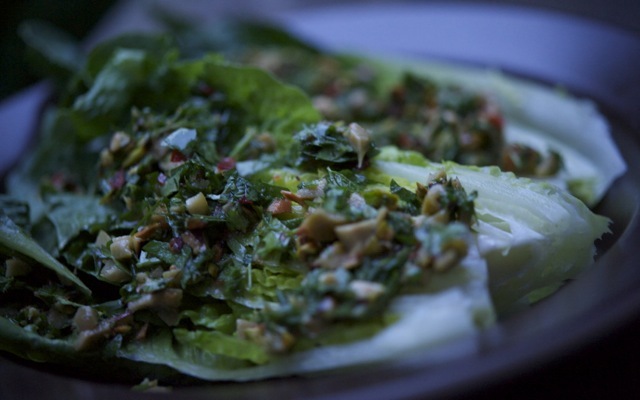 I love eating out because creative chefs often inspire me to try new things at home. I think most home cooks feel the same way as you can see by a feature of Melissa Clark's
column
on the
Times'
blog called Restaurant Takeaway, and something similar in Bon Appétit, known as
The Takeaway
. Who doesn't want to recreate those
bold, compelling dishes
that haunt us after we've dined out somewhere special? And when it's a relatively simple technique or combination of flavors you can copy, so much the better. That's the case with this
mouthwatering fresh salad
that pops up as a special at ABC Kitchen in Manhattan, where chef Dan Kruger is known for
healthy seasonal cooking
that drives people wild.
Don't worry about having to slavishly copy every last detail of a recipe. Here, it's the combination of
fresh herbs, toasted pistachios and savory green olives
in the dressing that makes this salad so addictive. At the restaurant, they lavish this mix on a whole gorgeous head of butter lettuce, but anything crisp and green will do.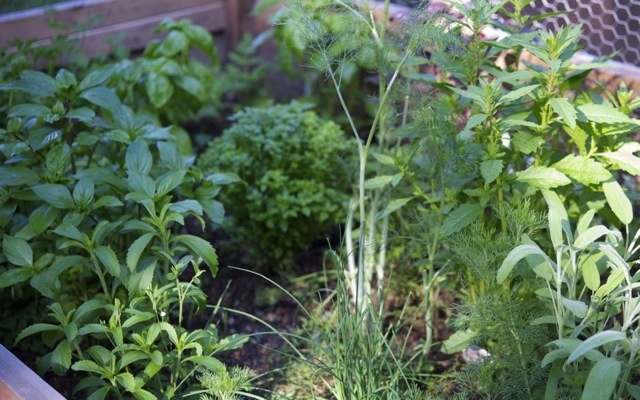 This year, we moved my herb garden from a shady side of the house to its own sunny raised bed on the front lawn and it's made a world of difference. We planted classics—thyme, chives, parsley, chervil, tarragon—and a few wonderful exotics like epazote (a Mexican herb delicious with beans) and black cumin.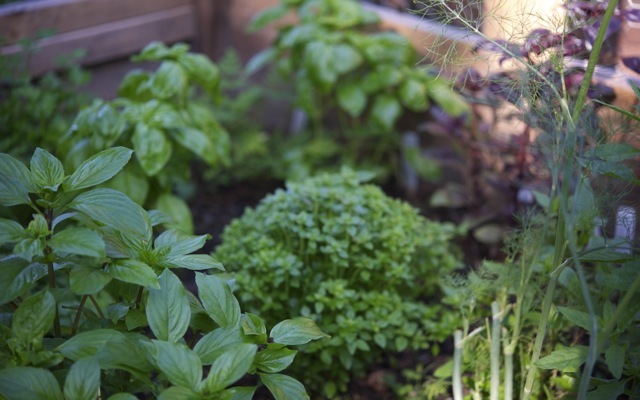 So far, I've used lots of dill for
pickles
, Italian basil for
pesto
, Thai basil for
summer rolls
and parsley in green juices. On the other side of the yard, I have an enormous mint patch that I have consistently cut back this summer, which has kept it fuller and happier than when it's allowed to get leggy and exhausted. I steep it in hot water for a relaxing evening tea, infuse it in cream for
ice cream sandwiches
(
Jeni's
also has a great recipe for mint ice cream), and dry it to last all year long.
Other uses for herbs: compound butters to eat with radishes, on toast, on steaks, etc; infused in white or champagne vinegars for a couple of weeks, then strained out; to flavor stocks and soups; to enliven salads and create pretty, flavorful garnishes.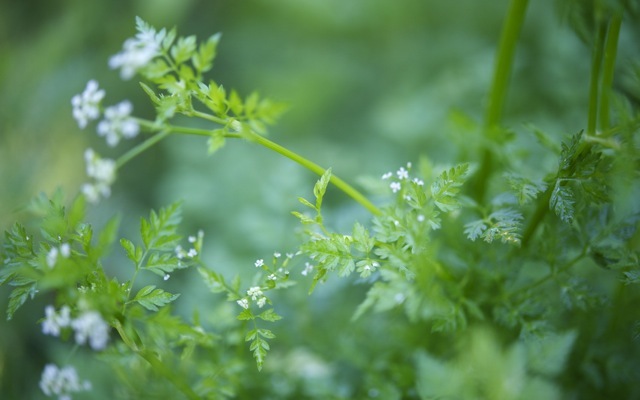 When I lived in Los Angeles, I used to hike in the Palisades and I once found a big patch of chervil growing in a damp, shady corner along the trail. It likes those conditions, and tends to bolt quickly in full sun, though frequent picking helps. It's a very delicate herb, so you rarely see it for sale, but it has a wonderfully subtle flavor that's often paired with fish.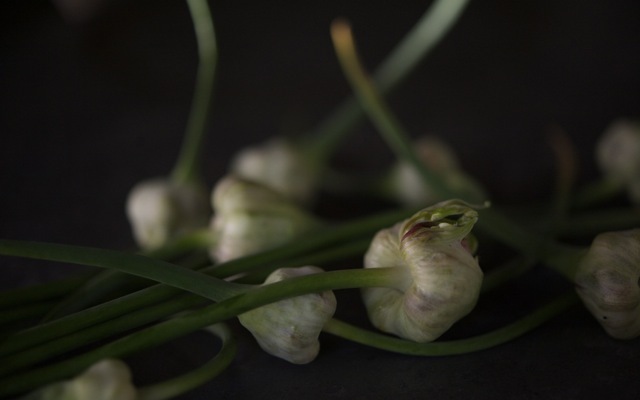 Lots of alliums are flowering now, and the blooms and buds are also great for cooking. These wild garlic buds will make an amazing vinegar that delivers lots of garlic flavor without all the pungency of the fresh stuff.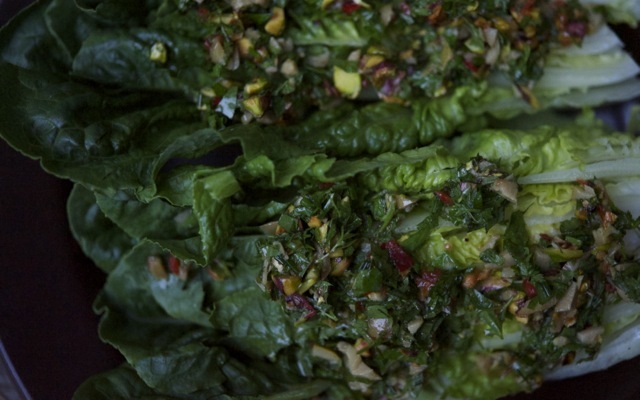 Chop, chop, chop some herbs, a couple of chiles, some meaty green olives and a handful of toasted pistachios; whisk them together with good olive oil and vinegar; then drizzle over some impossibly fresh and crunchy summer greens. My butter lettuces were past their prime so I halved a couple of tight heads of romaine and they worked out perfectly. It's as easy as ABC.
Summer Salad with Pistachio-Herb Vinaigrette
Adapted from Dan Kluger of ABC Kitchen
serves 2

— 1/4 cup

raw pistachios

— 1/4 cup

olive oil

— 1/2

Thai chile, seeded and minced

— 2 teaspoons

lemon juice

— 1 1/2 tablespoons

Champagne vinegar

— 1/2 teaspoon

flaky sea salt

— 1/2 teaspoon

freshly ground pepper

— 2 large heads

Romaine lettuce

— 1 tablespoon

chives, finely chopped

— 1 tablespoon

chervil, finely chopped

— 1 tablespoon

mint, finely chopped

— 1 tablespoon

tarragon, finely chopped

— 1/4 cup

Manzanilla olives, pitted and finely chopped
In a small pan over medium heat, lightly toast pistachios, then chop them and set aside.


Whisk together olive oil, lemon juice, Champagne vinegar, chile, sea salt and pepper.



Trim stems and remove outside leaves of lettuce as needed. Cut each lettuce in half lengthwise, wash and thoroughly dry.


Combine pistachios, olives and herbs with the vinaigrette.


Place two lettuce halves in each of two bowls and spoon equal amounts of vinaigrette on top. Finish with cracked ground pepper.



Download Recipe