7.30.12
Cut the Mustard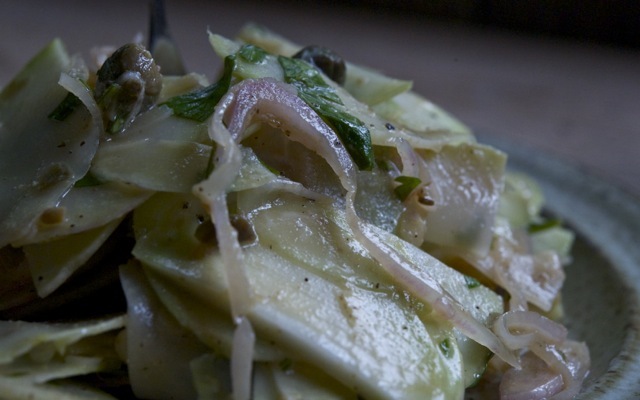 I'm not sure that subtle is a word that describes me, nor the food I cook. I'm pretty open about my thoughts and feelings, and equally forthright with the flavors on my plate. I'm fairly certain that I'm a supertaster, yet my highly attuned palate does not shy away from big, bold tastes. I love sharp pickles, lethal chiles and pungent aromatics like shallots and lime leaves. The complex funkiness of aged cheeses and fermented fish is mother's milk to me. I embrace brassicas of all sorts, with their often pronounced mustardy character and their wonderfully cruciferous texture. I shared a recipe for a kohlrabi and apple
slaw
earlier this year, a crisp and refreshing salad with a citrusy dressing, and I'm offering another one here, to encourage you to get acquainted with this often neglected member of the wild cabbage family. Look for tender young specimens at farmers markets now—in pale green or deep purple—and enjoy them raw in all their glory.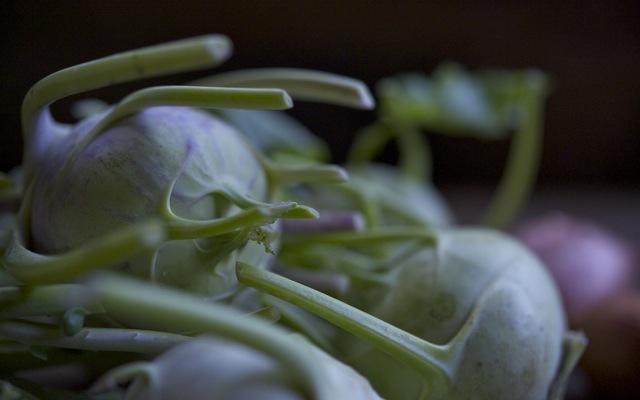 Kohlrabi has been created by artificial selection for its swollen, Saturn-like shape. In taste and texture it's similar to broccoli stems or the heart of a cabbage, though generally milder and sweeter with a thinner skin. Except for the Gigante type, spring-grown kohlrabi much over 3 inches tends to be woody, so go for small. I like to steam the larger ones and toss them with miso butter, or chunk them and cook them in stews and curries.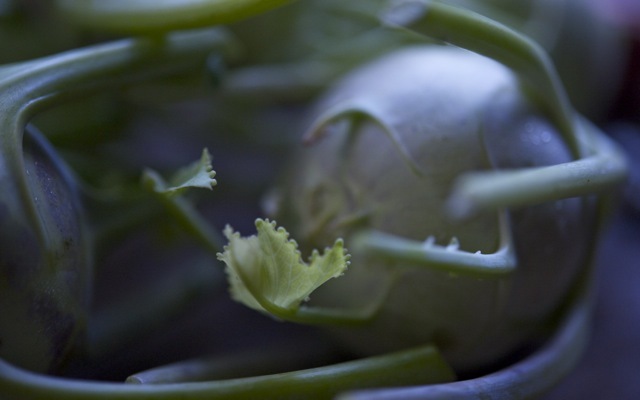 Kohlrabi is popular in Kashmir, where it is eaten along with its tender, frilly-edged leaves in preparations both mild and spicy. (I also came across this Indian kohlrabi pickle which looks incredible.) For a recent quick preparation to accompany a weeknight dinner of grilled Long Island mackerel, I decided not to temper the brassy brassica with sweetness but instead accentuated it with equally bossy flavors: shallots, capers and spicy mustard oil.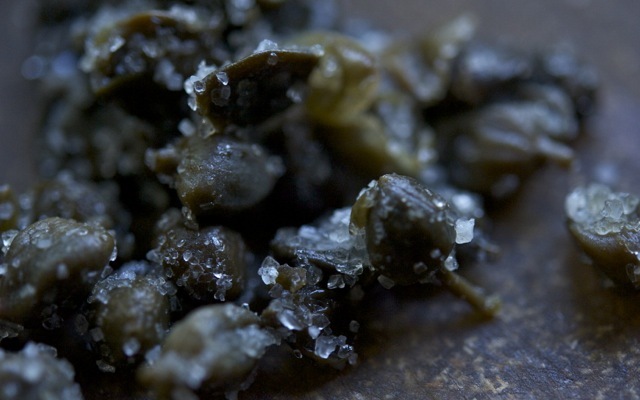 Capers are edible flower buds that are cured in salt or pickled in brine. Go for the Italian ones in salt, if you can; they tend to retain a more pure flavor and meaty texture. Plop them into a bowl of water for a brief soak to remove the salt before using. Have you ever tried them fried? They make an excellent crunchy garnish for soups, pastas, salads. You can give them a brief dredge in flour to remove excess liquid, if you want, before tossing them into a hot skillet with a little olive oil. Simple and delicious.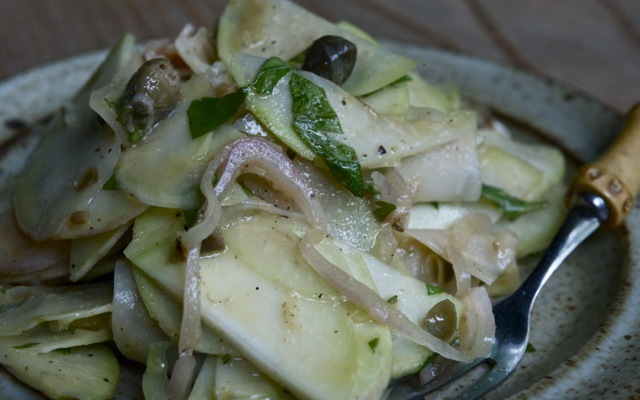 Paper-thin slices of kohlrabi give this salad its beautiful combination of textures, both silky and crunchy. A very sharp knife is your friend here, or a mandoline would come in handy. A double whammy of Dijon mustard and hot mustard oil takes the dressing over the top, perfect with an assertive, oily fish like mackerel. Go for the bold.
Kohlrabi Salad with Capers & Mustard Oil
serves 2
— 1

shallot

— 1 tablespoon

red wine vinegar

— pinch

sugar

— 1 tablespoon

capers

— 4

small fresh kohlrabi

— 2 teaspoons

Dijon mustard

— 2 tablespoons

mustard oil

— 3 tablespoons

chopped parsley

—

sea salt & freshly ground black pepper, to taste
Peel and thinly slice the shallot and mix with the vinegar and sugar in a small bowl.

Soak the capers in water in another small bowl.

Trim, halve and thinly slice the kohlrabi. Place in a medium bowl and toss with the mustard, oil, parsley and shallot mixture. Drain capers, coarsely chop and add to salad. Season with salt and pepper and toss everything together.



Download Recipe