7.31.12
Artful Compositions (& a Jam Winner)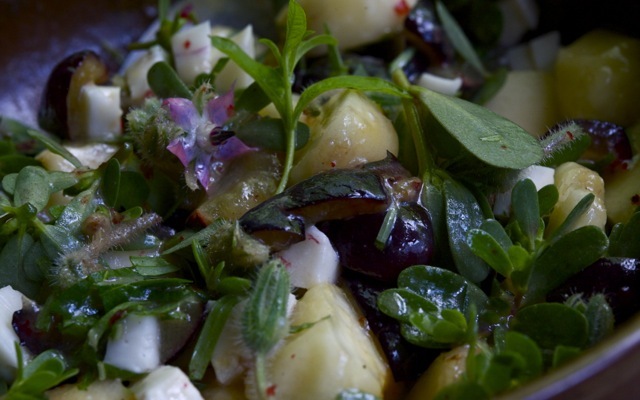 If you don't like cooking, make sure you know how to shop. There are people who can pull together a wonderful dinner without ever lighting the stove. If you have access to lovely cheeses and charcuterie, fresh produce and a delectable bakery, you can simply act the part of curator, responsible only (but crucially) for the selection and arrangement of the perfect elements. A
salade composée
, or composed salad, is another variatiom on this theme. This French invention (if, in fact, anyone can really claim ownership)—a fitting combination of prescribed rules and
laissez-faire
—is a perfectly calibrated assortment of ingredients aesthetically arranged on a plate and drizzled with dressing, rather than tossed with it. (Though I'm not above tossing mine, if I feel it may be of benefit.) The most famous example is arguably the
salade Niçoise
, with its complementary hard-boiled eggs, anchovies, canned tuna, potatoes, olives and green beans. The most successful manage an artful balance of colors, flavors and textures and a pleasing architecture, like the ones currently featured on two of my favorite blogs—
flavor in spades
and
hungry ghost
—whose fertile creativity and gorgeous refinement continually amaze.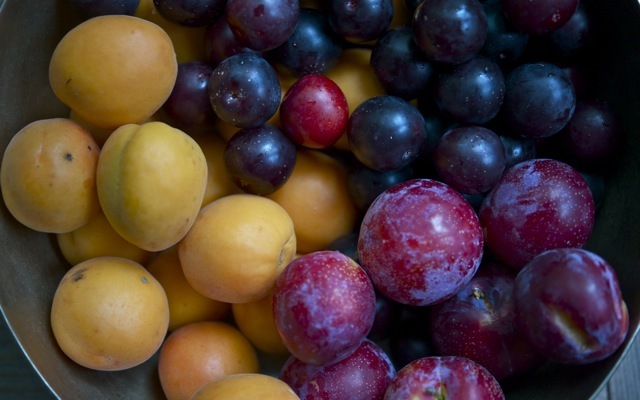 Another source of inspiration? Whatever's at its peak of ripeness. The farmers markets are a riot of color and variety now, with piles of sensuous stone fruits (so-called because of their pits) in stained-glass shades of purple, lavender, russet and yellow. Buy them slightly firm and put them to use in different dishes as they gradually ripen.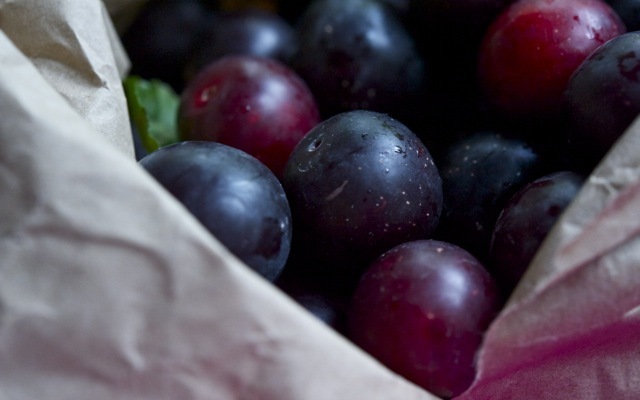 I adore the tart snap of a taut plum skin giving way to the juicy sweet pulp inside. Look out for this small heirloom variety with its hints of flowers and spice. I also love Santa Rosas, Damsons and Elephant Hearts.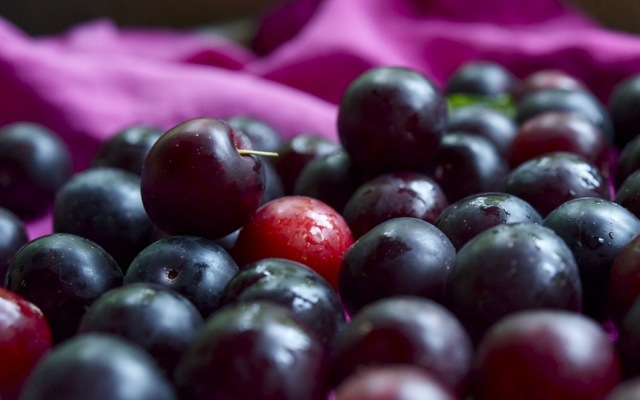 Color here, ranging from scarlet to almost blue-black, is an indication of ripeness. I like slightly firmer stone fruit for this salad, with a bit less sweetness and juice, but you can't really go wrong any way you slice it. The astringency of the plum skins works for me, and the nectarine and apricot skins are neutral, but I did peel my peaches so there would be no fuzz.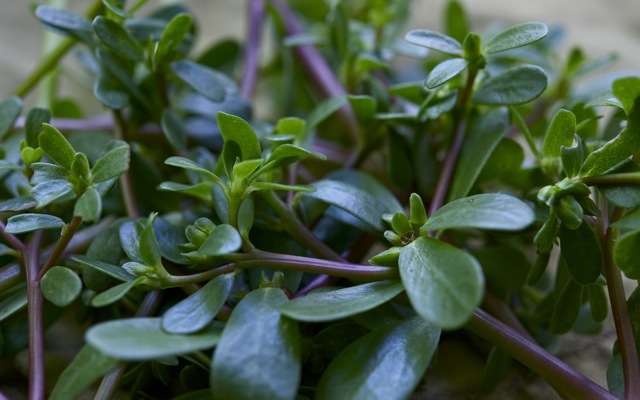 I went straight to the garden for more elements for this salad: lots of fresh tarragon and lemon balm, plus handfuls of wild purslane that is growing rampant after the recent rains. Its plump, juicy leaves and red stems are full of fatty acids (more so than any other greens) as are the borage flowers I also tossed in. I added little cubes of a semi-soft goat cheese, like a tomme, and dressed it all with an assertive but fruity mix of sharp mustard, blueberry vinegar, olive oil and pink peppercorns.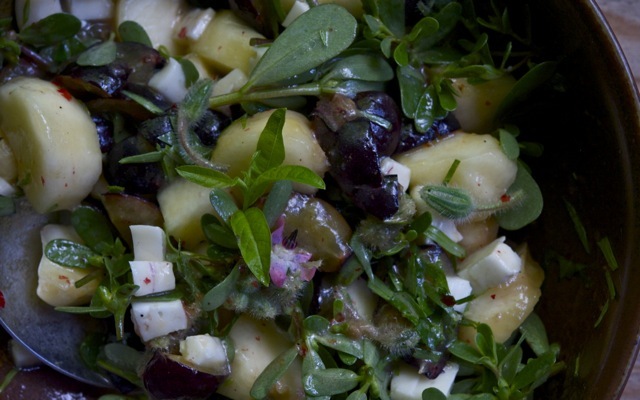 Remember, it's about striking a balance but the palette is up to you. No purslane? Try some cucumber, fennel or arugula. Ricotta or chèvre would work well. Maybe some toasted walnuts? Or even a few cured black olives. A little spice, some salt as a counterpoint to the sweet fruit, and you're commanding the plate like you were born to it. Unleash the artist within.

SPECIAL NOTE: The winner of last week's Jam Giveaway, chosen at random, is Richard Gervase! Richard, I'll be in touch over email to get your mailing info. Congrats and thanks to all for your enthusiastic responses. Wish it could be jam for everyone!!
Stone Fruit Salad (Sweet & Savory)
This is less a recipe than some suggestions to get your juices flowing...
—

firm stone fruits, including plums, peaches, nectarines, cherries, apricots

—

semi-soft cheese, cubed

—

purslane

—

cucumber

—

arugula

—

fresh herbs like tarragon, lemon balm, chervil, basil, shiso, mint

—

sharp mustard

—

blueberry vinegar (or sherry or Champagne)

—

olive oil

—

pink peppercorns, smashed
Slice the fruit and remove the pits. Peel peaches, if you like.

Arrange on a platter with handfuls of greens and bite-size pieces of other vegetables.

Whisk together mustard and vinegar, then whisk in olive oil. Stir in peppercorns. Taste and adjust with salt or a pinch of sugar, as needed.

Tear herbs into small pieces and scatter over fruit. Drizzle dressing over everything. Serve at room temperature.



Download Recipe