6.4.12
Bowl of Cherries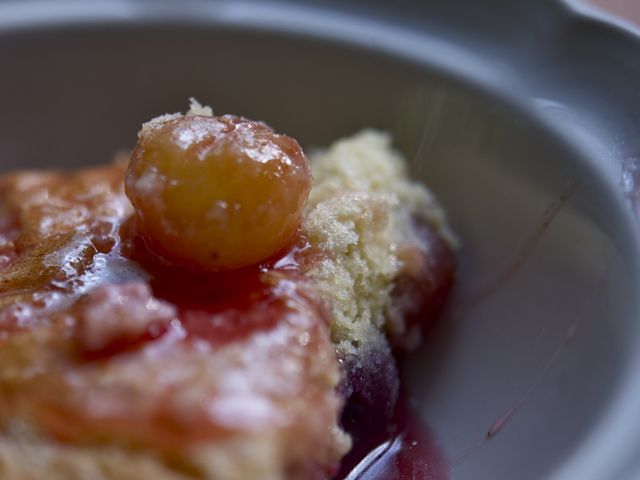 Life is just a bowl of cherries
Don't make it serious
Life's too mysterious.
You work, you save, you worry so,
But you can't take your dough when you go, go, go.
So keep repeating it's the berries
The strongest oak must fall.
The sweet things in life
To you were just loaned,
So how can you lose what you've never owned?
Life is just a bowl of cherries,
So live and laugh at it all.


Apparently the expression was coined in this song by Lew Brown and Ray Henderson, which was sung by Ethel Merman in George White's 1931 production of
Scandals
. Ah, the carefree life. We gaze with longing upon that which we perceive to be free: children, butterflies, trust-funders... But it ain't about the Benjamins. Free is an attitude as much as anything else. Just ask Nelson Mandela who, after a rather lengthy stay on Robin's Island, said, "To be free is not merely to cast off one's chains, but to live in a way that respects and enhances the freedom of others." Or, as written on my favorite
album cover
of all time, released by Funkadelic in 1970, "Free your mind and your ass will follow."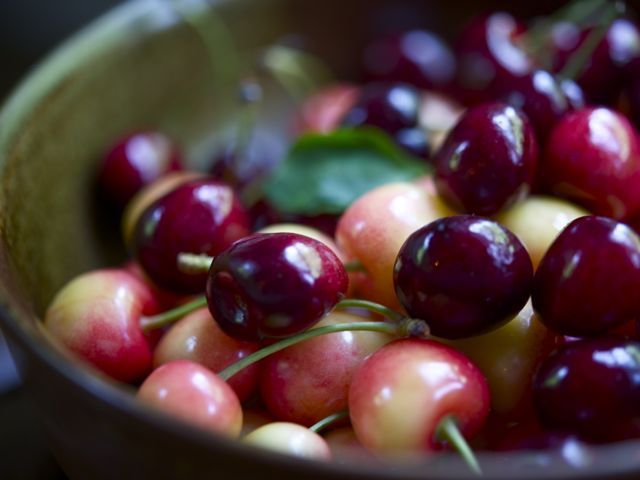 That proverbial bowl of cherries just arrived at my farmers market this weekend, courtesy of Trapani Farms. I followed their progress on
Facebook
with avid interest this spring, as the sudden dip in temperatures (after that early heatwave) had them resorting to some desperate measures, including burning bonfires at night to keep the trees warm. One woman's bowl of cherries is another's back-breaking labor of love. Food for thought.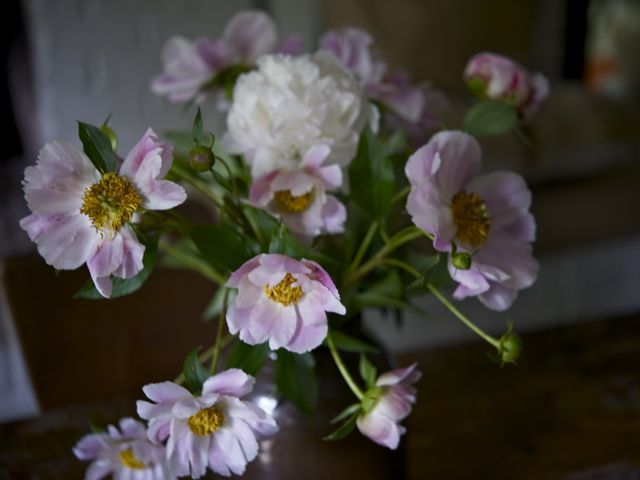 Also in season: a heartbreaking assortment of fragile beauties. June means peonies, and they bloomed a bit early this year, as has everything so far. Although the big frothy ones that look like roses on steroids are gorgeous, I also have a weakness for the spare, single-petal variety.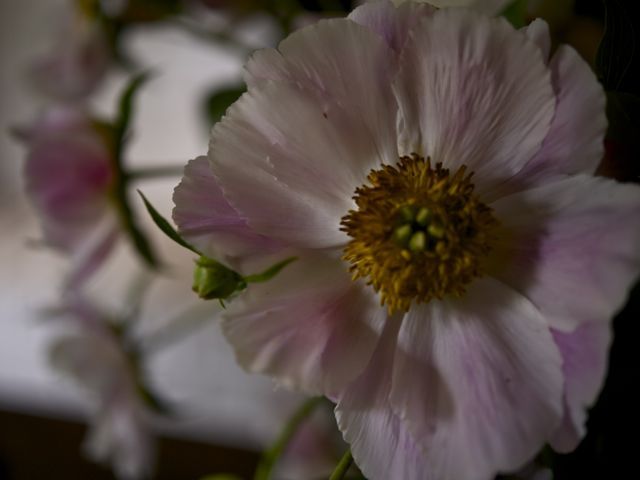 Just look at that face.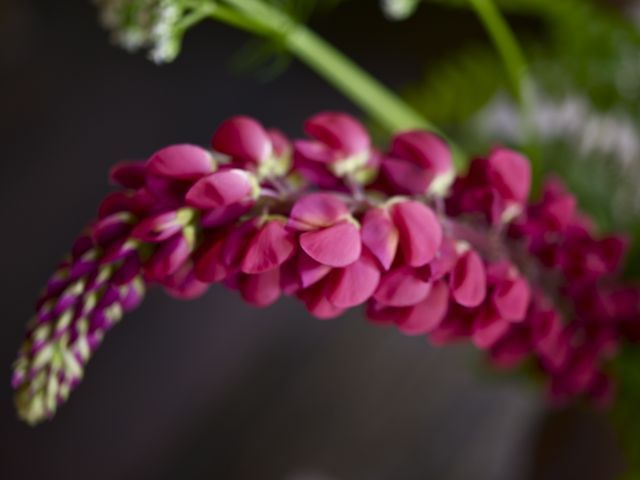 Lupines are major slug fodder in my garden, but another local farm,
Willow Wisp
, brought these stunning specimens to the market this week. I'd only ever seen that periwinkle blue, so was amazed to see them in red and yellow. They're in our kitchen now in a tall vase with ferns from our yard. The peonies are on the table in the livingroom. And there's a bunch of yellow lilies and purple irises in the bedroom. This, to me, is wealth.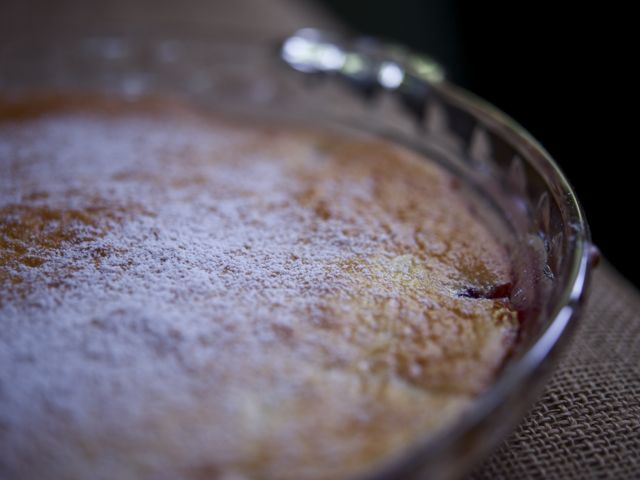 Is there anything better than a big bowl filled with ice and firm, deep red cherries? Of course it's a symbol of freedom—it implies a long, lazy afternoon with nothing to do but spit pits onto the lawn. With the pound or so you have left over, consider making this easy-as-pie (but actually so much easier) clafoutis. It's just whole cherries sauteed in butter, covered with a light batter, baked, dusted with powdered sugar and served lukewarm. Be very, very French and leave the pits in the cherries. It's said they impart a slight almond flavor. (By the way, for those of you who are continually muttering about the picture-perfection of my life, I must tell you that shortly after I took the above photograph, the cat snuck a major portion of that beautiful batter.)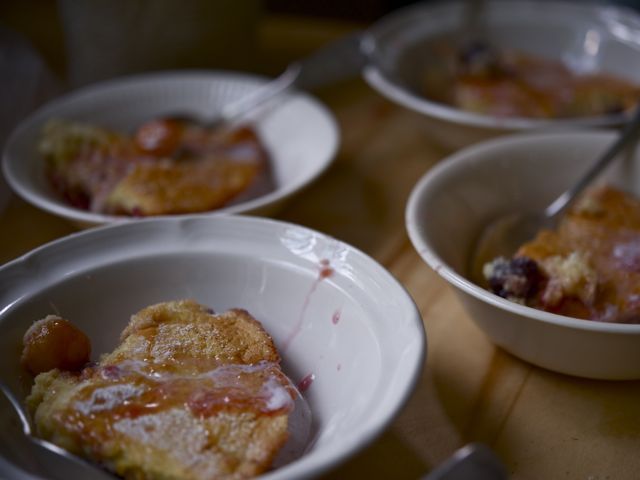 You can also make this with other fruits—berries, figs, even rhubarb—but then the dish is properly referred to as a
flaugnarde
. Whatever you call it, scoop out a wedge, plop it into a bowl and spoon over some of the sweet syrup. I like to finish mine with a blob of crème fraîche or a drizzle of heavy cream, but some may view that as gilding the lily. The recipe is from
Chez Panisse Fruit
, a book I return to time and again; highly recommended.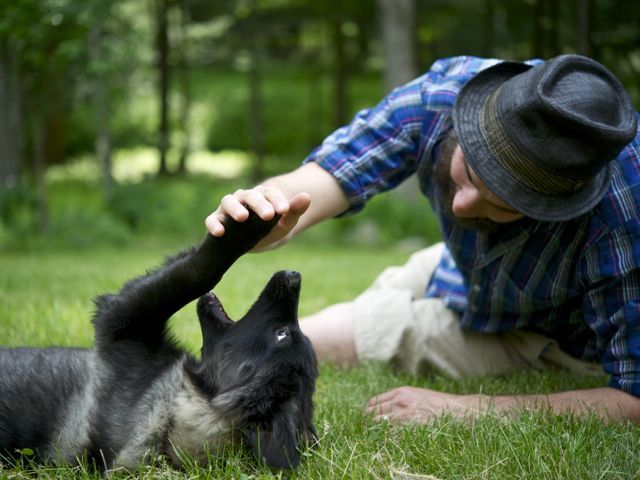 This clafoutis is just the thing to top off a summer lunch or supper. It's light and fruity and, best of all, it's so easy to make that you'll be mostly free to marvel at your own good fortune to simply be alive. (And play with your friend's irresistible new puppy, bien sûr!)
Cherry Clafoutis
lightly adapted from Alice Waters' Chez Panisse Fruit
serves 6
— 2 tablespoons

unsalted butter

— 1 pound

sweet cherries, washed and stemmed

— 1/3 cup plus 3 tablespoons

organic cane sugar

— 1/8 teaspoon

ground cinnamon

— 1/2 teaspoon

lemon zest

— 2

eggs, separated

— 3 tablespoons

flour (gluten-free is fine)

— 1 teaspoon

vanilla extract

— 1/4 teaspoon

almond extract

— 1/3 cup

organic heavy cream

— 1 pinch

sea salt

—

powdered sugar, for dusting

—

heavy cream or crème fraîche, for drizzling
Melt the butter in a saute pan over medium heat. When the butter is foaming but hasn't begun to brown, add the cherries, 1/3 cup sugar, cinnamon and zest. Cook for 7-10 minutes, stirring occasionally, until cherries are tender when pierced with the point of a small knife and the juices have begun to thicken. Arrange the cherries in the bottom of a 9-inch baking dish (a glass pie pan works well).


Preheat the oven to 375.


Beat the egg yolks and 3 tablespoons sugar together for several minutes, until light and creamy. Beat in the flour, vanilla, almond extract and cream.


In a separate bowl, beat the egg whites with a pinch of salt until they form soft peaks. Fold the whites into the batter just until blended, and pour the batter over the fruit.


Bake in the upper third of the oven for about 20 minutes, until the batter is puffed and well browned. Let the clafoutis cool slightly before dusting with powdered sugar. Serve lukewarm. It's definitely best that this never see the inside of a refrigerator, so just go ahead and finish it all.



Download Recipe