6.6.12
Thrill of the Grill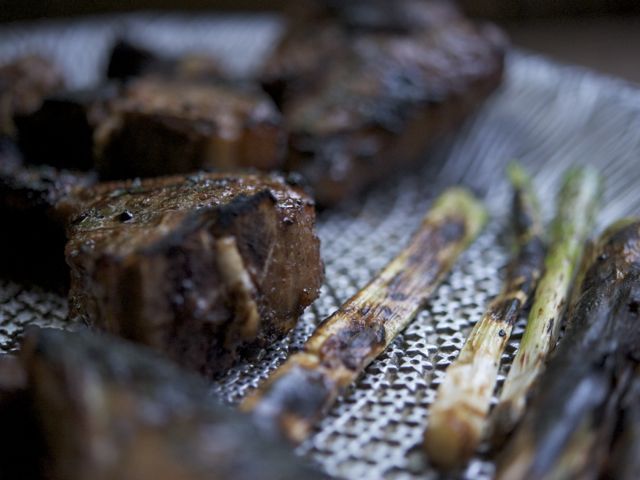 Cooking over fire is quite primal, but your grilling repertoire need not (and
should
not) be limited to hunks of charred meat. Vegetables have just as much to gain from the high heat cooking and smoky, caramelized flavors made possible by even the simplest
Weber
. If you're new to all this, my advice is that you get one or two books to consult for basic techniques and inspiring recipes.
This one
from Cook's Illustrated walks you through the best way to grill everything from steak and fish to vegetables and fruit. Once you understand how to start a fire, move your coals around and use wood chips, I recommend
The Japanese Grill
and Argentinian grilling guru Francis Mallman's
Seven Fires
so you can make dishes like soy-sauce-&-lemon grilled eggplant and whole roasted pumpkin with mint and goat cheese salad. For dessert, how about grilled oranges with rosemary, or
dulce de leche
pancakes? It's about time you reached for your tongs.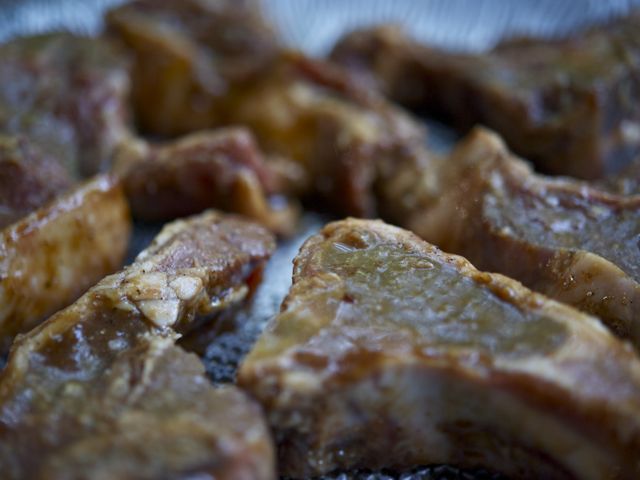 A couple of important things for you to know about: marinades and rubs. These are great ways to infuse flavor into whatever you're grilling. Our first grilled meal of the season was these juicy lamb chops from the farm, marinated in pomegranate molasses, garlic and a little olive oil. Simple and delicious. Make a paste with the garlic by smashing it and some coarse salt with a mortar and pestle. Or watch
this video
for more tips on breaking down garlic.Grilling also comes with a few health consequences. Be sure to avoid charcoals made with additives like coal dust, sodium nitrate, limestone, starch, sawdust and petroleum products, especially quick-start charcoals that have been soaked in toxic lighter fluids. Start your fire the safest way, with a
fire chimney
, and stick with lump charcoal. Try
Cowboy Charcoal
, made of untreated maple and oak scraps, or even chemical-free coconut briquettes from
Greenlink
or
Kamado
. And don't incinerate your food—char carries carcinogens.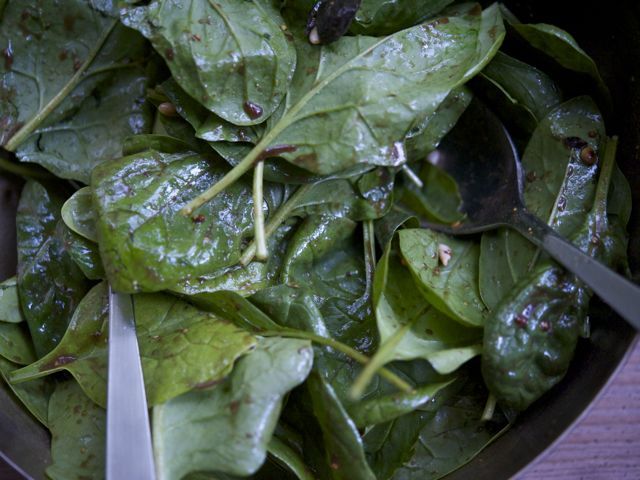 With our lamb we had a spinach salad fresh from the garden, tossed with a few wrinkled black olives, some toasted pine nuts, a generous handful of chopped mint and a tart red-wine vinegar dressing. By the way, you can even make salad on the grill—check out
this
fabulous take on the classic Caesar (though I recommend leaving out the step where you chop the lettuce). For a good online compendium of grilling recipes, go
here
. But please, come back to me. I will be posting some winning ideas of my own as the mercury rises.
Pomegranate-Glazed Grilled Lamb Chops
serves 2
— 4-6

tender, farm-raised lamb loin chops on the bone

— 4

cloves garlic, smashed and peeled

— 1 1/2 teaspoons

sea salt

— 1/3 cup

pomegranate molasses

— 2 tablespoons

olive oil
Remove lamb chops from fridge and bring to room temperature (about 30 minutes).


Light a charcoal grill.


Place garlic cloves and salt in a mortar and pestle and smash to a fine paste. Combine this with pomegranate molasses and olive oil in a small bowl and blend well.


Using your hands, slather marinade over lamb chops, massaging it into the meat. Set aside until grill is ready and save extra marinade for later.


Grill lamb chops over hot coals, about 3-4 minutes per side for medium-rare. Baste with marinade at the end to glaze without burning. Allow the chops to rest for 10 minutes before serving so they retain all their juices.



Download Recipe