2.2.12
Seafood Diet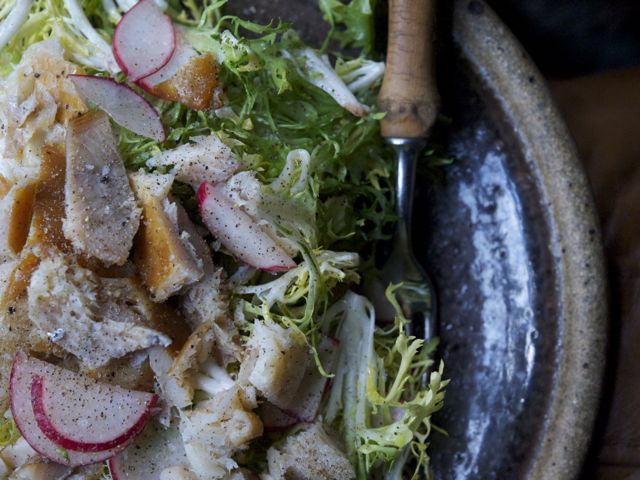 You go along in life, understanding the course of things, but never really imagining that what you see others endure will befall you. That might be the definition of youth. Because, inevitably, it happens to you. To paraphrase Mia Farrow, life is a series of losses and it's all about the grace and resilience with which you respond. My former mother-in-law once looked at a photo of Liv Ullman on the cover of the
New York Times Magazine
and said, "Ugh, she's really let herself go." Never mind that the Swedish actress was being lauded for directing a film, what mattered to this woman was that a former beauty now looked like the 62-year-old she was. And I remember feeling disgusted by that, and vowing to forever construe "letting oneself go" as something quite liberating and wonderful.I let my grey hair come in over the past 2 years and there was a certain loss that needed to be mourned there; quietly, mind you. I went from a tousled brunette to an elegant silver without more than a whimper. But now that I am finding it difficult to fit into any of my clothes, now that my skin is becoming slacker and my muscle tone less defined—all those clichés of middle age—I begin to feel a bit of that desperation that sends women under the scalpel. I'm not going to start in with the whole
I'm invisible
routine. Unless you're
Elle Macpherson
, that pretty much sets in after age 40. And I'm lucky enough to have a husband who tells me I'm beautiful all the time. But, pathetic as it may be, I am newly committed to holding on to what I have for as long as possible. That entails lots of exercise and watching what I eat. Because, to me, being a glutton is all about expanding your palate not your waistline. It's being greedy for the things that are good
and
good for you. It means that lunch is about salad.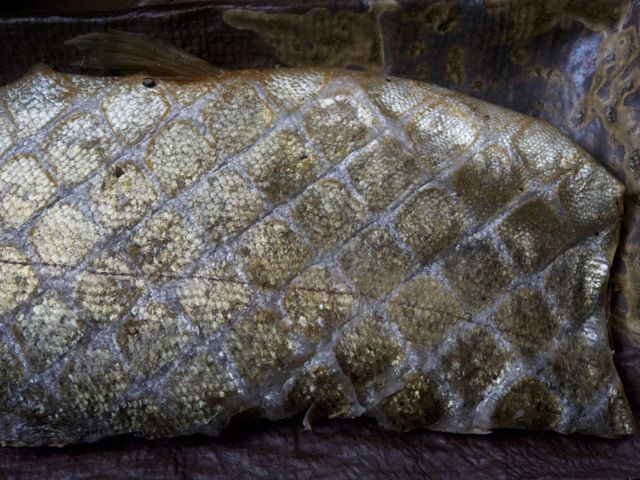 Our friends Laquita and Tim brought us some delicious smoked trout over the holidays. It actually comes from a local business,
Samaki
, in Port Jervis. The owner is a white African who somehow ended up in this little town cold-smoking fish that goes to venerable city retailers like Russ and Daughters, Barney Greengrass and Zabar's. Rich and peppery, it's got lots of protein, iron and vitamin A, and relatively little fat, most of it the good kind. The skin is so gorgeous, no?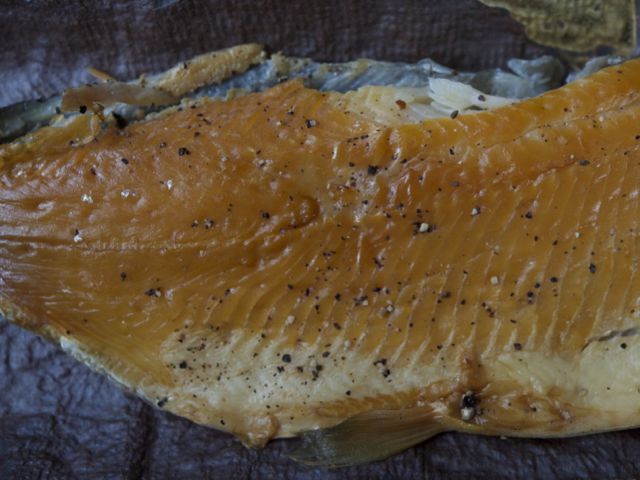 I love smoked fish. I saw a great video recently on how to create your own stovetop smoker, and I just ordered a bunch of different wood shavings so I could experiment with making my own. I have a piece of black cod that I'm going to try first, as sable is my go-to order at
Barney Greengrass
. If you've never been to this New York institution, by the way, you should definitely make a pilgrimage. It ain't cheap but it's the real deal. I've also been known to frequent the outpost at Barneys in Los Angeles.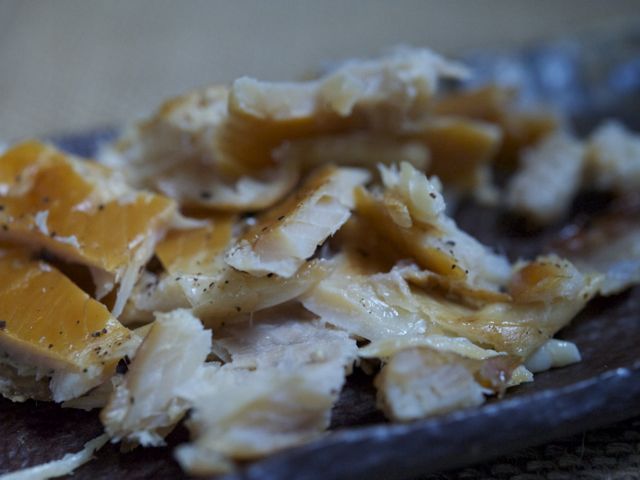 Use a fork or your fingers to flake the fish apart. This is nicer than chopping it with a knife. Another great way to eat smoked trout is whizzed in the cuisinart with some cream cheese and scallions. Spread this on dark rye and go to heaven.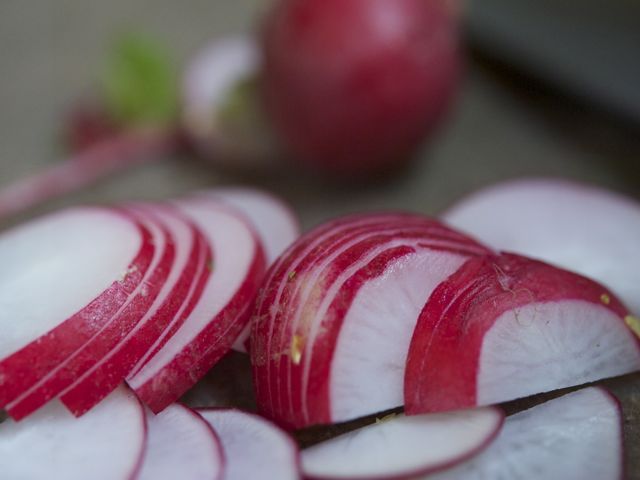 In the middle of a busy day, I made a quick, satisfying and healthy lunch with just a few ingredients. If you work in an office, this is an easy meal to transport. Bring the salad in one bag, the trout in another and the dressing in a jar, and combine just before eating. When I worked at Saks, I went through phases where I brought my lunch a lot, and it's so much more "sustainable" all around.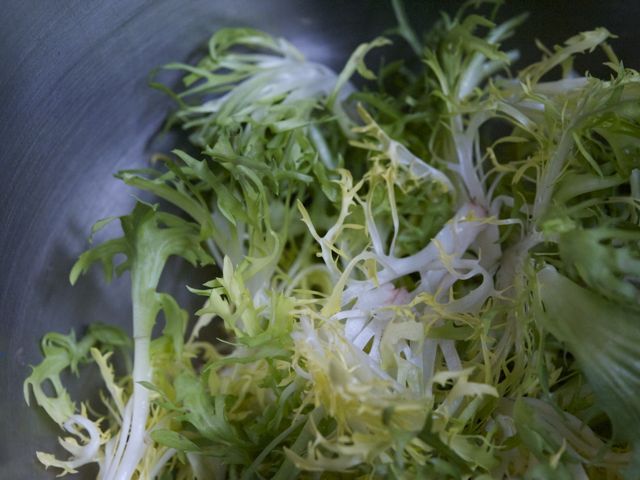 Frisée is like lettuce with a perm. Its texture holds dressing really well, almost like penne holds sauce. Of course you could use any combination of fresh greens you like; something with a hint of bitter goes nicely with the smoked fish. Sliced radishes add an excellent crunch, but fennel or celery would also work.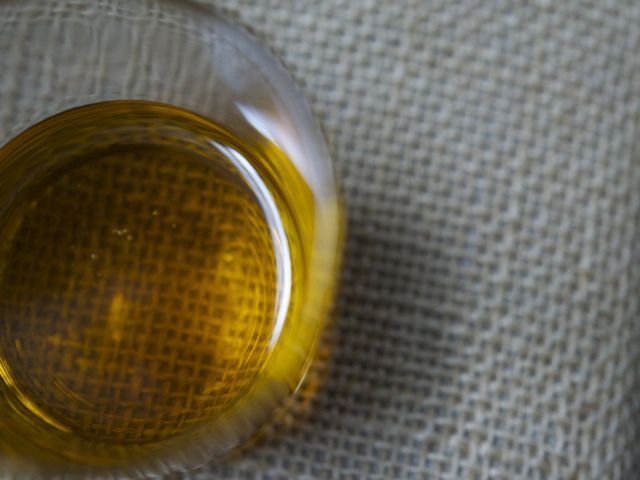 I decided to use a little mustard oil for the dressing. What I'm talking about here is pure mustard oil, a deep golden elixir with a spicy, nutty flavor that's used quite a bit in Indian cooking. (And in Ayurvedic massage to stimulate the muscles and circulation, as well as the male member prior to sexual congress!) It smells like very powerful horseradish and is a good source of vegetarian omega-3 fatty acids. A little goes a long way, and it can be used in conjunction with other oils to mute its strong taste. Because horseradish is traditionally served with smoked fish, I though it would go well with the trout, and I was right. I drizzled some on the frisée and radishes, then added the juice of an entire small lemon.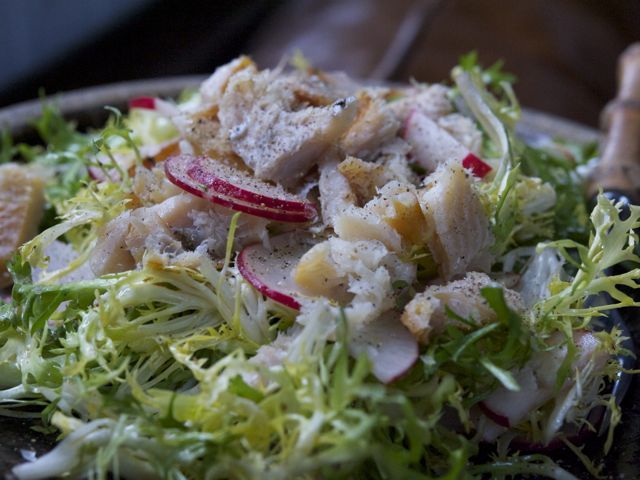 It was a bracing, fresh combination that satisfied. I aspire to be eternally slim, but I am not about deprivation and I will never, ever sacrifice flavor. Would you?
Frisee Salad with Smoked Trout
—

frisee

—

smoked trout

—

red radishes

—

mustard oil

—

fresh lemon juice

—

coarse sea salt

—

black pepper
Toss several large handfuls of frisee and a few thinly sliced radishes with a couple of teaspoons of mustard oil and plenty of lemon juice. Pile some flaked smoked trout on top. Finish with salt and pepper.



Download Recipe