2.15.12
Salad Days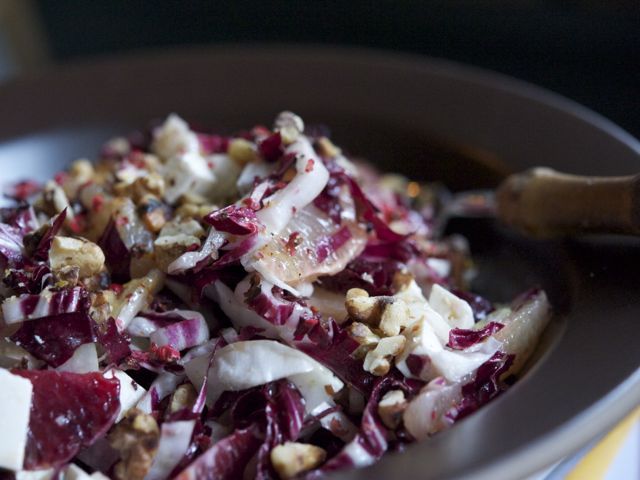 Those were the days. Sometimes I yearn for the suppleness of youth, its insouciance and capacity for indulgence. But it's a fleeting moment of fantasy because I belong irrevocably to this moment. I inhabit this skin with a sense of purpose and without regret. There are times for looking back and times for looking ahead, but there's no time like the present. As Joni Mitchell sings, in her seminal song
"Down To You,"
Everything comes and goes, marked by lovers and styles of clothes. Things that you held high and told yourself were true, lost or changing as the days come down to you.
The salad days that matter now are on your plate. Channel your creativity and your quest for health into this ageless combination of the raw and the cooked. Interrupt the dreary weeks of winter with refreshing concoctions crisp with cabbage, celery, apple and bitter greens, and punctuated with sweet bursts of citrus and pomegranate. By all means toss in some protein—a grated hard-cooked egg; some oily tuna or smoked mackerel; a crumbly goat cheese or sharp pecorino. You're looking to create that perfect balance of flavors and textures: crunchy and creamy, sweet and tart, salty and spicy. As in all things, experience enhances your ability and wisdom makes a superb seasoning.
One technique worth learning is how to "suprème" citrus—to cut away the peel and pith, then remove each segment from between the membranes. You lose more of the fruit than you would simply by peeling and sectioning, but you also lose any bitterness. Incidentally, there is important nutrition in the membrane, so it's best to reserve this technique for special dishes, like desserts, sauces and the occasional salad.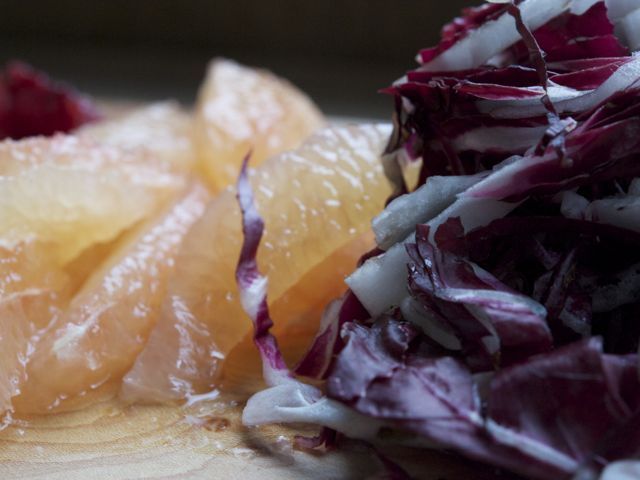 A sharp knife is essential here or you will make a mess and get frustrated. If you like, before you begin, you can use a
microplane
to remove the zest from your citrus. Then slice the rind off the top and bottom of the fruit, exposing the flesh and making it easier to stand the fruit on one end so it will sit flat for easy paring. Cut the peel and white pith away, going from top to bottom and following the curve of the fruit. Trim away any pith still attached. Hold the fruit in your non-dominant hand, and use a paring knife to cut down both sides of a segment, separating it from the membrane. Then just flip it out. When you've taken all the segments out, squeeze the juice from the membranes. Use this for sauce or salad dressing, or just drink it up. (You can watch a demonstration of suprèming
here
.)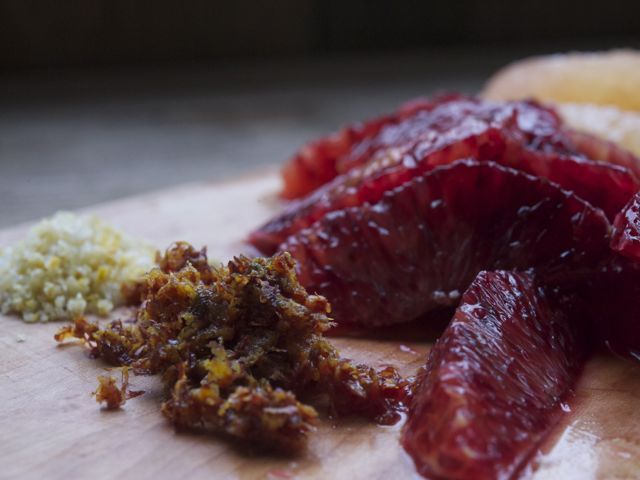 The distinctive crimson flesh of the blood orange comes from anthocyanins, a family of pigments common to many flowers and fruit, but rarely seen in citrus. These pigments only develop when temperatures are low at night, which is why blood oranges are in season now. They range in flavor from quite tart to very sweet, with the best of them balanced perfectly in between.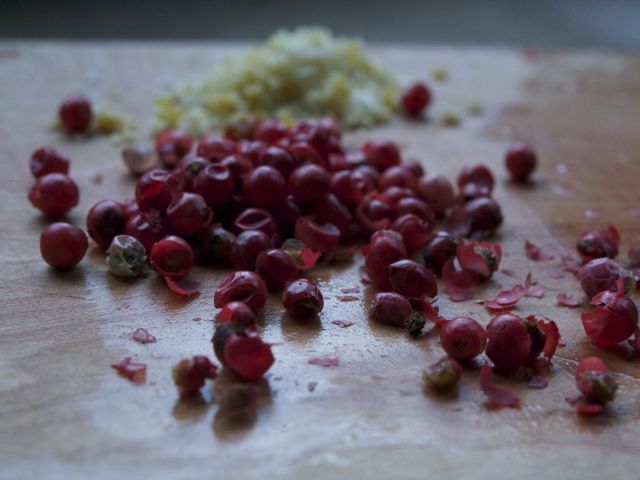 Pink peppercorns are actually the dried berries from the
baies
rose plant. They're cultivated in Madagascar and imported through France, so they can be rather pricey. But I think their sharp, piney flavor and subtle sweetness is worth it. Soft enough not to require grinding, they can be easily crushed with the flat of a knife or in a mortar and pestle. Try them in salads, with goat cheese or baked into your next batch of shortbread.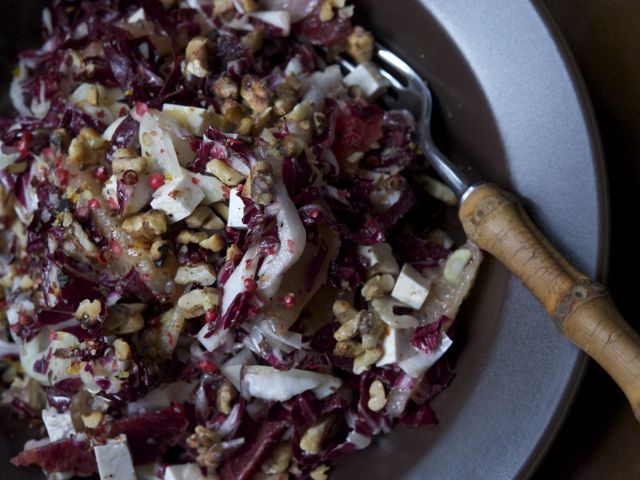 This salad comes together in just a few moments. Whisk together a mustardy dressing, toast some walnuts, suprème your citrus, dice some ricotta salata and thinly slice radicchio and fennel. Who knew your salad days actually lay ahead?
Radicchio, Fennel & Citrus Salad
serves 2
— 1 teaspoon

Dijon mustard

— 1 tablespoon

pink peppercorns, crushed

— 1/4 cup

walnuts, toasted and chopped

— 1/2 cup

ricotta salata, diced

— 1

small grapefruit, supremed

— 1

blood orange, supremed

— 1/2

fennel bulb, cored & thinly sliced

— 1 medium head

radicchio

— 2 tablespoons

Champagne vinegar

— 2 tablespoons

walnut oil

— 1/4 cup

olive oil

—

citrus salt
Make dressing first by whisking mustard and vinegar together in a mug until well combined, then whisking in oils until emulsified.


Cut head of radicchio in half and core, then slice into ribbons. Combine in a large bowl with fennel, citrus slices, ricotta salata, walnuts and peppercorns. Add two-thirds of the dressing and toss well to coat.


Divide salad between two shallow bowls and drizzle with a little more dressing if desired, then sprinkle with citrus salt and serve.



Download Recipe