11.10.11
Talking Turkey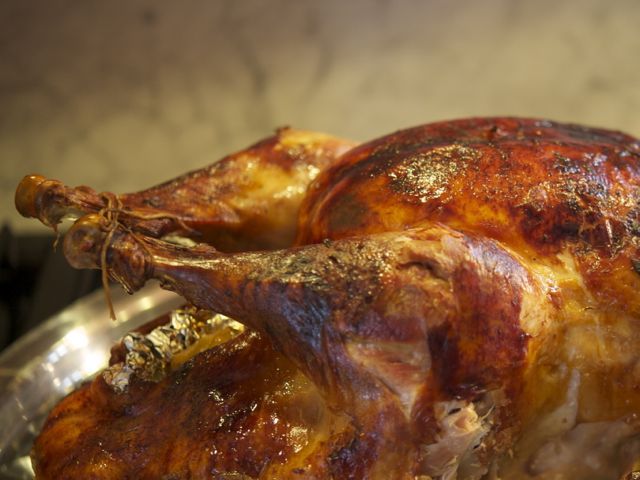 Thanksgiving is two weeks away and this is no time to bury your head in the sand and pretend like it's going to sort itself out. I'm a big
control freak
advocate of advance planning and you know deep down it really does help prevent all those 11th-hour meltdowns and kitchen hissy-fits, not to mention mediocre meals. Just give in to your inner Martha (the ultimate Higher Power) and get organized as hell. It's all about making lists, my friends! Devise your menu; compile your recipes; pull together your shopping list (checking the pantry to make sure you have those items you're "sure" are there but haven't actually seen in a year) and then make a schedule—yes, a
schedule
—so you'll remember to start brining the turkey days in advance, and so you can prepare everything possible ahead of time (stock, pie crust, etc). It's a highly tactical operation.
Before you move on to the rest of this post, please check out the photo, above.
It's from last Thanksgiving
. I've been hoarding it all year so you could see how our turkey turned out. Not bad, eh? Of course I've cropped it so you can't really make out where all the bits of skin stuck to the side of the way-too-small aluminum pan and tore off, but still. Read on to find out how
not
to have that happen...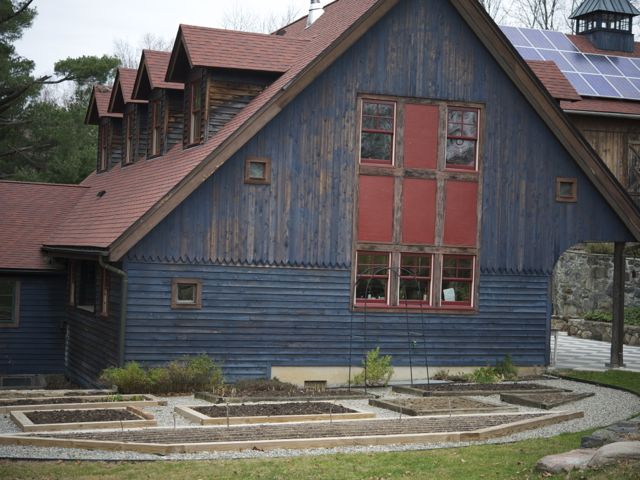 It seems like Thanksgiving may have permanently moved from the in-laws' place in Lenox to the sister-in-law's abode in Chappaqua. Last year, her house was undergoing some remodeling, but we were lucky enough to be able to stay in the lovely home of her architect, who was away visiting family. It was a cozy and comfortable house with a nice working kitchen and a great nook under the stairs next to the wood-burning stove.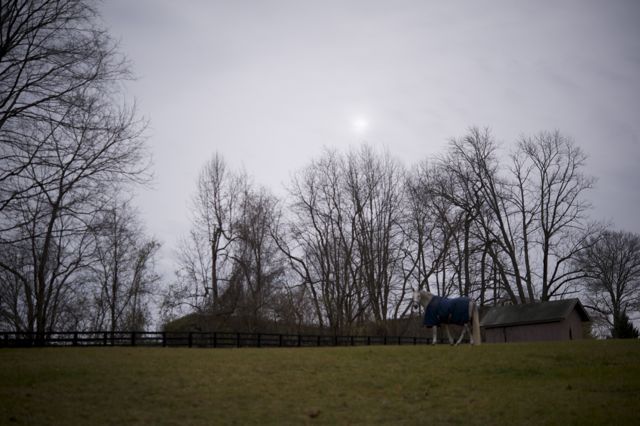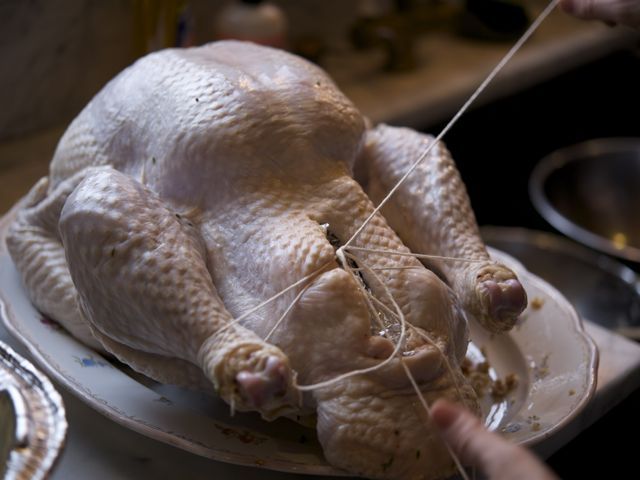 For our turkey, we followed a
technique
that involves larding the breast with plenty of butter and then covering it with wine-soaked cheesecloth which helps prevent the dreaded dryness. Eventually you remove it and the skin browns beautifully. (Unfortunately, it seems the cheesecloth can sometimes stick to the skin and never the twain shall part.)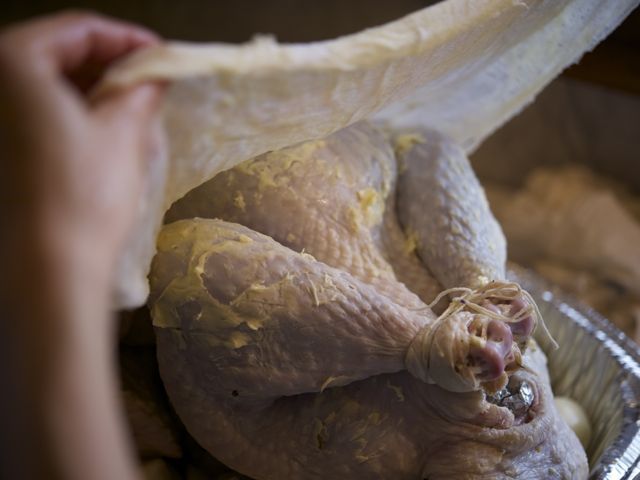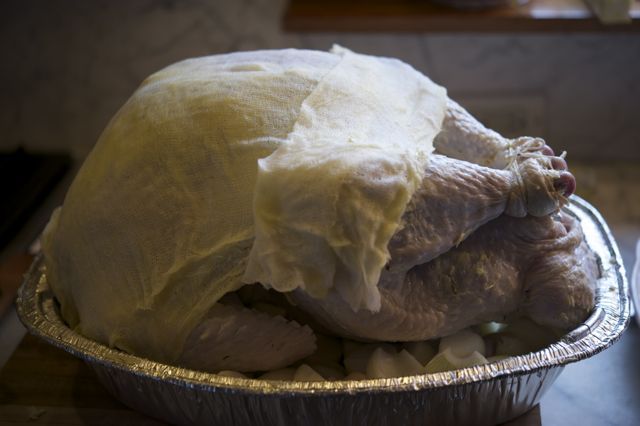 It turned out that the house did not come equipped with a roasting pan large enough to accommodate our gigantic bird, and this meant a harried last-minute trip to the (thankfully open) market where this measly aluminum pan was our only option. (See "making lists," above.) A generously sized pan with ample room around your bird is essential for even cooking, proper browning and ease of handling.
This one
looks good; or
this one
. If you're splurging,
copper
is the way to go.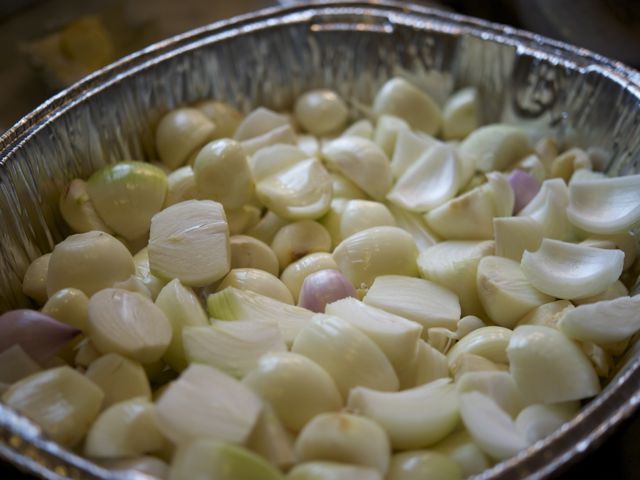 I wasn't deterred from making my favorite gravy, which starts out as a layer of onions, garlic and shallots upon which the bird roasts. Once the bird is done and resting, you just puree this glorious tangle of sweetness and drippings, adjust the seasoning with a little sage and sherry, and you've got a delicious gravy. See
last year's
post for the recipe for this gravy and links to others.But I think we're going to go another route this year, back at my sister-in-law's house. For one thing, she just graduated from culinary school and has all kinds of tricks up her sleeve. For another, we have two turkeys! We're talking about possibly deep-frying one and for the other we're going to follow the directions on this fun new site,
Fudehouse
, for a turkey that is dry brined—yes, DRY brined—then air-dried and doused with boiling water, all in an attempt to create a juicy and crispy bird. A thermometer is key to knowing when your turkey is done; something as elaborate as
this
, or as simple as
this
. Some other essential items include a
brining bag
; a
baster;
and a
carving board
, preferably one with a juice well. And a great
apron
for the chef!
Do me a favor and also watch their other video on the meaning of "fresh" when it comes to supermarket turkey; and then do yourself a favor and find a local/organic/heritage bird now if at all possible.
Local Harvest
still has some great options for pickup and mail order.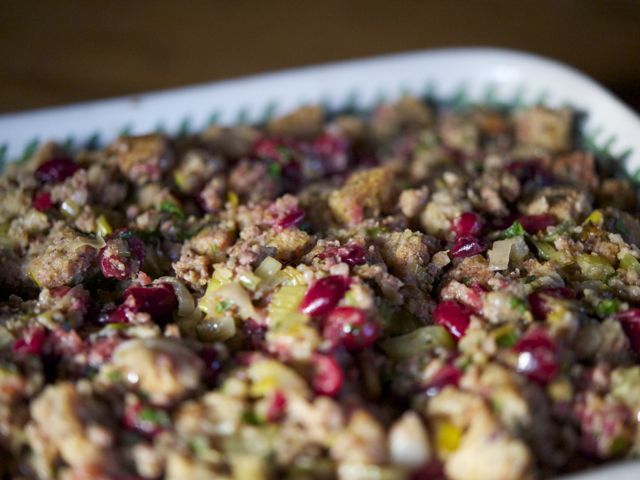 As far as stuffing goes, last year's gluten-free version was a hit all around. It's made with my favorite gluten-free cornbread, studded with chunks of Italian sausage, crunchy pecans and tangy cranberries. You can find the recipe
here
, along with a bunch of other stuffing ideas.
A preliminary menu discussion yielded these other possibilities for our feast: chicken consommé with tiny mushroom ravioli;
spicy yams with pancetta
; a green vegetable TBD; a salad TBD;
pumpkin custard
made this year in individual
Weck
jars; and the
wine-poached apples
from yesterday's post. Hors d'oeuvres and cocktails are still up in the air... And what are
you
making??