11.9.11
Winos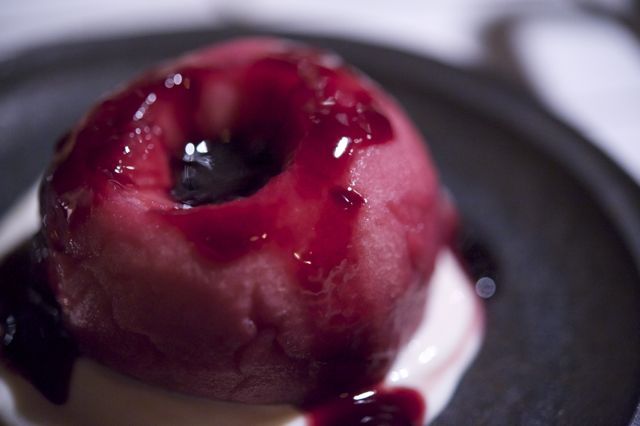 The season of eating is here. Not that we don't eat all year long, duh, but you know what I mean. The holiday lunches, the cocktail hours, the office parties, the extended family feasts—all lined up in a sticky, fatty, calorie-laden row stretching out until New Year's Eve, when it comes to a close with one final champagne-fueled blow-out. And then? Remorse and penance. Juice fasts. Salad. Guilt-induced exercise binges. More salad. And still, visions of sugarplums dance in your head. We know that moderation is an option. We've all read those "how to handle the holidays without packing on the pounds" articles. Stick with wine spritzers and vodka on the rocks. Choose the celery sticks over the chips. We know the drill. These are truly first world problems. So let me present you with one first world solution. A dessert so beautiful and festive it's worthy of your fanciest dinner table, yet so low in fat and calories you can enjoy it without a second thought. Because between stressing over whether the roast is overdone and wondering if your sister is going to kill her husband right then and there, you've got enough on your mind without having to worry about a case of gout, right?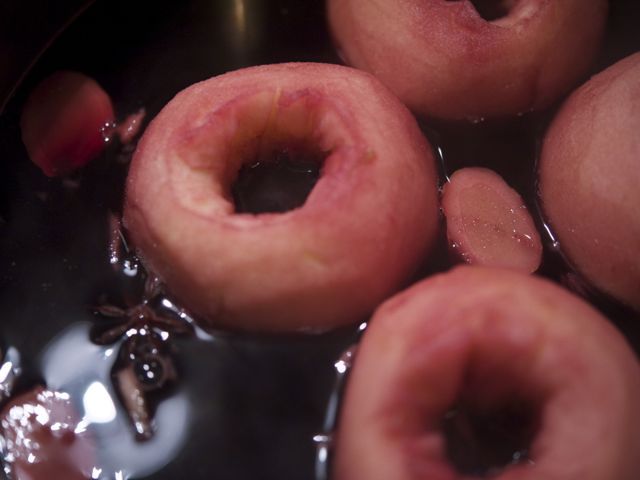 What could be simpler than apples poached in wine? These would be delicious with some warm custard, a big dollop of booze-infused whipped cream or a fat smear of crème fraîche, but they're just as good with a lovely puddle of tangy vanilla- and ginger-scented yogurt. Oh yes they are.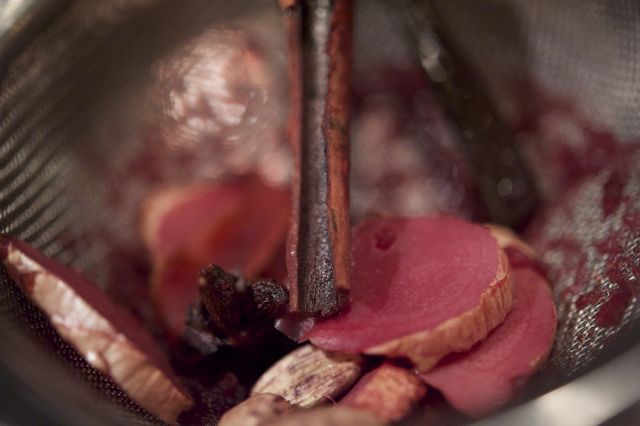 The poaching medium is essentially mulled wine; you can use any spices you like. Of course I put cardamom in mine, as well as some cinnamon, star anise and ginger, but nutmeg, allspice or cloves would also work well. Citrus zest and a little orange juice bring out the fruitiness in a nice Zinfandel.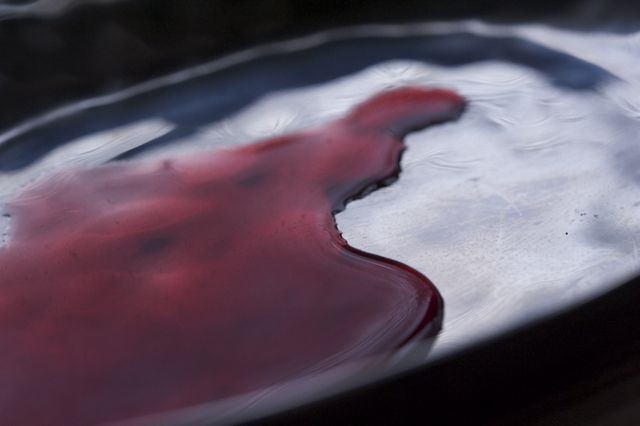 Definitely use a firm apple as others will disintegrate quickly in their wine bath. Rotate them frequently as they simmer so you get a beautiful even color all over. Once they're done, you set them aside, strain the poaching liquid and then reduce it down to a wonderful syrupy glaze. Indulgence like this means you can leave your hair shirt in the closet come January.
Winos (Wine-Poached Apples)
adapted from Bon Appétit
serves 4
— 1 tablespoon

crystallized ginger, finely minced

— 1

vanilla bean, split lengthwise

— 1 cup

Greek yogurt (2% is fine)

— 4

medium crisp apples, such as Pink Lady or Golden Delicious, peeled and cored

— 2" piece

ginger, sliced into coins

— 4 tablespoons

raw honey, divided

— 2

star anise

— 5

green cardamom pods

— 1

cinnamon stick

— 2

long strips each orange and lemon peel (no white)

— 1/3 cup

fresh orange juice

— 3/4 cup

organic cane sugar

— 1 1/2 cups

fruity red wine
Combine wine, sugar, orange juice, citrus peels, cinnamon stick, star anise, cardamom, ginger and 2 cups water in a large heavy saucepan over medium heat. Bring to a boil, stirring until sugar is dissolved.


Add apples; reduce heat to low and simmer, occasionally rotating apples, until tender when pierced with a sharp knife, 25–30 minutes (but begin checking after about 15).


Using a slotted spoon, transfer apples to a plate and set aside. Strain poaching liquid in pan into a small saucepan, discarding solids in strainer. Set saucepan over medium-high heat and stir in 2 tablespoons honey. Simmer, stirring occasionally, until poaching liquid is syrupy and reduced to about 3/4 cup, 10–15 minutes (syrup will thicken as it cools).


Combine yogurt and remaining 2 tablespoons honey in a small bowl. Scrape in seeds from vanilla bean, stir in ginger and whisk until the yogurt sauce is smooth and well blended.


Divide yogurt sauce among plates. Place warm or room temp apples on top. Drizzle syrup over.



Download Recipe