10.31.11
Hominy & Me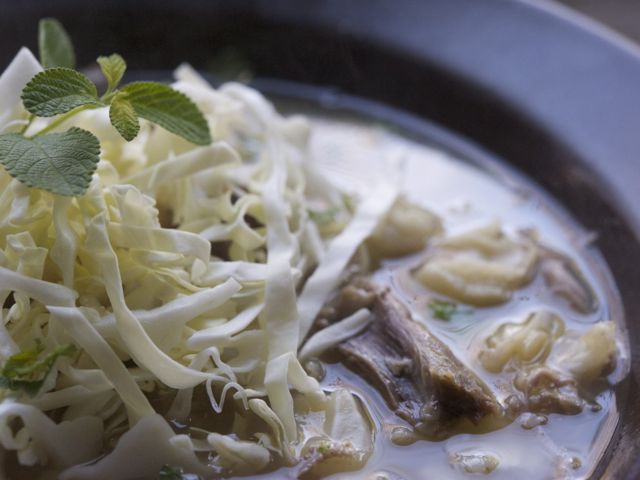 Business first: If you haven't yet tossed your name in the ring to win the gorgeous giveaway basket of Tate's Bake Shop cookies and brownies, today is your last chance. Just visit
this post
and leave a comment by 12pm. I will announce the winner tomorrow.Happy Halloween! Or All Hallow's Eve, if you will. Tomorrow is the Day of the Dead, the traditional holiday for celebrating friends and family who have died. It's a big deal in Mexico, with elaborate picnics transported right to the grave sites featuring favorite foods of the deceased. It's sort of like a tailgate party, but without the football. In honor of this occasion, I offer you a recipe for one of my most beloved dishes, typical of the Mexican cooking I ate growing up. I wonder who will bring it to my gravesite when I'm gone...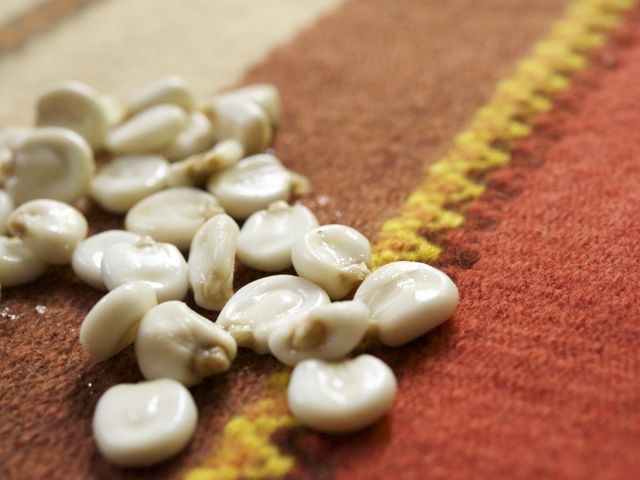 Pozole is made with a special kind of lime-treated corn called nixtamal, which you can sometimes find fresh or frozen, but you'll probably come across dried American Southwestern pozole corn (hominy) more easily in good specialty stores. Fastidious cooks like to remove the hard, pointy end from each kernel so that they splay into a rough flower shape as they cook. A fingernail works well for this job, along with a lot of patience. It's pretty much impossible to do with the dried hominy unless you soak it first. You can also just forget about this step with little consequence.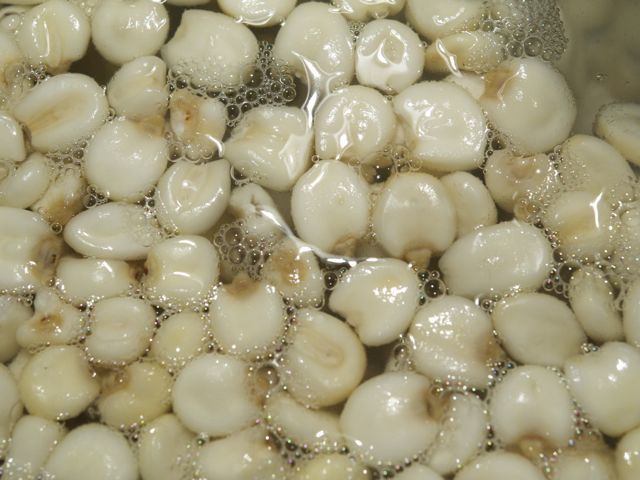 Soaking definitely reduces cooking time, so I usually do it. You just cover the pozole with cold water, making sure it rises a couple of inches above the corn, and leave it overnight. The next day you gently simmer the pozole until the kernels are tender. While this is happening, you make a rich broth that is the other half of this hearty and soothing stew.
Pozole is generally made in large quantities to feed a crowd and the classic version contains vast amounts of pork—often shanks, trotters and shoulder. I had a couple of shanks in the freezer, as well as a bag of chicken wings, so I decided to use both to make a very flavorful broth. You'll want to skim the fat, so plan ahead. When you're ready to eat, you simmer the cooked hominy in the broth until the flavors are nicely melded.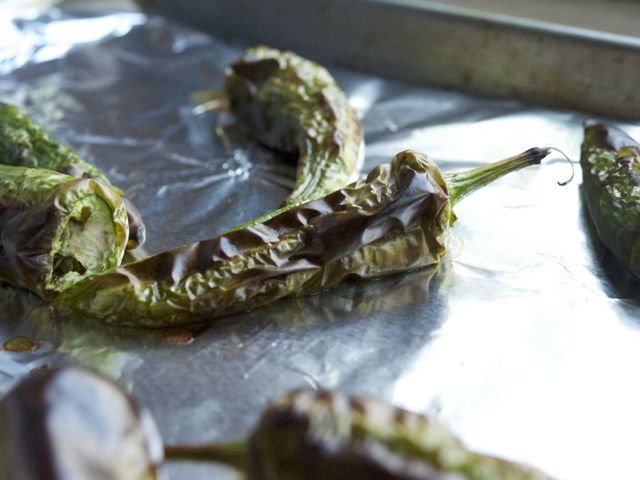 Powdered red chiles are sometimes stirred into pozole, but I added a New Mexican touch with the last green chiles from my garden, Anaheims aka California chiles. I stuck them under the broiler, turning them occasionally until they were blistered on all sides, then pulled the charred skins off, seeded and sliced them, and added them to the finished broth where they contribute a nice vegetal note without any spice.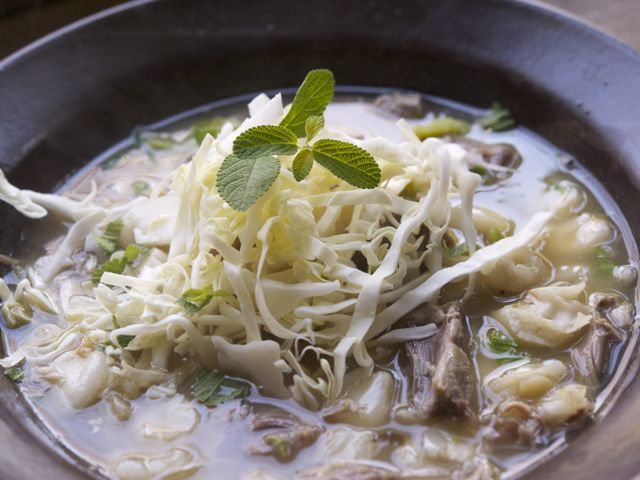 As with many Mexican dishes, the garnishes are key. Pozole has something in common with Vietnamese pho, the beef soup that's loaded up with raw bean sprouts and herbs, though here we use shredded cabbage, thinly sliced radishes, chopped cilantro and a squeeze of lime. Though it may not sound like it, pozole manages to be substantial without being very heavy. And it's delicious enough to raise the dead.
Pozole (Pork & Hominy Stew)
serves 4-6
— 12 ounces

dried pozole corn (hominy), soaked overnight

— 2

bone-in pork shanks, tied

— 1 dozen

chicken wings

— 1`

large yellow onion, peeled and chopped

—

fresh or dried Mexican oregano

— 2

carrots, peeled and chopped

— 2

celery ribs, chopped

— 2

whole cloves garlic, peeled

— 1 teaspoon

dried Mexican oregano

—

sea salt, to taste

— 6

mild green chiles, like Anaheims

— 1 cup

green cabbage, thinly sliced

— 1/2 cup

radishes, thinly slices

— 1/4 cup

cilantro leaves, chopped

—

lime wedges

—

tostadas or tortilla chips as accompaniments
Soak the dried corn overnight in water to cover by 2 inches.


The next day, measure 4 quarts of water into a large pot and add the drained corn. Bring to a boil, partially cover the pot, and lower heat to simmer gently until the corn is thoroughly tender, probably a couple of hours at least. Add water as necessary to keep the water level more or less constant.


While the corn is simmering, place the shanks and wings in another large pot, cover with water, add 1 tablespoon salt, and bring to a boil. Skim off any grayish foam that rises during the first 15 minutes or so, then add the vegetables and oregano. Partially cover the pot and simmer over medium-low heat until all the meat is thoroughly tender, about 2 hours. Remove the meat from the broth and let cool, discarding the chicken wings. Or, if time allows, cool the meat in the broth for the best flavor and texture, then remove it.


Refrigerate everything separately overnight. If serving right away, skim fat from broth. Pull the meat from the bones, then chop what remains into 1/2" pieces, discarding bones.


Combine the cooked hominy and the chopped meat with the skimmed broth in a large heavy pot and gently reheat. Check the consistency: it should look hearty, full of hominy, with bits of meat, but liquid enough to be thought of as a soup or brothy stew. If necessary, add water. Taste the pozole and season with additional salt if you think it needs it; since hominy soaks up a surprising amount of salt, you may need as much as another few teaspoons.


While the corn and meat are heating, turn the broiler on high. Place chiles on a foil-covered baking sheet and place right under the broil. Rotate until blistered on all sides. Remove and cool until easy to handle. Strip off skin, then seed and slice.


Prepare your garnishes.


When you're ready to serve, set out bowls of the condiments for your guests to add to their steaming, fragrant bowlfuls: the cabbage, radishes, oregano, lime and tostadas or chips.



Download Recipe