11.1.11
Carrot Tops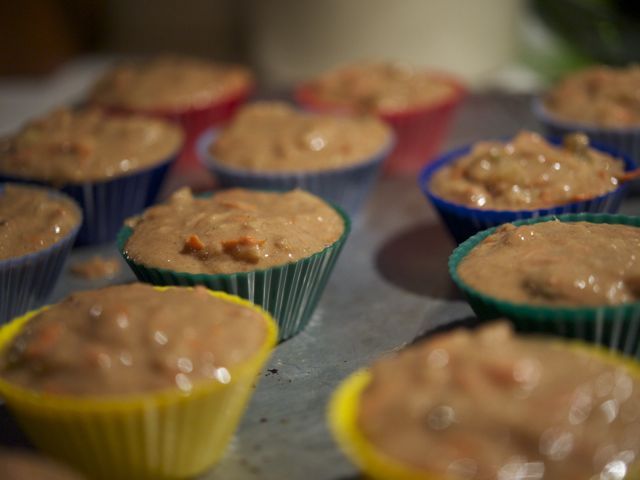 Ladies and gentlemen (but mostly ladies), we have a winner! It's my pleasure to announce that Jeannie Hensel will soon be receiving a package from Tate's Bake shop! Congratulations, Jeannie! I hope your son loves these delicious treats. Please email me at gluttonforlife (at) gmail (dot) com and include your mailing address so I can pass it along to Tate's.The rest of you can console yourselves by ordering some Tate's cookies and brownies
here
, or by whipping up a batch of these delectable carrot cake cupcakes, which can easily be made gluten-free should you so choose. I'm really sorry I don't have a photo of the final frosted version, but sometimes life takes precedence over blogging. (Rarely, but sometimes!) I made these last week for Stephanie's birthday, from the same low-fat recipe I used to make her cake
last year
. The cupcake version also went over like a house on fire—and why not? These babies are rich but fluffy, loaded with carrot and pineapple, studded with golden raisins, slicked with an irresistible cream cheese frosting and finished with a sprinkling of candied ginger. Bring it, Tate's!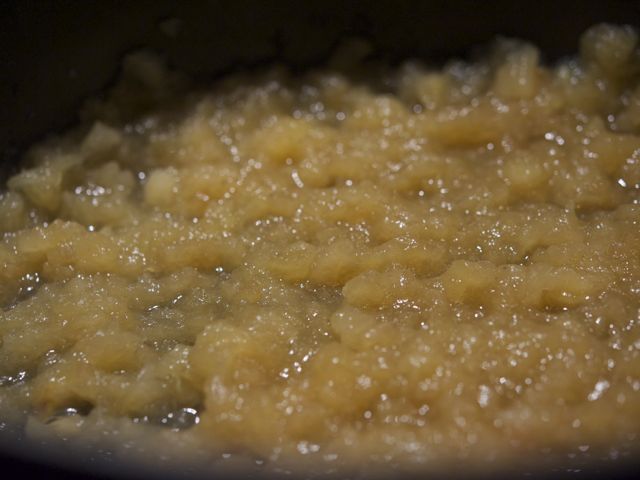 Part of what makes these cupcakes so m***t is the applesauce. I still have a lot of apples hanging around, so I decided to make my own. I peeled, cored and chopped the apples, cooked them with a little water until they were soft and then mashed them up into a pretty fine puree. But I won't judge you if you just want to buy a lovely jar of organic unsweetened applesauce.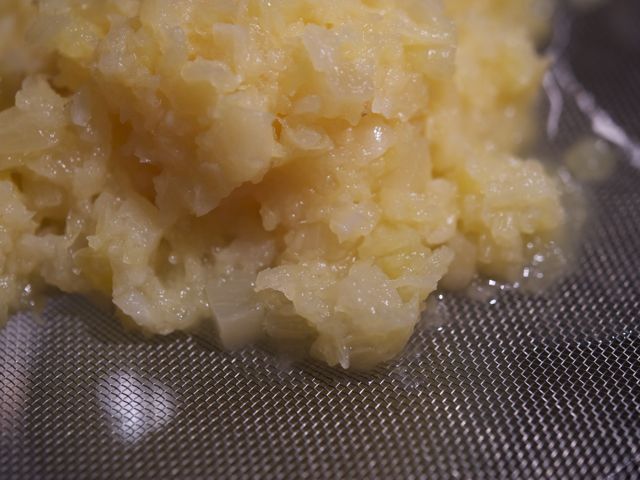 One thing I did use from a can is this crushed pineapple, which also contributes to the dense crumb. You could use fresh, but either way you need to drain it well, through a fine strainer of some sort. I am still in love with my
tamis
, and urge you to get one. I find a zillion uses for it. It would be nice to have them in a few different sizes.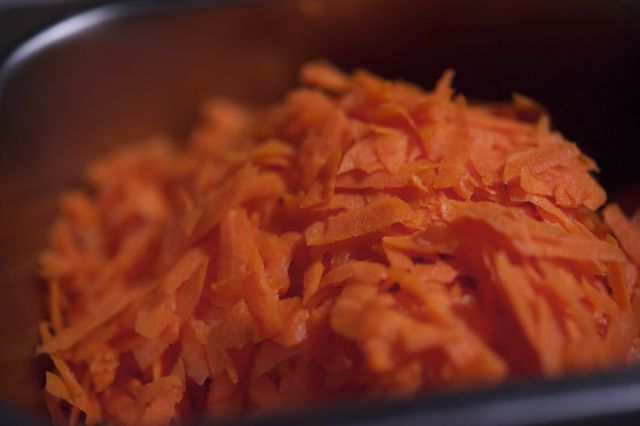 The inherent sweetness of carrots makes them a welcome addition in baked goods, and it's also a great way to sneak in some valuable nutrition if your kids, like
Jessica Seinfeld
's, will only eat vegetables when duped.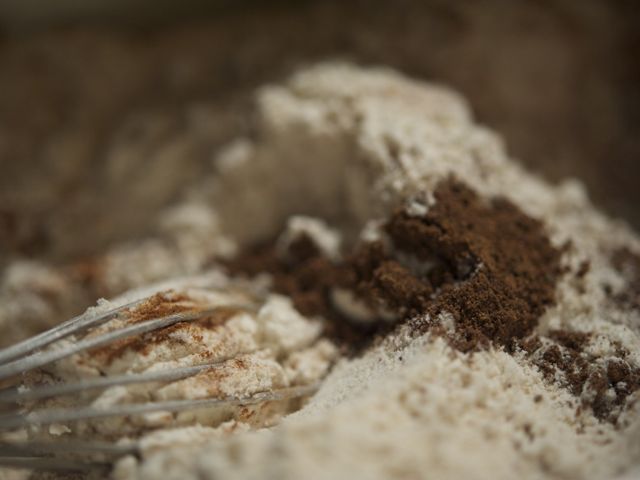 I used a combination of regular all-purpose flour and whole wheat pastry flour, but you could use a gluten-free mix like
this one
or
this one
, perhaps substituting 1/2 a cup or so with buckwheat flour for a little more texture. To beat the egg whites and wet ingredients, I used my KitchenAid; then I made the frosting in it as well.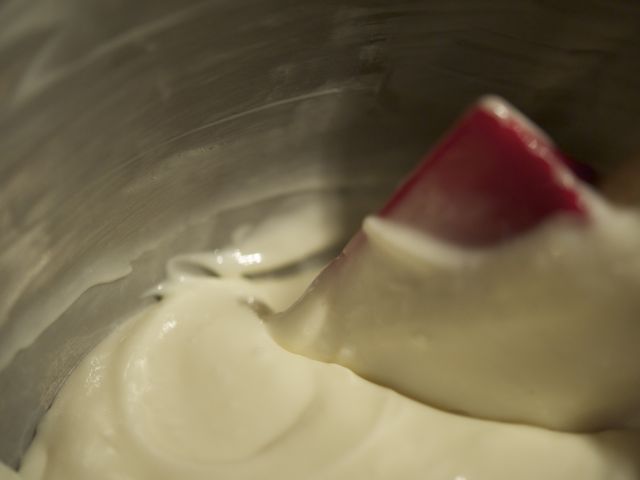 Cream cheese frosting makes me go weak in the knees. I so prefer it to buttercream which I find to be greasy and overly rich. Even though this version is made with lowfat cream cheese, it's not lacking in unctuous mouthfeel. The lemon juice really brightens it up nicely; you might stir in some lemon zest to give it even more zing. Any leftovers can be used to frost your next banana bread, or to sandwich between graham crackers.
Spicy, sweet and chewy, crystallized ginger is cooked in sugar until soft, and coated with a thin crunchy sugar residue. It's wonderful chopped fine and added to fruit salad, oatmeal or yogurt; sprinkled on tea cakes or in cookie batter; even chewed whole, especially if you're trying to quit smoking. I often order mine from
here,
or pick up
this brand
at the market.To make these cupcakes, I used these
silicone muffin cups
which are reusable and more easily stored than bulky muffin tins. Set them on a parchment-lined baking sheet to catch any drips and avoid filling them too full as the batter will puff up and overflow. I doubled this recipe to make 30 cupcakes, and I'd do it again.
Carrot Cake Cupcakes
makes about 15 cupcakes
— 1 cup

all-purpose flour

— 1 cup

whole wheat pastry flour

— 2 teaspoon

baking soda

— 1 teaspoon

ground cinnamon

— 1/2 teaspoon

allspice

— 1/4 teaspoon

ground nutmeg

— 4

egg whites

— 1 1/4 cups

dark muscovado sugar, firmly packed

— 1 cup

unsweetened applesauce

— 1/2 cup

lowfat buttermilk

— 1 teaspoon

vanilla extract

— 1 1/2 cups

canned unsweetened crushed pineapple, drained

— 2 cups

shredded carrots

— 1/2 cup

golden raisins

— 1/12 cups

light cream cheese

— 4 cups

organic powdered sugar

— 2 1/2 teaspoons

fresh lemon juice, or more to taste

— 1 teaspoon

vanilla extract

— 2 tablespoons

crystallized ginger, minced
Preheat oven to 350º. Lightly grease muffin tins, or set silicone cups on a baking sheet.


Whisk together flours, baking soda and spices in a large bowl.


In a separate bowl, beat egg whites until soft peaks form, then beat in sugar in several increments followed by the applesauce, buttermilk and vanilla. Add to flour mixture and stir until just combined. Mix in pineapple, carrots and raisins.


Spoon the batter into tins or cups and bake for about 30 minutes, or until a toothpick inserted in the center comes out clean. Cool completely before frosting.


For the frosting, beat cream cheese with lemon juice and vanilla. Beat in powdered sugar in increments until desired consistency is achieved. Frost cupcakes and sprinkle candied ginger on top.



Download Recipe