10.27.11
Sweet Bread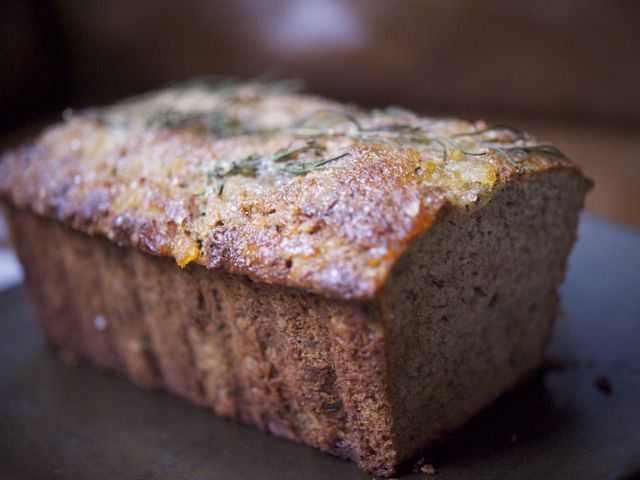 Don't get your knickers in a twist, I'm not giving you a recipe to prepare strange and frightening innards. Not that I wouldn't! But no, this is considerably more tame. Although I hope it make take you out of your comfort zone as far as baked goods go. Why? Because it's made with a lot of buckwheat flour and that can have scary health-food store connotations. Trust me, you don't need to be wearing Birkenstocks to go for this delicious cake. It's actually inspired by an incredible muffin from
Peels
that I've enjoyed on several occasions. The pastry chef there, Shuna Fish Lydon, really rocks, as you can see by her
blog
, not to mention her addictive graham crackers, brown butter rice krispie cubes and other tweaked-homestyle treats. I've lauded her skills
before
.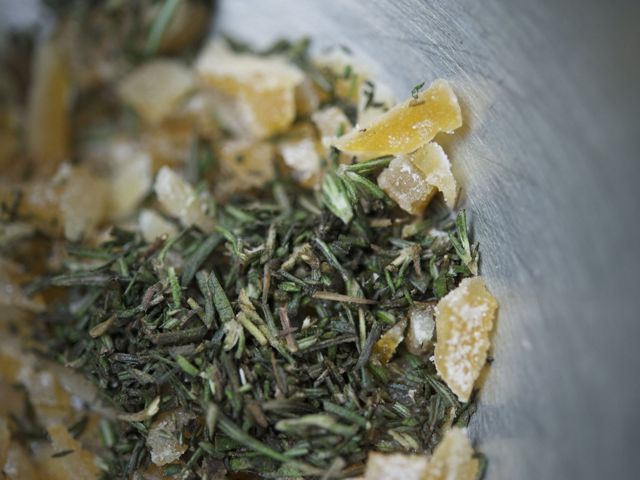 At Peels, the muffin from which this cake concept derives sits in the glass case looking like a bit of a wallflower compared to the gooey monkeybreads and glamorous graham crackers. But be forewarned: she's got flava! Billed as a "buckwheat muffin with rosemary and lemon marmalade," this unassuming little brown wren of a snack has a lot going on. I've put together a recipe that replicates it pretty well, though baking it as a loaf creates some fundamental differences. I recently acquired some
silicone muffin cups
(great space-savers if you have a small kitchen), so I may try it again in this format.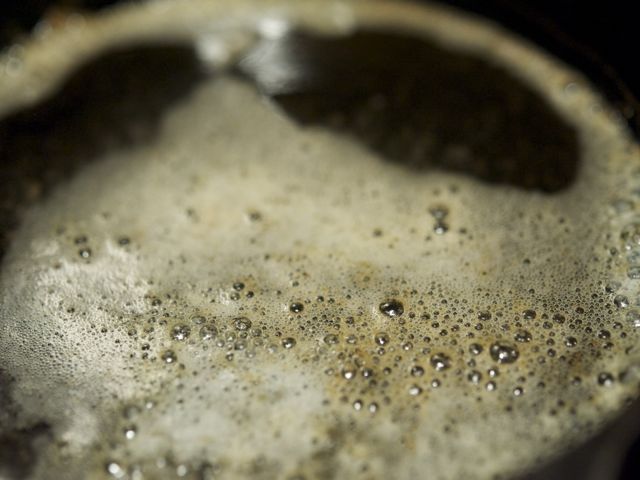 Buckwheat is not a grain, and not even a grass, it's actually a pseudocereal. Not entirely sure what that means, but I do know it's highly nutritious. It's very rich in flavanoids, which are phytnutrients that contain lots of antioxidant power. It's also high in magnesium which is great for cardiovascular health. It won't spike your blood sugar like other carbs, so it makes an especially good breakfast food. It tastes quite earthy and dark and pairs well with sharp flavors like lemon and rosemary. Browned butter—see the foam turning color, above?—adds subtle hints of caramel and hazelnut.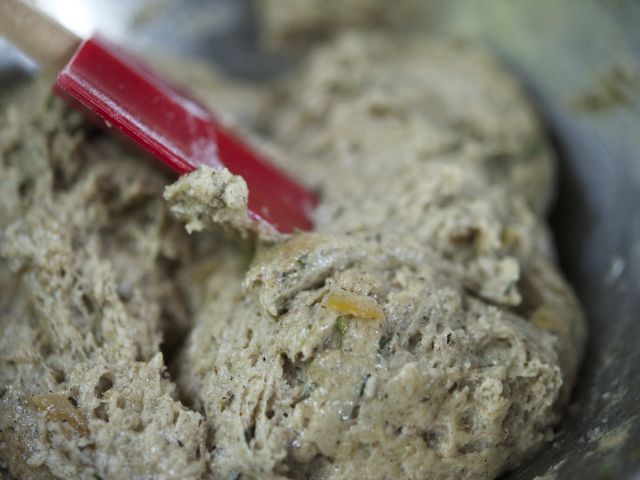 Is it a dough if it doesn't rise? This feels thicker than a batter, but avoid overmixing so it stays tender.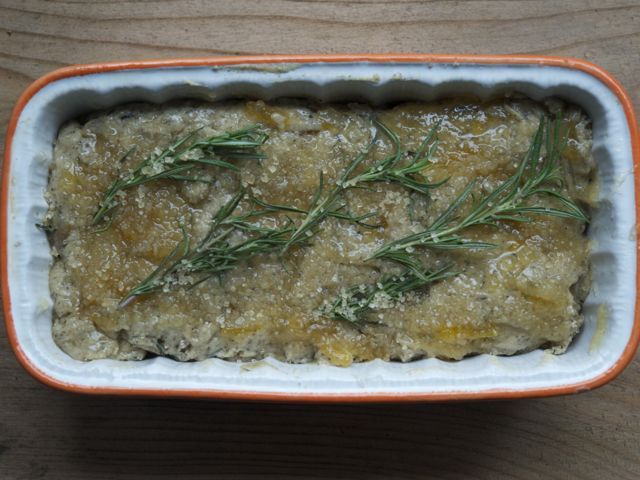 In addition to stirring marmalade into the mix, you also glaze the top of the loaf with a thick layer of it. This helps the rosemary stick and creates a pleasingly chewy crust. The turbinado sugar sprinkled on top only adds to the textural delight.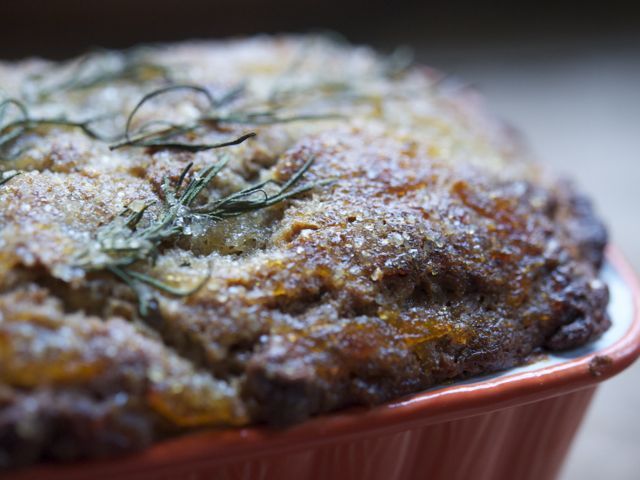 I can't really describe to you the joy I felt in recreating this brilliant cake. I think it's a fitting tribute to the original.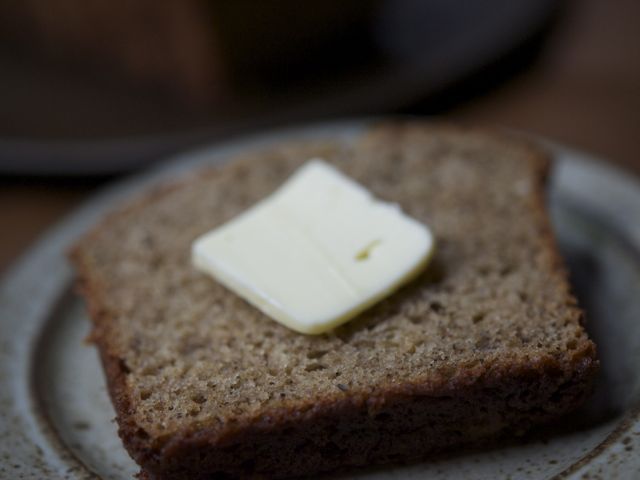 I enjoyed mine unadorned, straight from the oven; dunked into tea; toasted with a little butter; and spread with apple butter. You can't go wrong, no matter how you slice it.
Buckwheat Marmalade Cake
makes one loaf
— 3/4 cup

buckwheat flour

— 3/4 cup

all-purpose flour (gluten-free mix is fine)

— 1/2 cup

organic cane sugar

— 1 teaspoon

baking powder

— 1/2 teaspoon

baking soda

— 1/2 teaspoon

sea salt

— 1/2 cup

Greek yogurt

— 1

large egg

— 1/4 cup

lemon marmalade

— 2 tablespoons

grapeseed or other neutral oil

— 1 teaspoon

vanilla

— 1/4 cup

candied lemon rind, minced

— 1 tablespoon

fresh rosemary, minced

— 2 tablespoons

salted butter, browned

— 2 tablespoons

lemon marmalade

— 6

fresh rosemary sprigs

— 2 tablespoons

turbinado sugar
Preheat oven to 350º.


Lightly grease a loaf pan.


Combine first 6 (dry) ingredients. In a separate bowl, mix together next 5 (wet) ingredients until well combined. Gradually fold dry mixture into wet mixture, stirring minimally. Stir in lemon rind, minced rosemary and brown butter. Pour into prepared loaf pan.


Brush remaining 2 tablespoons marmalade over surface. Arrange rosemary sprigs on top and sprinkle with turbinado sugar.


Bake for about 45 minutes or until a toothpick comes out clean.



Download Recipe