9.28.11
Stoned Again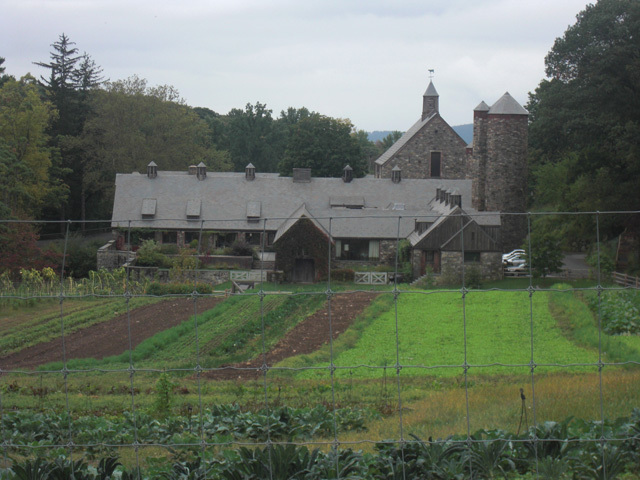 It seems that birthday celebrations call for
Stone Barns
. And not just birthdays—the place is thick with tipsy bridesmaids and full-on wedding parties. You may recall that
last January
I chose to turn 48 within its glorious confines. G and I dined there recently with a group of friends to fête the marvelous Matthew on the occasion of his 50th. Each of the three times I've been in the last 18 months have been revelatory experiences; not only the food, but the service and the ambiance elevate this restaurant above most others. It's part of a multi-million dollar farming, education and hospitality enterprise, and much of the food served is raised on the grounds or locally. This summer, I was lucky enough to get a little window into the kitchen when my sister-in-law secured an externship as part of her program at
I.C.E.
In lay terms, that means she worked there. She assuaged my jealousy by religiously recounting tips, techniques and stories from behind the scenes at one of this country's finest restaurants. It was almost as good as eating there...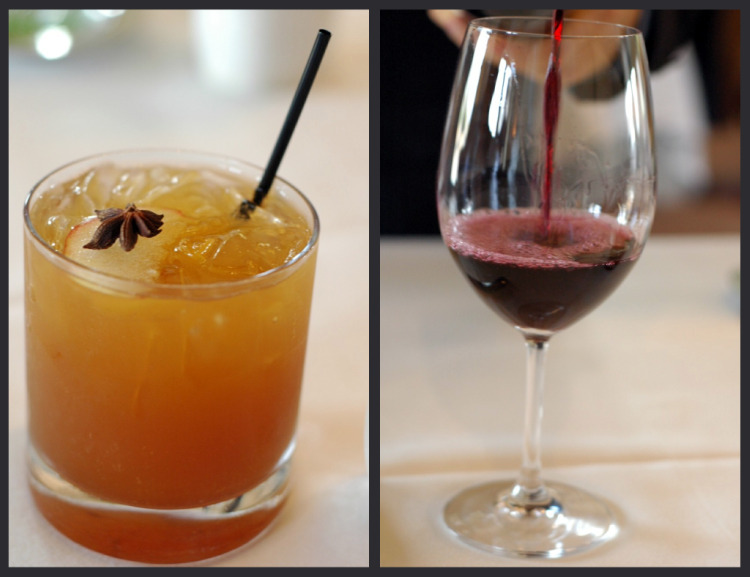 When you're waiting for your table, be sure to order a cocktail. They are nicely seasonal, of course (at this point that's mandatory), but they tend to incorporate some interesting boozes, fresh fruits and herbal ingredients. I had a rum drink flavored with angelica syrup that veered slightly towards the medicinal but was nonetheless good. And should you decide to go for the wine pairing with your meal, you will not be disappointed. The sommelier, Thomas Carter, does a bang-up job selecting complementary flavors.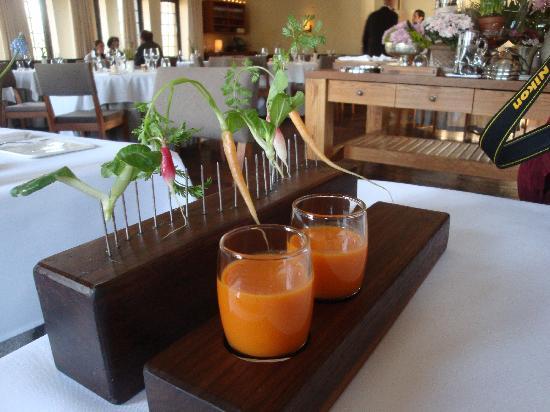 They don't even bother with a written menu now. There is a choice between 8 and 15 courses (we've always chosen 8, and 15 seems unfathomable regardless of what they say about modulating portions) and it's a seasonal tasting menu. Online there is a sort of
menu
listing the ingredients they are working with each month. By now a few of their tricks have lost some of their novelty—kale chips, potato chips woven with herbs, teensy garden vegetables on spikes—but still remain largely delicious. This time the amuse-bouches included little chasers of gazpacho, silky and sharp with sherry vinegar.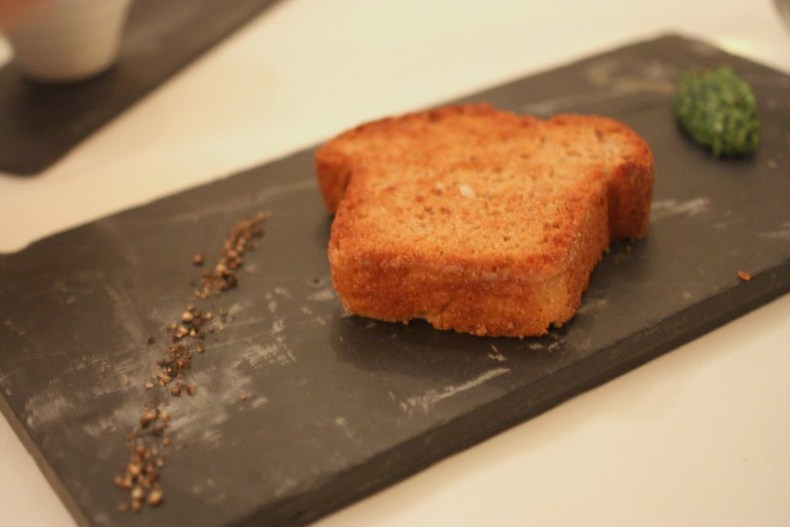 I don't really feel like walking you through the whole menu. I think I may be a little jaded. I've come to realize that what I love even more than this very refined, technique-driven cuisine from gifted chef-artiste Dan Barber are the very bold, intense flavors I return to time and again at Momofuku Ssam, or even at
Danji
, that new Korean place. I'm thrilled to eat cumin-crusted Muslim lamb chops at some dive in Flushing, or pungent Thai food or curries. That being said, two of my favorite courses at this Stone Barns dinner involved bread. The first was this incredibly delicate brioche, made with red fife wheat from
Anson Mills
. They describe it as having "profoundly herbaceous and nutty fresh wheat flavors; a m---t, satisfying crumb; and a lovely crust with deep, toasty caramel notes." It's all true. It was served with a delicate, creamy and slightly warm ricotta with a tiny quenelle of chard marmalade on the side. These three tastes together, sprinkled with a little crushed pepper, was entirely heavenly and very memorable.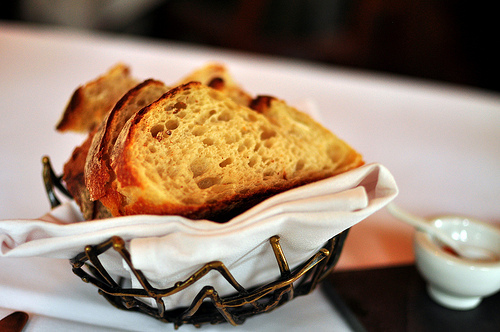 A few courses later, out came this potato-onion bread. We all remembered it from last time and were extremely excited when it made another appearance. We even had seconds. Undoubtedly a bad idea given all the food that lay ahead, but absolutely irresistible. The bread was served warm, with the world's creamiest and most divine butter (possibly from Ronnybrook) as well as two housemade salts: tomato, which was fresh and tangy, and black trumpet, which had a funky, truffle-like flavor. Was I disturbed to later learn that this bread is not baked in-house, but is instead delivered from New York's
Balthazar Bakery
? Slightly. But the butter, the salts and the perfect temperature do enhance it quite a bit.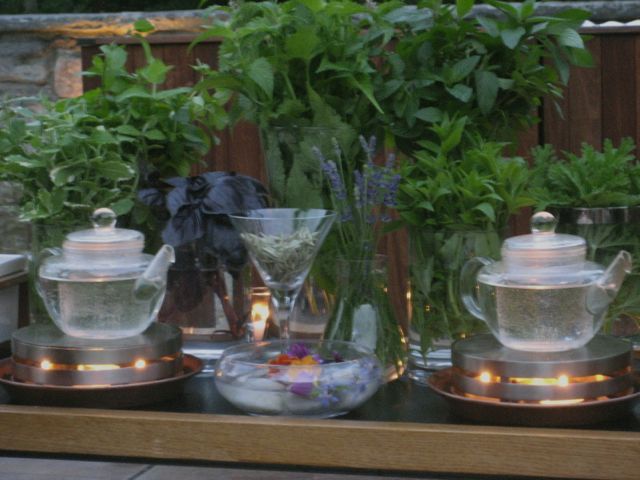 There was also a rich pasta made with ostrich egg and coated in a thick film of tomato essence; the tenderest pork loin on the planet, accompanied by an unctuous square of belly; and some other things I've forgotten, including dessert which was not thrilling. But the meal ended on a high note when I ordered the most expensive tea on the menu—an herbal tisane. This is simply an infusion of dried or fresh herbs, so I wasn't entirely sure why it would cost $15, but I wanted to find out. As they say, presentation is everything. Out rolled a dramatic wooden tea trolley covered with glass teapots glowing atop lit bunsen burners, loaded with clear containers of herbs fresh from the garden: anise hyssop, lemon verbena, lavender, mint, Thai basil, etc. You choose what you want and little sprigs are snipped off and stuffed into your own small teapot.  Like everything at Blue Hill at Stone Barns, it was inspiring, sensual and restorative.