9.27.11
Flower Child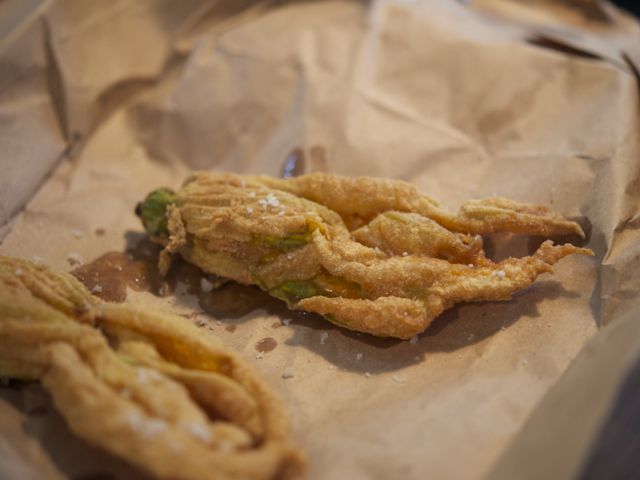 Squash blossoms are delicate and ethereal, yet somehow sturdy enough to stand up to a good frying. They're delicious other ways, too, as in
this
fresh vegetable stew from Mexico, full of
flores de calabaza
, chiles and herbs. You'll find them fried all over Italy where they're known as
fiori di zucca
, always battered and sometimes stuffed. One classic version calls for a stuffing of anchovy filets and mozzarella, but mine—herb-flecked goat cheese—is lighter and feels a bit more in tune with these days of Indian summer. Like most fried foods, they're best served fresh from the oil, so they're really not the thing for a big party. But it's lots of fun to fry up a dozen or two for a group of friends gathered in the kitchen, sipping prosecco or rosé and singing the chef's praises. I can't remember where I learned to use masa harina for these, but I'm always on the lookout for gluten-free substitutes for wheat flour. As with my
fried calamari
, rice flour would probably work well, though the understated corn flavor of the
masa harina
really does seem to complement the subtle, sweetly vegetal note of the squash blossoms. By the way, zucchini flowers are said to be better than those of yellow squash, which can get slightly bitter. Choose the freshest, perkiest ones you can find. They need to be slightly open. Too tight and the fragile petals will tear as you attempt to pipe in the filling. Ain't that always the way?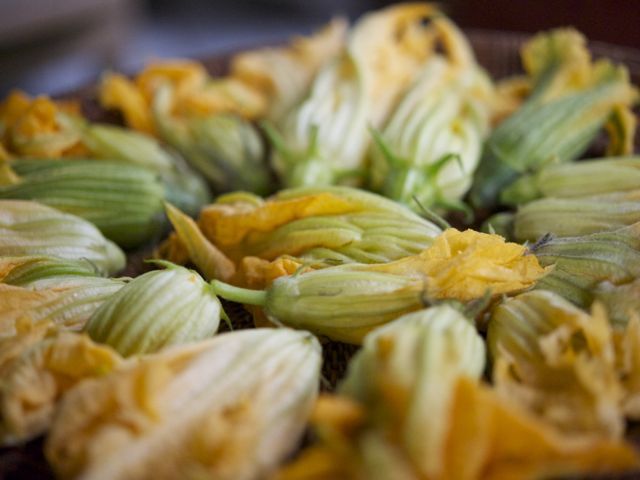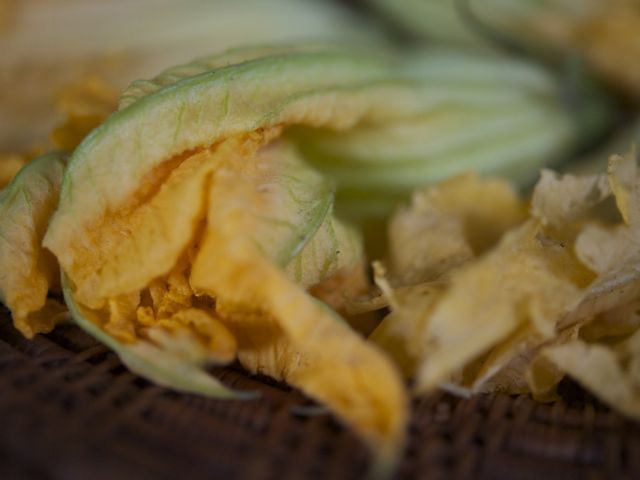 I mixed chopped mint into a soft, creamy goat cheese but any herbs from the garden will do—shiso, tarragon, chives, oregano or even rosemary would also be delicious. A little lemon zest brightens it up nicely, if you like. Or you could stir in some minced chile or a sprinkling of pimentón if you're in the mood for that kind of kick. If your goat cheese is very stiff, whisk in a tablespoon or two of milk or cream, and/or a little olive oil.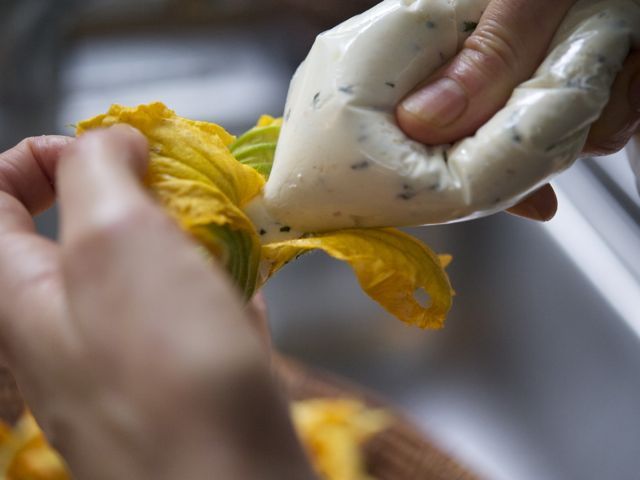 Many recipes tell you to simply spoon the filling into the flowers, but they are so delicate that this can be very awkward. A pastry bag works well and, as an easy alternative, you can also use a ziploc bag. You simply scoop the filling into it and snip off one corner from which to pipe the filling. A quick dip in beaten egg, a roll in the masa harina, and they're ready for the pan. As for the oil, peanut or sunflower work fine but I also like to use lard, which fries up the yellow bundles to a virtually grease-free crisp. Right before serving, add a generous sprinkling of Maldon sea salt for extra crunch. And tell your friends to watch out for that molten cheese...
Fried Squash Blossoms
serves 4 as an hors d'oeuvre or snack
— 12

fresh squash blossoms

— 3/4 cup

fresh goat cheese

— 1/4 cup

fresh herbs, finely chopped

—

sea salt and freshly ground black pepper, to taste

— 2

eggs

— 1/4 cup

milk

— 1 cup

masa harina (or all-purpose flour, or rice flour, or a mix of either with a little cornmeal)

—

vegetable oil or lard, for frying

—

coarse sea salt, for serving
In a small bowl, mix together the cheese and herbs. Open up the individual blossoms wide enough to insert a couple of teaspoons of cheese mixture, pushed towards the stem end. Do not overfill or fried blossoms will be soggy. In a shallow bowl, beat the eggs and milk together. In a separate shallow bowl, mix the masa harina with a bit of salt and pepper. Dip each blossom into the egg mixture and then roll quickly and evenly in the masa harina mixture, gently shaking off any excess. Pour 2 inches of oil into a skillet and heat to about 350º. Deep-fry the blossoms in batches until they begin to turn light golden brown. Don't crowd them. Drain on crumpled paper towels and serve immediately, dusted with coarse sea salt.



Download Recipe