7.25.11
Condimental: Taco Belle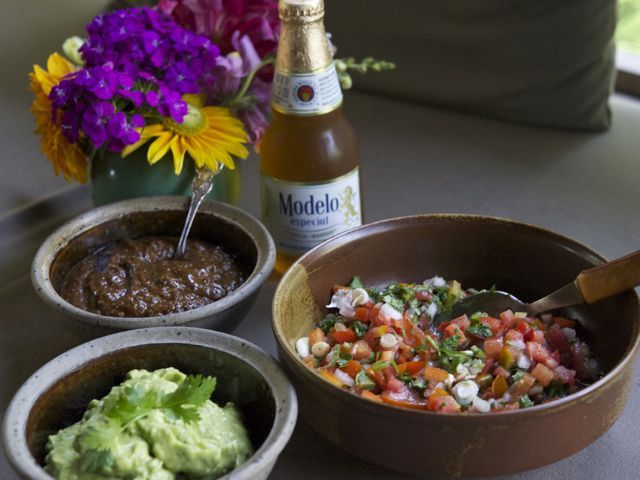 I grew up eating Mexican food, in Mexico and in California. Although my mother was raised in California, her family was from New Mexico, so her version of Mexican cooking betrayed subtle influences of that, and of Sunset magazine, the bastion of California living. In a sad twist of fate, she became paralyzed for the last 14 years of her life, which put a definitive end to her reign in the kitchen. On visits, I cooked quite a bit, but we also had our local sources for good Mexican takeout. Christmas Eve meant tamales from El Paisano, and no trip home was without at least one visit to Tacos Moreno, where the choice between al pastor, carnitas or quesadillas often resulted in an order of all three. I associate fish tacos more with Southern California, where the competition for who has the crispiest batter or the best sauce is quite fierce. I do love fried fish, but when summer rolls around, grilling makes this dish even easier. The real trick with fish tacos is not to get lazy. Don't just shove a bunch of unseasoned fish into a limp tortilla with some raw cabbage and a glug of bottled hot sauce and expect it to be sublime. What really takes it to the next level are a combination of flavors—you guessed it: hot, sour, salty sweet—and textures that complement each other.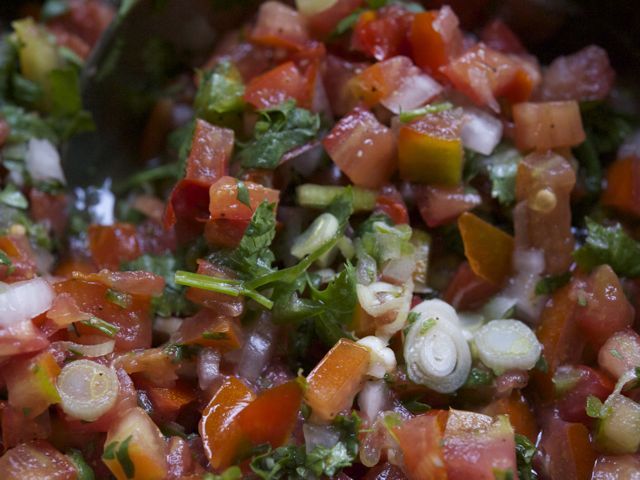 I was devastated when Gourmet magazine went out of business, and furious that they automatically transferred my subscription over to
Bon Appétit
, a publication I never liked much. But the new editor, Adam Rappaport, has done a fantastic job of upgrading this title, and I am actually excited to get my issue each month. (While we're on the topic, I also subscribe to
Saveur
,
Food & Wine
,
Diner Journal
and
Lucky Peach
.) Their August "Contributor's Pick," where they provide the recipe for a reader's favorite dish, was the mahi-mahi tacos at Malibu Seafood. The fish is rubbed with a blend of spices and then quickly grilled. It sounded so good, I was inspired to get to make my own version.At the same time, I came across an article on
salsas
in the August
Saveur
, and it was a perfect convergence. They ran a similar piece back in May for their Mexican-themed issue, and I posted some of those recipes
here
. But I think these are just as good, if not better. In the end, my fish taco components included grilled spiced fish, griddle-warmed corn tortillas,
crema
,
pico de gallo
, slivers of red cabbage,
guacamole taquero
, and an insanely addictive
salsa de chipotle quemada
. If it's all Greek to you, read on.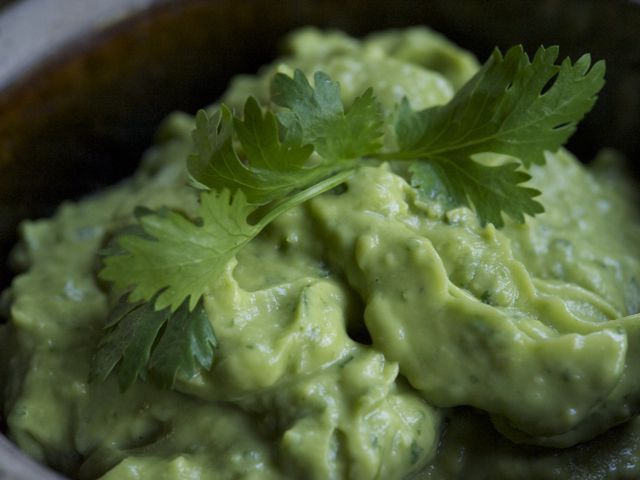 Salsas tend to vary from region to region in Mexico, generally reflecting local ingredients. You can riff on these recipes with what's in season and on hand, remembering that roasting fruits and vegetables can bring in interesting flavor components. I like to grill pineapple, then chop it up and combine it with lime juice, jalapeño and cilantro, for a salsa that's great with fish or pork. The classic pico de gallo, above, is raw tomatoes, lime juice, cilantro, scallions and white onion, stirred together and seasoned with salt, pepper and a little fresh Mexican oregano. I made the creamy avocado salsa, perfect for drizzling over fish tacos, with avocado, lime juice, garlic, serrano chile, cilantro and white onion. I pureed it in the food processor to get that silky texture.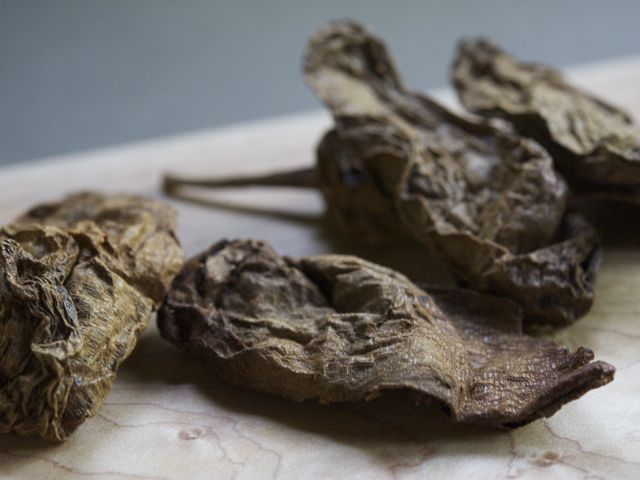 I took the recipe for spicy-sweet 
salsa de chipotle quemado
(burnt chipotle salsa) straight from the pages of
Saveur
. It's similar to
this one
they ran in May, but with less garlic and the addition of cider vinegar and agave, it's actually much more delicious. I could drizzle this over G's old sneaker and eat it. I'll be slathering it on grilled steak, pork and chicken wings, and dreaming up other ways to use it, like stirred into mayonnaise or as a facial mask. (Not.) Incidentally, don't kid yourself that over-processed and denatured agave is any better that sugar. As with honey, it's best to find a brand that makes (or bottles, rather) pure, raw agave. I order mine from
here
.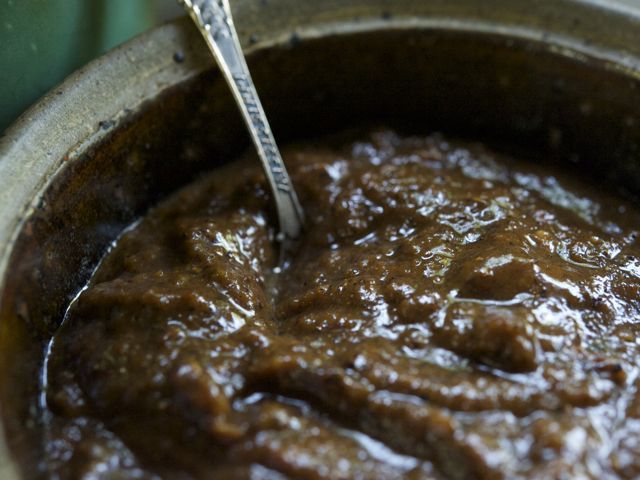 I was fascinated to discover a while back that chipotles are actually smoked jalapeños. This gives them their incredibly rich and complex flavor, almost an umami quality that makes them irresistible. They do tend to be quite spicy, though, so be careful when handling and eating.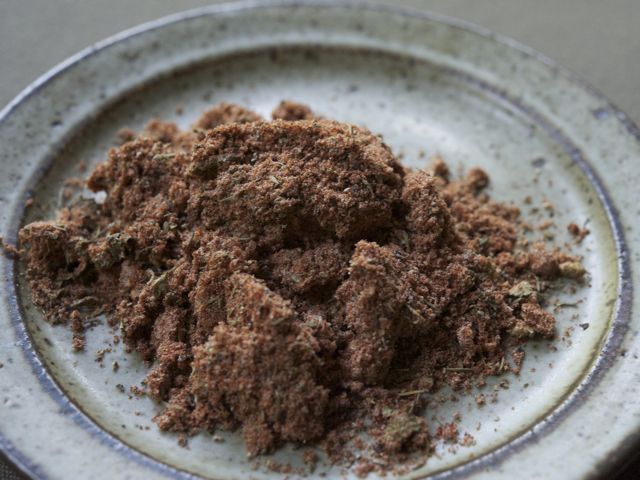 If you decide to grill your fish for tacos, choose a firm white filet. I used local blackfish. Try to avoid very large fish (they contain more toxins) as well as anything overfished, in favor of smaller, fresh local fish. Take it out of the fridge to come down to room temp before grilling, and rub it all over with a mix of spices. I've included a recipe, but you can really use any combination that appeals to you. Grill it about 5 minutes per side, then shred it into small chunks. Stuff some into a warm corn tortilla, add a little fresh cabbage, a spoonful of a couple of these salsas, and finish it with a drizzle of crema. (Make your own by whisking together 1/4 cup heavy cream with 2 tablespoons sour cream, a couple of dashes of Tabasco and a generous pinch of salt.) Eat, and repeat.
Burnt Chipotle Salsa (Salsa de Chipotle Quemado)
lightly adapted from Saveur magazine
makes about 1 1/3 cups
— 1 1/4 ounces

dried chipotle chiles, stemmed

— 3 tablespoons

grapeseed oil

— 1

small white onion, minced

— 1/4 cup

raw blue agave syrup

— 1/4 cup

organic apple cider vinegar

— 2 teaspoons

sea salt

— 1

garlic clove, mashed
Heat a 10"skillet over medium heat; add chiles and toast, turning occasionally, until blistered and blackened,about 8 minutes. Transfer to a blender or food processor and set aside. Return skillet to heat and add 2 tablespoons oil; add onion and cook, stirring, until soft and lightly caramelized, about 12 minutes. Transfer to blender or food processor, along with agave, vinegar, salt, garlic and 3/4 cup water; puree until smooth, about 2 minutes.


Heat remaining oil in skillet over medium-low heat, and then add pureed salsa; cook, stirring often, until salsa thickens and turns brick-red in color, about 45 minutes. Let cool before serving.



Download Recipe
Grilling Rub for Fish
from Malibu Seafood via Bon Appétit
makes enough for a 1-lb filet
— 1 tablespoon

paprika

— 1 teaspoon each

garlic powder, onion powder, dried oregano, dried thyme, sea salt

— 1/2 teaspoon

freshly ground black pepper

— 1/4 teaspoon

cayenne
Mix well and rub on fish before grilling.



Download Recipe