7.26.11
Condimental: Jam Session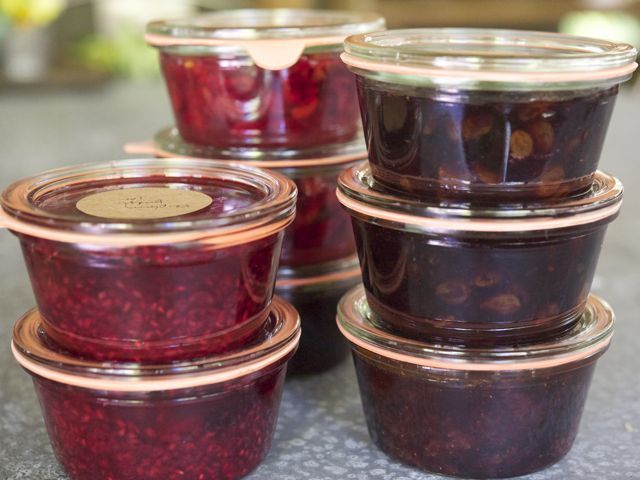 I've been in a canning frenzy, record heat wave be damned. Blueberry jam, gooseberry chutney, sour cherry jam, strawberry-chile preserves, raspberry fridge jam, and there are yellow plums and peaches impatiently awaiting. (I'm hoping for apricots soon!) At a certain point, when things are boiling away and the sweat is trickling down the insides of my thighs, I do feel a little deranged. But I try to channel my grandmother, making jelly with the loquats from her tree on a sweltering San Diego afternoon. If you're a cook, there are some things you just tolerate. And among the many rewards are beautiful jars of jam, destined to deliver sweet memories of summer when Christmas rolls around. In the middle of winter, I'll pop open a jar of sour cherry jam to plop onto my morning bowl of yogurt, and it will hold the vivid intensity of this July day in its sticky red soul. If you are daunted by the idea of canning, may I suggest you cook up a small batch of something and simply store it in a jar in your fridge? Now, while all this summer fruit is at its peak. No extra steps involved, just a very easy process that leads to some very blissful moments.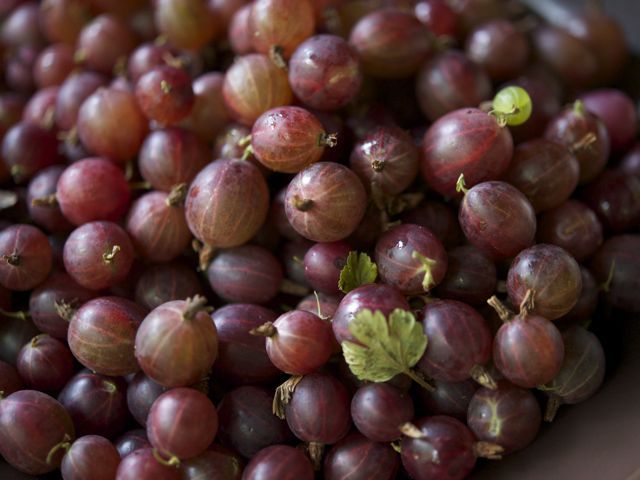 A trip to your local spice market might inspire some new flavor combinations. I'm making peach jam infused with Early Grey tea. The gooseberry chutney recipe in T
he River Cottage Preserves Handbook
is loaded with Indian spices. Chutney's not on your radar? Let me clue you in. It's the most tongue-tingling combination of sweet-tart-spicy, and it goes with practically everything. I love it on a cracker with cheese, alongside grilled anything, spread onto a sandwich, with roast chicken and oily fish and, of course, with curries. You can also stir it into mayonnaise and it becomes a whole other delicious thing.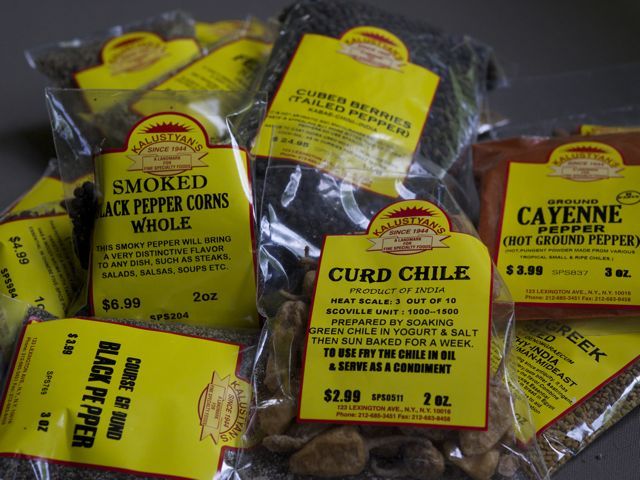 I picked up the spices I needed at 
Kalustyan's
recently, and of course came away with other inspiring discoveries. Dried Persian limes? There was recently a 
whole segment
about them on Lynn Rossetto-Kasper's Splendid Table. Curd chiles? The Indian ladies at the store had no idea how to use these dried, yogurt-soaked chiles, but the package says you fry them up for a snack. And I found new kinds of black pepper, including a smoked one that sounds exciting.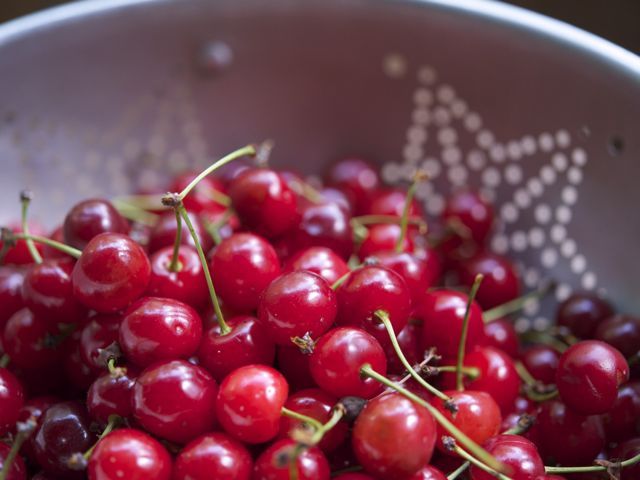 Sour cherries are so delicate and have such a short season that you rarely even see them outside farmers' markets. I start to look for them the week before July 4th. They are usually available for 2 or 3 weekends only. So tart and juicy, they make the ultimate summer pie, but are also divine in ice cream, jam, pickled and preserved in cherry liqueur. Try filling a small jar with pitted sour cherries and cover them with
this
Italian liqueur. Let them macerate for a week or so, and then you can create a delicious cocktail with rye whiskey, a couple of spoonfuls of the juice and a cherry or two.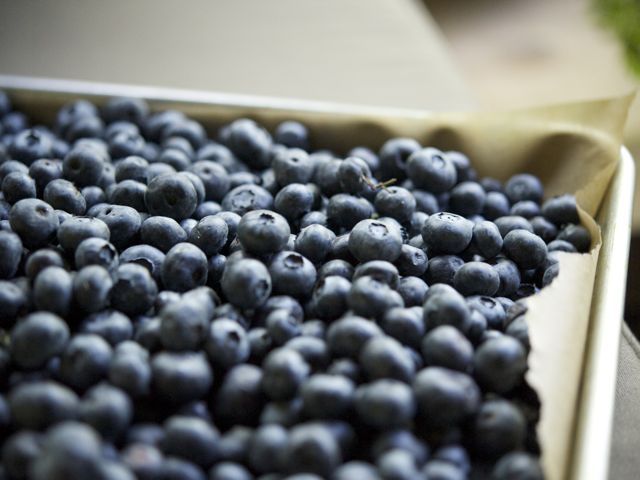 Blueberries are great in jams and jellies, and as vinegar and syrup. Buckwheat pancakes with homemade blueberry syrup? Quinoa salad with crumbled feta, scallions and a blueberry vinaigrette? Irresistible.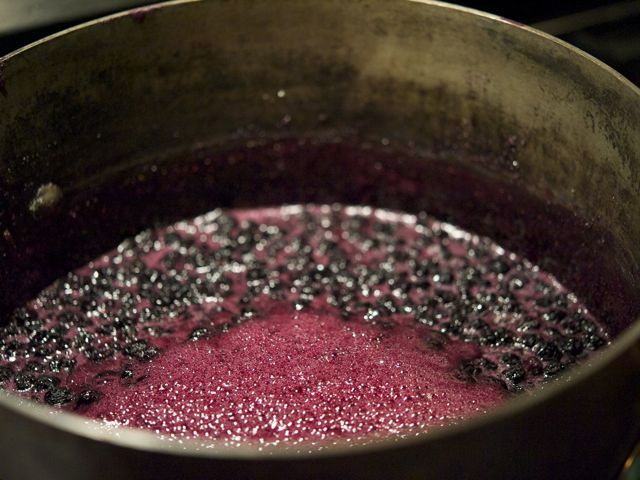 A good pot is essential for making jam. This is yet another occasion for me to be grateful for my copper collection. It just conducts heat so incredibly efficiently. I have never burned any jam, and that says a lot because I am often doing several things at once in the kitchen (including watching more back-to-back episodes of
Weeds
) and I can get distracted and forget to stir. Yes, copper is expensive, but if you're smart, you'll start hinting now that
this
is what you want for your next birthday.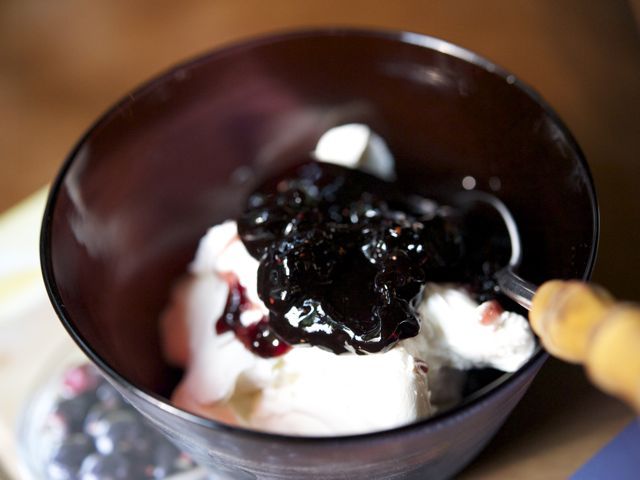 When I was tiny, my daddy would take me around the corner to a deli near where we lived in L.A. for cream cheese-&-jelly sandwiches. No, not especially healthy, and not really something I ever indulge in these days, but that is one swell memory. About the closest I get now is jam on my yogurt, and that is a wonderful treat, too. Your own homemade preserves taste about 2,000 percent better than store-bought. You can also stir them into hot cereal, heat them and spoon them over tapioca pudding or pound cake or shortcakes, dollop them on pancakes or waffles, pair them with cheese, swirl them into ice cream...oops, all gone.
Gooseberry Chutney
lightly adapted from The River Cottage Preserves Handbook
makes five 8-ounce jars
— 7 tablespoons

organic cider vinegar

— 2 1/2 cups

organic cane sugar

— 1/2 teaspoon each

fennel seeds, cumin seeds, nigella and fenugreek seeds

— 1 teaspoon

yellow mustard seed

— 2 ounces

fresh ginger, bruised (whack it with a rolling pin)

— 2 1/4 pounds

gooseberries

— 3/4 cup

raisins, golden or purple
First, make your spice bag by tying up the ginger and spices in an 8" square of cheesecloth.


Put the sugar, vinegar, 7 tablespoons of water and the spice bag into a preserving pan (a big heavy-bottomed stock pot will do). Heat gently, stirring occasionally, to dissolve the sugar and allow the spices to release their flavors into the syrup. Remove from the heat and set aside to infuse for about 30 minutes.


Meanwhile, top and tail the gooseberries, then wash and drain.


Add the gooseberries and the raisins to the spice syrup. Cook gently for 20-30 minutes, until the mixture is thick. You can take a potato masher and break up the gooseberries a bit if you like. Remove from the heat; pour into warm sterilized jars*; and seal with vinegar-proof lids. Use within 1 year.

*I use the European method in which you wash your jars in hot, soapy water and then place them in a low oven to dry. Chutney is ladled hot into these warm jars and sealed immediately. No further processing is required. Place jars on a level wooden surface, newspaper or folded cloth and leave undisturbed until completely cool. Check the seal the following day.



Download Recipe