7.13.11
Raw Deal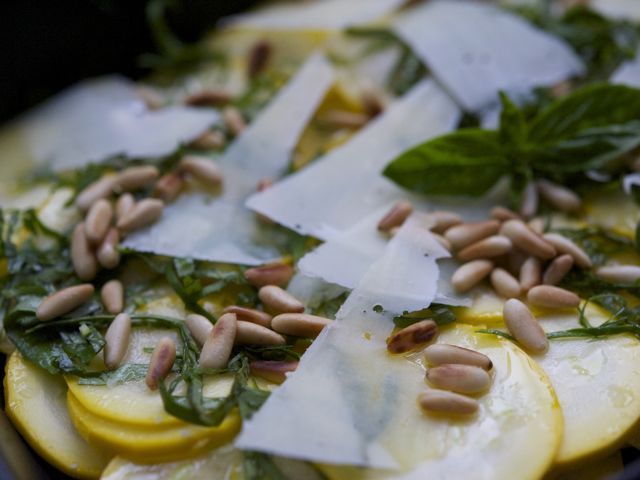 Can't stand the heat? Get out of the kitchen. But if you live in the complete sticks, where restaurants and take-out are really not an option, the kitchen is where you ultimately wind up when you feel hungry. The solution is often the grill, or you can abandon fire altogether and opt for cold leftovers, chilled soup, composed salads or even ceviche. But if you happen upon some screaming yellow zucchini and are looking for an easy supper, here's something that's all inspiration and no perspiration. In addition to the squash, you'll need a knife, pine nuts, basil, parmesan, a lemon and some good olive oil. Leave your hearty appetite at the door. This is a light repast for those summer evenings when you're feeling like a cat on hot tin roof. If you're still hungry, eat a pint of ice cream...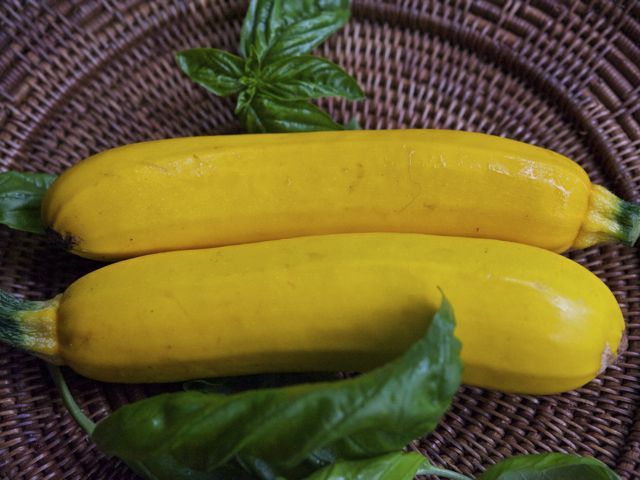 Color like this telegraphs that summer squash is rich in antioxidants. It's high in calcium, fiber, iron and vitamins A and C, and quite low in calories. Which means it pairs well with nuts and cheese, of course.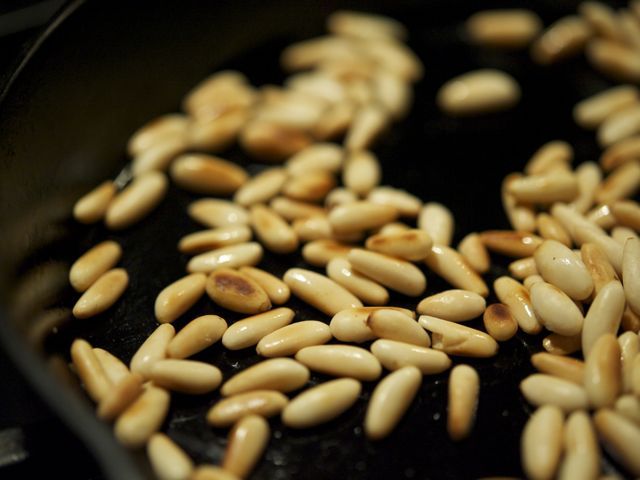 Pine nuts tend to go from golden to burnt in a heartbeat, so use a low flame and watch them closely if you're toasting them in a skillet. Otherwise, you can spread them on a baking sheet and roast them lightly in a 350º oven for about 10 minutes, stirring them a couple of times. By the way, buy Italian pine nuts. Apparently certain Chinese pine nuts—they look smaller, duller and rounder than others—are responsible for "taste disturbances," leaving a strange metallic taste in the mouth for up to 2 weeks after consumption.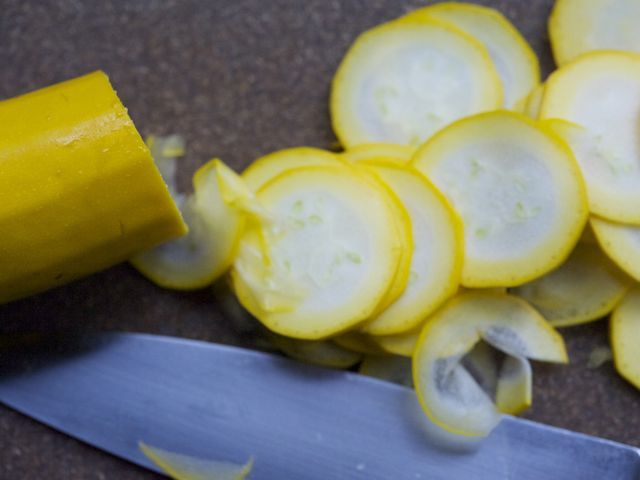 This recipe calls for very thin slices, so it's a good opportunity to haul out your mandoline if you've got one. Mine has been in storage since we moved upstate two years ago, but I find that in most instances a very sharp knife used with patience and caution works just fine. Don't be afraid to ad lib here. No basil? Try mint or tarragon, or use all three. Substitute balsamic for the lemon juice, pecorino for the parmesan, toasted walnuts for the pine nuts. Just don't gob too much of anything on there or you'll overwhelm the delicate squash slices.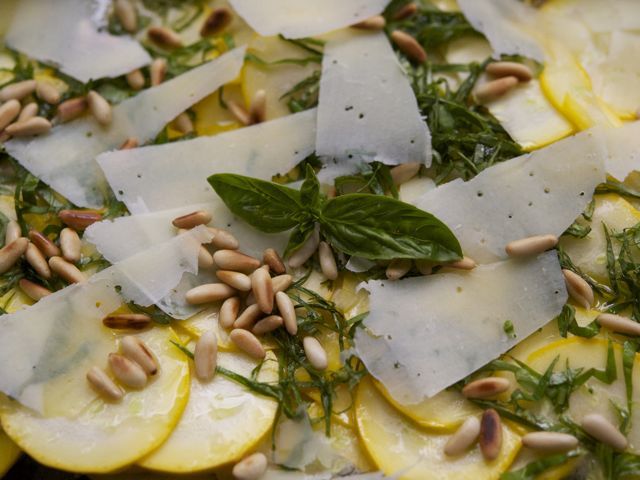 I call this a carpaccio in homage to the classic Italian dish of paper-thin slices of uncooked beef. It makes a gorgeous presentation and there's something kind of subversively sexy about the fact that it's totally raw.
Yellow Zucchini Carpaccio
serves 2 as a main course, 4 as a side dish or salad
—

parmesan or pecorino

—

coarse sea salt, like Maldon

—

extra-virgin olive oil

— 1/2

fresh lemon

— 1 large handful

fresh basil leaves

— 1/3 cup

pine nuts

— 1

large yellow zucchini (about 12 inches)
Toast the pine nuts in a skillet on top of the stove or in the oven. Set aside.


Slice the zucchini as thinly as possible without driving yourself too crazy. Or use your mandoline, Martha.


Thinly slice the basil (chiffonade) and spread on top. Next, scatter the pine nuts. Squeeze the lemon juice over everything and drizzle with a couple of good glugs of olive oil.


With your vegetable peeler, shave curls of the cheese on top. Sprinkle on some sea salt for crunch.


Serve immediately.



Download Recipe