7.14.11
Noodle Head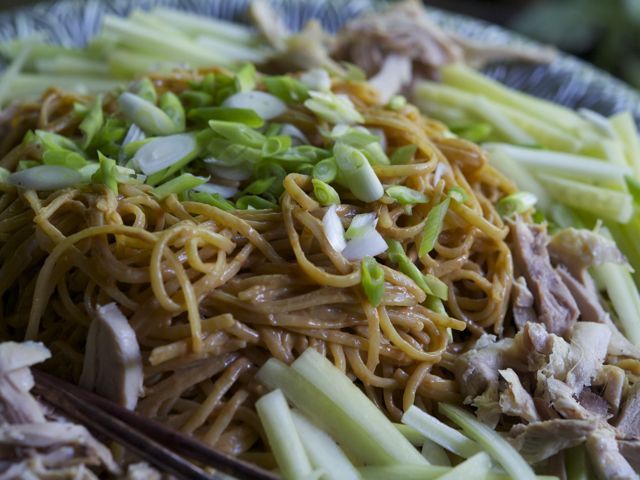 If you lived in New York City any time in the last 40 years, you've definitely eaten cold sesame noodles straight from the takeout carton. They were hugely popular in the 70s and 80s, and there is a deviant but delicious
Silver Palate recipe
that's still hugely relevant. The classic version of the dish is defined by chewy noodles, a peanutty-sesame sauce and a not-entirely-incidental garnish of crisp cucumber slivers. Just the thought of them is enough to make you dial Empire Szechuan on a hot summer night. But if they don't arrive exactly how you like them, with the perfect balance of creamy, spicy and sweet, it can be hugely disappointing—the "fridge-flavored nostalgia" Sam Sifton cautioned against in his 2007
Times
piece
lauding this legendary dish. So why not learn to make cold sesame noodles yourself? Next thing you know you'll be blasting the soundtrack from
Saturday Night Fever
and making reservations at Mr. Chow.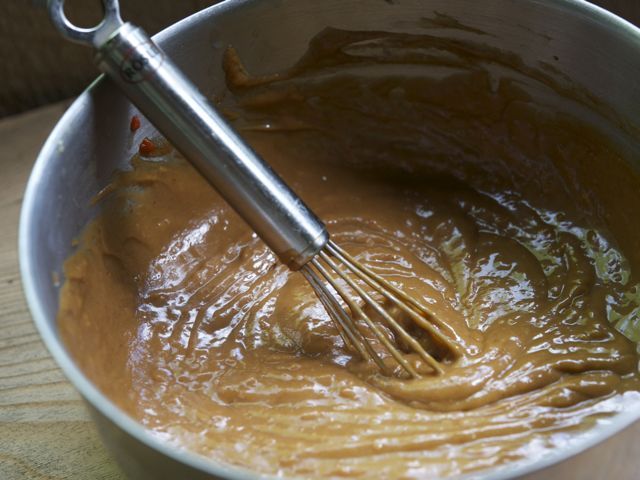 This is essentially
the same sauce
we made for dipping those summer rolls. The fact that it's called a sesame sauce distracts from the fact that peanut butter is such an essential flavor component. In Sifton's
Times
piece, the recipe includes a sesame paste; not tahini, but one made from roasted sesame. This interests me, but until I come aross it, an emulsion of peanut butter and sesame oil works just fine. You can play with the sweetness, using agave, honey or muscovado sugar; and the spice, using Sriracha, chile flakes or Szechuan peppercorns, which are no longer the holy grail. (Thank you,
Amazon
.)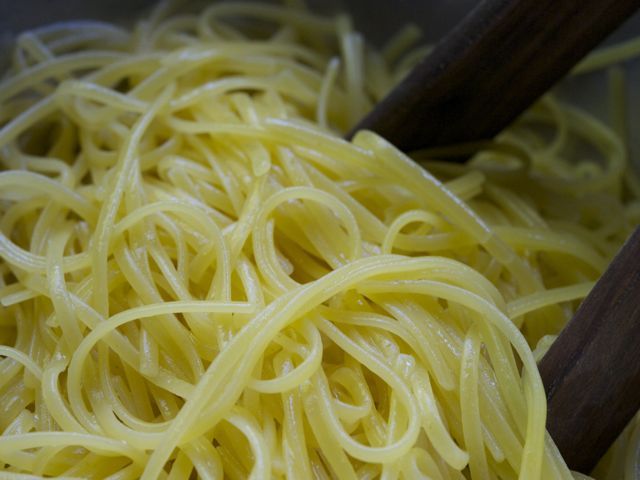 Whether you decide to use Chinese egg noodles, some good quality linguine, soba noodles or gluten-free quinoa pasta, as above, you want to cook them al dente and make sure they don't get all gummy. I rinsed my quinoa noodles, shook them dry, then tossed them with a couple of teaspoons of peanut oil. If you refrigerate yours, let them come down to room temp before eating.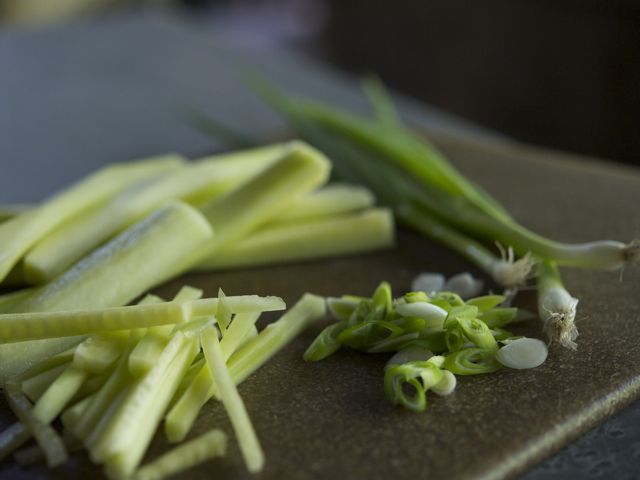 Purists allow for only a bit of cucumber and maybe a light sprinkling of cilantro, but I've seen recipes with snow peas and broccoli that don't sound disgusting. To round out the dish a bit, I've added some shredded chicken, cucumber, celery and cilantro in moderation, but to be honest, less is more here. A few chopped roasted peanuts for crunch are nice; you can eat your greens later.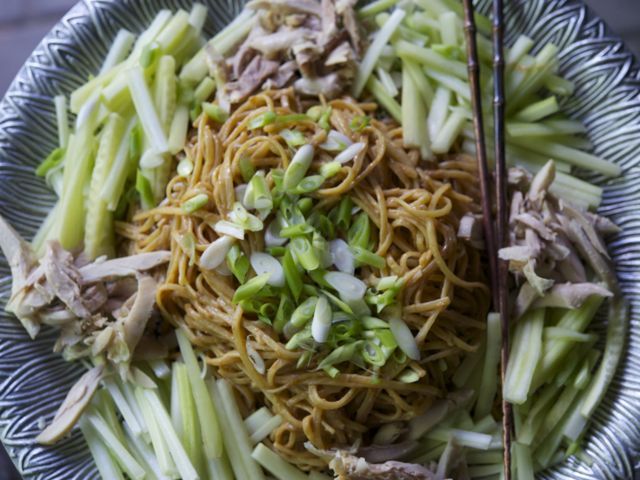 Cold Sesame Noodles
serves 4
— 1/2 cup

creamy peanut butter

— 1 tablespoon

toasted sesame oil

— 3 tablespoons

organic coconut milk

— 2 tablespoons

dark muscovado sugar

— 2 teaspoons

Sriracha

— 2 tablespoons

rice vinegar

— 2 tablespoons

hoisin sauce

— 1 tablespoon

soy sauce

—

Juice of 1 lime

— 2 teaspoons

fresh ginger, peeled and grated

— 1 pound

linguine (or noodles of your choice)

— 4 tablespoons

chopped scallions, green & white

— 1/2 cup

cucumber matchsticks (peeled)

— 2 tablespoons

roasted peanuts, chopped

—

handful of cilantro leaves

— 1 cup

roasted or poached chicken, shredded, optional
Combine all the ingredients through the ginger and stir together until well emulsified. You want the consistency to be creamy but not too thick. Thin with a little hot water, as needed.


Cook the noodles in a kettle of boiling salted water until al dente, then drain and rinse under cold water. Drain the noodles well, transfer them to a bowl and toss well with the sauce. Serve at room temperature garnished with a pile of chopped scallions, strips of cucumber, chopped roasted peanuts, cilantro and chicken, if using.



Download Recipe