7.12.11
Southeast Asian Supper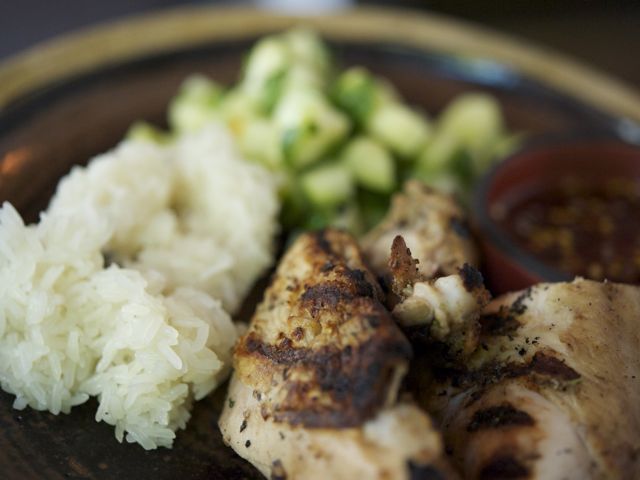 Some of my favorite places to travel are in Southeast Asia—Thailand, Laos, Vietnam. The people are very welcoming, the cultures ancient, the landscapes lush, the spas wonderful, the local textiles beautiful and the food absolutely fantastic. I love coconut-milk-based curries, sticky rice, laab, green papaya salad and all the exotic fruits. My mouth waters just thinking about it. The fresh herbs, bean sprouts, lettuce wraps and tangy fruits, and the classic combination of hot, sour, salty and sweet flavors, are to me the ultimate cuisine. So it will come as no surprise that my bible in this genre is
Hot Sour Salty Sweet
by Jeffrey Alford and Naomi Duguid. If you'd like to try making some of this food, I highly recommend it. Many of the recipes are from home cooks and street vendors and, while they may require some ingredients you might not normally have on hand, most of the techniques are fairly basic. We gave a dinner party this weekend and the menu featured dishes from all the countries mentioned above. And it tasted quite authentic, if I do say so myself.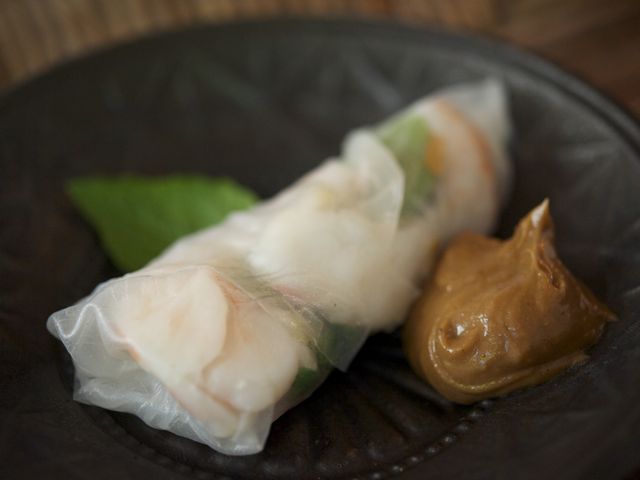 Summer rolls are a Vietnamese snack, although I had a delicious one at the über-fabulous
Aman Jiwo
on my recent trip to Indonesia. The wrapper is a translucent sheet of rice paper that comes dried and is quickly reconstituted in warm water. No cooking required. The rolls can be stuffed with any combination of shrimp, pork, tofu, pickled vegetables and fresh herbs, and they're usually served with a dipping sauce; usually a peanut-based one or 
nuoc cham
, a mix of fish sauce, lime juice, sugar and chile.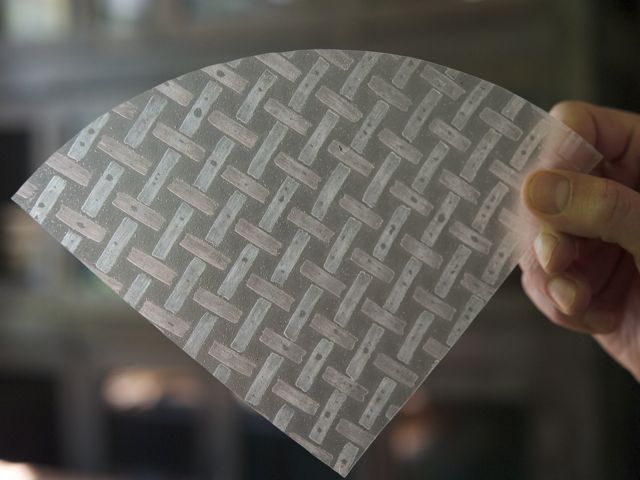 The wrappers come in
medium-sized rounds
and smaller triangles, like the ones I used, above. They are surprisingly easy to work with considering how delicate they are. You don't want to make your summer rolls too far in advance as these delicate wrappers can dry out. Be sure to cover your rolls with a damp dish towel and place them in a cool spot (but not the fridge) until you're ready to serve.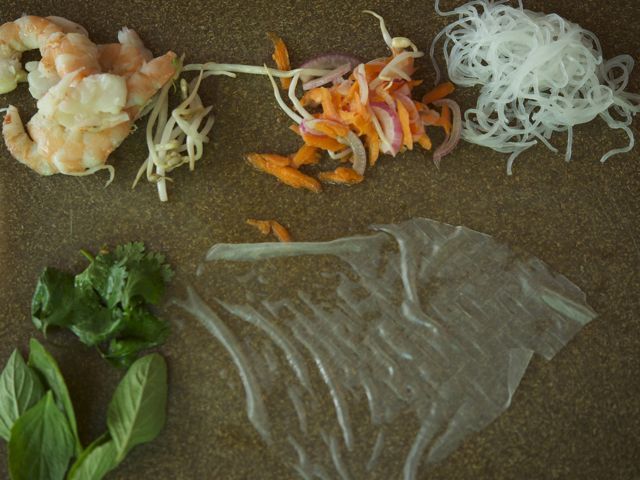 Here is yet another place where good organization is your friend. Have all your ingredients prepped and laid out so you can make your rolls quickly and efficiently.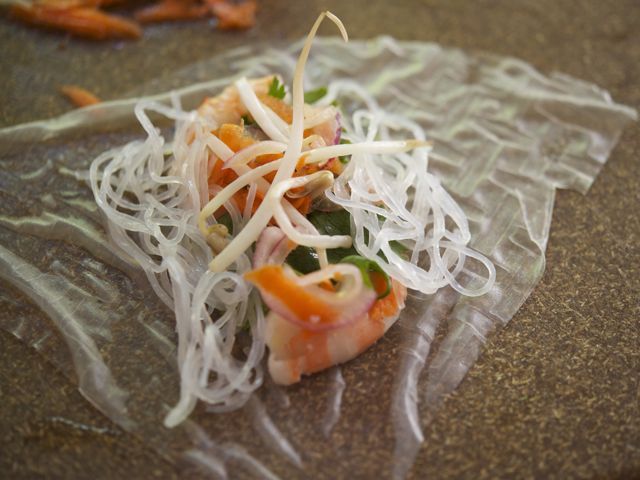 I made mine with shrimp (quickly poached, then chilled), mung bean sprouts, vermicelli rice noodles (soaked in hot water, then chilled), pickled carrots and red onion, Thai basil and cilantro. For a visual tutorial on rolling, see
here
.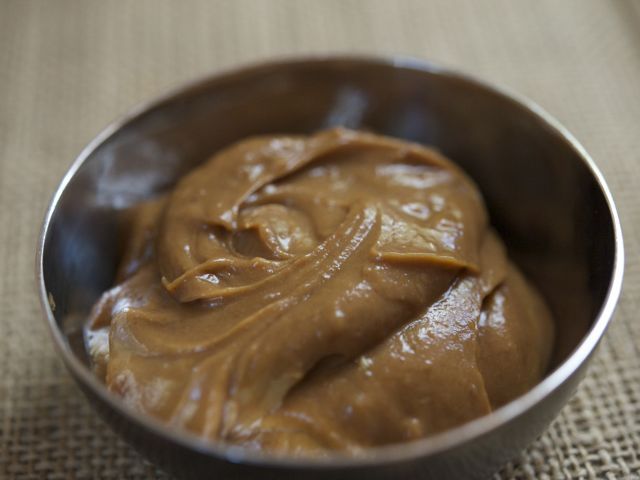 If you live in New York, you may recognize this peanut sauce as being akin to what is used for cold sesame noodles, a much-beloved takeout staple invented here. Make a double batch so you can whip those up later. (Stay tuned for my post with a recipe for those delectable noodles.)The main course, as you saw in the first photo, was grilled Thai chicken served with sticky rice and a spicy cucumber salad. My secret to successful cooked-on-the-grill chicken is to poach it first. That way you don't end up with charred, overcooked (or worse, undercooked) chicken. The meat is perfectly done and you just blitz it to infuse it with a bit of char and get the skin crispy. Sticky rice is a kind of glutinous rice that you prepare by steaming. Look for it, and the traditional steamer, in your local Thai market. (See the steamer and a recipe,
here
.)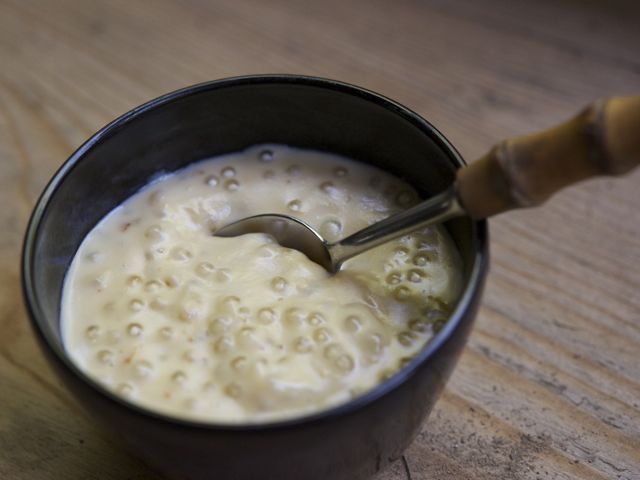 For dessert I came up with a tapioca pudding flavored with coconut and wild lime. I topped it with some toasted coconut flakes and served it with a few macerated raspberries on the side. I adore the luxurious silky texture of this pudding with its chewy pearls of tapioca. Fantastic!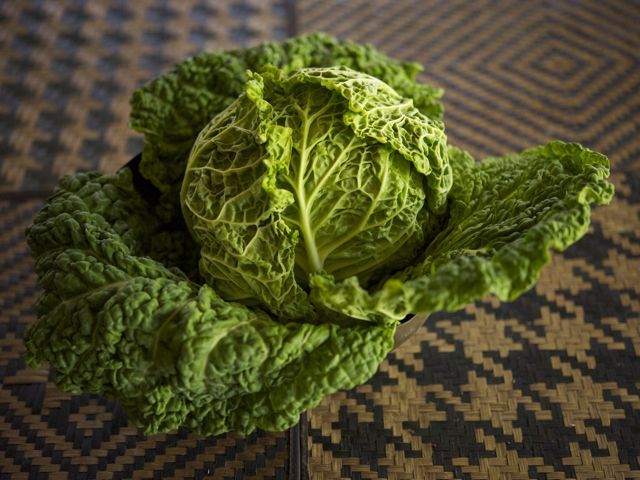 I thought this cabbage made a gorgeous centerpiece. I love the color and the wonderful curly leaves. We drank a local riesling with dinner, and ate out in the screened-in porch under our big Moroccan lantern. It was the perfect summer night and, if someone else had done the cooking, I might have thought I was on vacation in an exotic land.
Summer Rolls with Shrimp
makes a dozen rolls
— 12

medium shrimp in the shell

— 1 1/2 cups

shredded carrots

— 1

small red onion, thinly sliced

— 1/4 cup

rice vinegar

— 2 tablespoons

organic cane sugar

— 1/2 cup

mung bean sprouts

— 12

Thai basil leaves

— 12

cilantro sprigs

— 1

serrano pepper, seeds and vein removed and thinly

— 2 ounces

dried rice vermicelli

— 12

round or triangular rice wrappers
Bring a medium saucepan of water to a boil over high heat. Add shrimp and cook for about 2 minutes, or until they are bright orange and just cooked. Drain in a colander, then run under cold water until cool. Peel and halve shrimp lengthwise down the center, removing any black vein. Cover and refrigerate.


Meanwhile, toss the carrots, onion, vinegar and sugar together in a small bowl and pickle for 30 minutes.


Cook the rice noodles according to the package directions (generally just soak in very hot water for about 10 minutes). Drain and set aside or chill.


Clear a large work surface for rolling, and prepare a dish that can hold the finished rolls in a single layer. Place all filling ingredients in separate piles or containers and arrange them around the work surface. Have a damp dish towel ready to cover the rolls as you're making them.


Fill a wide, shallow dish large enough to hold the rice paper wrappers with hot water. Evenly submerge one wrapper for about 30 seconds, or until it is soft and pliable. Remove from the water and place on the work surface.


Lay 2 shrimp halves in a row, cut side up, just above the center of the wrapper. Layer a small handful of the rice noodles over the shrimp, followed by a few bean sprouts, a basil leaf, a sprig of cilantro, a sliver of chile and a tablespoon or so of the pickled vegetables.


If using a round wrapper, fold two sides in and then roll up all the way to enclose everything in a perfect packet. If using the triangular ones, I fold up the pointed end, and then roll the two sides, leaving the top open.



Download Recipe
Peanut Sauce
makes about 2/3 cup
— 1 tablespoon

soy sauce

— 1 tablespoon

roasted sesame oil

— 1

small garlic clove, mashed to a paste

— 2 tablespoons

hoisin sauce

— 1 tablespoon

organic cane sugar, divided

— 1/2 cup

natural creamy peanut butter

—

juice of 1 lime

— 2-3 tablespoons

coconut milk

— 1/4 cup

hot water
Combine all ingredients in a medium mixing bowl. Stir until well combined, adding hot water as needed to thin the sauce.



Download Recipe
Coconut Tapioca Pudding
serves 6
— 1

4" piece ginger, peeled and sliced

— 12

Thai basil leaves

— 4

wild lime leaves, or 3 teaspoons lime zest

— 2 tablespoons

lemongrass, sliced

— 2 cups

water

— 1 14-ounce can

sweetened condensed milk

— 2 cups

organic coconut milk

— 1/2 cup

small pearl tapioca (not instant)
Combine ginger, basil, lime leaves and lemongrass in food processor and blend for 20 seconds. Transfer to medium saucepan with 2 cups of water and bring to boil. Remove pan from heat and let steep uncovered 20 minutes. Strain mixture, pressing on solids to release flavored liquid. Discard solids.


Combine liquid in saucepan with condensed milk and coconut milk. Bring to a boil and stir in tapioca. Return to boil, reduce heat to medium and simmer uncovered, stirring frequently, until pudding thickens and reduces, about 30 minutes. Transfer to bowl or individual ramekins, covering with saran wrap pressed gently onto the top. Refrigerate until well chilled, at least 3 hours.


Lightly toast shredded coconut in a small skillet over medium-low heat until golden.


To serve, top with a dollop of crème fraiche and sprinkle with toasted coconut.



Download Recipe