6.8.11
True Grits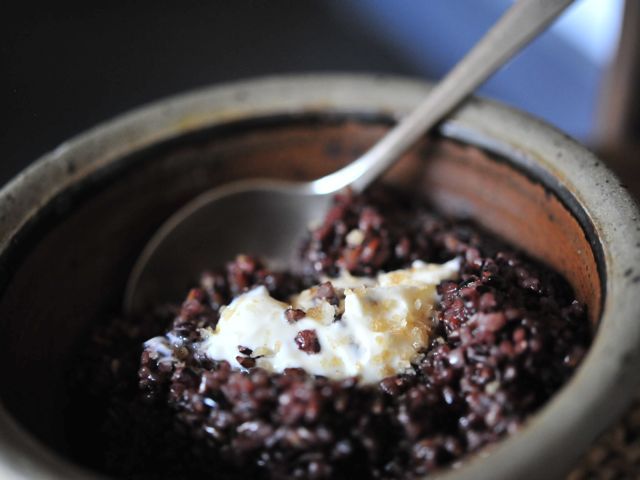 In my quest to offer you more alternatives to the dreaded, over-processed, denatured, cardboard-like breakfast cereals we should all be rejecting forever, I hereby tempt you with a delicious bowl of nutty, nutritious and quite comforting grits. As you can see, I've gotten all fancy with purple rice and, though you need not be so esoteric, I highly recommend you source your grits from somewhere like
Bob's Red Mill
or
Anson Mills
. Both offer a variety of organic heirloom rices and grains, all painstakingly milled and very fresh. The taste really illustrates the difference, as does the quality of the nutrition you get from products like these. Please don't feed your kids (or yourself) instant oats or Rice Krispies or cornflakes when you can give them healthy, whole foods instead. And grits are a great vehicle for other flavors, like soft-cooked eggs, crispy bacon, spicy Tabasco, creamy yogurt, maple syrup, strawberry jam, cultured butter—pretty much anything tastes good plopped on top of or stirred into this yummy bowl of mush. This particular bowl I ate with a dollop of crème fraîche and some crunchy smoked sea salt.
If you don't know why dry cereal is bad for you, let me fill you in briefly on what I learned from reading Sally Fallon's Nourishing Traditions. These cereals are not at all close to their natural state. They are produced by a process called extrusion, in which a slurry of grains is forced out of a little hole in a machine at very high temperature and pressure. This creates the flakes or shreds or animal shapes that then receive a spray-coating of oil and sugar to provide that crunch. The extrusion process destroys most of the nutrients in the grains, as well as the fatty acids and even the chemical vitamins that are added at the end. It renders the amino acids toxic or almost completely denatured. This is not food. I don't care if it claims to be whole anything or to have bran in it.I bought my grits on a visit to Marlow & Daughters in Williamsburg. I didn't see these on the Anson Mills website, so they may be available only to retail venues. But they do have Antebellum Coarse Grits (white or yellow), Pencil Cobb Grits, Native Blue Corn Grits, Henry Moore Yellow Hominy Grits and more. Check 'em out.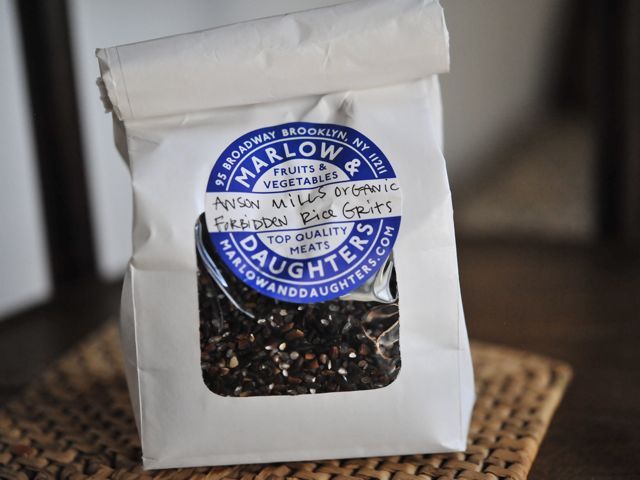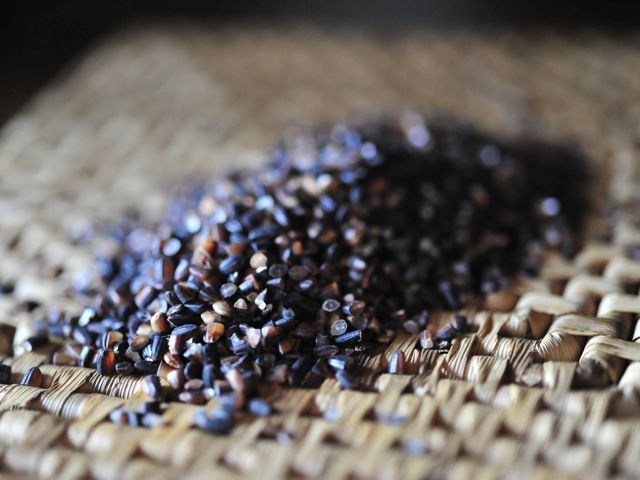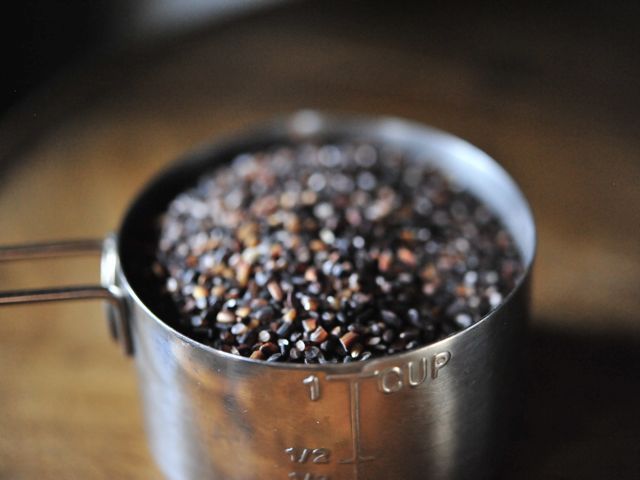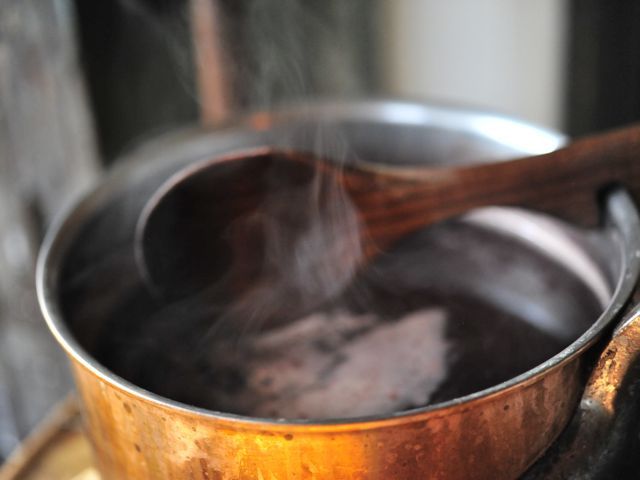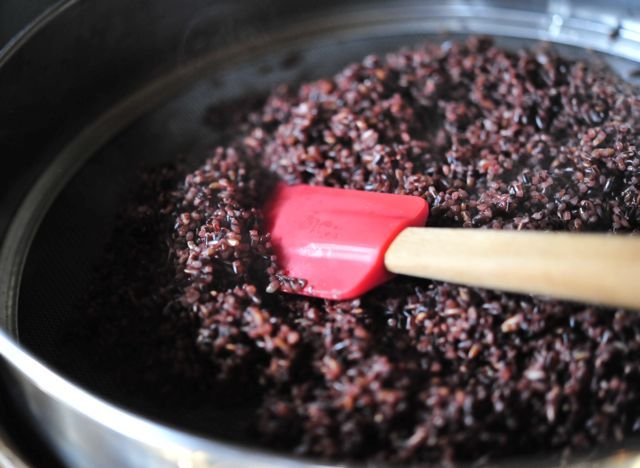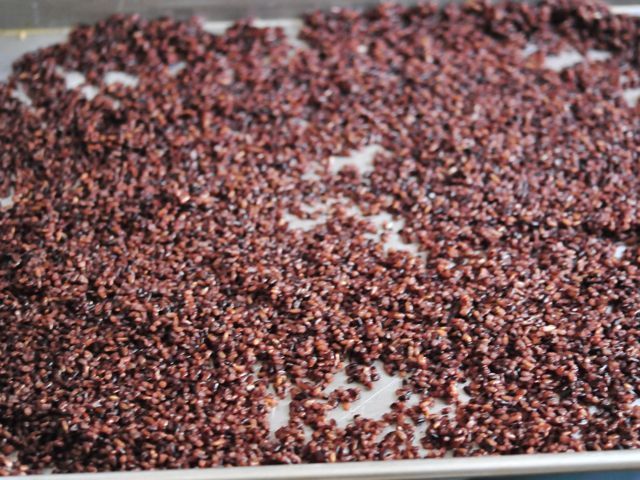 Forbidden Rice Grits
slightly adapted from Anson Mills
makes about 3 cups
— 6 cups

filtered water

— 1 tablespoon

fine sea salt

— 1 cup

Forbidden Rice Grits

— 3 tablespoons

unsalted butter

— 1/2 teaspoon

freshly ground black pepper

—

salt and pepper for seasoning
Preheat the oven to 300º.


Bring the water and salt to a boil in a heavy-bottomed 3 1/2-quart saucepan. Add the grits, stir once, and return to a boil. As soon as the water boils, reduce the heat. Simmer gently, uncovered, stirring occasionally, until the rice is just tender with no hard starch at its center, about 15 minutes. Drain the grits through a fine colander and rinse well with cool water. Shake the colander to lose the excess water.


Spread the rice evenly on a cookie sheet and place it in the oven to dry for about 5 minutes, turning gently from time to time with a spatula. While still in the oven, dot the rice with butter and sprinkle with salt and pepper. Continue turning the rice until the butter has melted and the rice is hot, about 5 minutes more. Transfer to a warm serving bowl, taste for salt and pepper, and serve immediately with any topping you like.



Download Recipe