6.7.11
Hill o' Beans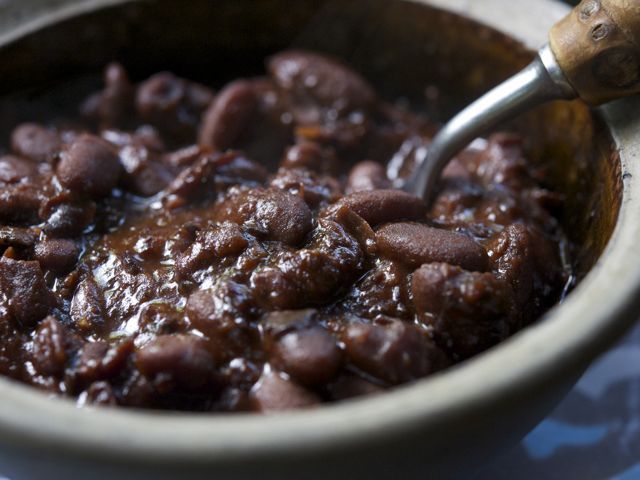 Before I move on to telling you about the best baked beans on the planet, a few words of business. The new print feature, which allows you to print a formatted pdf of recipes, is up and running, but only works on recipes that have been coded. For now, that is only new recipes, but I am working furiously to get the rest done. As they are coded, they will also begin to appear in my new recipe archive (on the right hand side), which you'll be able to use to scan through content. Make sense? All in good time, my lovelies, all in good time.And now, to the beans. I debated calling these "Bean Candy," because they are so sweet, sticky and luscious. They are the ultimate summer side dish but so substantial I prefer to think of them as the centerpiece. These beans are a great example of how you can use just a bit of meat as flavoring while having a high-fiber, nutritious meal. We recently enjoyed them with a pan of hot
cornbread
and some spicy red cabbage slaw. It definitely did not feel like anything was missing.

When I first created this recipe, I thought it was going to have more of an Asian bent. I had planned to throw some fresh ginger in and then forgot, so perhaps that would have tipped them more in that direction. Despite containing miso, soy sauce, sesame oil and Sriracha chile sauce, these beans just wind up tasting like the very best version you've ever had of classic baked beans: gooey, sweet (but not too) and addictively spicy. So I hope no one will be offended by the name I have given them, inspired by their healthy dose of umami: Yo' Mammy's Baked Beans.Don't make these if you are in a rush. They take their sweet time, cooking low and slow. And you need to plan ahead, because you have to soak the beans overnight. But it's so worth it. I promise you'll never open another can of Van Camps as long as you live.
Yo' Mammy's Baked Beans
makes about 8 side servings
— 1 pound

dried navy (or Great Northern) beans

— 2 slices

bacon, roughly chopped

— 4 1/2 cups

water

— 1

large yellow onion, finely chopped

— 1/2 cup

maple syrup, grade B

— 2 tablespoons

dark muscovado sugar

— 2 tablespoons

unsulphured black molasses

— 2 tablespoons

red miso

— 2 tablespoons

ketchup (preferably homemade)

— 2 tablespoons

soy sauce

— 2 tablespoons

Sriracha (Asian red chile sauce)

— 2 teaspoons

toasted sesame oil

— 1 tablespoon

dry English mustard (Colman's)

— 1 teaspoon

freshly ground black pepper

— 2 tablespoons

cider vinegar

— 3-4 cups

beef or chicken stock, optional
Pick over beans, discarding anything rejects, then rinse and drain. Soak in cold water to cover by 2 inches at least 8 hours or overnight.


Place oven rack in middle position and preheat to 350°.


Put beans and all remaining ingredients through pepper in an ovenproof 3-quart heavy pot with a lid. Stir to combine, cover pot and bake until beans are just tender, about 3 to 4 hours.


Reduce oven temperature to 325°F. Remove lid. Bake beans, stirring occasionally, until most of liquid is absorbed but beans are still saucy, 1-2 hours or more, depending on tenderness of beans. Throughout both phases of cooking, check beans occasionally to make sure they still have some liquid; use stock or water to replenish. Remove from oven. Stir in cider vinegar, and taste for salt.



Download Recipe