4.5.11
The Golden Egg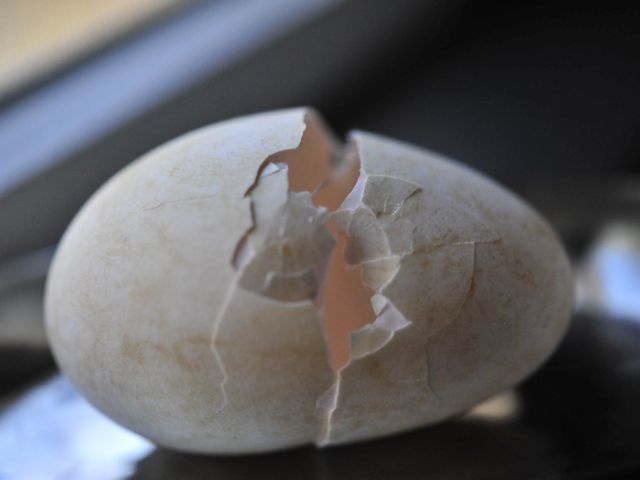 One of the more beloved tales in my family's rich lore is of how my father, very early in his marriage to my mother, came up behind her as she was leaning into the oven and goosed her—except it turned out to be my grandmother!! I can just see the shock on both of their faces, and imagine the explosion of laughter that followed. They both had a wicked sense of humor, especially my dad. He and my maternal grandparents loved each other dearly, once the deeply Christian Chávez family got over the idea that their beloved eldest daughter was going to marry a Jew.

But this is about another sort of goose altogether. A goose egg, actually, no doubt laid by a female relative of the lovely fellow from River Brook Farm who was the centerpiece of our Christmas dinner.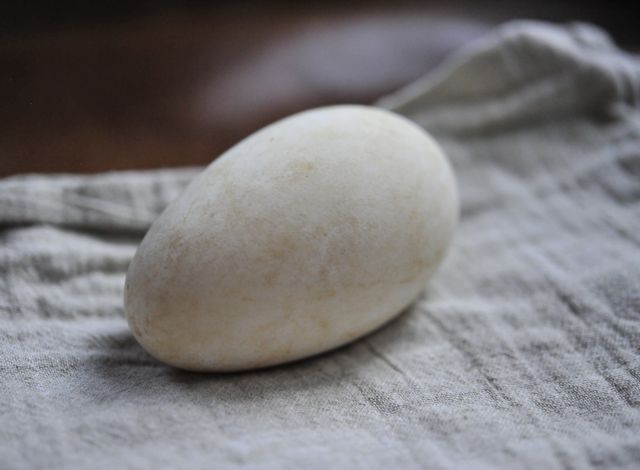 I was a little bit nervous about cooking up these eggs because early in our courtship I fried up a couple of duck eggs with runny yellow yolks for G and me, and he wound up getting violently ill. (I emerged unscathed.) But he was game to go goose, as was our weekend guest, and G even whipped up one of his specialties: a broccoli rabe frittata. To be perfectly honest, it's not my favorite of his creations. I happen to think that eggs taste best with creamy rich things like mushrooms, cream and cheese, or delicate green things like spinach and asparagus, and I don't want to pair them with anything bitter. Is that just me? Still, I ate it. Liked it, too.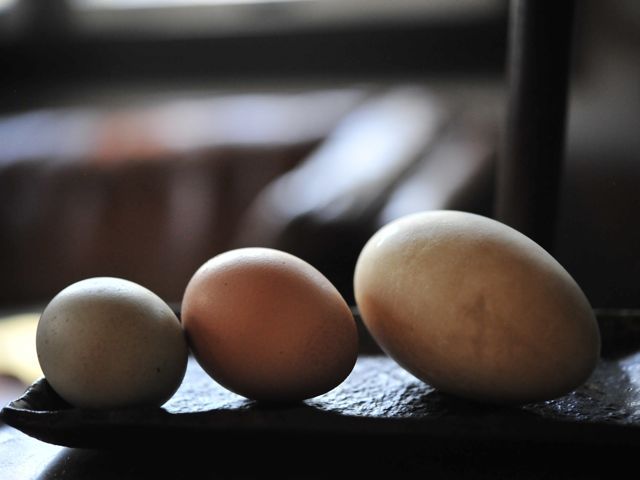 The perceived wisdom seems to be that goose eggs are richer in flavor, and I suppose this is true, especially since their yolks are larger and more yellow. They appear to have firmer-textured whites that can turn a bit rubbery when fried. Try them softly scrambled with a little cream and some fresh tarragon. Goose eggs contain lots of omega-3 and -6 fatty acids, especially if they are running around on someone's farm eating greens and worms and bugs. They've got lots of cholesterol, but there really is no proof that consuming cholesterol has anything to do with your cholesterol levels. If you tell me I should, I will do a longer, more explanatory post on that sometime.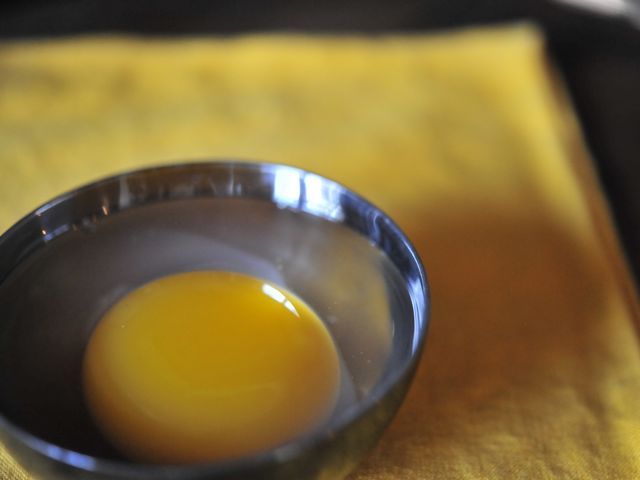 You may not be able to get your hands on any goose eggs, but look around at your local farmers market. At the very least, hunt down some humanely raised/free-range/organic eggs and treat yourself to a really fresh, delicious frittata for breakfast, brunch or lunch one day soon. As the greens begin to poke up out of the defrosting ground, the fowl will start their spring foraging and yolks will turn dark orange and become even more tasty.

Here are a few great tips from Alice Waters on how to make the perfect frittata:

Cook the vegetables first. It's obvious that dense vegetables like potatoes need to be cooked before the eggs are added. But raw, quick-cooking vegetables like spinach or mushrooms will release water when you toss them in, and you don't want a watery frittata.

Only salt the eggs right before you cook them. Pre-salting the eggs and setting them aside while you cook the vegetables or meat will make them watery.

Combine eggs with other ingredients in a bowl, not the pan. Many recipes call for eggs to be added directly to the pan after other ingredients have been cooked. Waters suggests combining everything in a bowl and then pouring the mixture into a clean pan. This might not be absolutely necessary, but it does help to evenly distribute all the ingredients and make sure they're all coated with the egg.

And here's a tip from me: Always finish your frittata in the broiler. This makes the top puff up and get all golden and airy. Like a soufflé it will fall, so get thee to the table right away!

Frittata with Leeks, Asparagus and Mushrooms
serves 4
— 3 tablespoons

butter, divided

— 1 cup

chopped leeks, white & pale green only

— 1 bunch

thin asparagus, trimmed & sliced on the diagonal into 1" pieces (about 2 1/2 cups)

— 1 cup

stemmed & sliced shiitake mushrooms

— 8

large farm-fresh eggs

— 1 cup

grated Fontina, divided

— 1/2 teaspoon

sea salt

— 1/2 teaspoon

freshly ground black pepper

— 1/4 cup

grated Parmesan

— 1/3 cup

milk, half-&-half or cream
Preheat broiler.


Melt butter in a large, heavy, well-seasoned, oven-proof skillet over medium heat. Add leeks and sauté 4 minutes. Add asparagus and shiitake mushrooms, sprinkle lightly with salt, and sauté until tender, about 6 minutes. Turn heat off and scrape vegetables into a large bowl.


Whisk eggs, cream, 3/4 cup Fontina, salt and pepper in a separate bowl. Add egg mixture to vegetables and fold gently to combine.


Add remaining tablespoon butter to skillet and melt over medium heat. Pour in egg mixture. Cook gently until almost set, occasionally using a rubber spatula or wooden spoon to loosen egg mixture around the edges. Sprinkle remaining 1/4 cup Fontina and the Parmesan on top.


Broil until frittata is puffed and cheese begins to turn golden, about 3 minutes. (Watch like a hawk as burnt eggs are gross!) Cool before cutting into wedges. Any leftovers are delicious eaten cold, perhaps with a dollop of mayonnaise, preferably homemade.



Download Recipe