4.4.11
Meaty Monday: Cooking Tails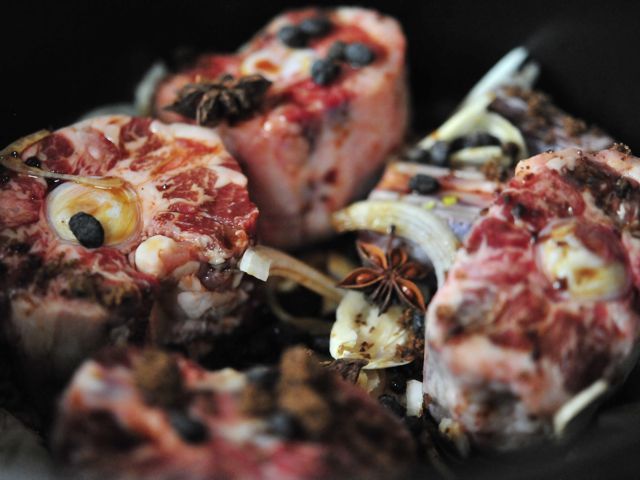 The snow's gone but it's not exactly shirtsleeves weather. My idea of a good time is still hunkering down in front of the fire, or under a duvet. Soon I'll be donning my linen overalls and running up and down the aisles of Silver Heights Nursery buying scented geranium and heirloom tomato plants. But today I'm not above a good braise. Get 'em while it's cold. One last chance to slowly simmer and stew, to watch those lazy bubbles and that mesmerizing cloud of steam. So put aside thoughts of spring things for the moment and haul out your lovingly broken-in Le Cresuet, your stalwart Staub. You've just got time for one more stew before the mercury rises. Make it oxtail, the ultimate slow-cooker. Ick, you say. How can you eat a cow's tail? How can you not? I firmly believe you honor that cow more by making use of its every beefy bit.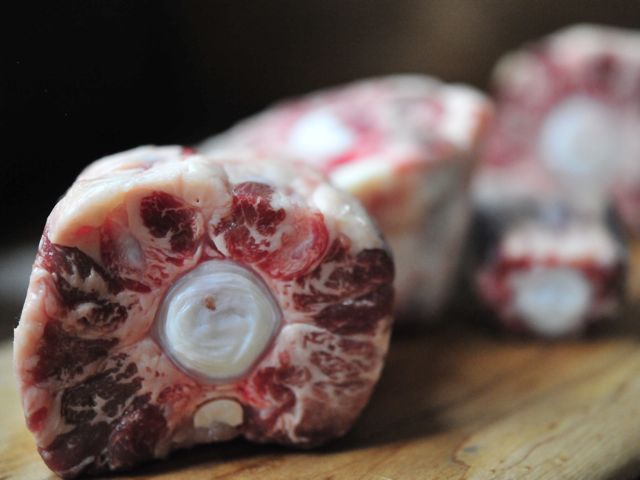 If you're still buying factory farmed meat, all "sanitized" and wrapped in its styrofoam tray, chances are you'll never cross paths with an oxtail. But if you can find a small butcher purveying local, humanely-raised beef, s/he'll mostly likely be offering you all sorts of interesting bits and bobs, like cheeks and hearts and tails.Oxtails make a delicious, rich stew full of flavor and nutrition. They are quite fatty, so they need a slow braise and then the broth must be skimmed. It's easiest if you prepare this dish in advance, chill it, and then remove the fat once it's solidified. But you can also just skim it off the top in a liquid form if you don't want to wait.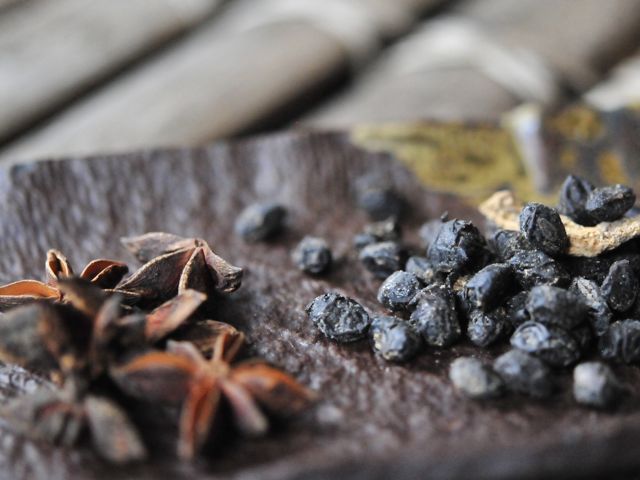 This recipe is sort of an Asian hybrid. It's reminiscent of
pho
, the ubiquitous Vietnamese noodle soup, but requires fewer steps, and incorporates Chinese fermented black beans. Also flavored with star anise, garlic and ginger, it delivers big, lip-smacking umami. I used 
these
wonderful dried Vietnamese rice noodles with green tea that I found at Whole Foods. I've never before seen this style of dried noodle made with brown rice. A real score. They cook very quickly, just by being immersed in boiling water for one minute, so they would be great for quick stir- fries or cold noodle salads. Don't overcook them and remember to rinse them after or they get quite sticky.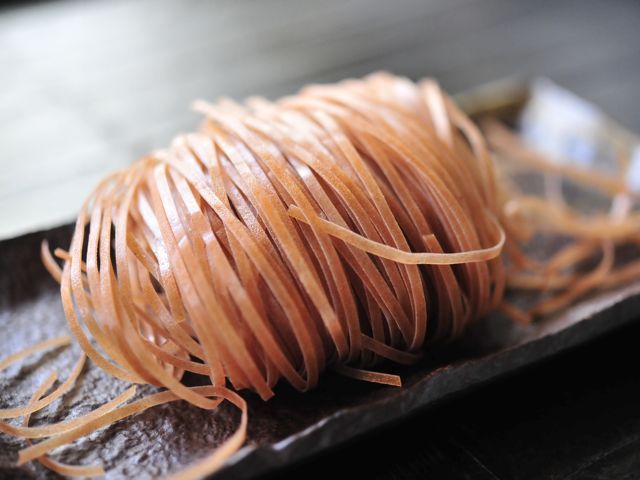 BRAISED OXTAILS WITH CHINESE GREENSserves 2About 2 lbs oxtail pieces (2- to 2 1/2" thick)2 cups chicken stock1/2 large onion, halved and thinly sliced1/4 cup soy sauce3 large garlic cloves, smashed and peeled4 whole star anise3 (1/4-inch-thick) rounds fresh ginger2 tablespoons dark brown sugar1-2 tablespoons fermented black beans6 baby bok choy4 scallions, slicedrice noodleshandful of cilantro, chopped1 lime, quarteredArrange oxtails in single layer in large, heavy pot. Add next ingredients through the beans, and enough water to cover oxtails by 1/2"; bring to a boil. Reduce heat to low, partially cover, and simmer until very tender, adding more water by 1/2 cupfuls as needed to keep oxtails covered, about 3 hours. Cool slightly, then remove oxtails and set aside. Strain broth and refrigerate, uncovered, until cold, then cover. Now trim any remaining fat from the oxtails and slip meat from bones in small chunks. Discard fat and bones. At this point you can cover meat and refrigerate it, too. Meat and broth will keep like this for up to 3 days.If you want to eat it sooner, remove broth from fridge once a layer of fat has solidified enough to be skimmed off. Once you've skimmed and discarded the fat, reheat broth over medium heat in a large pot, adding meat back in.Meanwhile, fill a large bowl with boiling water and drop in two "nests" or portions of rice noodles. Let them sit until soft, about 1 minute, then drain well in a colander and rinse with cold water (or cook according to package instructions). Set aside.Heat a large pot of salted water to boiling and cook bok choy until just tender, about 3-4 minutes. Slice and divide between two large soup bowls. Stir rice noodles into soup and warm for a minute or two. Pour broth and meat over bok choy. Sprinkle with scallions and cilantro, and add a good squeeze of lime.