12.1.10
Plenty Good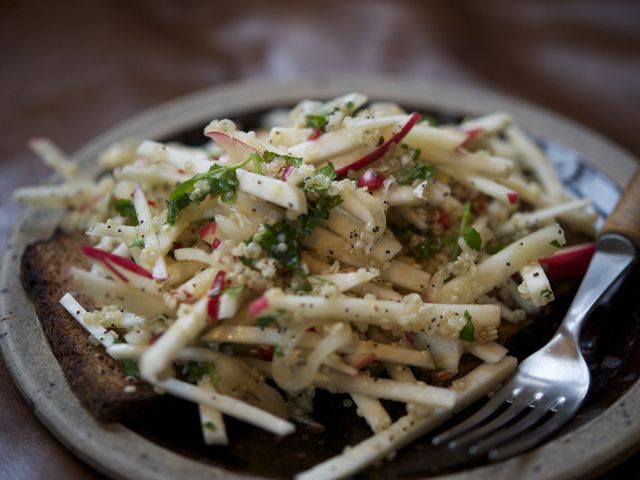 After avidly perusing London-based Yotam Ottolenghi's contributions to
The New Vegetarian
on
The Guardian
's website, and reading various reviews of his cookbook (including
this one
) as it swept the latest Piglet cookbook contest on Food52, I finally pulled the trigger and ordered my own copy of
Plenty
. It looks like there's an American edition coming out in March, but it's not such a big deal to convert to metric if you have a handy kitchen scale like
this one
. (I use mine constantly, it takes up no space at all, and is so worth the $35.) Ottolenghi, who owns four eponymous restaurants in the UK, is not a vegetarian himself, but the book contains 120 vegetarian recipes that reflect his Mediterranean background, his original and exciting use of fresh ingredients, and his passionate approach to vegetables. I can't wait to get my hands on my copy. In the meantime, I made one of his recipes published in
The Guardian
and it came out great. This crisp, fresh salad of celeriac, apple, quinoa and poppy seeds is lightly dressed with a tangy sweet-sour dressing.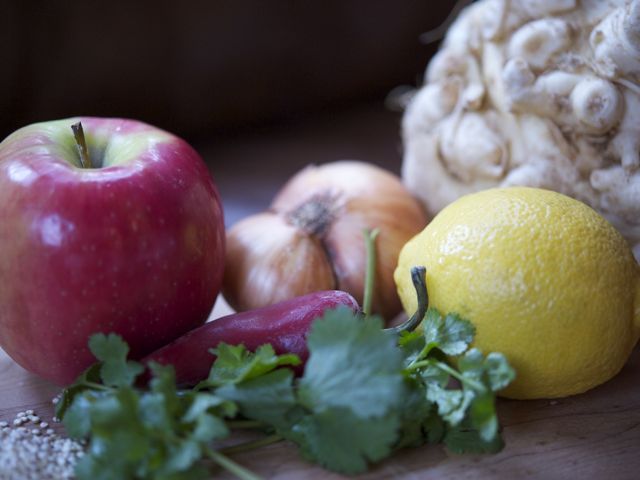 Full disclosure: I pretty much just read through the recipe a couple of times and then combined the ingredients in proportions that I thought made sense, since I was making just enough for G and me. According to at least one of the reviews, this is a perfectly acceptable way to use Ottolenghi's cookbook. Whether you try it my way or follow his recipe to the letter, this quick, easy salad makes a perfect lunch, especially with the built-in protein from the quinoa. His technique of massaging the vinegar, sugar and salt into the onion is a great way of mellowing the sharpness; a shallot also worked just fine, as did a Pink Lady apple instead of a Granny Smith. Remember, you're the chef!

Celeriac and Apple Slaw
from Yotam Ottolenghi's "New Vegetarian" column in The Guardian
serves 4-6

— 120g (about 3/4 cup)

quinoa

— 3 tablespoons

white wine vinegar

— 2 tablespoons

superfine sugar

— 1 teaspoon

salt

— 1

red onion, peeled and sliced very thinly

— 4 tablespoons

olive oil

— ¼ head

celeriac (250g after peeling and slicing)

— 2-3

granny smith apples (350g after coring and slicing)

— 2 teaspoons

poppy seeds

— 1

red chile, sliced thinly on an angle

— 1/2 ounce

coriander leaves, roughly chopped
Rinse quinoa thoroughly and drain. Bring a small saucepan of water to a boil, add the quinoa and simmer for 10 minutes. Drain into a fine sieve, run under cold water and then shake well to remove all the water. Leave to cool down.


While the quinoa is cooking, put the vinegar, sugar and salt in a medium mixing bowl and whisk to dissolve. Add the onion and, using your hands, rub the liquid into it. Add the olive oil, stir and set aside to marinate.


Peel the celeriac, cut it into 3mm thick slices and then cut the slices into long, 3mm-wide strips. Place these at once in a large mixing bowl, along with the lemon juice, and stir well – this will help prevent discoloration.


Quarter the apples, remove and discard the cores, and cut the fruit into matchstick-shaped pieces similar to the celeriac. Add the apple to the celeriac bowl and stir well, so it, too, gets a protective coat of lemon juice. (The apples and celeriac can also be cut using a mandolin or a food processor.)


To finish, add the onion and any juices from its bowl to the apple and celeriac mix, then stir in the cooked quinoa, poppy seeds, chile and coriander. Taste and add extra salt, sugar or vinegar, if you need them – you're aiming for a pungent, sweet and sour flavor.



Download Recipe