11.15.10
Vegangelical
Vegetables are in the zeitgeist. Pro-vegetable articles are popping up all over, like
this one
and
this one
. It seems like some people—a vocal minority?—are really starting to embrace Michael Pollan's edict to "Eat food. Not too much. Mostly plants." Actually, I'm not so sure about the "not too much" part. We Americans are all about plenty; a surfeit, even. But look, a ton o' vegetables is still a whole lot healthier than a ton o' beef. And I think I'll just take this opportunity to say once more, and probably not for the last time, I
loathe
the non-word "veggies." As if somehow you're going to make them what, more palatable? more cute? more friendly? Please. Just do me the great favor of honoring them with their lovely and true name: vegetable. Anyhoo. Eating lots of vegetables is always pretty easy during the warm months, when fresh tomatoes and corn and summer squash and lettuces and herbs are so plentiful, but what about now, as the farmers markets begin to dwindle down to a more paltry selection of onions, squash and the like? I feel a teensy bit smug knowing that my freezer is stocked with bags of local blackberries, freshly shucked corn and homemade tomato sauce. We can easily pop into the grocery store for hydroponic greens and grapes from Chile, but I urge you not to abandon seasonal eating quite so readily. Look again: local cabbage, celeriac, sweet potatoes, leeks, carrots, rutabagas, garlic, kale, collards, beets, turnips. And of course, there are always dried grains and legumes like lentils, chickpeas, barley, wild rice, buckwheat groats (
kasha
, to you Jews out there), farro, quinoa, brown rice, polenta and all manner of pasta. As well as a slew of nuts, seeds and dried fruits and spices to zhush it all up. The reality is, once you stop thinking of animal protein as the center of every meal, a whole gorgeous world of possibility crops (no pun intended) up.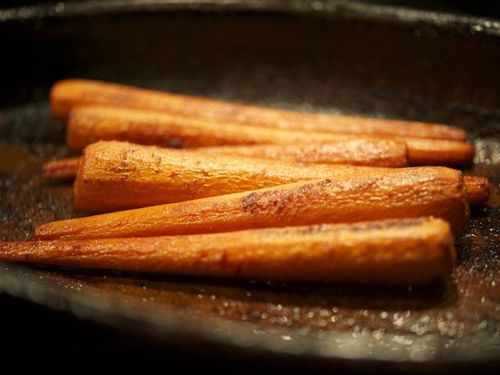 I always eat a lot of vegetables, and this week I plan to be eating even more. We stopped in at the uptown Fairway on the way home from the city on Saturday evening and picked up leeks, rutabagas, celery, pomegranates, persimmons, avocado, rainbow chard, celeriac, beets (even though G doesn't care for them), broccoli, radicchio, arugula, mushrooms and carrots. Last night I made my version of the carrot-&-avocado salad from ABC Kitchen I mentioned before. If there's one piece of advice I can give you about eating more vegetables, it's this: prepare them. Combine them, apply a technique, create textures and juxtapose flavors. Don't just eat them raw or steam them and expect to be blown away. Need a little inspiration? Look at some restaurant menus, like
this one
and
this one
. Granted, you're probably not going to make an 11-course vegetarian tasting menu a la Per Se at home (and neither am I!), but you catch my drift.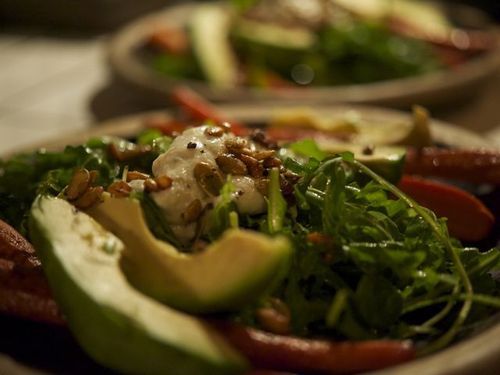 Last night I made my version of the carrot-&-avocado salad I mentioned before. At ABC Kitchen, it's topped with a couple of spoonfuls of loose sour cream that, in the words of Jean-Georges himself, "brings together all the flavors." You could also try whisking some Greek yogurt or creme fraiche with a little lemon or vinegar. This is what's known as a composed salad, with separately prepared ingredients brought together on the plate: spicy roasted carrots; buttery avocado; a tangle of citrus-dressed greens; and the crunch of toasted pumpkin seeds. It hits all the taste and texture targets and is surprisingly filling. I find it addictively delicious. Let me know if you do, too.
Carrot & Avocado Salad (a la ABC KItchen)
serves 2
— 1 tablespoon

olive oil

— 1 tablespoon honey

— 2 tablespoons

fresh lemon juice

— 1 teaspoon

sea salt

— 1/2 teaspoon

ground cumin

— 1/2 teaspoon

chile powder

— 1/4 teaspoon

cayenne

— 6 medium to large

carrots

— 1 tablespoon

fresh lemon juice

— 1 teaspoon

honey

— 1 generous pinch

sea salt

— 1 tablespoon

olive oil

— 2 teaspoons

olive oil

— 1/4 cup

raw pepitas

— 1/4 teaspoon

ground cumin

— 1/2 teaspoon

rapadura ( or sugar)

— 4 large handfuls

baby arugula

— 1

perfectly ripe avocado, peeled & sliced into 8 wedges

— 4 tablespoons

sour cream, whisked, or Mexican creme
For the carrots: Preheat oven to 350 degrees. Whisk together everything except the carrots until well combined. Slather all over the carrots and then place them in a roasting pan. Pour over all the remaining sauce. Bake, basting every 15 minutes, until carrots are tender, about an hour. Remove from oven and cool slightly. Slice in half and set aside.
For the citrus dressing: Whisk together honey, lemon juice and salt until well combined; then whisk in olive oil until emulsified. Set aside.
For the spiced pepitas: In a small skillet, heat the olive oil and add the pepitas. Sprinkle over the remaining ingredients and stir to combine. Cook for a few minutes, until the seeds are lightly browned and beginning to pop. Remove from heat and spread on a plate to cool.
To assemble the salad: In a bowl, toss the arugula with the citrus dressing until the leaves are well coated. Divide the dressed greens between two plates. Atop the greens, stack 6 carrot halves and 4 avocado sections. Spoon 2 tablespoons of sour cream in the middle and scatter pepitas over the top.

Download Recipe